Monkey bread is a sweet and sticky pastry served as an indulgent breakfast or delicious dessert. This treat is made up of cinnamon-sugar coated pieces of dough and baked with a sticky sweet syrup.
We love adding pecans to this monkey bread, but you can also enjoy it nut-free or with different add ons. Read on for how-tos and plenty of variation ideas!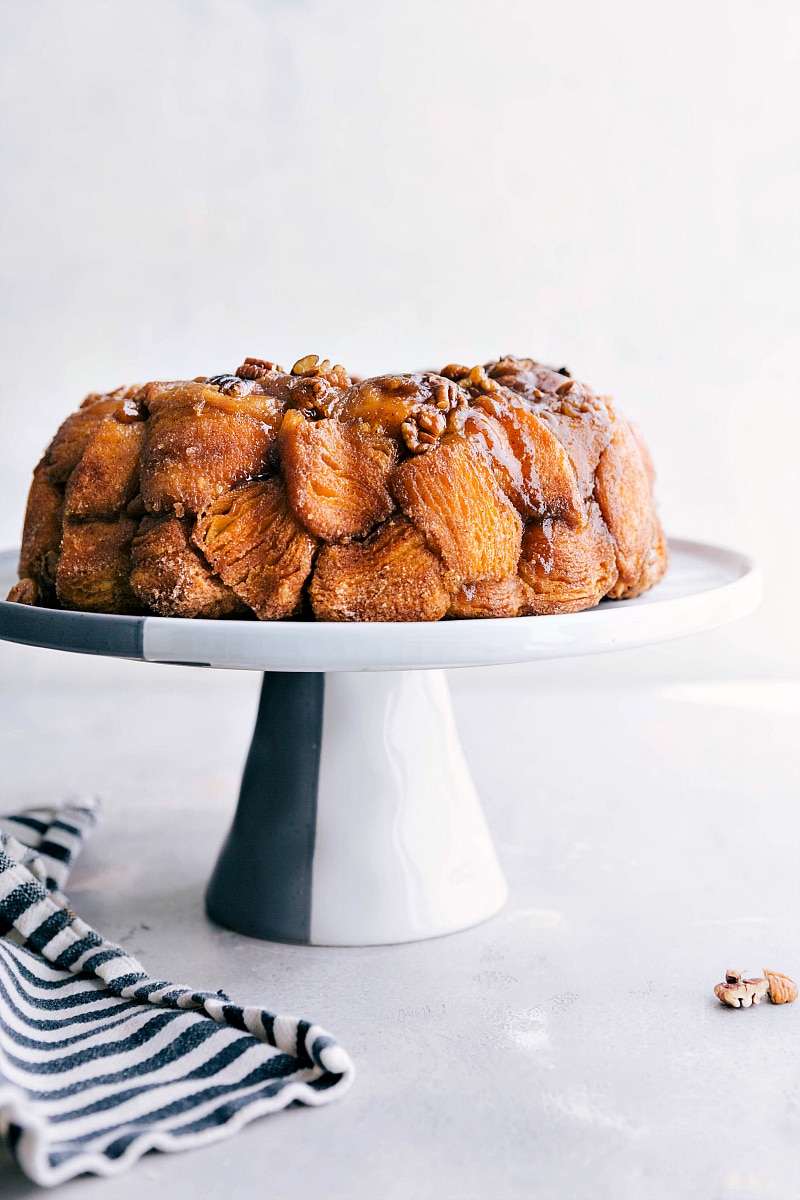 If you've ever wondered about the seemingly odd name for a sugared biscuit cake, I've been there too.
Why do they call it Monkey bread?
The name "monkey bread" comes from this dessert being a finger food. Monkey bread requires you to pick it apart to get pieces, similar to how a monkey eats. Ha!
What biscuits to use
I recommend using Pillsbury Grands flaky layers biscuits (not sponsored). They're the perfect size to use in this monkey bread and they rise nicely.
Beyond getting the right biscuits, the most important tip for this cake: generously grease and flour the pan! Below is a quick break down.
How to grease a bundt pan
First make sure you're using a high quality bundt pan: don't use a springform pan or pan with a removable bottom (the sugar/sauce will leak through creating a disaster. (If you don't have a bundt pan, see below for baking this in a 9 x 13 pan!)
Spray the bundt pan with cooking spray or brush an even layer of softened butter all over. Make sure every part of the inside of the bundt pan is covered so none of the biscuits stick.
Once sprayed, immediately sprinkle flour over the spray and then tap and turn the pan to evenly coat with a light dusting of flour.
Tap the pan upside down (over the sink) to remove any excess flour.
And now the pan is ready to be filled with monkey bread!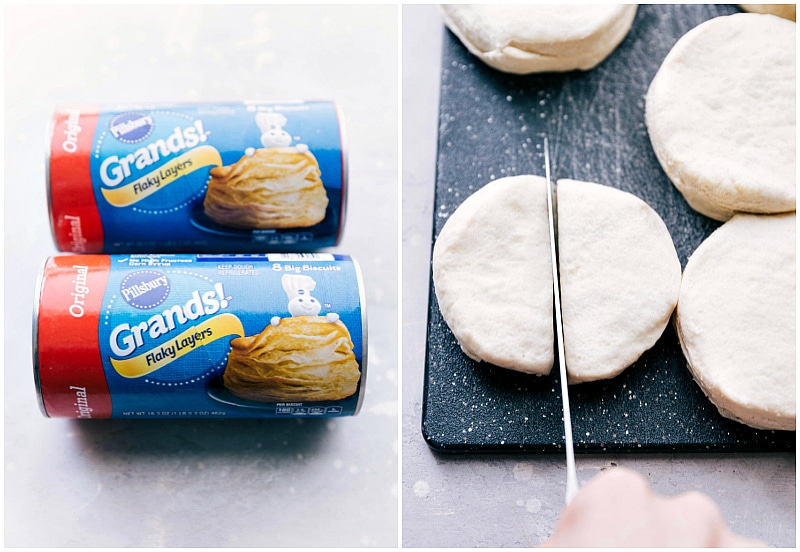 How to make a monkey cake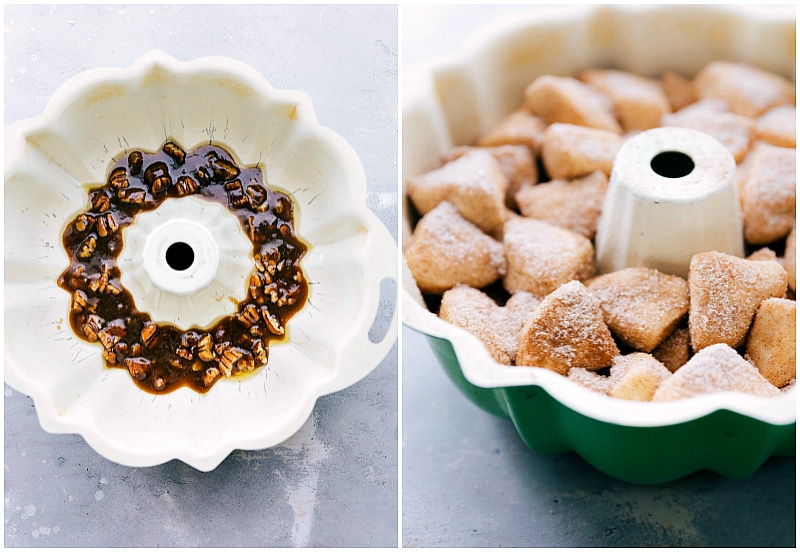 How to know when monkey bread is done
When monkey bread is fully cooked through it should be puffy and slightly crisp on top. A skewer, when inserted into the thickest part, should come out clean. You can also move around a few pieces in the center to see if they are at all doughy. If there are some doughy pieces, leave it in for longer, and if not it's good to go!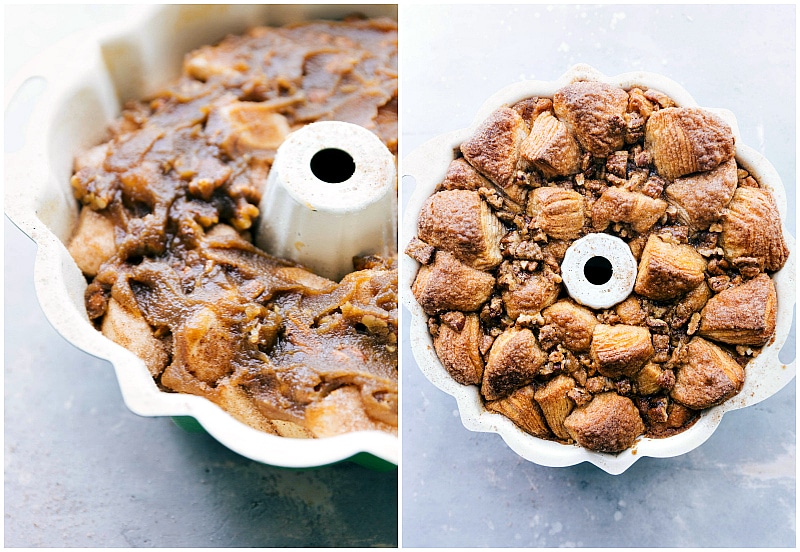 Monkey bread storage
Does monkey bread need to be refrigerated?
No! In fact it's better to not refrigerate monkey bread. Refrigerating will make the cake stale and hard.
Room temperature storage is the best option. Monkey cake is best stored in an airtight container (on a counter out of direct sunlight). I recommend a plastic bag as it minimizes moisture loss and keeps the bread soft for up to two days.
How to make ahead of time
Quarter the biscuits and then place them in a well greased bundt pan
Cover pan with plastic wrap and place it in the fridge until ready to bake.
When you are ready to bake the monkey bread, remove the bundt pan from the fridge and allow the cinnamon roll pieces to come to room temperature (this should take no more than 30 minutes).
Whip together the brown sugar mixture, pour it over the dough in the bundt pan, and bake for 2o minutes at 400 degrees F.
How to freeze monkey bread
Package leftovers in tightly wrapped in plastic wrap and then in an airtight container and freeze for up to 3 months. Thaw in the fridge. Freezing and thawing monkey bread will cause a loss in texture and flavor.
(Never freeze the uncooked dough as it will render the yeast inactive.)