A super simple, one skillet, sausage & veggie hash (and eggs if you want!) A great meal anytime of the day!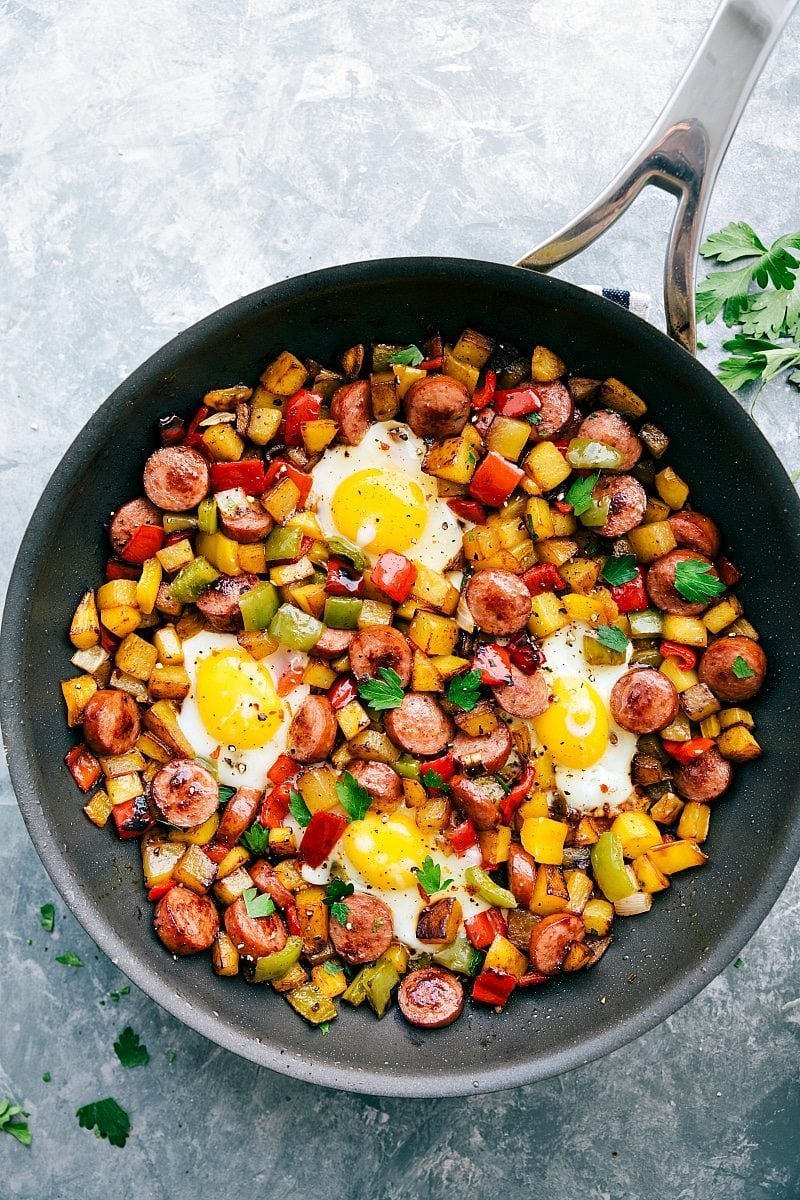 Over the fourth of July weekend, the husband and I took our first trip together without the kiddos. We dropped them off at their grandparents (similar to this…) and headed to St. George.
After dropping off our suitcases, we headed to the grocery store for a few quick snacks. We'd planned an all day side-by-side excursion for the next day so we grabbed some granola bars, drinks, and other snacks. We also decided to grab some quick breakfast options so we'd save time in the morning by not having to go out and get breakfast.
A quick browse in the cereal aisle and I found a cereal I was crazy about as a little kid that had been discontinued years ago (they'd just brought it back). Obviously I had to grab a box of that and the husband grabbed some toasted strudels.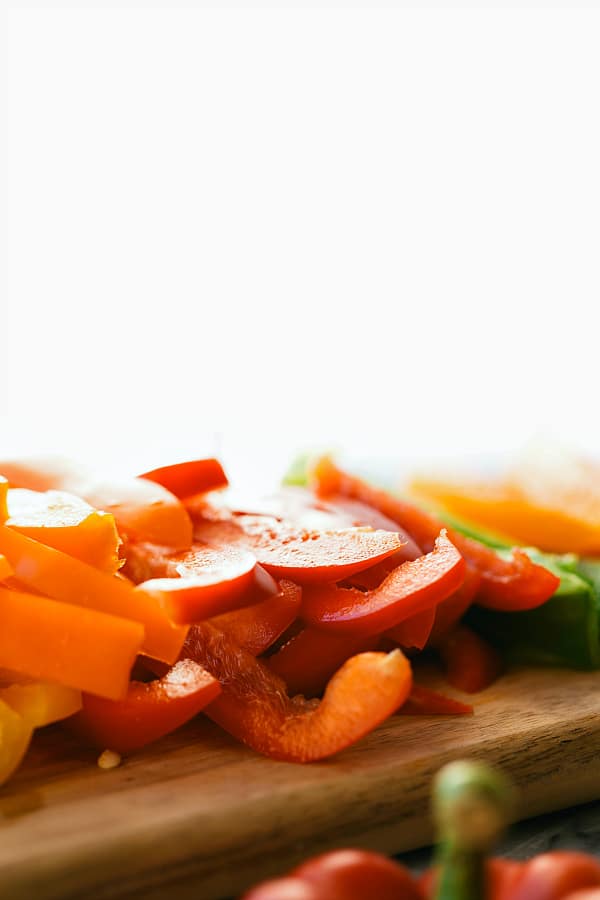 I'll admit I was pretty excited about this junk-food breakfast. You know, in memory of being a little kid and all.
Unfortunately the cereal wasn't quite what I remember it being….in fact, very far from it. ? Other words I'd use to describe it: tasteless, gross, … yuck. Seriously though, I'm not sure how I enjoyed that cereal as a kid. Haha.
After a couple of mornings of choking down eating that cereal, we were both ready for a real breakfast. A hearty, filling, delicious, and FLAVORFUL meal like this very hash.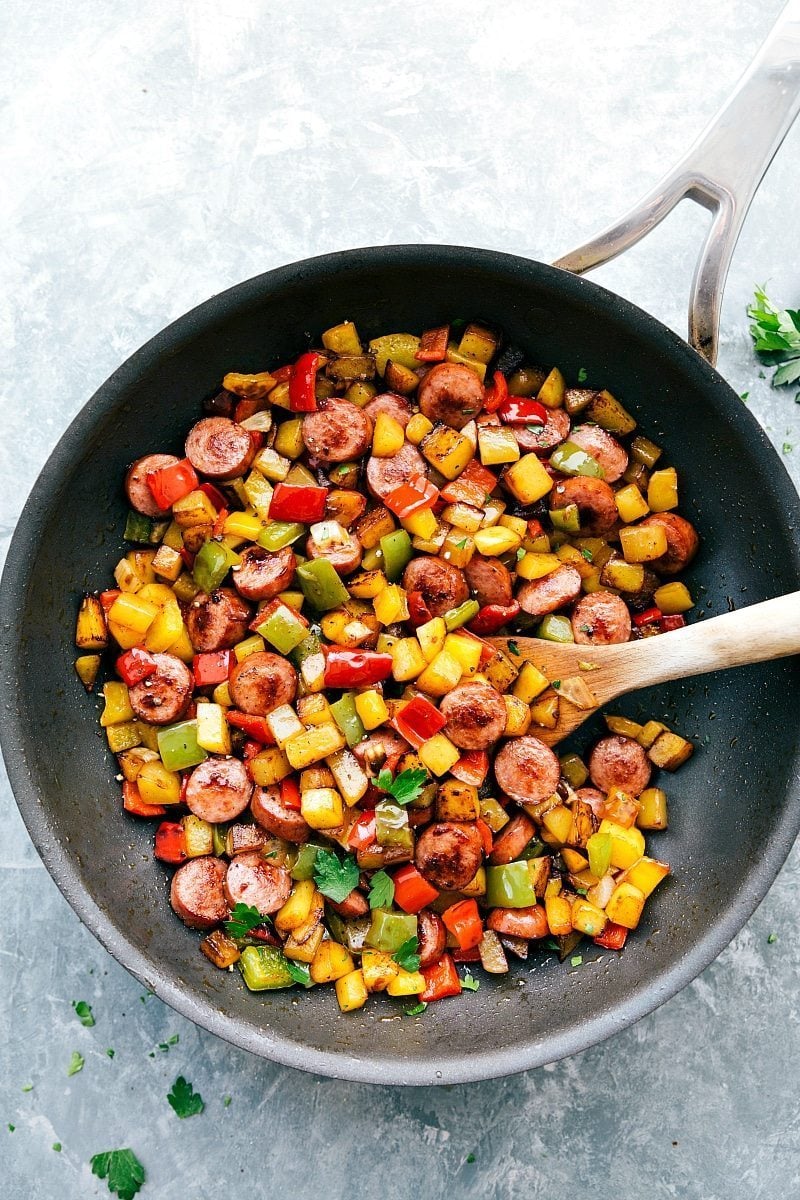 I've now made this hash about 6-7 times over the last week because we all love it so much! It's so ridiculously easy, great for any meal of the day, and it's the perfect way to clear out extra veggies from the fridge.
You can add pretty much whatever veggies you've got leftover to this hash. I seem to always have leftover bell peppers and onions so those are a must have addition for us. Some other veggies that would be delicious: tomatoes, brussels sprouts, black beans, green beans, corn, peas, asparagus, zucchini, yellow squash, etc. Whatever leftover veggies you've got!
Then of course you've got potatoes. I like yukon gold or russet potatoes, but any will work. You can even use sweet potatoes! To make this hash super quick, easy, and keep it all in one pot, I nuke the potatoes in the microwave first. They then chop up super fast and you can add them in the skillet to get that nice crispy exterior.
Last, but not least, we've also got a good amount of protein! The protein, in the form of turkey sausage is what I think makes this hash particularly delicious! I'm using Butterball's Polska Kielbasa Sausage and it is AMAZING. If you're a long time follower of my blog you definitely know how much we love Butterball's turkey sausage (in no short of dozens of my recipes). We usually get the hardwood smoked, but the Polska Kielbasa has been a recent favorite for my family of turketarians. It's so delicious and much healthier for you.
You can also add eggs in the hash if you want additional protein or if you simply like eggs with your hash 🙂 It's an easy and quick addition at the end. The hash is delicious with and without the eggs. Enjoy!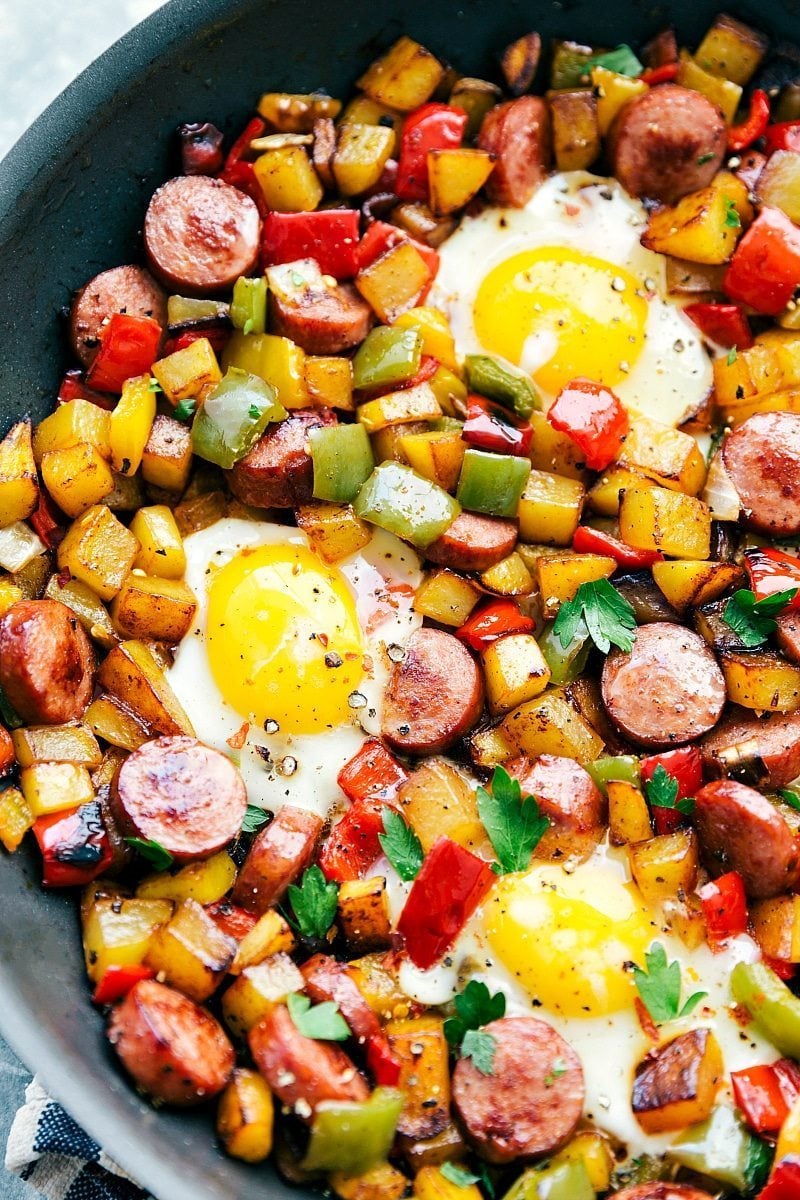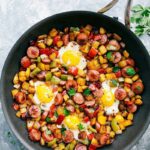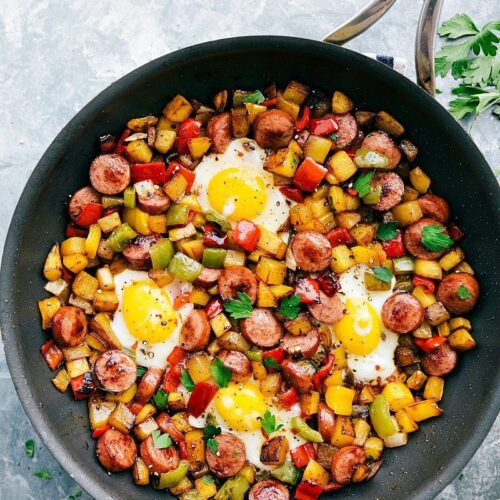 One Skillet Sausage and Veggie Hash
A super simple, one skillet, turkey sausage and veggie hash (and eggs if you want!) A great meal anytime of the day!
Ingredients
2

large

russet potatoes

1

tablespoon

olive oil

1

package (13 ounces)

Butterball Turkey Sausage

3

tablespoons

unsalted butter

3

medium bell peppers

(whatever color/variety; I used 1 green, 1 red, and 1 yellow, chopped)

1

small yellow onion,

diced

1

teaspoon

minced garlic

2

teaspoons

dried parsley

1

teaspoon

Italian seasoning

1/2

teaspoon

paprika

Salt and pepper,

to taste

Optional: eggs, fresh parsley/green onions
Instructions
Start by scrubbing and thoroughly washing the potatoes. Dry them and then using a fork, poke holes throughout the potatoes. Place in the microwave for 5 minutes, flip them over and microwave for another 3-5 minutes. Remove and allow to cool.

Meanwhile, prep the sausage and veggies. Coin the sausage. Chop the peppers and onion (Dice for smaller veggie bites). In a very large dutch oven skillet, add the olive oil and heat over medium-high heat until sizzling. Add in the coined sausage and cook for a 4-5 minutes until lightly browned. Remove to a plate.

Add in the butter, keeping the heat at medium-high. Stir the butter around and add in the veggies -- the chopped peppers and onions. While those begin cooking, dice the potatoes (remove skins if desired, I like to leave them on). Add the potatoes in and cook, stirring occasionally, until the veggies are crisp tender and the potatoes have a nice crisp exterior, about 4-7 minutes. Add in the garlic and seasonings: dried parsley, Italian seasoning, paprika, and salt + pepper to taste. (If you want eggs, make 4 "wells" in the hash and crack the eggs into the wells (Add eggs before veggies are finished so they don't get too browned). Fry until the whites are set/eggs are to your liking and remove + serve immediately).

If desired top with fresh parley or green onions. Add any additional salt and pepper to taste. Enjoy! (If you make this hash without eggs, it stores well and warms up for leftovers great!)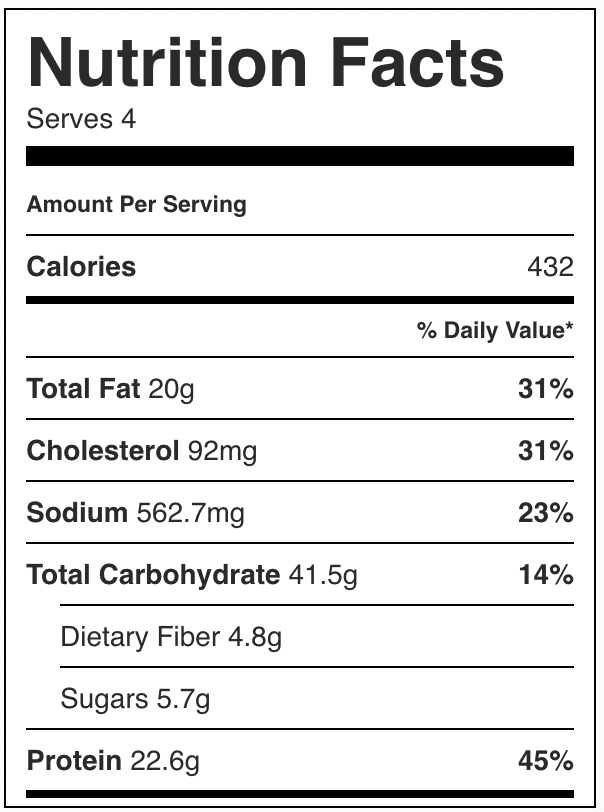 More Delicious Sausage Recipes: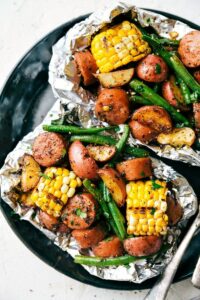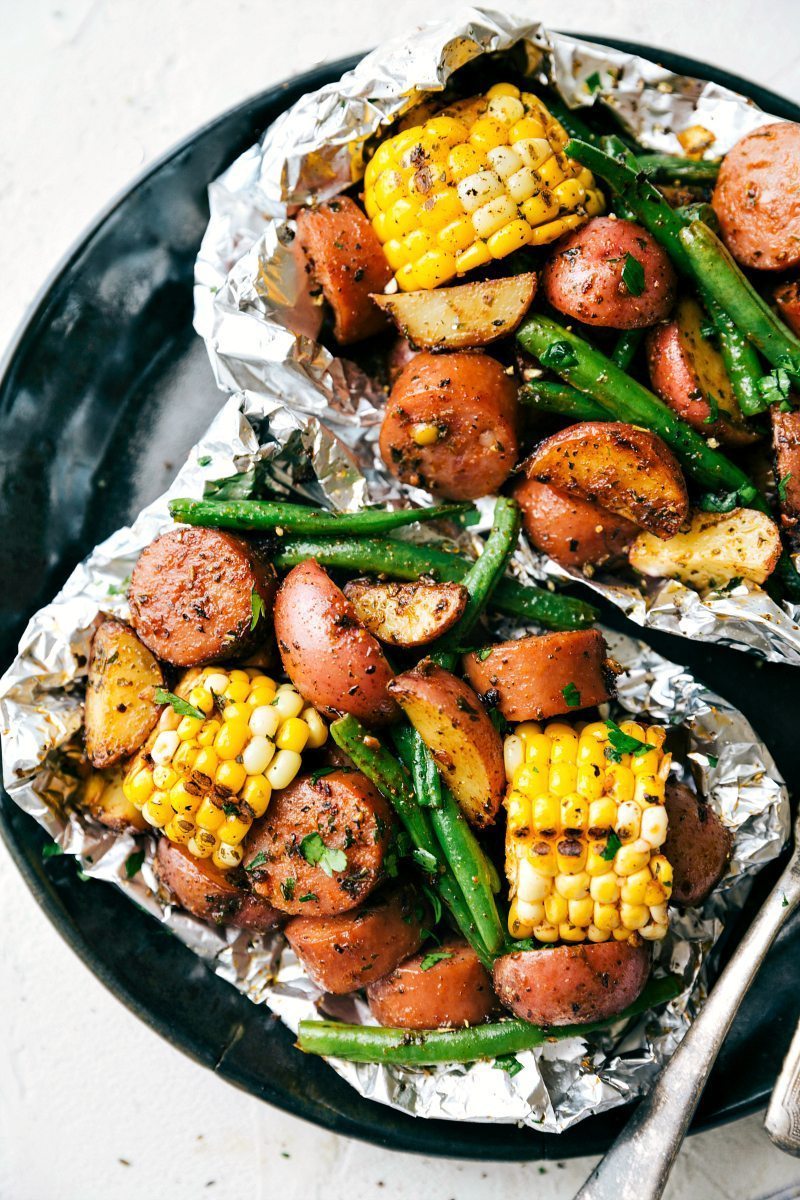 Garlic Butter Sausage Foil Packs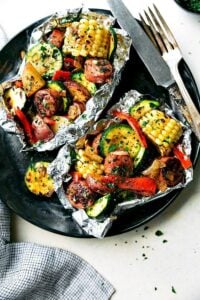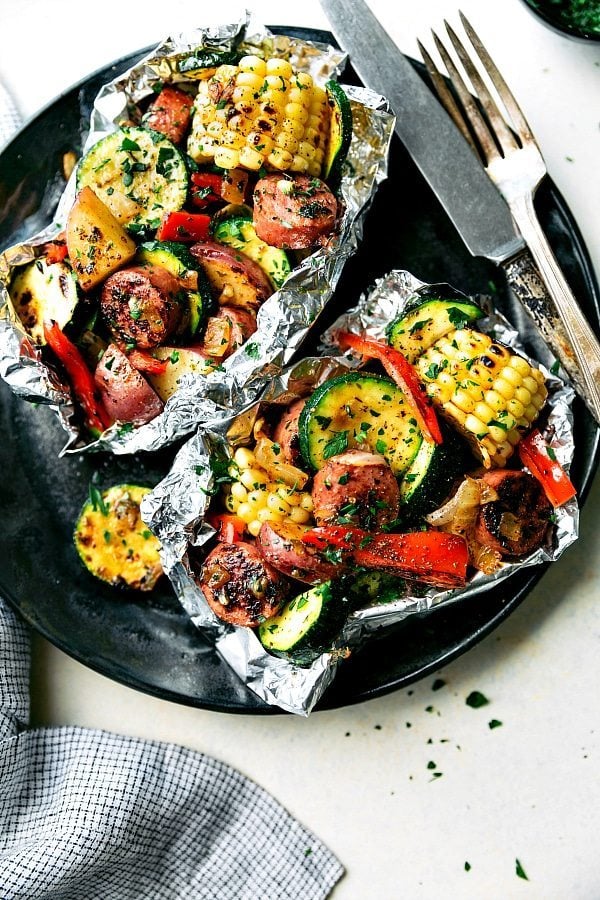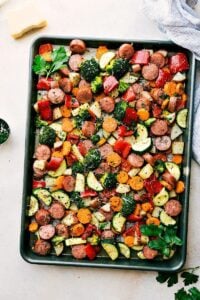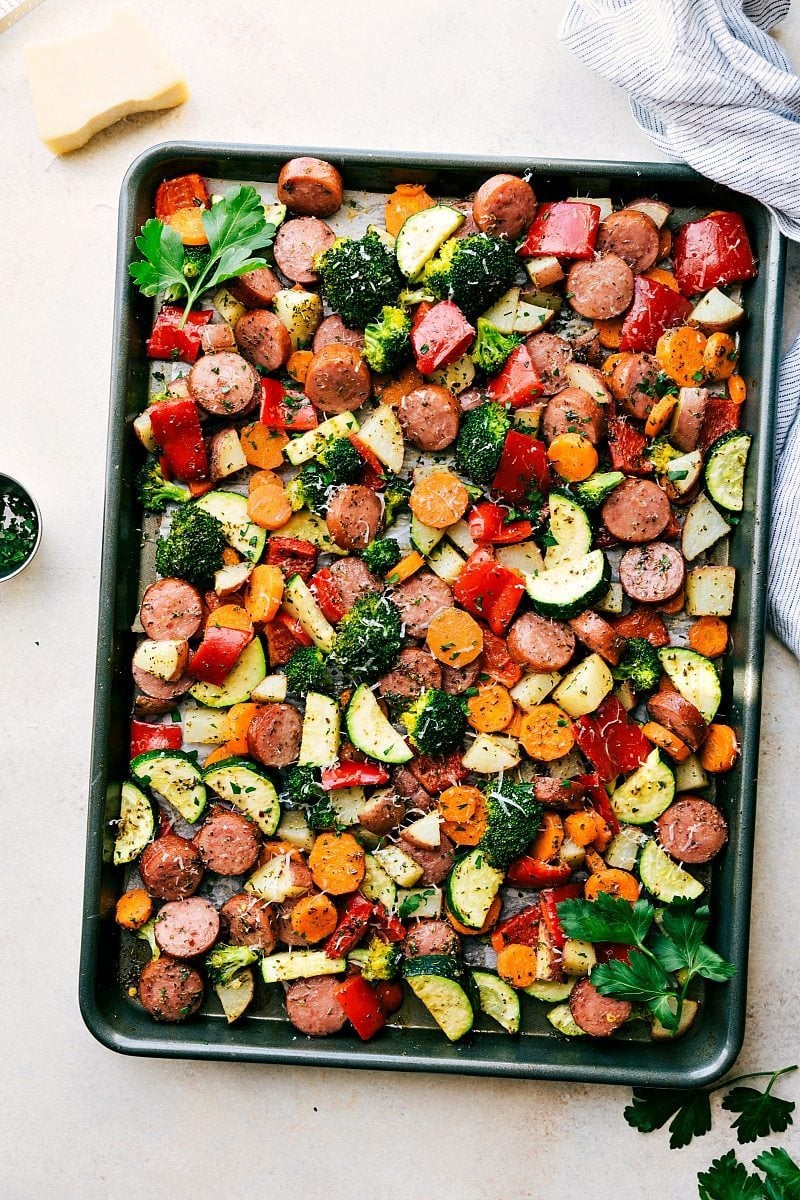 One Pan Italian Sausage & Veggies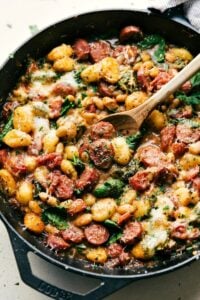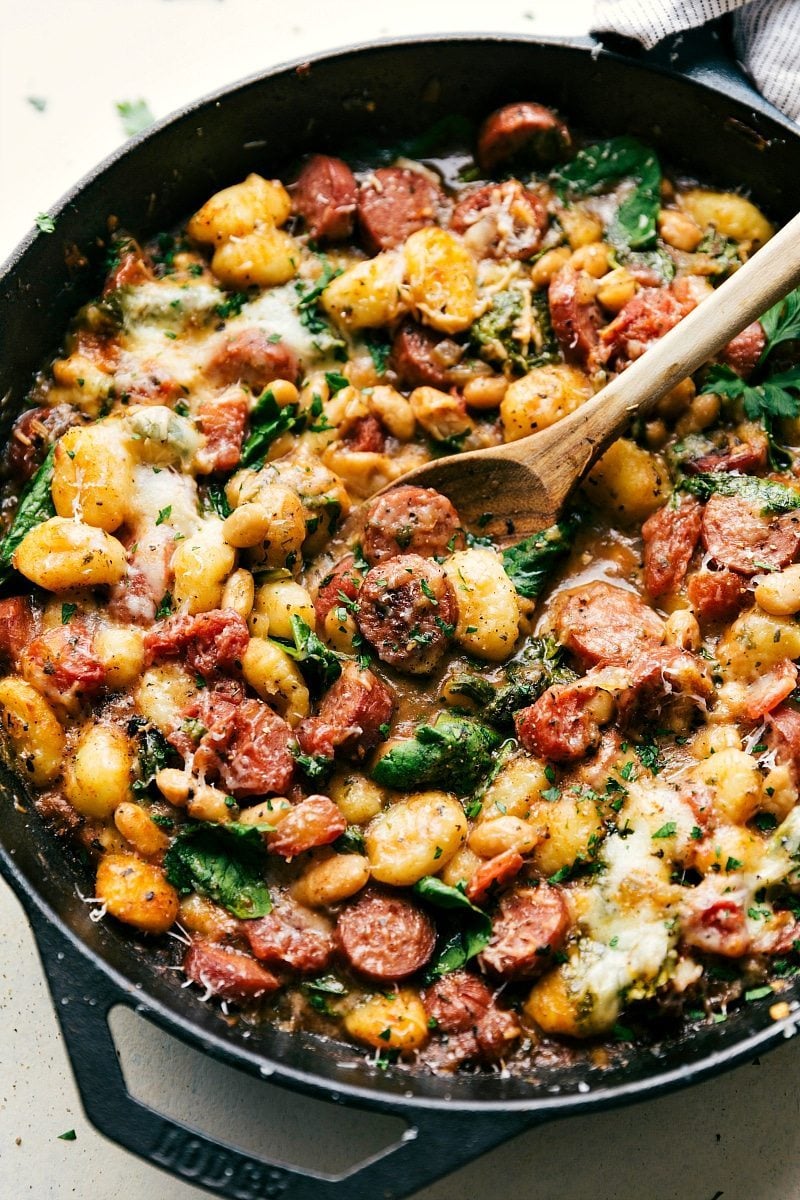 One Skillet Sausage and White Bean Gnocchi
Special thanks to Butterball for sponsoring this post. As always, all opinions are my own!