This hearty breakfast has it all – crispy potatoes, soft onions, peppers, eggs, and ham – all made together in one skillet!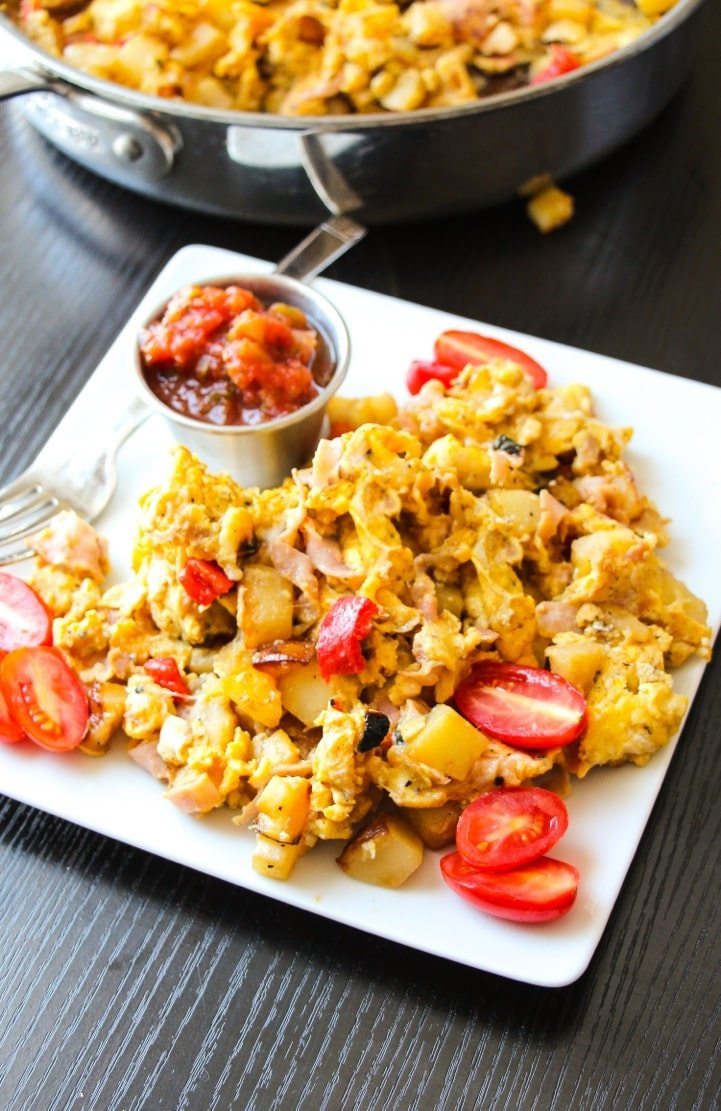 Good Morning! I'm Emily from Layers of Happiness – food blog where I share easy, drool-worthy recipes with my mom. I'm so happy to be here with you this morning to share one of our family's new favorite recipes. Country Breakfast Egg Skillet. This is such a fun and easy breakfast to make… and it has so much yummy flavor packed in!
For some reason, we don't really eat out for breakfast in the winter… maybe it's because it's so cold in general, let alone in the mornings, so venturing out is not necessarily very high on the wish list. But warm summer time weather? Now that's a whole other story. On a summer Saturday morning, you will always be able to find me either at the Farmer's Market or a breakfast cafe. All this warm weather has got me dreaming of the relaxing summer Saturday mornings spent at a local breakfast cafe… behold the ultimate breakfast skillet. It's made for lazy girls like me who love all the fixings, but don't love all the dishes that come with all the fixings.
This is what I like to call the "all-in-one" breakfast… it has all the best parts of breakfast (in my biased opinion) all in one recipe: eggs, potatoes, ham/bacon, and CHEESE. First, the onions, red bell peppers, and potatoes get cooked until soft on the inside and crispy on the outside, then the ham and eggs get scrambled in, followed by (a large amount of) melty cheese. 😉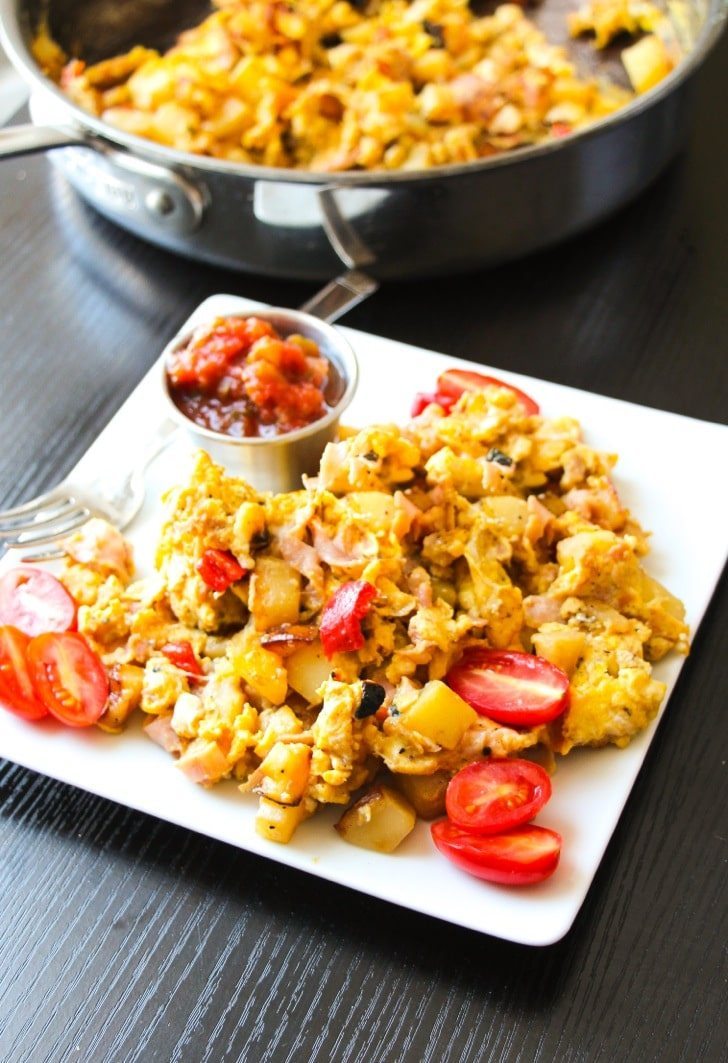 This breakfast skillet could be eaten as is, or it would be perfect stuffed in tortilla and rolled into a breakfast burrito! Add some salsa, and you've got on of my favorite breakfasts ever.
The best part about this incredibly flavorful, crisp, cheesy, eggy, ham, flavor packed breakfast is that it only takes one pan to make. Yup, this diner inspired dish is a one pan recipe you can whip up for brunch– or even dinner. The breakfast skillet you see here was brinner a few times last week.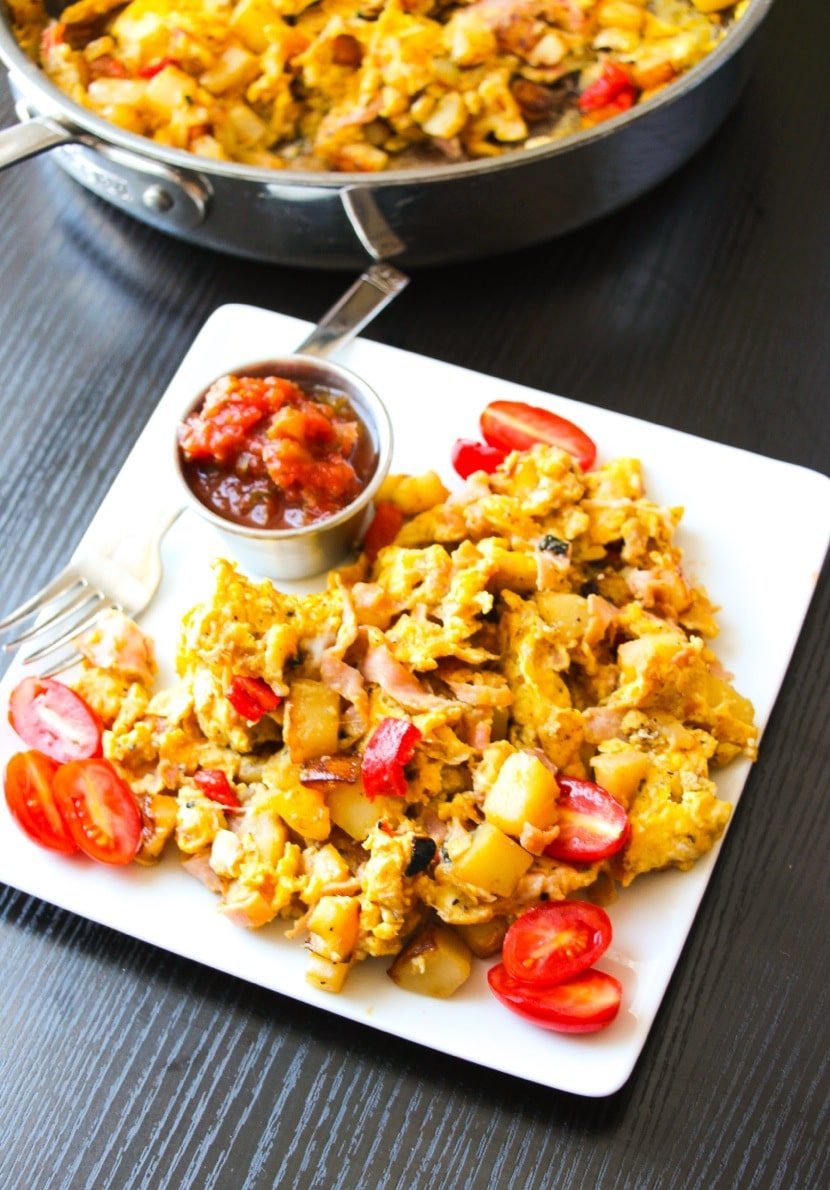 Tips for success:
It's super flexible, so feel free to add any other toppings you love… maybe some extra ham/bacon, sour cream, parsley, salsa??
I use ham because it has less fat, and I don't have to spend any time pre-cooking the ham, like you do with bacon. But if bacon is how you roll, you could totally use bacon in this recipe.
Another variation: I scrambled my eggs, but you could also finish off the eggs by baking it instead.
If you do scramble your eggs, make sure you use a non-stick skillet, or it will be harder to keep the eggs together.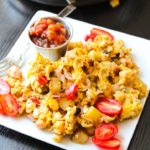 Country Breakfast Egg Skillet
Ingredients
1/4

cup

of unsalted butter

1/2 stick

1/3

cup

of chopped onion

1/4

cup

of chopped red bell pepper

optional

2

cups

of peeled and cubed red potatoes

rinsed

1/2

teaspoon

salt

or to taste, divided

1/4

teaspoon

of black pepper

or to taste

6

large eggs

2

tablespoons

of milk or half and half

1/4

teaspoon

Cajun seasoning

or to taste, optional

1

cup

of diced

ham (or cooked, crumbled bacon)

1

cup

of shredded cheese
Instructions
In a large skillet, cook onion and peppers in butter till tender. Add potatoes and season to taste with the salt and pepper; stir, cover and cook over medium heat for 10 minutes, stir occasionally.

Meanwhile, beat together the eggs, milk, Cajun seasoning, ham and 1/2 cup of the cheese. Reduce heat to low and pour egg mixture over potatoes. Cook over low heat, without stirring, until set on the bottom, about 1 minute.

Lightly stir and turn eggs to shift uncooked eggs to the bottom and cook gently until eggs are cooked through, but still a little shiny and wet. Don't overcook. Taste, adjust seasonings as needed.

Transfer to plates or serving platter, and top with remaining cheese.

Serve immediately with a side of fresh, seasonal fruit. Or serve stuffed in tortillas to make breakfast burritos.
 Hungry for more yummy breakfast recipes? Try our…
Farmer's Market Breakfast Tacos
BLT Egg in a Hole
We'd love to connect with you!
Blog | Facebook | Twitter | Pinterest | Google + | Instagram