Delicious miniature oreo cheesecakes with an easy chocolate ganache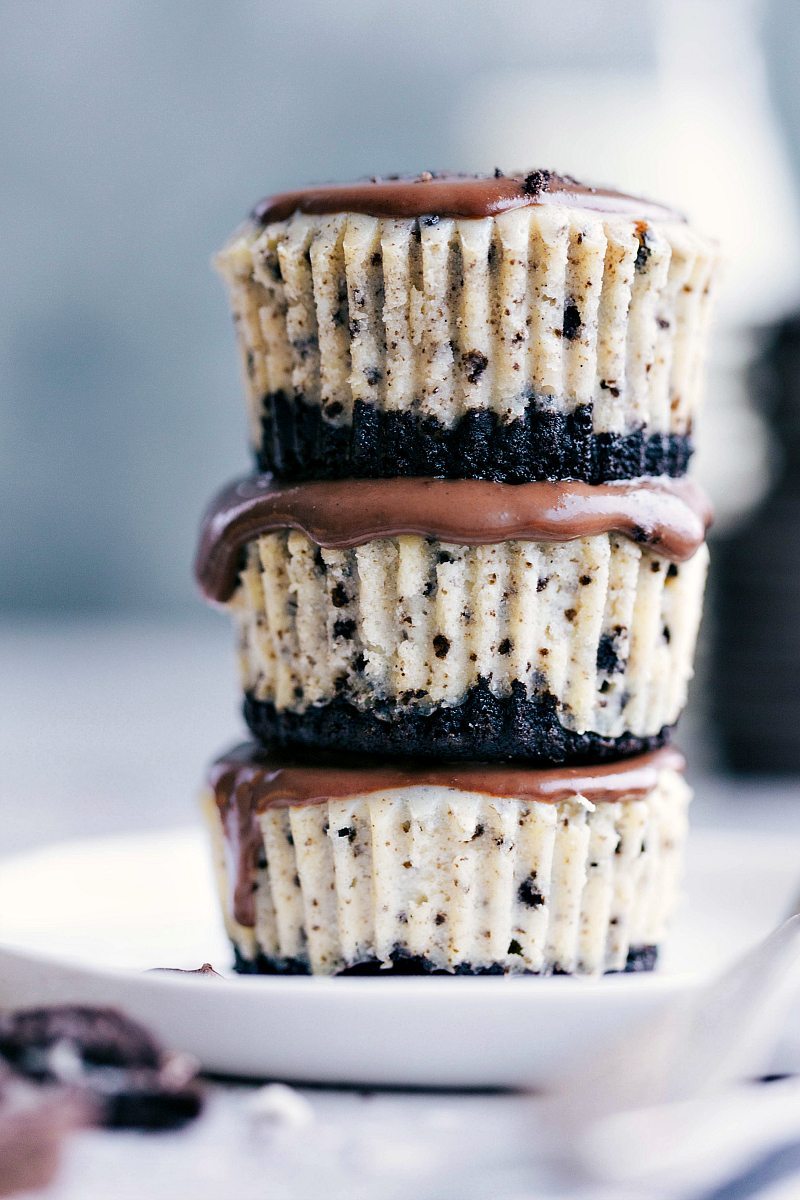 There aren't too many desserts I'd pick over these mini oreo cheesecakes; they are smooth, creamy, rich and velvety. With a thick oreo crust, an oreo speckled filling, and a chocolate ganache these cheesecakes are perfection. They are rich, but worth every single calorie!
Sometimes cheesecake can be intimidating to make, but I've found miniature cheesecakes are always much less intimidating. (Not to mention I prefer the smaller serving size anyways!) If you haven't made cheesecake before or are intimidated by the idea, I've compiled a list of my top cheesecake making tips below: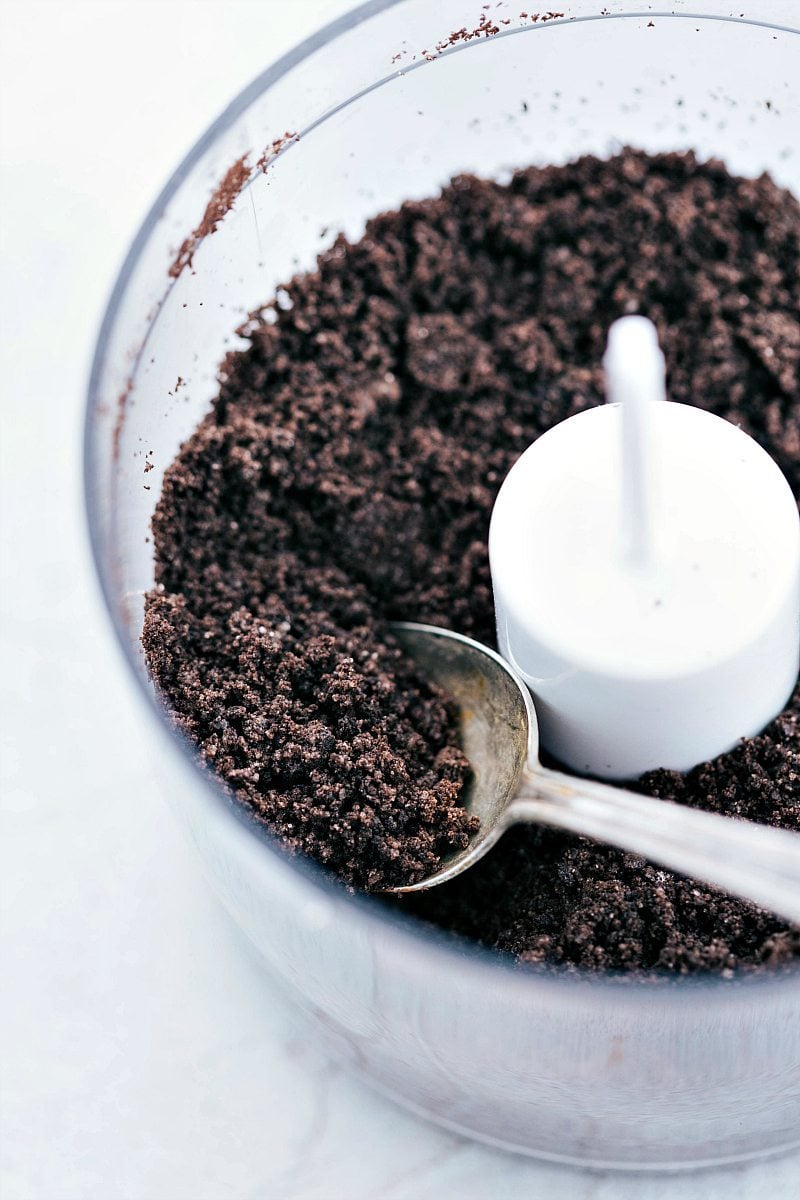 Tips to make the perfect mini oreo cheesecakes:
Use ROOM TEMPERATURE cream cheese: room temperature cream cheese becomes creamier when it is mixed and it incorporates much better with the other ingredients in this recipe. If your cream cheese is too cold, it tends to stay lumpy in the batter doesn't fully mix. You'll also likely be tempted to over-beat the batter (which is not good for a cheesecake!) to get rid of the lumps. Quick tip to get room temperature cream cheese: remove the cream cheese from the packaging and microwave in bursts of 15-20 seconds until it is room temperature (not softened or melted at all) It's also important when you are using room temperature cream cheese that you also use room temperature eggs and sour cream.
DON'T OVERMIX the batter: it's important to mix the cream cheese enough to remove the lumps and to combine the ingredients sufficiently, but over-mixing the batter will introduce too much air into the mixture. Too much air will cause the cheesecake to rise too quickly in the oven and then fall (how you get cracks in your cheesecake). You also want to mix the cheesecake at low and consistent speeds to again reduce the risk of beating in too much air.
Pulse/blend the oreos to even-sized crumbs: if you have large chunks of oreo crumbs (in the crust or the filling) it makes for a less smooth cheesecake. I pulse the oreos in a food processor until all the crumbs are even sized.
Allow the cheesecake to cool COMPLETELY at room temperature: It might not seem like a big deal to expedite the chilling process of the mini cheesecakes and put them in the fridge right out of the oven, but it you do this, the cheesecake tends to get an ugly appearance on top. This appearance comes from condensation that forms on top of the too quickly chilled cheesecake. If you chill the cheesecake too quickly, you can also get some cracks on it.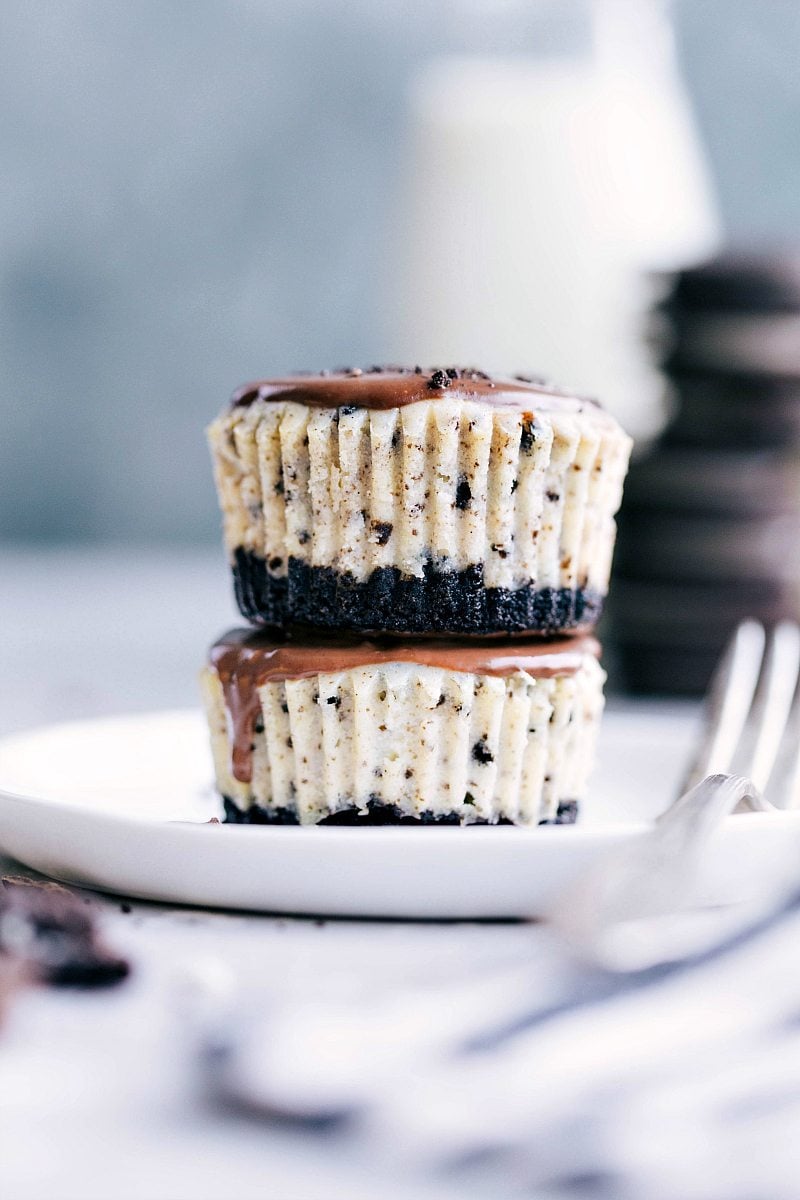 More Amazing Cheesecake Recipes:
Mini Cinnamon Roll Cheesecakes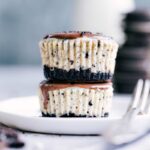 Mini Oreo Cheesecakes
Delicious miniature oreo cheesecakes with an easy chocolate ganache.
Servings
:
12
miniature oreo cheesecakes
Ingredients
Oreo Crust
1

cup (~12 full oreos)

oreo crumbs

2

tablespoons

unsalted butter,

melted
Oreo Cheesecake Filling
1 and 1/2

packages (12 ounces total)

BRICK style full-fat cream cheese,

at room temperature

1/2

cup

white granulated sugar

1/2

cup

full fat sour cream,

at room temperature

1/2

tablespoon

pure vanilla extract

1/8

teaspoon

fine sea salt

1/8

cup (2 tablespoons)

white flour

2

large eggs,

at room temperature

5

full

oreos,

crushed
Chocolate Ganache
4

ounces

semi-sweet (or bittersweet depending on personal preference) chocolate,

coarsely chopped

1/2

cup

heavy whipping cream
Instructions
CRUST
Preheat oven to 325 degrees F. Line a 12-cavity (regular sized) cupcake pan with cupcake liners and set aside. Blend full oreos in a food processor or powerful blender to form crumbs (make sure the crumbs are all even sized and you don't have big pieces.) Do not remove the vanilla creme in the oreos before blending.

Combine the oreo crumbs and melted butter. Divide the mixture between the cupcake liners (about 1 tablespoon per cup) and press into the bottoms. I like to use the lid of a milk container to press the crust into the bottoms evenly.

Bake crusts for 5 minutes then remove from oven. Set aside to cool.
CHEESECAKE FILLING AND TOPPING
Make sure your cream cheese, sour cream, and eggs are all at room temperature. Reduce the heat to 300 degrees F.

In a large bowl, combine the cream cheese and white sugar using a hand mixer. Beat at low speeds and in the same direction to reduce beating egg into the mixture (which will result in cracks later on). Add the cream cheese, vanilla extract, and sea salt. Beat on low speed until completely combined.

Scrape down the sides and add in the flour. Beat on low speed until combined. Add the first egg and make sure to beat until the egg is completely incorporated. Add the second egg and again, still beating slowly, beat until combined.

Blend another 5 full oreos in a food processor or powerful blender to form crumbs . Do not remove the vanilla creme in the oreos before blending. Gently fold the crumbs into the cheesecake mixture with a spatula.

Divide the batter evenly between the cupcake liners and fill most of the way. You should use all of the batter between the 12 cupcake liners.

Bake cheesecakes for 13 minutes, then turn off oven and leave the door closed for another 10 minutes. Crack the oven door and allow cheesecakes to cool for 25 minutes, then pull out an place on the counter at room temperature.

Once the cheesecakes are at room temperature, transfer to the fridge to chill for 2-3 hours.

Refrigerate until ready to serve.
Chocolate Ganache
Place the chopped chocolate in a heat-safe bowl. Bring the heavy cream to a simmer on the stove top, stirring occasionally. Just as soon as you see a simmer, remove from heat and poor over chocolate chips. Place a plate or lid over the chocolate chips and heavy cream mixture and let sit (without touching) for 5 minutes. Remove the plate or lid and whisk the chocolate until it becomes a smooth chocolate ganache.

Let the ganache sit for about 15 minutes to thicken and set. Spoon the ganache on top of the cheesecakes. (Don't add ganache to any cheesecakes that won't be eaten the same day). Store ganache and cheesecakes separately.
Recipe Notes
Total time does not include chilling time.