An easy cookie dough cup filled with edible cookie dough and surrounded by chocolate. No baking required for this delicious treat!
After you've fallen in love with a cookie dough cup, try these (no bake) smores bar, delicious energy bites, or these muddy buddies.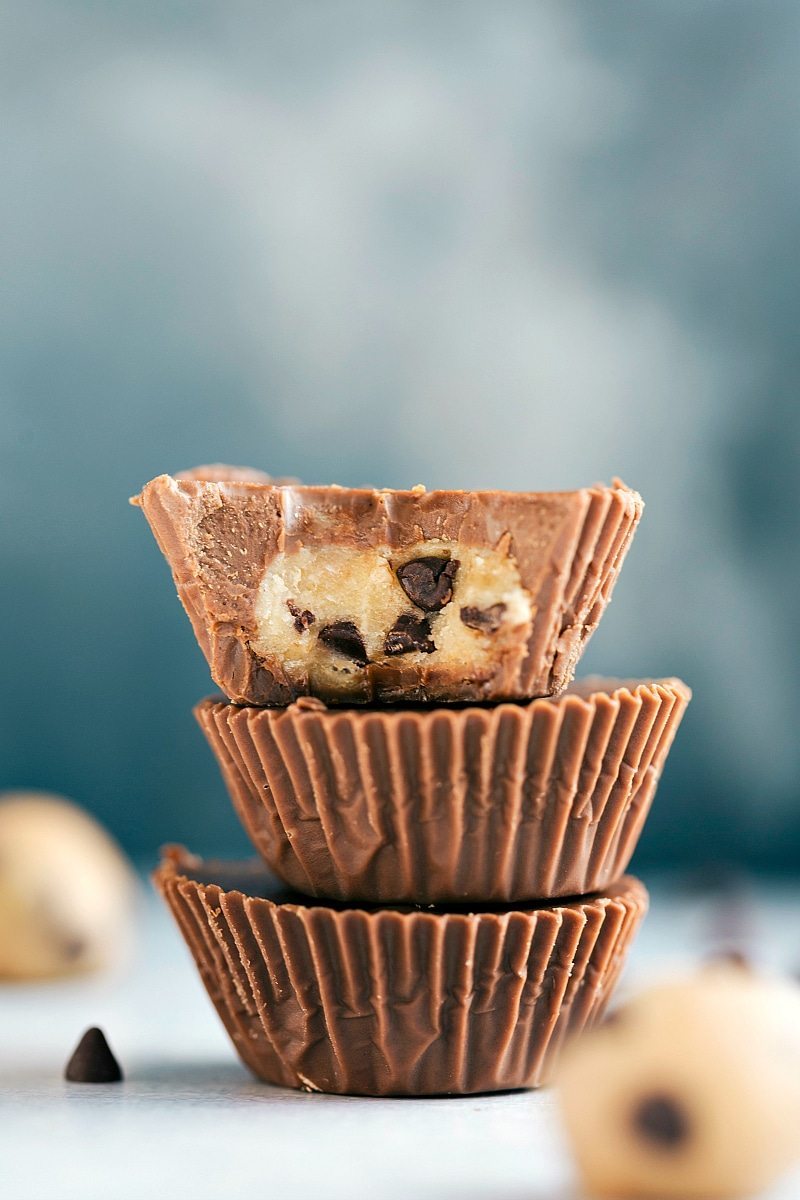 The husband's favorite candy of all time is Reese's peanut butter cups. They're definitely one of my top favorites as well (currently Kit-Kat's are claiming the top spot). But my favorite HOMEMADE treat? Always cookies. I honestly think I love cookies so much because I like sneaking the cookie dough beforehand.
So why not make a treat intentional on eating all of that cookie dough? And better yet make it just like one of our favorite candies? Done. These "Reese's Cups" edible cookie dough mash-ups have quickly become one of our favorite treats. They're absolutely delicious and so easy to make. And you don't need any special candy-making equipment. For this treat, you'll just need a miniature muffin tin and liners!

Concerned about raw flour in a cookie dough cup?
This cookie dough IS eggless so you don't have to worry about that, but, recently there have been some concerns about uncooked/raw flour.
So I've got a solution that not only makes these taste EVEN BETTER, but it makes them completely food safe as well. That solution? Toast the flour! Essentially you'll spread the flour onto a cookie sheet and bake it for 5 minutes. Once it's completely cooled, it's ready and safe to add in this edible cookie dough. Super easy!
Toasting the flour does eliminate the "no bake" factor of these cookie dough cups, but it is an optional step if you're concerned about that 🙂 Here's to a safe edible cookie dough cup!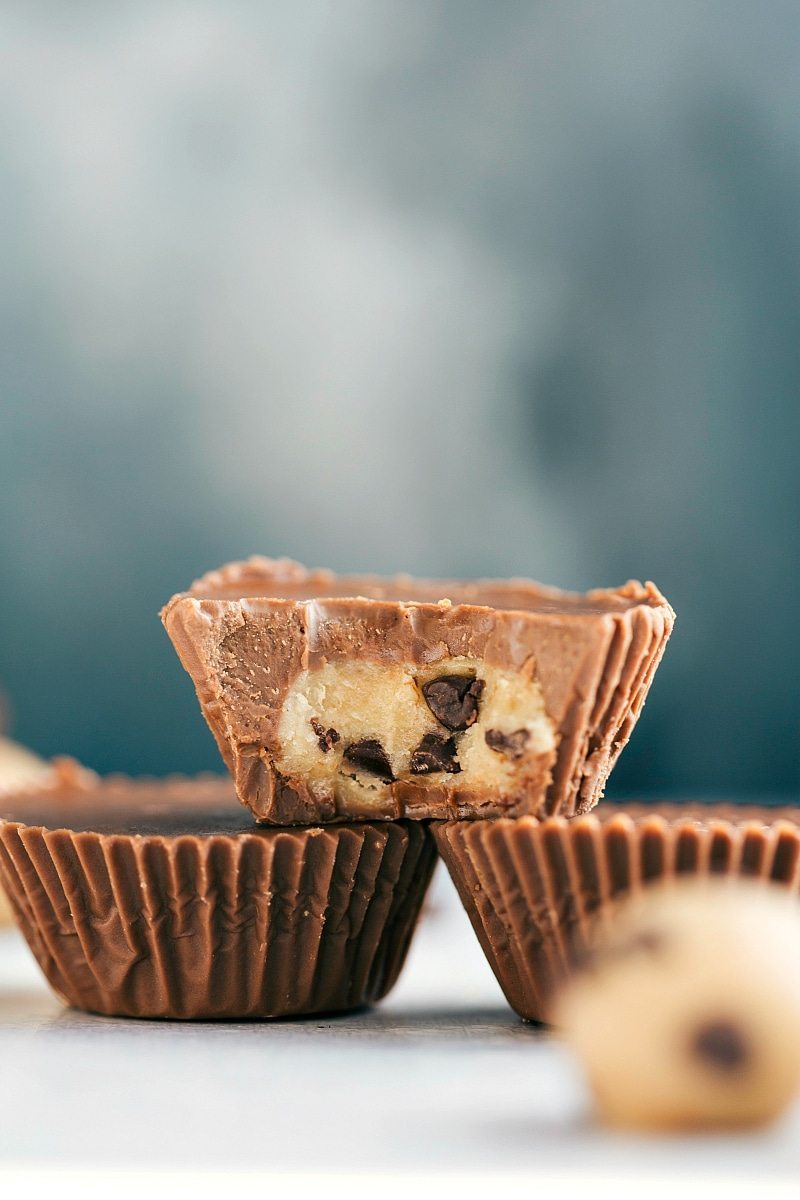 More Delicious Treats: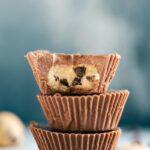 Cookie Dough Chocolate Cups
Edible (food safe) cookie dough cups!
Keyword:
cookie dough cup
Ingredients
6

tablespoons

unsalted butter,

at room temperature

1/2

cup

light brown sugar,

packed

3

ounces

cream cheese,

at room temperature

1/4

cup

white sugar

1

teaspoon

vanilla extract

1/4

teaspoon

salt

1 and 1/4

cups

white flour

3/4

cup

miniature chocolate chips

1 bag

(2 cups)

milk chocolate chips,

separated

1 and 1/2

teaspoons

coconut oil,

separated
Instructions
OPTIONAL (if you are concerned about "raw" flour): Preheat the oven to 350 degrees F. Spread the flour evenly on a cookie sheet. Bake in preheated oven for 5 minutes, remove and allow to cool completely.

In a large bowl, beat together the butter (make sure it is at room temperature and not melted or you will need to chill the dough) and brown sugar for 2-3 minutes. Beat in the room temperature (again not melted at all) cream cheese and the white sugar. Beat until well combined.

Beat in the vanilla, salt, and flour until a dough is formed. If it is too wet add in a little more flour until it pulls away from the sides when beating. Stir in the miniature chocolate chips.

Roll the cookie dough into small balls and set aside.

Line a miniature muffin tin with miniature lining cups.

In a small microwave-safe bowl melt 3/4 cup chocolate chips with 1/2 teaspoon coconut oil. (I microwave for 30 seconds, stir for 30 seconds, microwave for 15 seconds, stir, and then its ready!)

Spoon an even amount of the melted chocolate mixture into the bottom of each of the muffin cups.

Place the balls (slightly flattened) of cookie dough on top of the melted chocolate mixture. In the same bowl melt another 1 and 1/4 cup of chocolate and 1 teaspoon coconut oil.

Pour an even amount of chocolate over all of the cookie dough balls. Gently tap the muffin tin on the counter a few times to get the chocolate coating even.


Chill in the fridge for at least 30 minutes. Store in an airtight container in the fridge for up to one week.