This post is sponsored by Godiva and SheKnows Media.
As always, all opinions are 100% my own.
The ultimate best ever chocolate cheesecake with a chocolate-cookie base, smooth milk chocolate interior, an easy chocolate ganache, and the best chocolate garnish!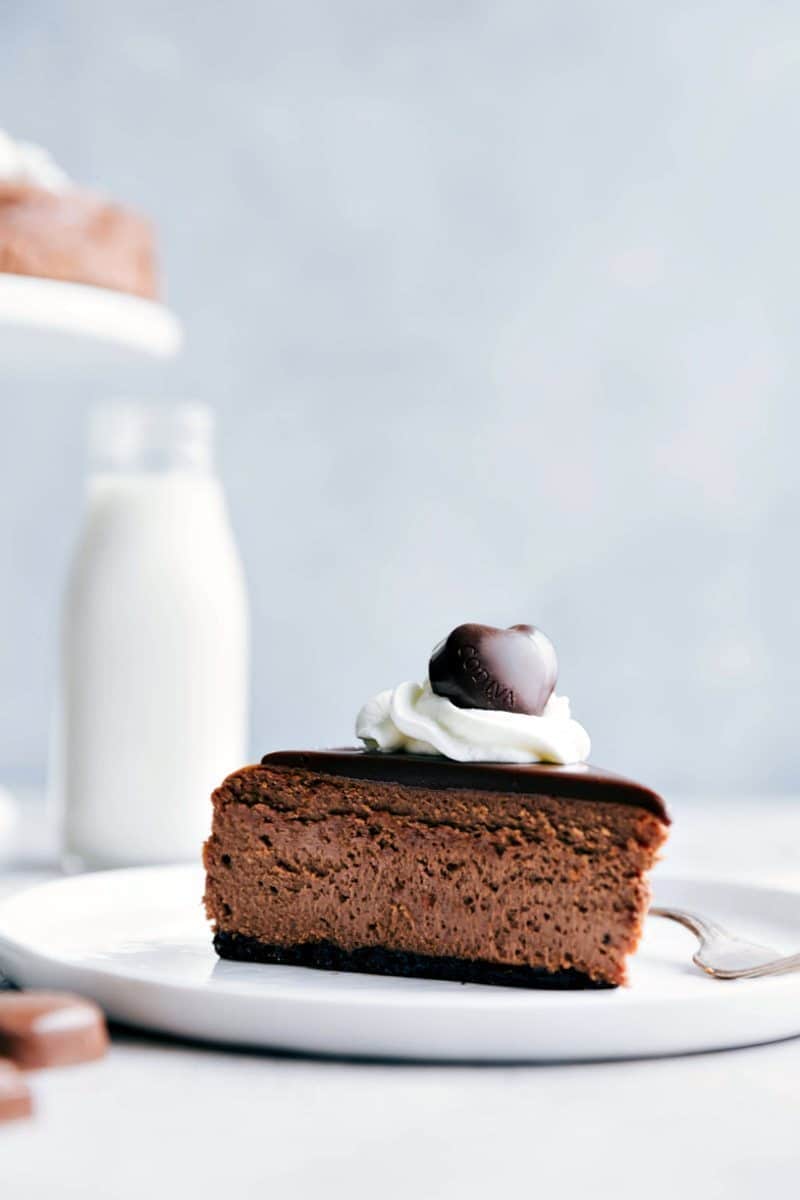 The few times I tested this chocolate cheesecake it didn't end well in terms of getting photographs…the boys were far too anxious to wait for it.
So, to keep the boys from demolishing this cheesecake before I could snap a few photos of it, I laid the boys down for bed and then made it at night and hid it in the fridge. The next morning, I added the whipped cream and GODIVA Masterpieces Chocolates to the top and while I went to grab my camera and a few props, the boys had picked off and nearly polished every single chocolate on top.
The boys could barely wait long enough for me to take pictures of this cheesecake before inhaling every last bite of their pieces and begging for more.
I've successfully created my own band of little chocolate lovers and I couldn't be happier about it.
This chocolate cheesecake recipe is a chocolate lover's dream come true and as a major chocolate lover, it has quickly climbed to become one of my favorite desserts. This chocolate cheesecake is complete chocolate overload with a chocolate crust, creamy chocolate cheesecake center, chocolate ganache topping, and the best chocolate garnish — GODIVA Masterpieces.
GODIVA recently launched a new line of chocolates called Masterpieces which are a line of individual wrapped chocolates and chocolate bars. Each piece is multi-layered with rich, indulgent fillings that everyone will go crazy for! You've got the iconic dark chocolate ganache heart, milk chocolate caramel lion, and milk chocolate hazelnut oysters. These Masterpieces are available in grocery stores, drug stores, and wherever you shop.
The GODIVA Masterpieces chocolates make the perfect beautiful topping to this chocolate cheesecake!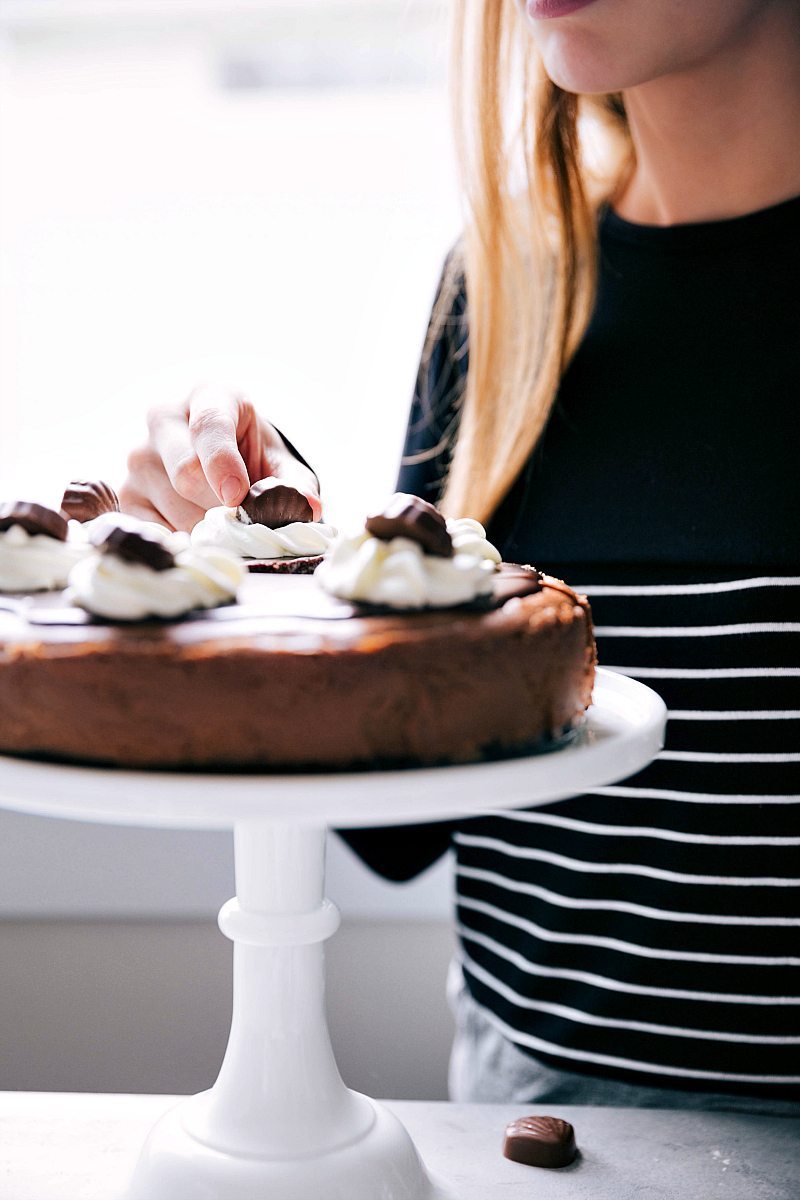 Here are some tips to make the perfect chocolate cheesecake:
Use ROOM TEMPERATURE cream cheese: room temperature cream cheese becomes creamier when it is mixed and it incorporates much better with the other ingredients in this recipe. If your cream cheese is too cold, it tends to stay lumpy in the batter doesn't fully mix. You'll also likely be tempted to over-beat the batter (which is no good for a cheesecake!) to get rid of the lumps. Quick tip to get room temperature cream cheese: remove the cream cheese from the packaging and microwave in bursts of 15-20 seconds until it is room temperature (not softened or melted at all) It's also important when you are using room temperature cream cheese that you also use room temperature eggs.
Use a SPRINGFORM pan: a springform pan (a pan that has a spring to hold the sides of the pan in place) is the best for cheesecakes. Because of the final texture of the cheesecake it can't be inverted from a pan (like your typical cake) and so the removable sides of the springform pan make it easy to keep the form and shape of the cheesecake. (Still make sure to generously grease your springform pan first).
Line your springform pan with FOIL: since this cheesecake bakes in a water bath (I promise it's still easy!) you'll want to line the outside in foil (I line it twice in heavy duty foil) to ensure absolutely NO water from the water bath seeps into your cheesecake.
DON'T OVERMIX the batter: it's important to mix the cream cheese enough to remove the lumps and to combine the ingredients sufficiently, but over-mixing the batter will introduce too much air into the mixture. Too much air will cause the cheesecake to rise too quickly in the oven and then fall (how you get cracks in your cheesecake). You also want to mix the cheesecake at low and consistent speeds to again reduce the risk of beating in too much air.
Bake this cheesecake in a WATER BATH: the water bath is simply putting your cheesecake into a larger baking pan that is filled with about an inch of water. Why use a water bath? The water helps to evenly disperse the heat which will help to ensure your cheesecake is evenly baked. You'll also be able to avoid the cracks in the cheesecake.
Allow the cheesecake to cool COMPLETELY at room temperature: It might not seem like a big deal to expedite the chilling process of a cheesecake and put it in the fridge right out of the oven, but it you do this, the cheesecake tends to get an ugly appearance on top. This appearance comes from condensation that forms on top of the too quickly chilled cheesecake. If you chill the cheesecake too quickly, you can also get some cracks on it.
Slice the cheesecake with a very sharp and HOT KNIFE: To get the perfect slices, you'll want to use a large and very sharp knife. Run the knife under very hot water, quickly (but still completely) dry it off, and then make quick cuts to get a perfect chocolate cheesecake slice.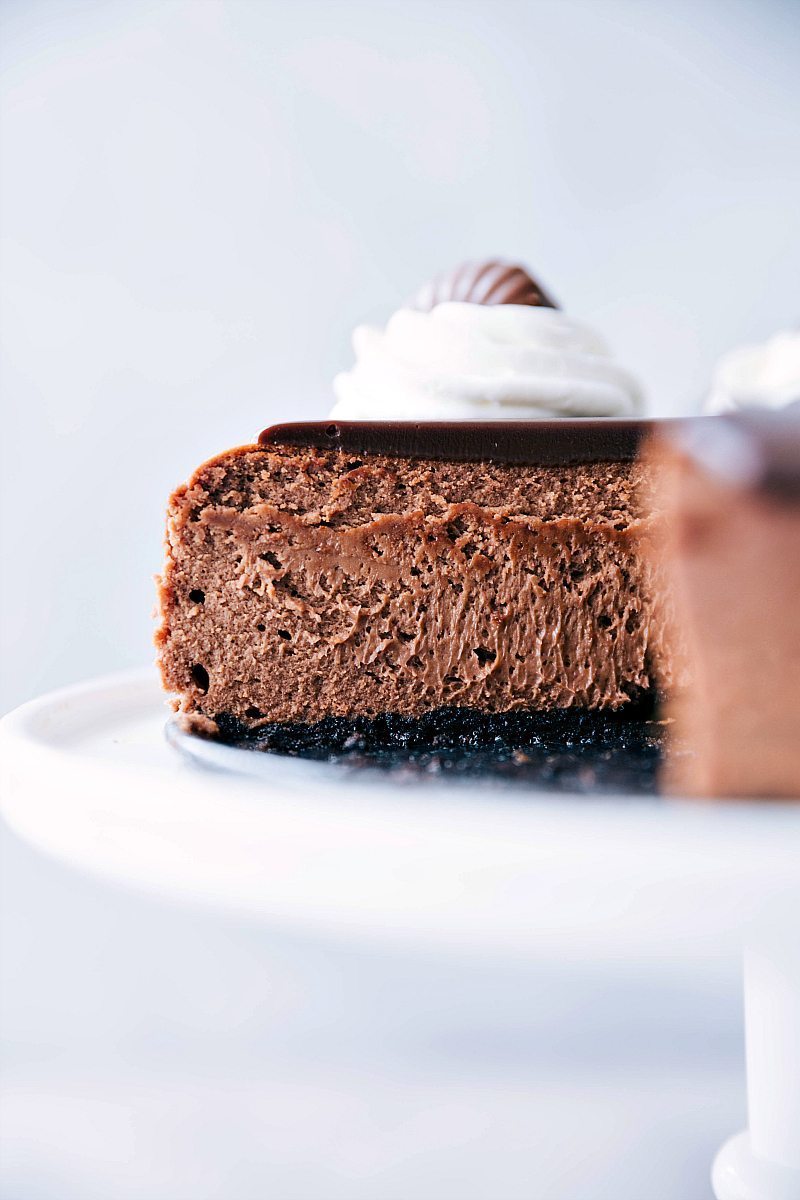 More Amazing Chocolate Desserts:
Bakery-Style Caramel-Filled Chocolate Cookies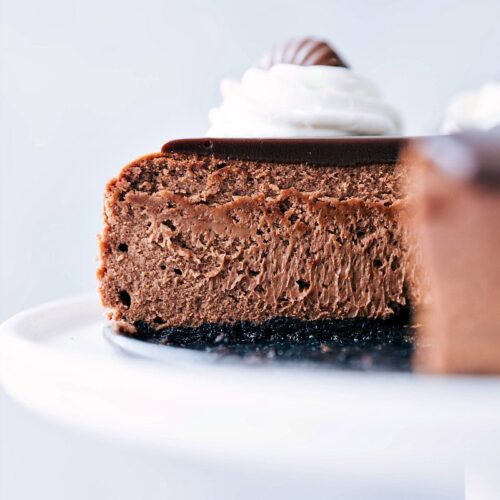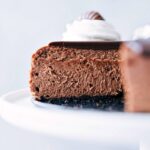 Chocolate Cheesecake*
The ultimate best ever chocolate cheesecake with a chocolate-cookie base, smooth milk chocolate interior, an easy chocolate ganache, and the best chocolate garnish!
Servings
:
1
9-inch springform pan (12-16 slices)
Ingredients
Crust
20

chocolate sandwich cookies

(You'll need 1 cup cookie crumbs)

2

tablespoons

white sugar

4

tablespoons

unsalted butter,

melted
Filling
4

packages (8 ounces EACH)

full fat cream cheese,

at room temperature

1 and 1/2

cups

white sugar

1

package (10 ounces)

milk, semi-sweet, or dark chocolate chips

4

tablespoons

unsweetened cocoa powder

4

large

eggs

1/2

teaspoon

salt

1/2

tablespoon

vanilla extract
Ganache
1

cup

semi-sweet, milk, or dark chocolate chips

1/2

cup

heavy whipping cream

1

tablespoon

unsalted butter
Topping
GODIVA Masterpieces

3/4

cup

heavy whipping cream

1

tablespoon

powdered sugar

1

teaspoon

vanilla extract
Instructions
Preheat the oven to 325 degrees F. Wrap a well-greased 9-inch springform pan in two layers of heavy duty foil. Secure around the pan.

In a small bowl, combine cookie crumbs and sugar and then stir in butter. Press firmly into the bottom of the greased and prepared springform pan. Place pan on a baking sheet. Bake for 10 minutes and then remove onto a cooling rack. Melt the chocolate chips in the microwave in busts of 15 seconds stirring in between each burst for 10 seconds until the chocolate is melted and smooth. Allow to cool to room temperature.

In a very large bowl, beat the ROOM TEMPERATURE (must be room temperature) cream cheese and sugar until smooth at consistent low-medium speeds. Be careful to not over-beat. Beat in cooled chocolate and cocoa powder.

In a small bowl, whisk together all of the eggs. Add them to the mixture along with the salt and vanilla extract. Beat on low speed until JUST combined. Pour this mixture into the springform pan. Place the pan in a large baking pan and add 1 inch of BOILING water to the pan surrounding the springform pan.

Bake the cheesecake at 325 degrees for 50-60 minutes or until center is just set and top is not shiny. Remove the springform pan from water bath and remove the foil. Cool the cheesecake on a wire rack for 10 minutes and then gently loosen the edges of the pan with a butter knife. loosen edges from pan with a knife. Cool AT ROOM TEMPERATURE for one hour and then transfer to the fridge (covered) and chill for at least 8 hours (preferably overnight).

For the ganache: place chocolate in a small bowl with the butter and heavy cream. Microwave in bursts of 20 seconds, stirring in between each burst for 10 seconds until the mixture is smooth. Let stand at room temperature for an hour before topping the cheesecake with the ganache. Spoon the ganache into the center of the cheesecake (keep it about an inch away from the edge) and let sit in the fridge for an hour (or until the ganache is firmly set).

When ready to serve, combine the heavy whipping cream, powdered sugar, and vanilla extract in a stand mixer. Beat on high until soft peaks form and then spoon or pipe the whipped cream over the cheesecake slices. Place a GODIVA Masterpiece on top of the whipped cream on each piece of cheesecake.
Recipe Notes
*The total time for this cheesecake does NOT include all of the mandatory chilling time which takes at least 9 hours. Make sure to plan ahead for this cheesecake!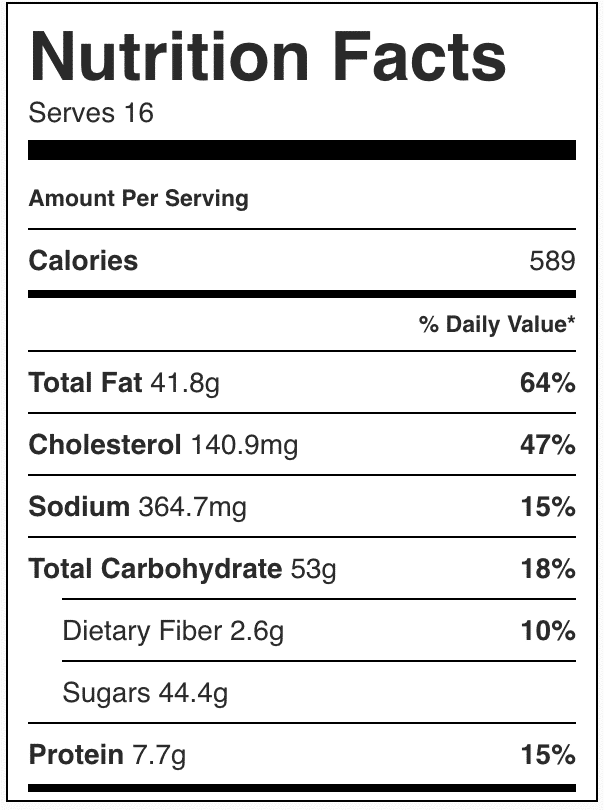 Giveaway has ended. Congrats to Richelle Fischer 🙂