A deliciously fudgy molten lava miniature cookie cup that tastes like a brownie! This seven-ingredient dessert is absolutely delicious and perfect for holiday baking.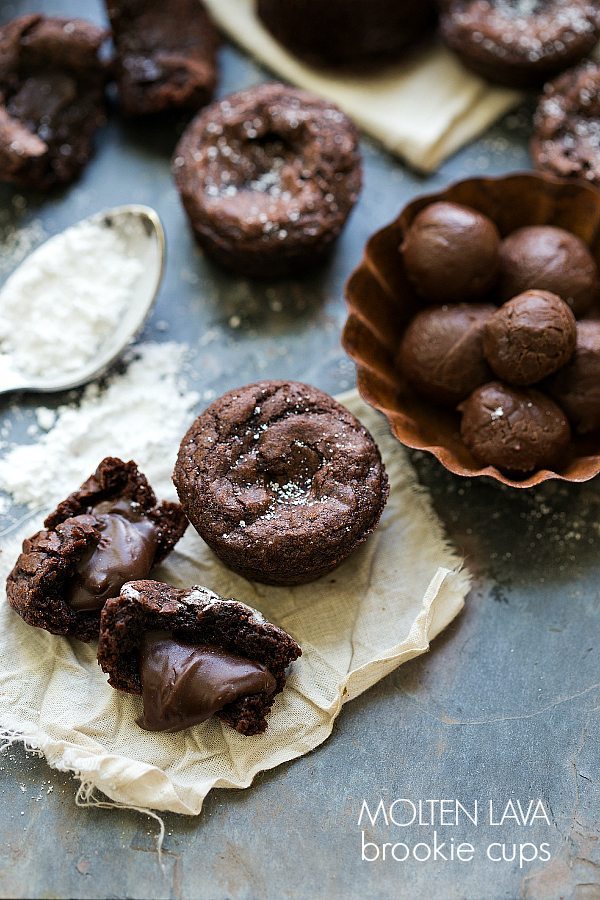 Molten lava cookies are an idea I've had for months now. And finally, it is here!!
The husband and I are pretty obsessed with molten lava cakes. In fact, we have a family tradition that involves having them every single Thursday. Although, honestly, I'm pretty sure I'm the only one that knows about this tradition since I'm just now deciding it is going to be one. For the past month I think we've had one every single Thursday on our weekly date, so now I just need to tell the husband that it's going to continue to happen every Thursday.
When we go out to dinner the very first thing we do is look at the dessert menu for a molten lava cake. If there is one, we always order it. If we are too full, we get it to-go AKA we eat it on the car ride home 🙂 So naturally I've wanted to re-create delicious molten lava goodness, but in cookie form. Since we have the cakes on Thursdays, we now can have cookies every other day, right?!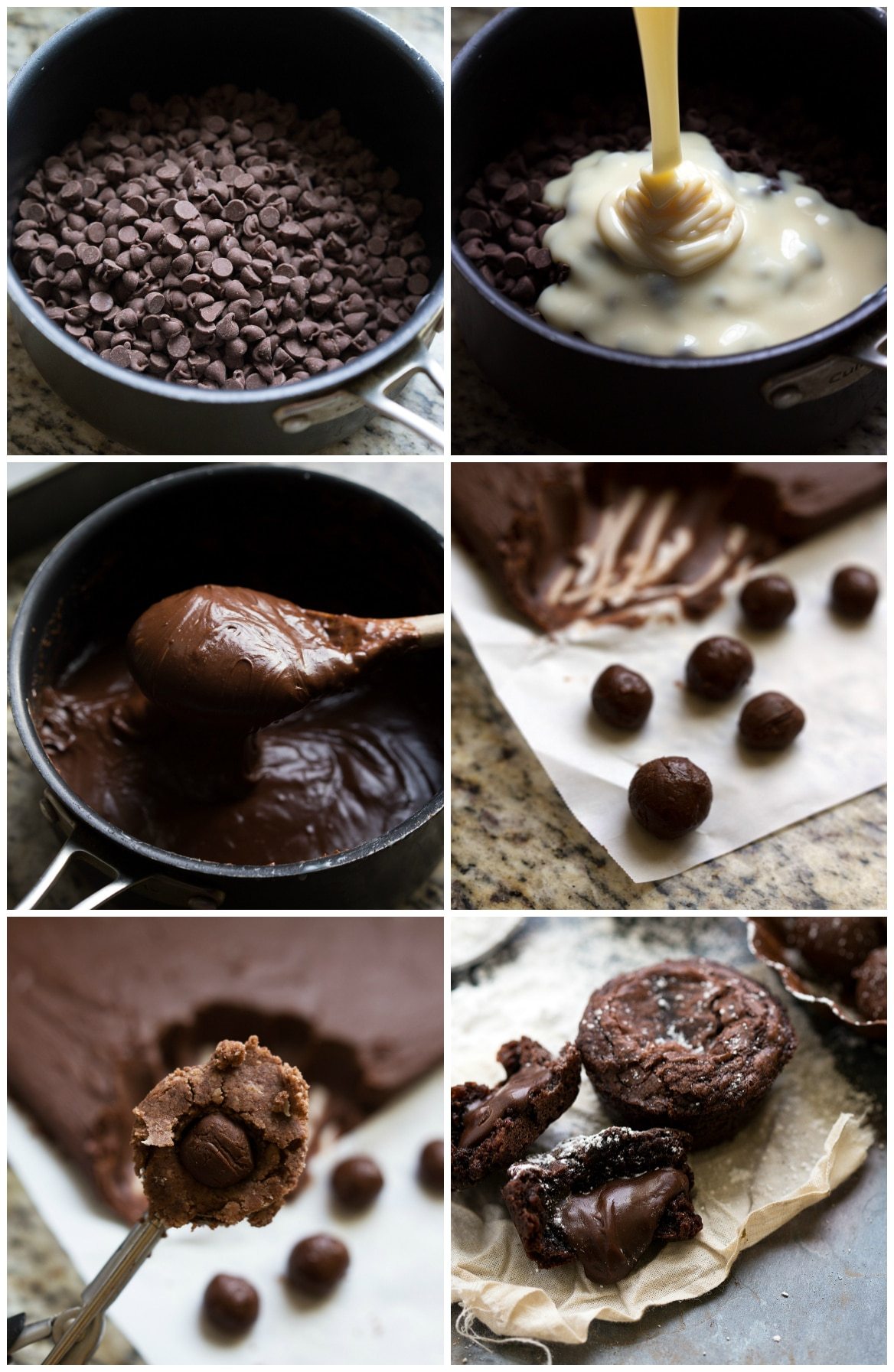 These cookies aren't your easiest cookies ever, but they aren't too hard either. It's mostly just the waiting game which is never super fun to do, but trust me, it's totally worth it for these. And I mean, with 7 ingredients there's no way you can pass these up!! One of those ingredients is a brownie mix – hence the brownie taste and flavor in the cookie cup form. The important thing to note here is make sure you get the right sized brownie mix. I call for an 18.4 ounce brownie mix and it's important to get this size so all the ingredients work together.
Other important notes: freeze the chocolate balls! If the chocolate balls aren't entirely frozen through then the brownie cups won't be very molten. Fudgy, extremely. Delicious, absolutely. But molten flowing chocolate? Not so much. Along with getting molten brownie cups instead of just fudgy brownie cups, here are a few more tips: The less brownie mix around the chocolate balls the better. The more brownie I would put around the chocolate balls, the less molten it would become. Try to just *barely* cover the chocolate ball with the brownie mix. When you put these in a miniature muffin tin, they should fill it up about 3/4ths the way and no more. The next key is slightly under-baking. If you bake these guys all the way through, the chocolate ball will bake too. I like to slightly under-bake them and then let them set up like that.
If you are dying to get that warm, right out of the oven taste and "chocolate lava flow" (who isn't?!), you can always place these in the microwave for 5-10 seconds after they have cooled down. AKA this is how I eat all of the cooled ones because it's the best.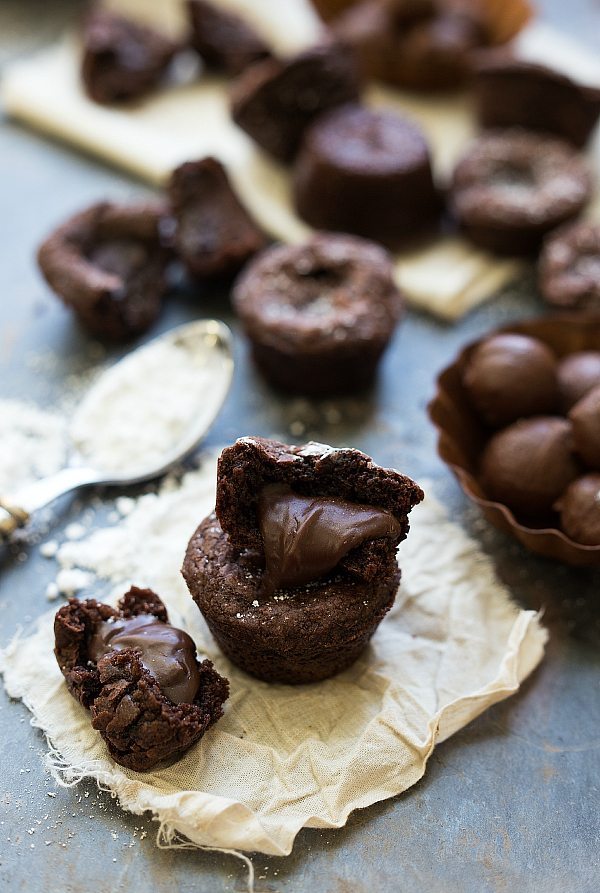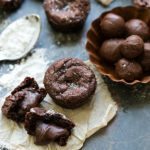 Fudgy Molten Lava Brookie Cups
Ingredients
3

cups

milk chocolate chips

1

can (14 ounces)

sweetened condensed milk

Tiny pinch of salt

2

teaspoons

vanilla extract

1

package (18.4 ounces)

chocolate fudge brownie mix

(do not make according to package directions; follow the instructions in this recipe)

1/2

cup

butter

at room temperature not melted

1

large

egg

Optional: powdered sugar
Instructions
In a medium pan over low heat, combine the chocolate chips, sweetened condensed milk, and the pinch of salt.

Stir constantly until the chocolate is melted and smooth. Remove from the heat and stir in the vanilla.

Pour the mixture evenly in a parchment lined 8 x 8 pan. Place in the fridge and allow to harden for at least 2 hours. Using a 1/2 teaspoon measuring spoon, scoop out small bits and roll them into balls.

Place the balls on a plate, cover, and freeze until completely frozen through.

Preheat the oven to 350 degrees F. Generously grease a miniature muffin tin and set aside.

Beat together the brownie mix, butter (not melted, just at room temperature), and the large egg until completely combined.

Surround one of the chocolate balls with the brownie dough. The less surrounding the chocolate ball, the more "molten" the chocolate will be.

Place the cookie brownie balls into the prepared muffin tin. They should only fill the muffin tin 3/4ths the way.

Bake for 12-14 minutes remembering the key to the molten is slightly under-baking these.

Remove and allow to cool. Twist out (or coax with a spoon) of the muffin tin.

Enjoy optionally topped with a sprinkle of powdered sugar.

For a molten treat later on, microwave these for 5-10 seconds and enjoy!
Here are more delicious chocolate desserts:
Triple-Chocolate Hot Fudge Brownie Cookies