Adorable AND delicious easy-to-make melted snowman cookies. The cookie base is a peanut butter cookie and is topped with peanut butter cups and a white chocolate coating.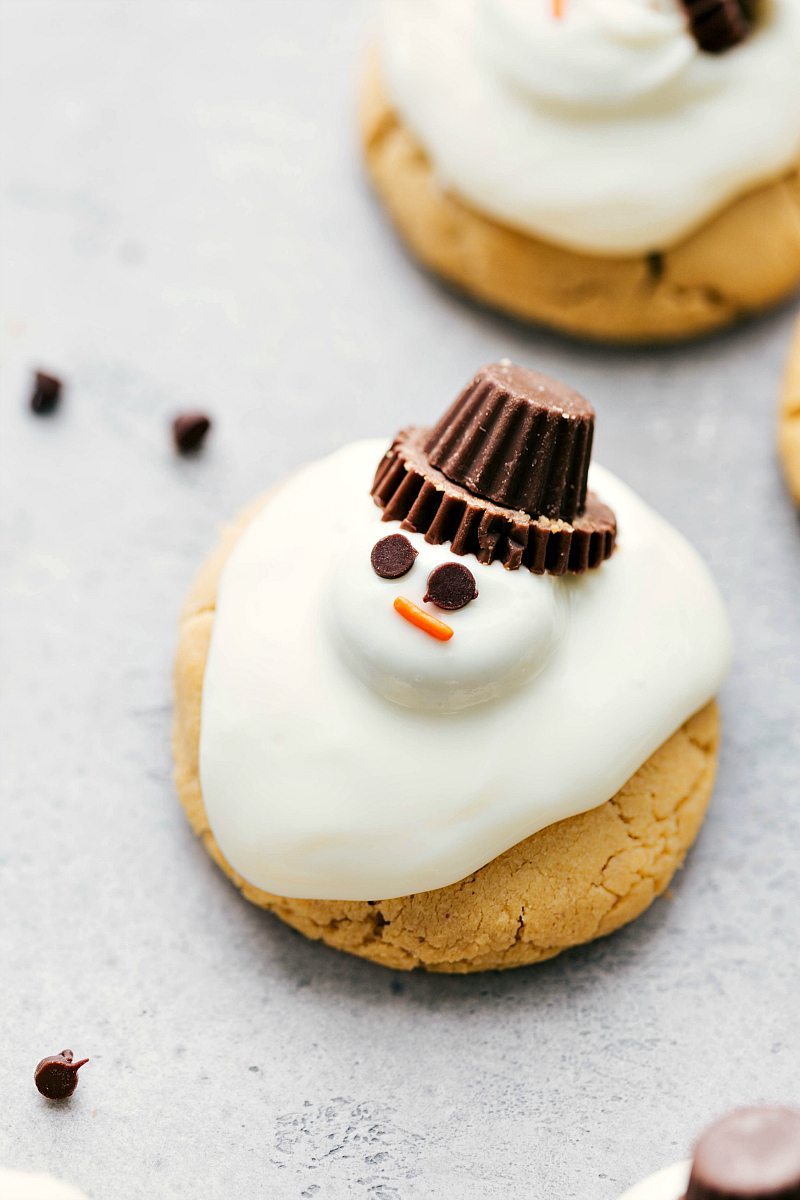 Melted Snowman Cookies
Melted Snowman Cookies aren't anything "new" to the internet, but I'm so excited to share my take on them, because these are truly the most delicious version of melted snowman cookies! That is, if you are a peanut butter and chocolate fan 🙂
Most melted snowman cookies on the internet call for a halved large marshmallow to make the "melted head" of the snowman. And while it does look good, the taste is just not great and the marshmallows get hard a lot faster than you want them to. I made these melted snowman cookies last year and while they looked so cute, they just weren't all that delicious.
SO, I've been brainstorming of a way to make melted snowman cookies still look good but taste even better. And then I thought: peanut butter cups! They've got the same shape as a halved marshmallow, but they won't get hard and they are a perfect complement to a delicious peanut butter (or regular chocolate-chip) cookie.
The great thing about using a peanut butter cup, is you can really use any cookie base you'd like. I love my soft and chewy peanut butter cookies as a base, but these chewy chocolate chip cookies would be a great base as well. Or these bakery-style chocolate-caramel filled cookies would work great if you leave out the caramel candies in the center.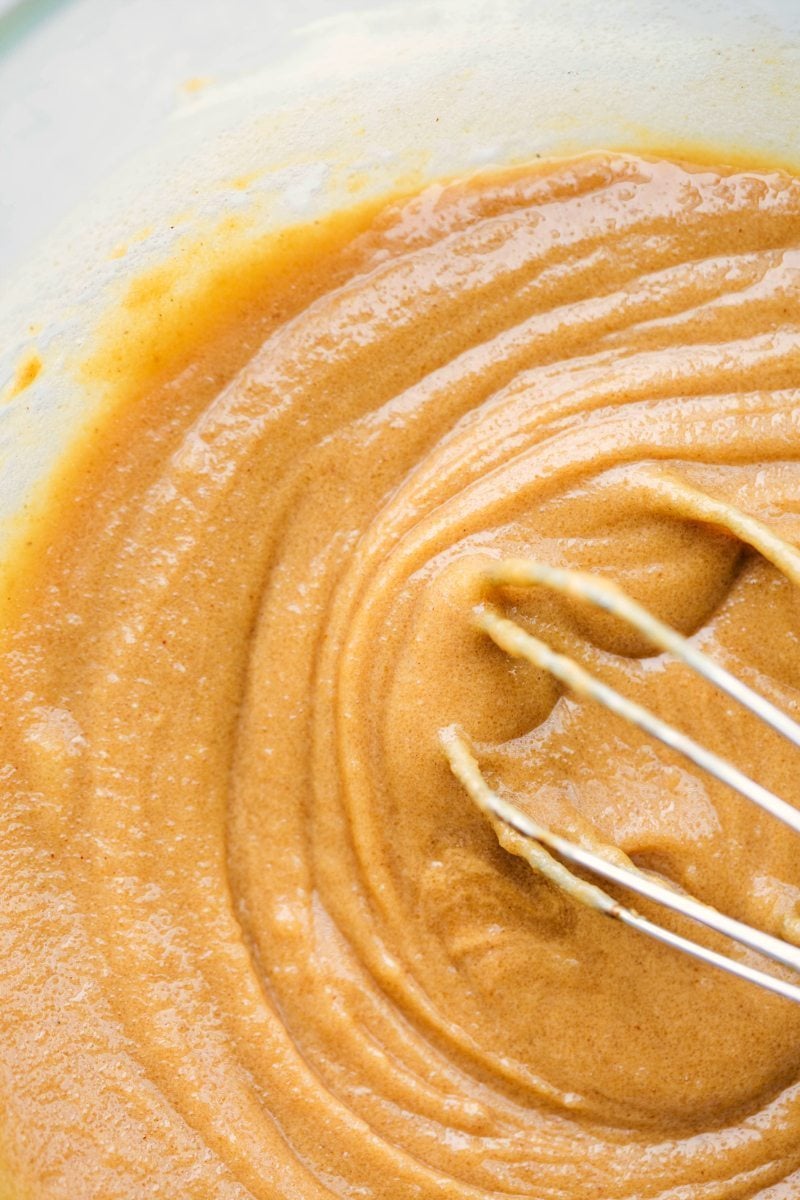 Melted snowman cookies tips
Wait for the cookies to cool MOST of the way before pressing the peanut butter cup in the cookies. If you press the peanut butter cup in the cookies too soon after they've come out of the oven, the peanut butter cup will melt too much into the cookie. If you wait until the cookie is 100% cooled, it will be hard to get the peanut butter cup to stick. Err on the side of a more cooled cookie though because you can always attach the peanut butter cup with a little extra melted white chocolate if needed.
The one potential drawback to using a peanut butter cup is that it will start to melt when you add the white chocolate on top. To avoid it melting, try to spoon the white chocolate over the peanut butter cup quickly and smoothly. Once the white chocolate is down, don't touch it. Tap the entire cookie on the table to smooth the white chocolate without touching the peanut butter cup below. If you can still see the chocolate underneath, feel free to add another coat of white chocolate on top of the first coat of white chocolate. I typically do two quick coats of white chocolate: spoon on one large spoonful of white chocolate, tap the cookie a few times to get it to smooth, smooth on another large spoonful of white chocolate, and tap the cookie a few more times to get it smooth. Don't touch it and let it set 🙂
Add the "decorations" quickly: white chocolate has a tendency to set up fast, so you'll want to add on the hat, eyes, and "nose" as quickly as possible.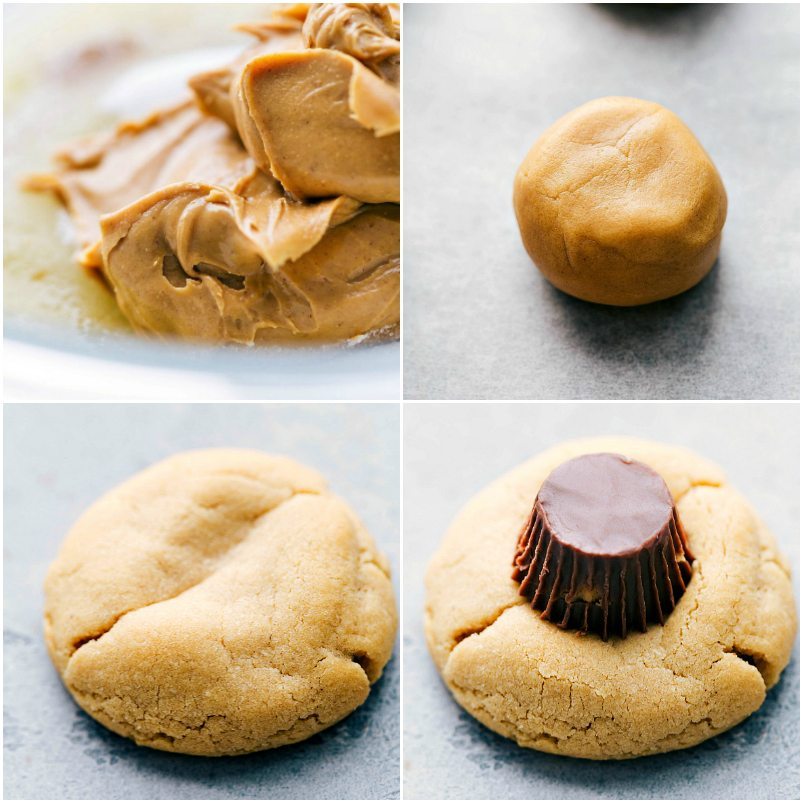 Making the "base" for these melted snowman cookies soft and chewy
To make a the base of these cookies (a peanut butter cookie) soft and chewy (as opposed to crispy), the cookie needs to have a higher moisture content than typical. You achieve this by using two large fresh eggs instead of just one, an entire cup of brown sugar (the added molasses has a 10% water composition), and overall less flour.
To get the cookies even chewier, we melt the butter. When you mix room temperature (or cold) butter with sugar and other ingredients, you're introducing air which gets trapped in whatever you're baking, and that results in a more cake-like texture. Melting the butter eliminates any gas entrapment and therefore makes the cookies chewier. That said, when you melt the butter you only want it about 80% of the way melted. This keeps the cookies from being greasy. I'll also mention here that is is important to use REAL butter. Butter is the base of this cookie — it gives it the body, texture, and flavor. Real butter is the perfect foundation for an amazing cookie!
Finally, it really helps to chill the dough. When you chill dough the butter solidifies which allows it to melt slower when it's baked. This creates a thicker cookie which prevents the cookie from going flat and becoming crispy. Chilling the dough also gives the sugar time to absorb more of the liquid and become more concentrated. A more concentrated sugar is going to give you a chewier and sweeter cookie. The recommended chill time on these peanut butter cookies is 30 minutes to an hour.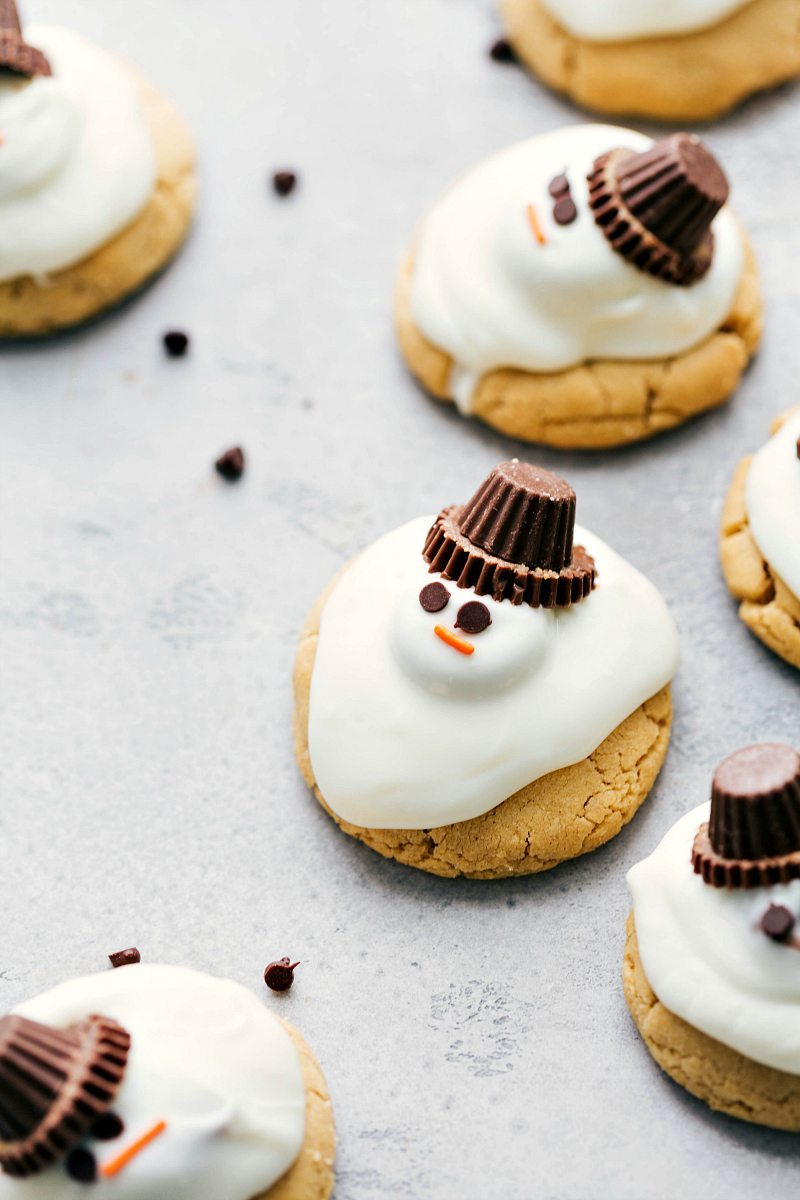 More Fun Holiday Treats: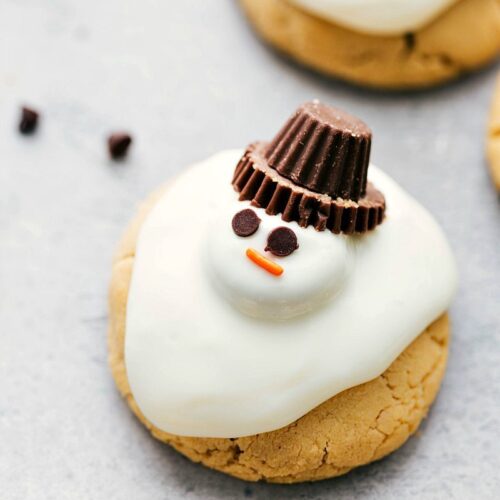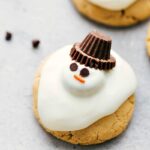 Melted Snowman Cookies
Adorable AND delicious easy-to-make melted snowman cookies. The cookie base is a peanut butter cookie and is topped with peanut butter cups and a white chocolate coating.
Keyword:
melted snowman cookies
Servings
:
24
large cookies
Ingredients
1

cup

unsalted butter

melted

1

cup

brown sugar

lightly packed

1

cup

white granulated sugar

1

cup

creamy peanut butter

1/4

teaspoon

almond extract

optional (the "secret ingredient" that intensifies nutty flavor!)

1

tablespoon

vanilla extract

2

large eggs

1

teaspoon

baking soda

1/2

teaspoon

salt

2-2/3

cup

white all-purpose flour

1

bag (12 ounces)

miniature peanut butter cups,

unwrapped

1

bag (8 ounces)

"minis" peanut butter cups (these are even smaller than the miniature ones; they come in a bag already un-wrapped)

Orange jimmies sprinkles

Miniature chocolate chips

1

bag (12 ounces)

high quality white chocolate chips
Instructions
Line a large baking sheet with parchment paper or a silpat liner and set aside.


In a microwave-safe bowl, microwave the butter until it's about 80% melted. Pour into a large bowl and add in the brown sugar and white sugar. Mix with a large whisk (don't use hand mixers) until JUST combined.


Add in the peanut butter, almond extract, and vanilla extract. Mix until combined. Add in one egg. Mix just until ingredients are incorporated and then add in the last egg. Again mix until the ingredients are just incorporated.


Add in the baking soda and salt and mix until just incorporated. Add in the flour and again mix until just incorporated. You do not want to overmix (you'll get denser cookies!)


Cover the dough and chill for at least 30 minutes. Preheat the oven to 325 degrees F. (use convection bake at 325 degrees F if you have it!)


Scoop the cookie dough into large balls (see picture in post) and place on cookie sheet.


Bake for 8-10 minutes. Ever so slightly under-baking the cookies will keep them soft and chewy. (They also bake a bit more on the cookie sheet when removed from the oven). Be careful to not over-bake these cookies!


Remove the cookies and allow them to cool on the baking sheet for 5 minutes before removing them to a cooling rack to finish cooling completely.


When the cookies are almost completely cooled, but not all the way, gently press a miniature reese's cup into the center of the cookies. Let the cookies then cool 100% of the way.


Once the cookies are completely cooled (you can chill them if you're in a warm kitchen), melt the white chocolate chips in the microwave. Microwave them (don't add anything) in bursts of 20 seconds, stirring in between each burst for 10 seconds until the chocolate is melted and smooth.


Using a small spoon, spoon the white chocolate over the miniature reese's cup. Tap the cookie on the counter a few times and then add another spoonful of white chocolate on top if needed. Again, tap the cookie a few time to get the white chocolate to spread and be smooth.

Immediately press in the "hat" (see step 14) to the top of the "head" of the snowman and then add two miniature chocolate chips (placed upside down) below the hat and finally one orange sprinkle below the chocolate chip eyes.

Allow to harden at room temperature.

To make the "hats": use a very sharp serrated knife to cut off the top of a miniature reese's cup. Place some of the melted white chocolate on the bottom of a MINI reese's cup and attach the MINI reese's cup to the cut miniature cup.
Recipe Video
Here's how much my little boys appreciated the cuteness of these melted snowman cookies: