Very simple, no-chill peppermint sugar cookies with a delicious peppermint cream cheese frosting.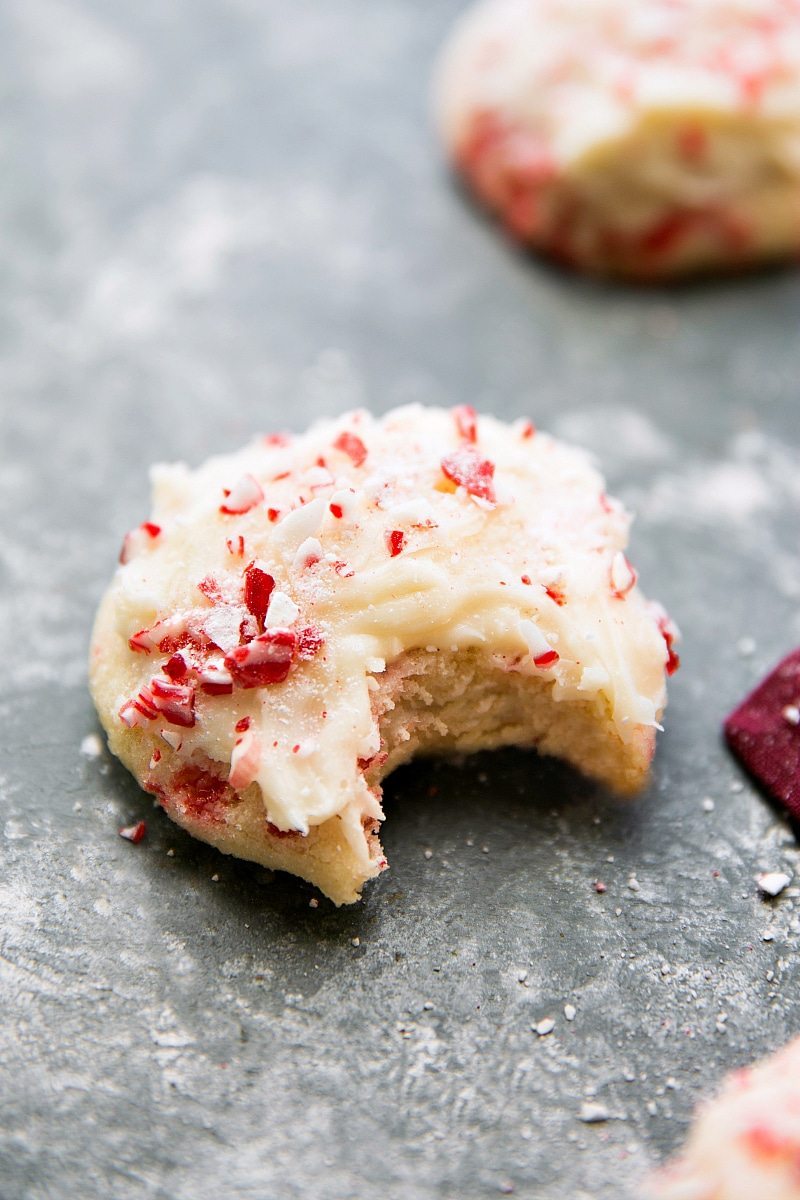 Happy Friday everyone!! I am so excited — we are heading out to Vermont for this whole next week and for Thanksgiving. It's not going to be the most traditional Thanksgiving (on the road), but I figure we've already had our Thanksgiving meal in several increments. Like here, here, and here.
The husband was born and raised in Vermont and we've only been back there once. The first time was an absolute blast. We went to the schools he attended, the places their family would go, old jobs, and saw all the fun things he did growing up. We even stayed overnight in a Church campground that he helped build as a teenager. Um. Yeah my husband's really cool and handy.
I'm pretty excited to visit again and especially with the little guy – although I'm certain he won't remember anything. BUT at least he won't sleep through the whole trip. Yeah…did I ever tell you that time we took him to Disneyland and he slept the ENTIRE time? I guess that is what you should expect from a 2-month old though.
Anyways. Road trips are my favorite. So I'm having hard time concentrating on sugar cookies when all I can think about is a long vacation car ride. It will be interesting how much I love long car trips with a one-year-old…we shall see 🙂 The husband and I have road-tripped to 44 states total and we did them all in about a month-long trip. Those are some of my favorite memories!
Okay. sugar cookies…yes. Oh and peppermint nonetheless!
PLUS a free printable if you want to package these cookies up and gift 'em. Fun right?! I packaged pre-made sugar cookies, but another fun idea would be to just make the dough and give baking instructions for it!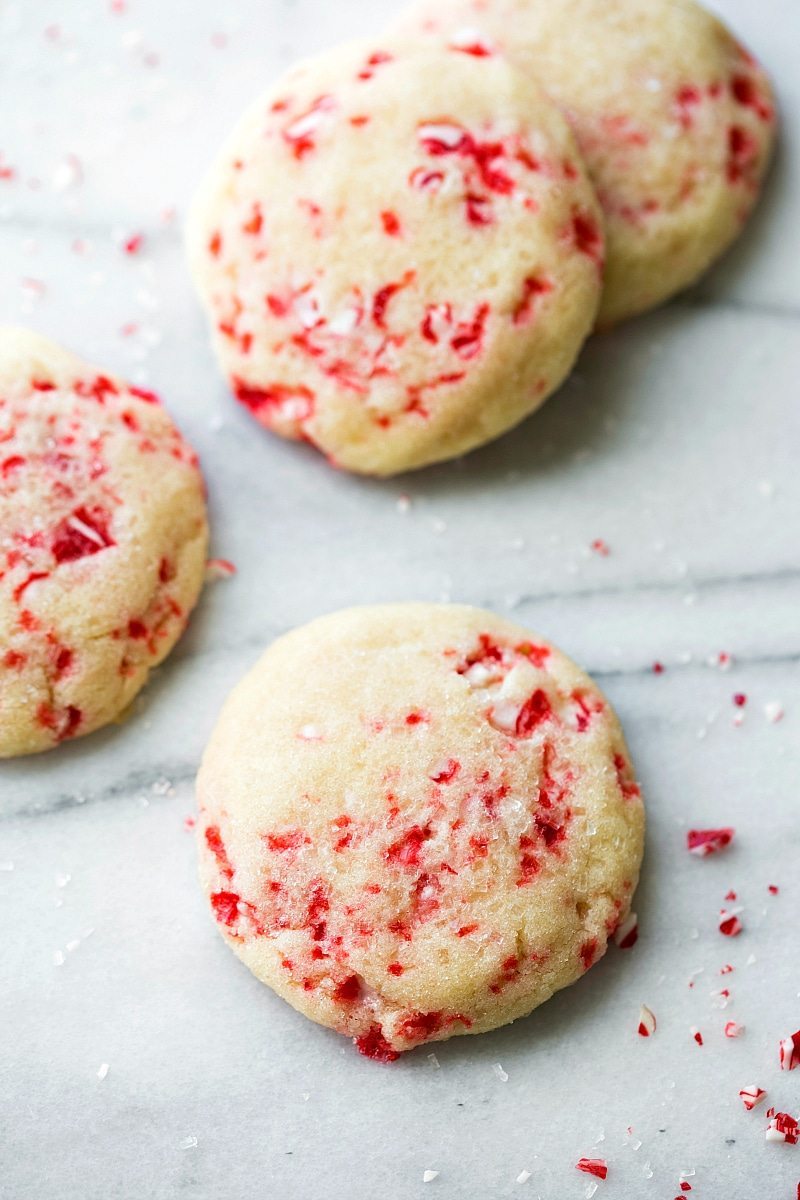 So here are the kit details (pictured below the recipe): clear and fill-able ornaments (I got mine online), sprinkles (from Target in the Dollar spot), festive bags (Target in the Holiday section), copper container, fabric (Jo-anns), twine and threads (Jo-anns), frosting (homemade in a mason jar from Wal-mart or Target), spray of fake berries.
And the cookies couldn't be easier to make – they are made all in one bowl and don't require any chilling (hooray!). The frosting is a delicious cream cheese frosting that whips together super quick. And the topping is my favorite — peppermint crunch sprinkles.
Time to get baking!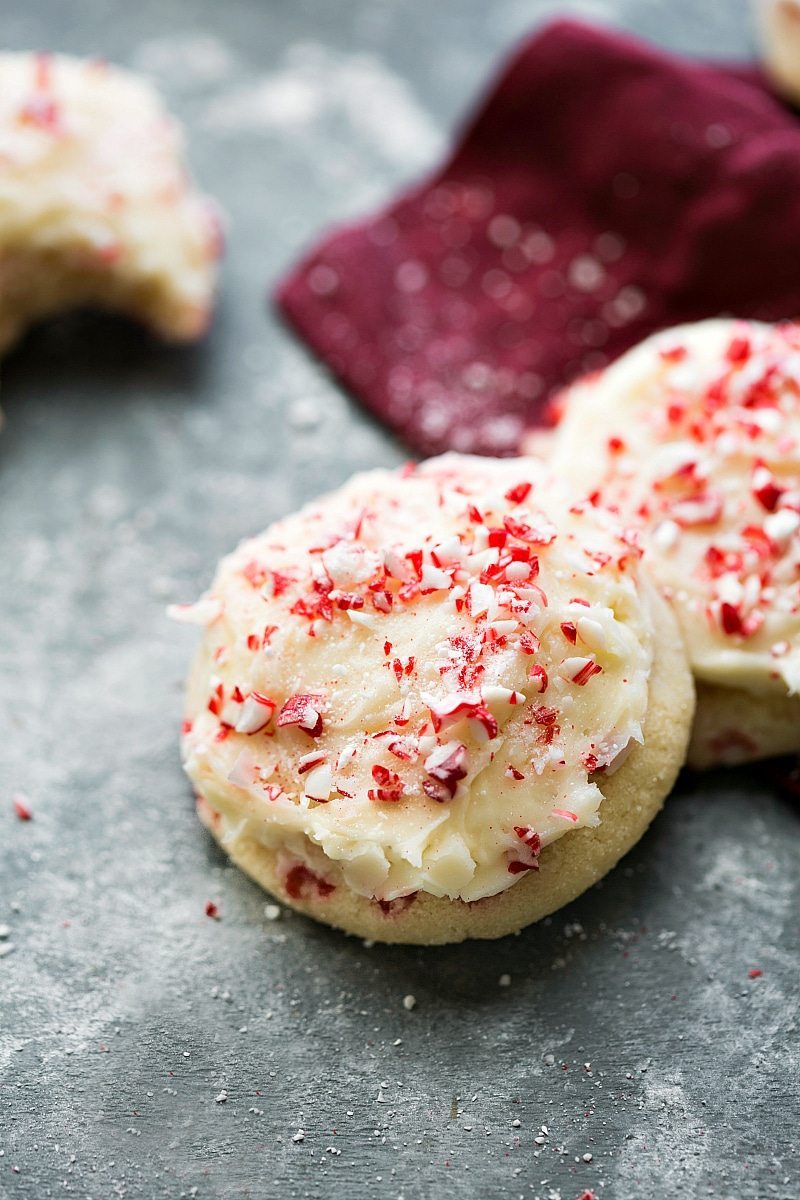 More Delicious Cookies: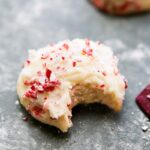 Peppermint Sugar Cookies
Ingredients
Sugar Cookies
2/3

cup

regular shortening

unflavored

2/3

cup

unsalted butter

room temperature

2

cups

white sugar

separated

1

large egg + 1 large egg yolk

1

tablespoon

corn syrup

2

teaspoons

vanilla extract

1/4 - 1/2

teaspoon

peppermint extract

3 1/2

cups

all-purpose flour

2

teaspoons

baking powder

1/2

teaspoon

salt

1/2

cup

peppermint crunch sprinkles

Optional: 1/4 cup coarse white sparkling sugar
Peppermint Cream Cheese Frosting
1/4

cup (4 tablespoons)

butter

softened not melted

4

ounces

cream cheese

softened but not melted

1/2

teaspoon

vanilla extract

1/2

teaspoon

peppermint extract

not mint extract

2 and up to 2 & 1/2

cups

powdered sugar

(depending on desired consistency)

Peppermint crunch sprinkles

to top
Instructions
Preheat the oven to 350 degrees F.

Beat together the shortening, butter, and 1 and 1/2 cups white sugar until light and creamy. (Do not melt or soften your butter.)

Beat in the egg, egg yolk, corn syrup, and vanilla extract. Beat in the peppermint extract to taste. (I like less extract and more actual peppermint so I only add 1/4 tsp. Add 1/2 tsp for a stronger flavor)

Add in the flour, baking powder, salt and peppermint crunch. Mix until just combined.

Shape into thick, flat discs (see picture).

In a small bowl toss together the remaining 1/2 cup white sugar with the coarse sparkling sugar (or just use the white sugar). Roll the cookie balls in the sugar to coat.

Bake 2 inches apart on a parchment lined cookie sheet.

Bake 9-12 minutes.

*The key to soft sugar cookies is slightly under-baking the cookies, letting them cool most of the way, and then placing them in a bag (sealing the bag) when they are still a little warm. This keeps your cookies ultra soft!*

While the cookies are cooling, you can make the frosting:

Beat together the softened butter, softened cream cheese, vanilla, and peppermint extract.

Beat in the powdered sugar by slowly adding about 1/2 a cup at a time until a smooth frosting is formed. Add a little milk if needed to thin your frosting to desired consistency.

Again, feel free to increase the peppermint extract amount if desired in the frosting.

Frost the cookies and add peppermint crunch sprinkles to the top.

Store in an airtight container at room temperature.
Recipe Notes
For even softer and more flavorful cookies, chill the dough overnight (or a few hours) and bake the next day.