Christmas Mason Jar Desserts: Peppermint Bark Cookies. Free printable recipe attachment!
video tutorial
This week, I'll be sharing a new Christmas Mason Jar dessert everyday (4 in total). Click here to see the M&M Christmas Cookies I shared yesterday.
Above this text is a quick video overview showing the assembly of the mason jar desserts and also the final treat the mason jar will make. Below are the tools I use to make the mason jar desserts.
For these mason jar desserts, I use:
I've shared peppermint bark brownie cookies before on my site and they've been a HUGE hit with so many of you! Unfortunately the entire recipe didn't fit in a mason jar, so I adjusted the quantities to make a half batch of these cookies. To make an entire batch of these cookies, follow this recipe.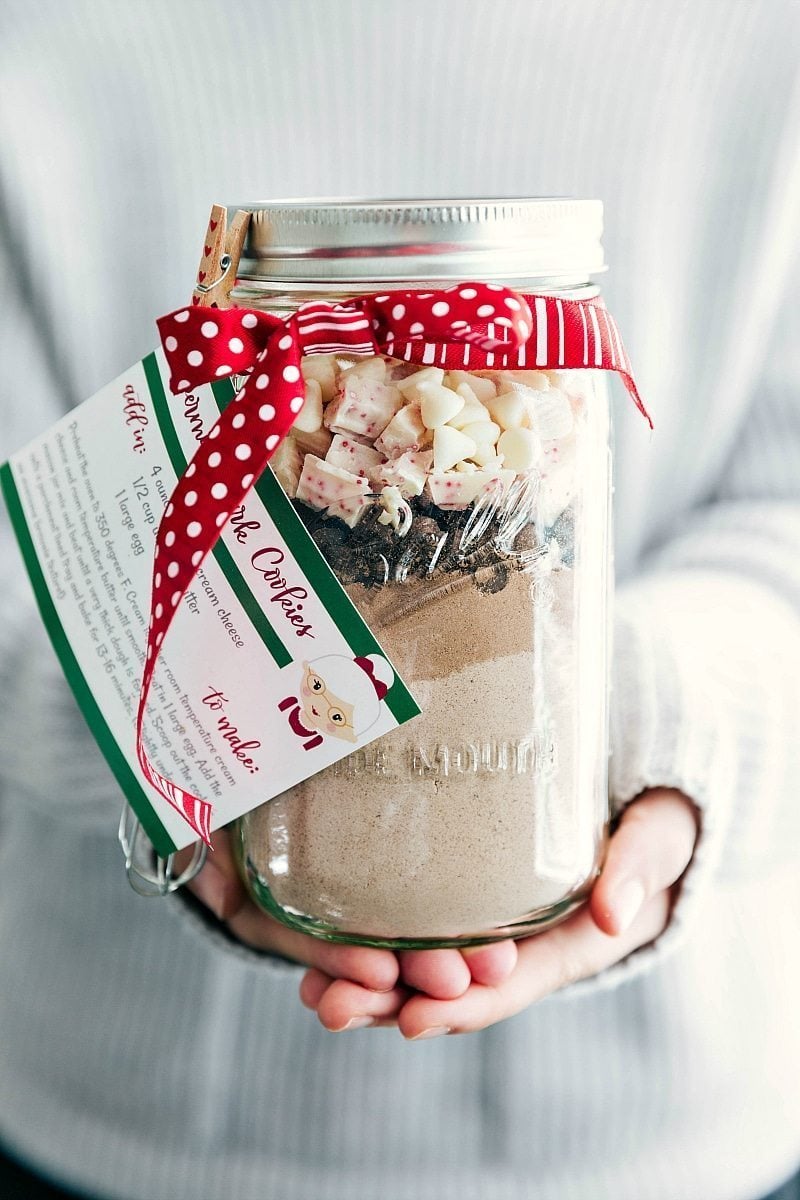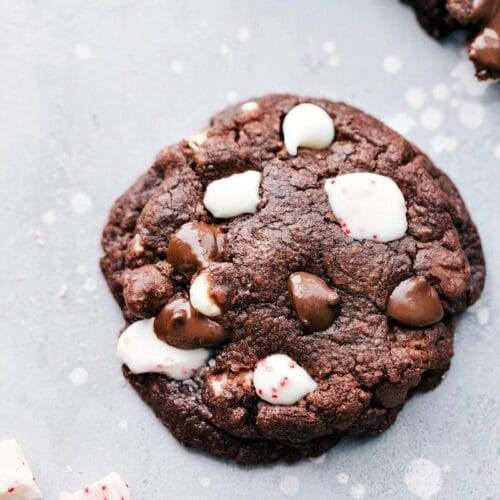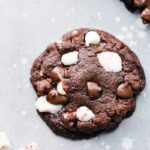 Chocolate Peppermint Cookies
Ultra Fudgy brownie cookies with chunks of peppermint bark, milk chocolate, and white chocolate.
Keyword:
Chocolate Peppermint Cookies
Ingredients
1/2 of 1 full

package (18.4 ounce package)

fudge brownie mix

(9.2 ounces total)

1/2 of 1 full

package (3.9 ounce package)

instant chocolate fudge pudding mix,

dry (so ~2 ounces total)

1/2 of 1

full

Ghirardelli peppermint bark bar (or Hershey's peppermint bar),

coarsely chopped

1/2

cup

milk chocolate chips

2

tablespoons

white chocolate chips
ADD IN LATER
2

ounces

full-fat cream cheese,

room temperature

1/4

cup

unsalted butter,

room temperature

1

large

egg yolk
Instructions
IN THE MASON JAR: Using a food scale, separate the brownie mix and pudding mix in exact halves. Add the brownie mix to the jar first (do not pack down). Add in the pudding mix (again don't pack down). Add in the coarsely chopped peppermint bark bar, milk chocolate chips, and white chocolate chips. Seal the mason jar, add a ribbon with a miniature whisk (if desired), and attach the free printable recipe attachment (or the following directions)

RECIPE TO ATTACH: Preheat the oven to 350 degrees F. Cream together room temperature cream cheese and room temperature butter until smooth. Beat in 1 large egg yolk. Add the mason jar mix and beat until a very thick dough is formed. Scoop out the cookies onto a parchment lined tray and bake for 13-16 minutes. (Underbake for an awesome brownie texture!)
Recipe Notes
Use a food scale for best results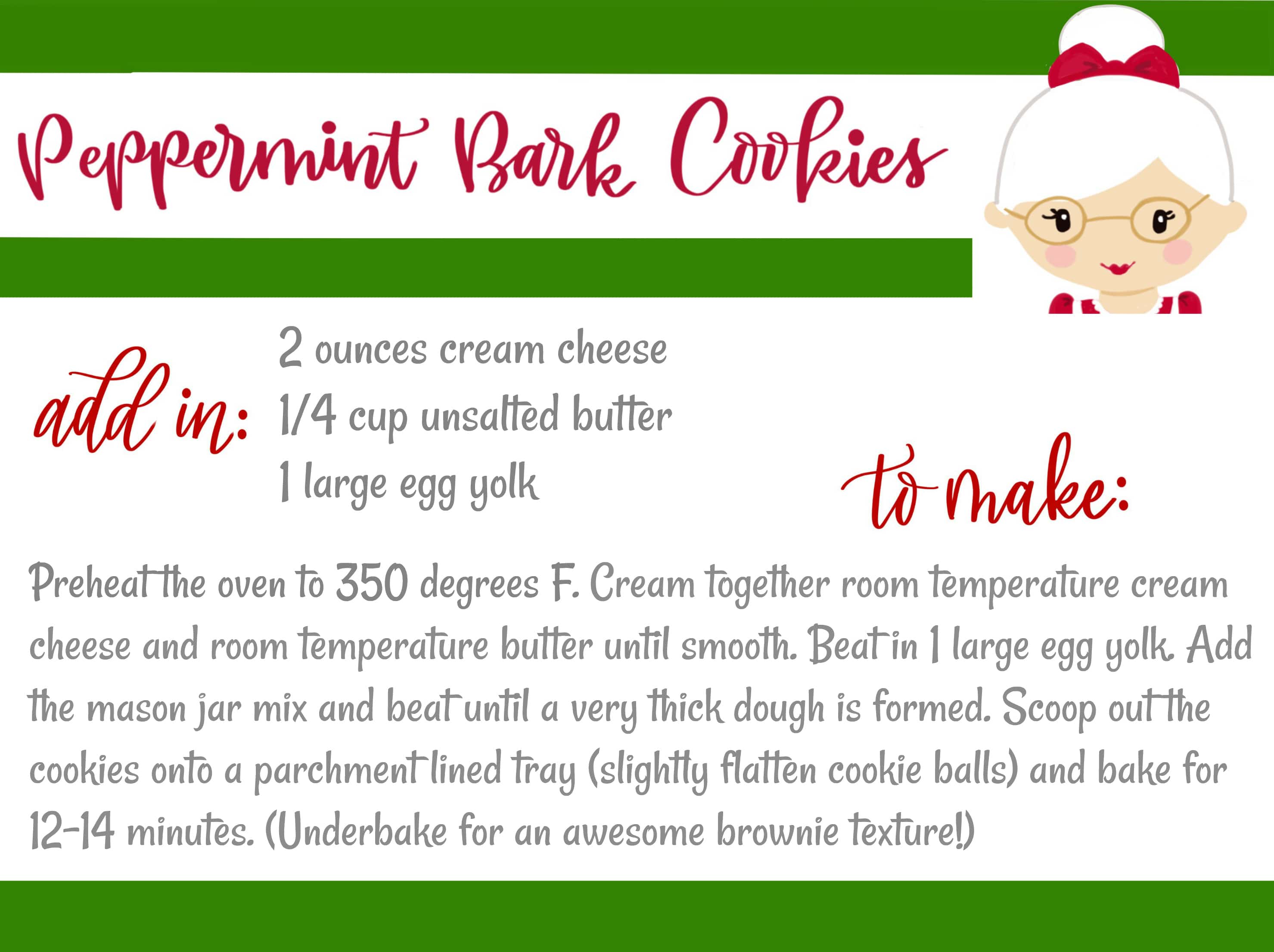 Recipes and Printables are copyright for Non-Commerical use only
See the other Mason Jar Desserts Here:
Some of the links above are affiliate links meaning if you were to purchase through that link I would receive a small commission at no extra cost to you. Thank you for supporting Chelsea's Messy Apron! Happy Holidays ?