Four different easy, quick, and fool-proof Christmas treats that the kids can help with! Perfect for gift-giving and enjoying with the family. Peppermint bark cookies, toffee cashew clusters, microwave fudge, and rudolph bites.
video tutorial
This video above ?? quickly overviews these four treats, but the instructions give you more tips/tricks/details for each treat. These treats are easy enough that my toddler made most of them with me! When you see squishy, adorable, fat baby hands throughout the video — those are his. ?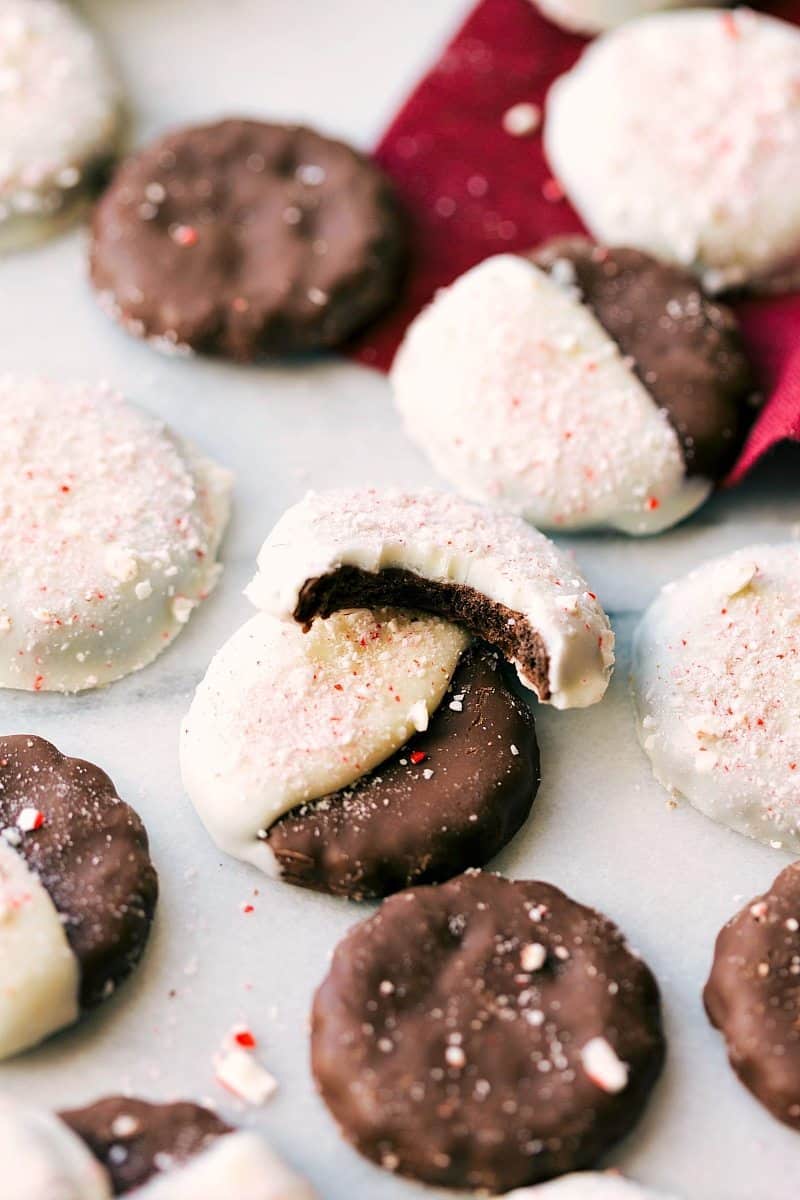 First up, PEPPERMINT BARK COOKIES.
These are one of those treats that you wonder how they taste THIS good with such little effort. They are easy to make, totally addictive, perfect for the holiday season, AND -bonus- they're pretty. The inspiration for these cookies came from living way too close to a Williams Sonoma at our last home. I visited there far too often and during all of the holiday season I would see these white chocolate dipped "peppermint bark" cookies. I always wanted to get them, but for some reason never did. Most likely because I'm too cheap and thought I would just make my own ha! And now I finally have. I'm not sure what is in the center of their cookies, but I instantly though thin mints would be delicious. Since thin mints aren't around right now, I grabbed some grasshopper cookies which work perfectly.
At first glance, they might look a little complicated, but they are one of the easiest treats ever! You don't have to make cookies from scratch and then dip and decorate — these start out with pre-made cookies so all you are doing is dipping in white chocolate and covering in crushed peppermint. ??
I recommend a high quality white chocolate for flavor purposes, but it will often melt the best as well. My favorite white chocolate to use is Guittard or Ghirardelli. (You can use chocolate chips or the baking bars for these.)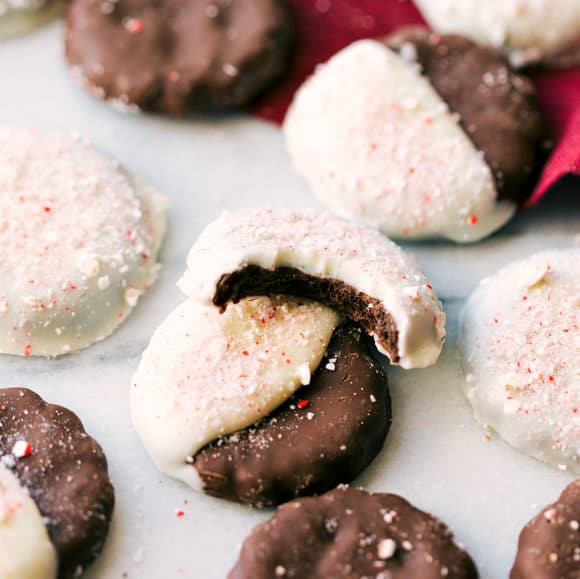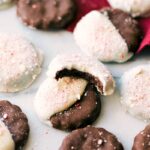 Peppermint Bark Cookies
Servings
:
1
(10 ounce) package cookies
Ingredients
1

package (10 ounces)

Grasshopper Cookies

1

bag (12 ounces)

high quality white chocolate chips*

2

teaspoons

vegetable oil

1/2

teaspoon

peppermint extract

optional, NOT mint

7

full sized candy canes
Instructions
Place the cookies in the fridge just while preparing the chocolate. Crush the candy canes in a blender or food processor to get crumbs. Prepare a large sheet pan by covering it with parchment paper.

Pour the chocolate chips into a large microwave safe bowl. Add in the vegetable oil and peppermint extract. (Add extract for an extra peppermint-y treat!) Mix well.

Microwave in bursts of 20 second stirring in between each burst for about 10-15 seconds until the chocolate is melted.

Patiently and slowly melting the chocolate will ensure you don't burn it. To make it easier, you can separate the white chocolate into 2 batches and only melt one at a time!

Remove the cookies from the freezer and place one cookie on a fork over the bowl of melted chocolate. Use a spoon to spoon chocolate over the cookie and fork.

Tap the fork on the side of the bowl to remove excess chocolate.

Transfer the dipped cookie onto the prepared sheet pan.

Immediately sprinkle the crushed candy canes over top. Repeat for all the cookies.

If desired, dip just half a cookie in the melted chocolate for some fun variety!

Let the cookies harden at room temperature.
Recipe Notes
*I recommend Guittard or Ghirardelli for flavor purposes and also because it melts the best and mixes well with the extract. Cheaper white chocolates are more prone to seizing/not melting well.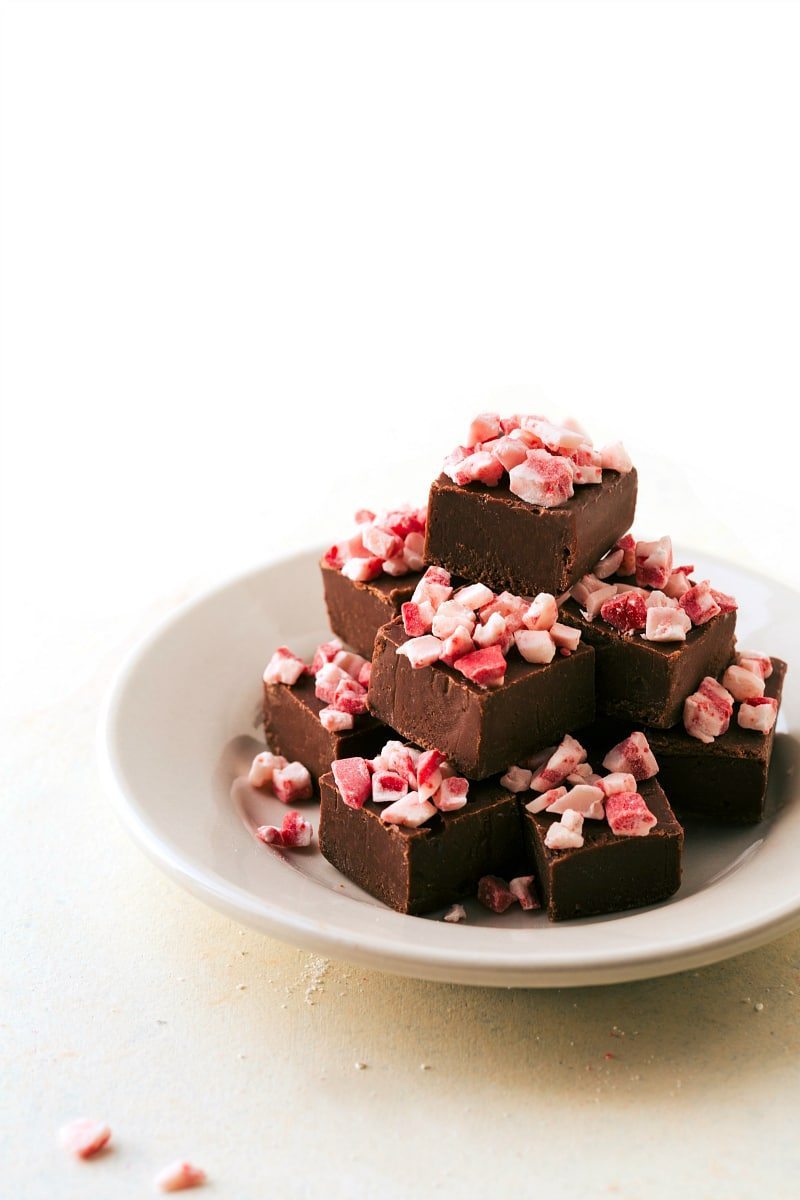 Next up: FOOLPROOF MICROWAVE FUDGE
If you haven't made this "hack" microwave fudge, now is the time to try it! This recipe is nothing evolutional — chocolate chips + sweetened condensed milk microwave fudge recipes are all over the internet. It's the fudge my mom made with us several times every December growing up. The one thing that does change this fudge is adding in melted butter! I started to add it for texture and it makes a HUGE difference in the overall flavor and texture. It also helps keep away any graininess. The fudge is ultra smooth and creamy! I'm a huge fan of milk chocolate so that's what I use in this fudge. It is richer than semi-sweet or dark chocolate, but it's my favorite for this fudge. If you prefer a different chocolate then use what you like best!
A couple options for this fudge — you can make it more "peppermint" flavored by adding peppermint extract (NOT plain mint extract — that tastes like toothpaste!) or more of a plain chocolate flavor by adding vanilla extract. You can top it with either crushed peppermint candy or some Andes peppermint crunch chips (found in the grocery store in the baking aisle by regular chocolate chips). If you top the fudge with crushed peppermint you'll want to eat it all within a day or two. The peppermint crunch chips last a little longer. Whatever you use this fudge is best within the first few days of being made.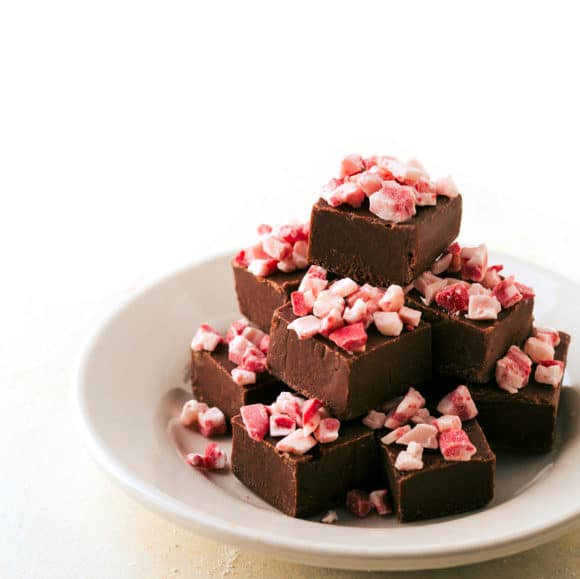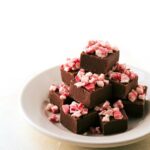 Foolproof Microwave Fudge
Ingredients
4

tablespoons

SALTED butter

melted

1

can (14 ounces)

sweetened condensed milk*

3

cups

high quality milk chocolate chips

1

teaspoon

vanilla or peppermint extract

1

cup

Andes peppermint crunch chips

or crushed peppermint
Instructions
Line an 8 x 8 pan with parchment paper and set aside.

In a large microwave safe bowl, add the butter and melt.

Pour in the sweetened condensed milk on top of the butter and whisk to combine.

Add in the chocolate chips and stir.

Microwave in bursts of 15 seconds stirring in between each burst for 10 seconds until the mixture is melted.

Remove and add in the extract. Stir.

Spoon into the prepared 8 x 8 pan and smooth to make the fudge even.

Top with the crunch chips or crushed peppermint.

Cover and place in the fridge for about 2-3 hours until set up.
Recipe Notes
*Make sure you have sweetened condensed milk and not evaporated milk. Do not use a lower fat version or it won't set up correctly. Cook time refers to chilling time.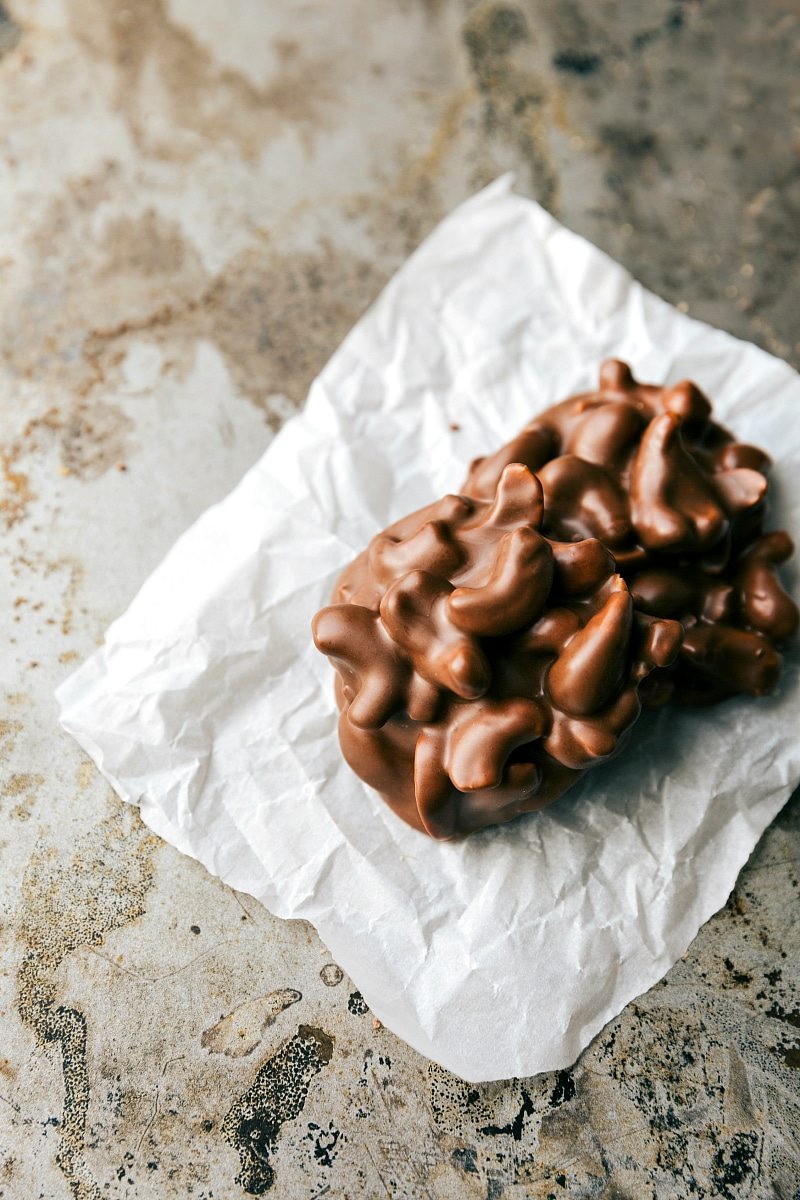 Third: TOFFEE CASHEW CLUSTERS.
These are crazy good and so addictive! No one in my home can stop eating them! Since I made a couple of batches of these we had to give them away so I didn't gain ten pounds and get a cavity ?. The combination of milk and white chocolate, salty roasted cashews, and toffee makes for a complex and delicious tasting treat. But of course, still so easy to make!
The key here is using baking chocolate bars and not chocolate chips. A lot of times chocolate chips work fine in the place of the bars, but didn't work so well for these. Be patient in melting the chocolate and follow all the steps and you'll come out with a delicious treat! Also if you are a HUGE fan of sweet and salty, you can add a few sprinkles of coarse sea salt to the top of these clusters. ?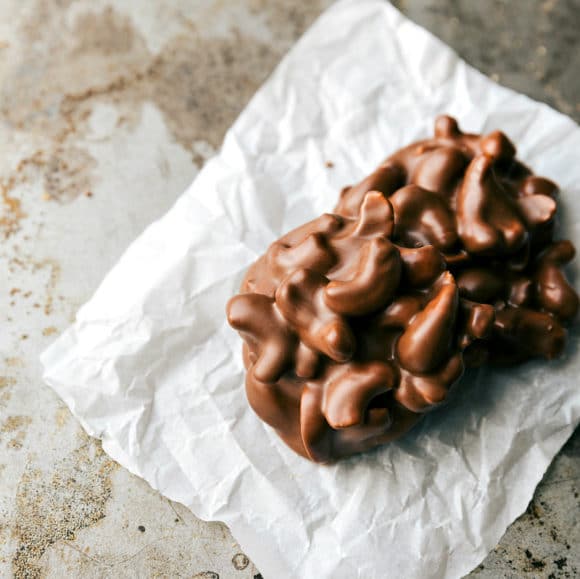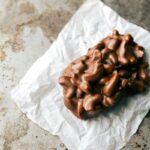 Toffee Cashew Clusters
Ingredients
16

ounces

white baking chocolate

chopped*

14

ounces

milk chocolate

chopped

4

cups

roasted and salted cashews

1 and 1/4

cups

toffee bits

Optional: vegetable oil
Instructions
Prepare a large sheet pan with parchment paper and set aside.

Roughly chop all of the chocolate into small pieces using a serrated knife.

Place the chocolate in the bottom of a metal or glass heat-proof bowl.

Meanwhile, fill a large saucepan with about an inch of water and bring to a simmer in the saucepan over low heat.

Place the bowl of chocolates over the simmering water making sure the bottom of the bowl doesn't touch the water.

Stir the chocolate as it softens. When all but a few small chunks are melted, remove it from the heat and continue to stir until completely melted.

If the chocolate is too thick, add in a few teaspoons of vegetable oil to thin. Add slowly and stir until well mixed in.

Add in the cashews and toffee bits and stir until well coated.

Drop by tablespoonfuls onto prepared sheet pan.

Refrigerate 10-15 minutes or until set. Store in an airtight container.
Recipe Notes
*Make sure to measure the chocolate to ensure you have the right amount. Use chocolate bars not chocolate chips!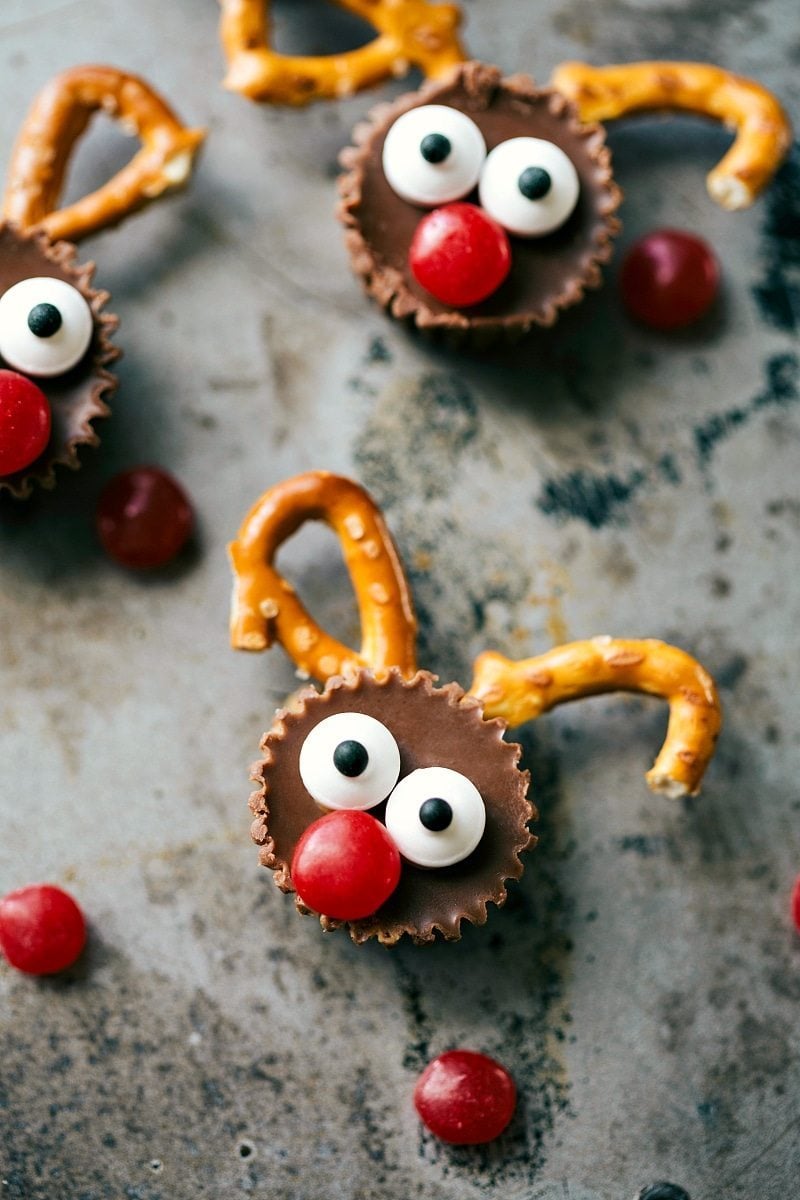 Last but not least, we've got easy RUDOLPH BITES.
I actually shared these cute little guys already last year, but I thought it was time for them to get a little video and be added among all these other 5-ingredient Christmas goodies 🙂
For the little "Ruldoph nose" you can use a red hot candy or a miniature red M&M. is a miniature red M&M. The M&M will taste the best when combined with the Reese's, but a red hot candy would work in it's place if that's easier to find. And then the edible eyes — you can find those either online or in stores. They can be found in craft stores in the baking aisle (I've gotten them at Hobby Lobby and JoAnn's) or in some grocery stores. I've found them in grocery stores near the sprinkles and cake decorating things.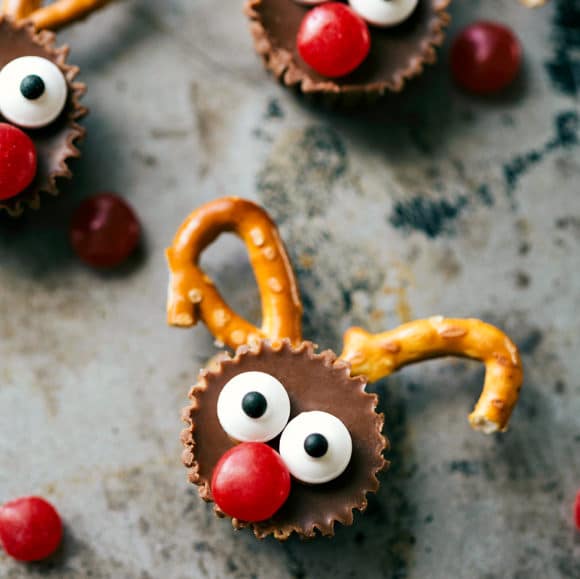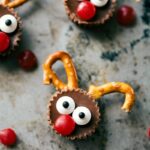 Rudolph Bites
Servings
:
20
Rudolph Bites
Ingredients
3-4

tablespoons

creamy peanut butter

20

Miniature Reese's Cups

1

bag of pretzel twists

20

Miniature Red M&Ms

40

edible eye candies
Instructions
Break the pretzel twists in half and further break off pieces to get them to look like antlers. A lot will just break and not work out, but after breaking a few, it get's easier 🙂

Find the soft spot in the reese's and press the pretzel antlers into that spot.

Using the peanut butter, spread some on the back of the mini M&M and attach to the reese's.

Spread more of the peanut butter on the back of the edible eyes and attach those.

Continue to press and secure any of the pieces that aren't sticking until firm.

Enjoy 🙂
More Christmas Treats