Special thanks to Eggland's Best for making the BEST eggs and sponsoring this post. All opinions are my own.
The best ever soft and chewy peanut butter cookies dipped in milk chocolate. Perfect for a holiday cookie platter!

My mom tells a story of me being a little girl completely OBSESSED with peanut butter. As in, that's about all I'd eat. Apparently one day I'd just finished a big peanut butter sandwich and kissed my brother on the cheek, which ended up putting him in the hospital. That's when we found out he had a very serious peanut allergy. From then on, peanut butter was completely forbidden from our home. I was crushed.
You can imagine, then, my excitement of living in a peanut allergy-free home when I moved out to college. I immediately filled my entire pantry shelf with peanut butter, and weekends consisted of me making peanut butter cookies like they were going out of style. It also meant a never-ending stash of trail mix in my backpack and late night peanut butter milkshakes to "help" me study.

While I might not be able to tell you much of what I learned my freshman year of college, I can tell you that I tried every single peanut butter cookie recipe on the internet, and these cookies are my homegrown creation from a mash-up of my favorites.
Right in time for the holidays (and cookie baking season!) these soft & chewy peanut butter cookies will be sure to please. I can't wait for you all to try these!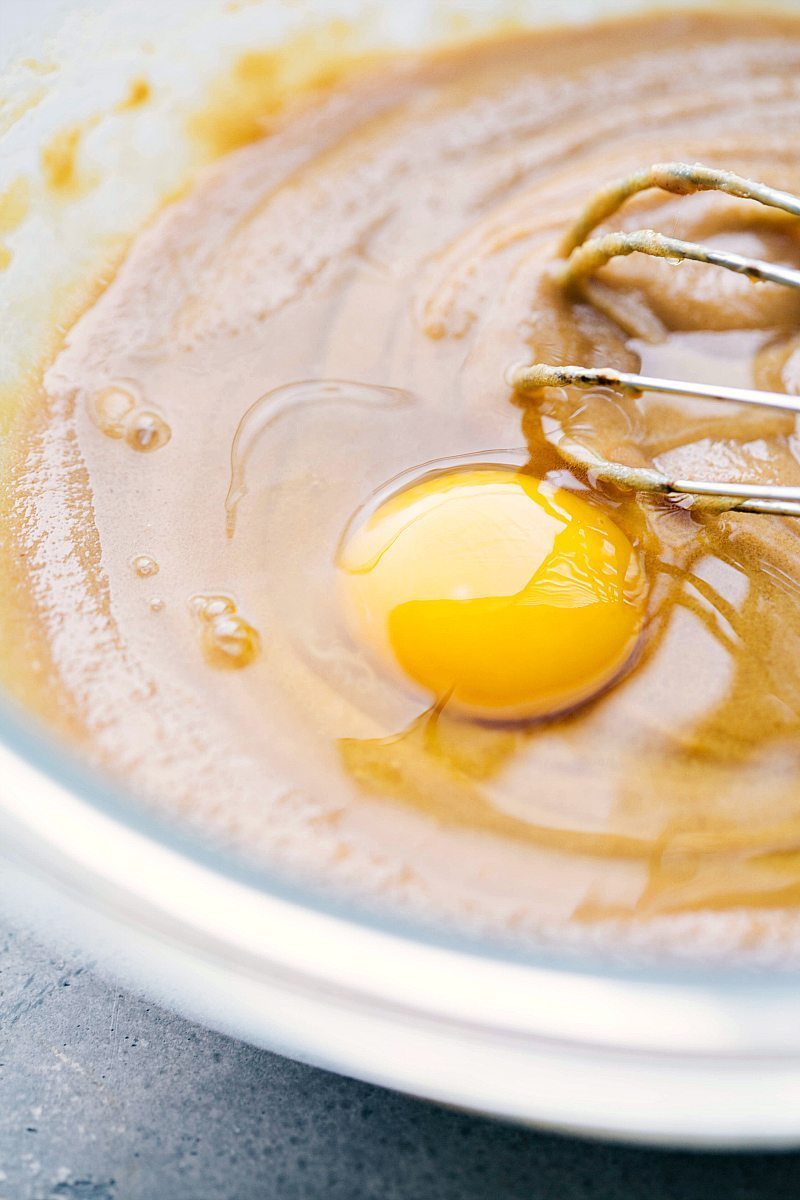 How do you make peanut butter cookies soft and chewy?
One of my favorite parts of these cookies is that they are thick, soft, and chewy – not something that's typical of most peanut butter cookies. If you're looking for a traditional (criss-cross with a fork) type of peanut butter cookie, I'd suggest this recipe. BUT if you're here for a super delicious soft and chewy peanut butter cookie, you've come to the right spot!
To make a peanut butter cookie soft and chewy (as opposed to crispy), the cookie needs to have

a higher moisture content

than typical. You achieve this by using two large fresh eggs instead of just one, an entire cup of brown sugar (the added molasses has a 10% water composition), and overall less flour.

To get the cookies even chewier, we

melt the butter.

When you mix room temperature (or cold) butter with sugar and other ingredients, you're introducing air which gets trapped in whatever you're baking, and that results in a more cake-like texture. Melting the butter eliminates any gas entrapment and therefore makes the cookies chewier. That said, when you melt the butter you only want it about 80% of the way melted. This keeps the cookies from being greasy.

Finally, it really helps to

chill the dough

. When you chill dough the butter solidifies which allows it to melt slower when it's baked. This creates a thicker cookie which prevents the cookie from going flat and becoming crispy. Chilling the dough also gives the sugar time to absorb more of the liquid and become more concentrated. A more concentrated sugar is going to give you a chewier and sweeter cookie. The recommended chill time on these cookies is 30 minutes to an hour.
Since the moisture and flavor of the eggs are so important to these cookies, I recommend fresh eggs as there is a very tangible taste difference. I use Eggland's Best Eggs to get that superior taste and quality. Eggland's Best eggs come from an all-vegetarian hen feed, making each egg full of healthy protein and lots of vitamins and minerals when compared to ordinary eggs. I've been recommending their eggs in my cookie recipes for years now because I really think they make a difference!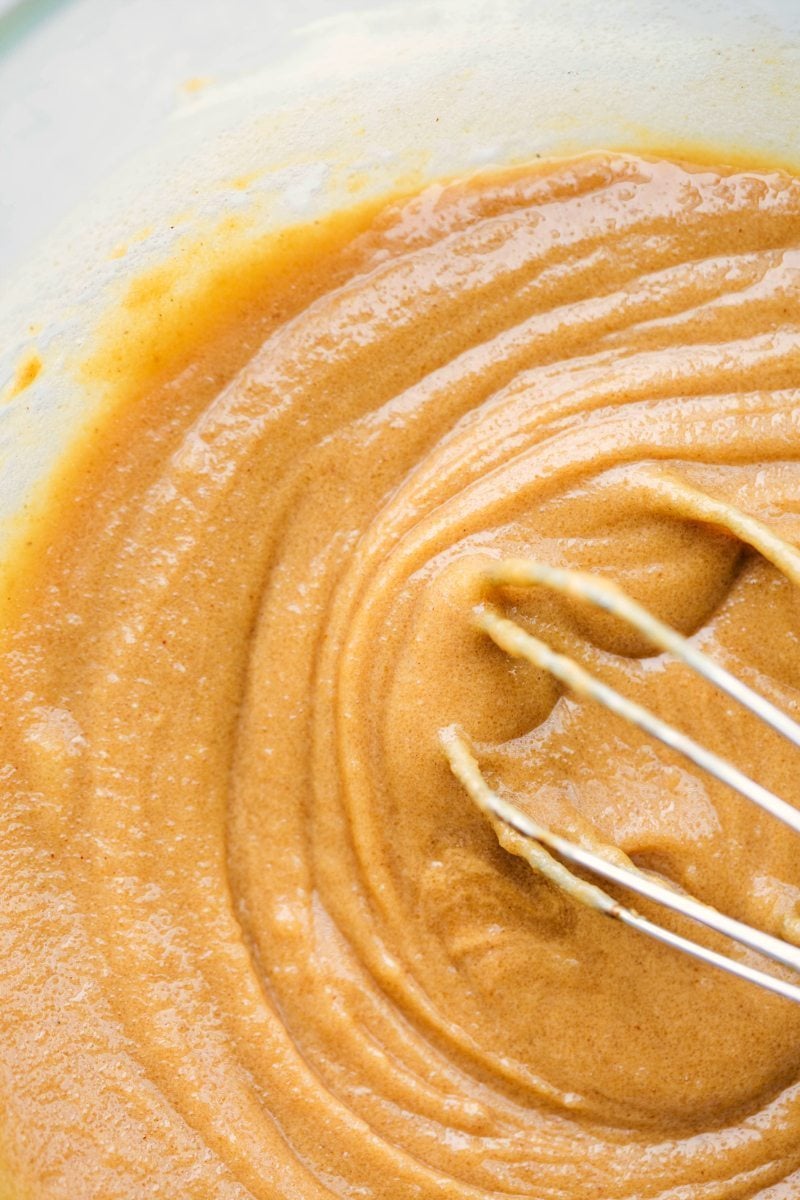 A few tips to consider when adding eggs to these peanut butter cookies:
Use room temperature eggs

: This ensures the eggs disperse more evenly into the batter giving these cookies a lighter texture (the eggs trap air). Soaking refrigerated eggs in a bowl of warm (not hot) water for about 10 minutes is a quick way to do this. Otherwise, pull the eggs out about 30 minutes before use.

Add eggs one at a time

: Each egg should be thoroughly mixed in before adding the next egg. This allows the eggs to be evenly mixed in AND allows the eggs to emulsify with the fats (that's the butter in this recipe).

Use the right sized eggs: This recipe calls for two LARGE eggs. It's important to use the right sized eggs because the amount of liquid in the egg will affect the cookies. One large egg has about 3 and 1/4 tablespoons of liquid in it while an extra-large egg has 4 tablespoons. So when using two eggs (like this recipe calls for), you'll be getting a lot of extra liquid if you use extra large instead of large eggs. And same goes for using medium eggs — you won't have enough liquid!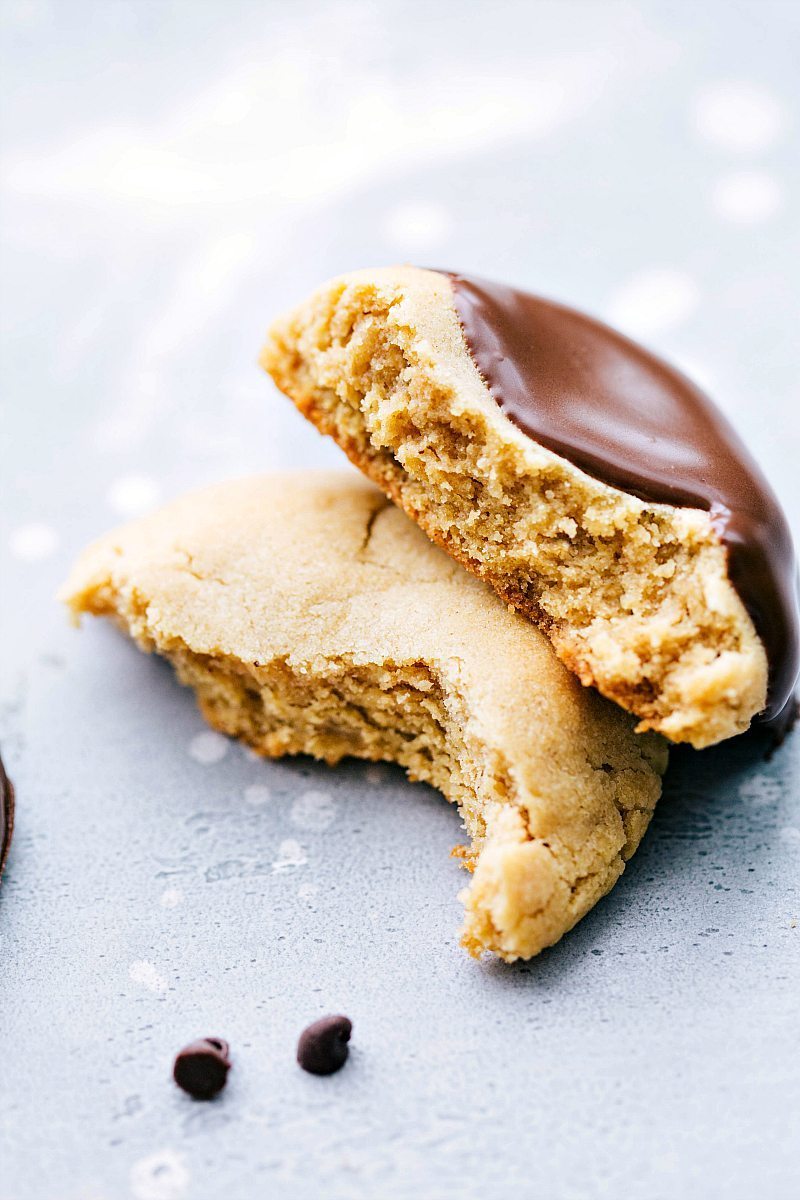 More Delicious Cookie Recipes: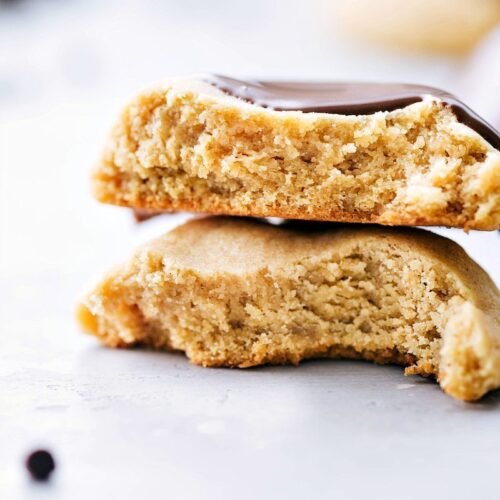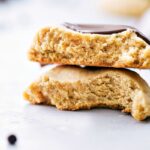 Soft and Chewy Peanut Butter Cookies
The best ever soft and chewy peanut butter cookies dipped in milk chocolate
Keyword:
best peanut butter cookies, peanut butter cookies
Servings
:
24
large cookies
Ingredients
1

cup

unsalted butter,

melted

1

cup

brown sugar,

lightly packed

1

cup

white granulated sugar

1

cup

creamy peanut butter

1/4

teaspoon

almond extract,

optional (the "secret ingredient" that intensifies nutty flavor!)

1

tablespoon

vanilla extract

2

large

Eggland's Best eggs

1

teaspoon

baking soda

1/2

teaspoon

salt

2-2/3

cup

white all-purpose flour
Optional Chocolate Dip:
4

ounces

milk, semi-sweet, or dark chocolate baking bar
Instructions
Line a large baking sheet with parchment paper or a silpat liner and set aside.

In a microwave-safe bowl, microwave the butter until it's about 80% melted. Pour into a large bowl and add in the brown sugar and white sugar. Mix with a large whisk (don't use hand mixers) until JUST combined.

Add in the peanut butter, almond extract, and vanilla extract. Mix until combined. Add in one egg. Mix just until ingredients are incorporated and then add in the last egg. Again mix until the ingredients are just incorporated.

Add in the baking soda and salt and mix until just incorporated. Add in the flour and again mix until just incorporated. You do not want to overmix (you'll get denser cookies!)

Cover the dough and chill for at least 30 minutes. Preheat the oven to 325 degrees F. (use convection bake at 325 degrees F if you have it!)


Scoop the cookie dough into large balls (see picture in post) and place on cookie sheet.

Bake for 8-10 minutes. Ever so slightly under-baking the cookies will keep them soft and chewy. (They also bake a bit more on the cookie sheet when removed from the oven). Be careful to not over-bake these cookies!

Remove the cookies and allow them to cool on the baking sheet for 5 minutes before removing them to a cooling rack to finish cooling completely. Cool completely before dipping in chocolate.

To dip in chocolate: coarsely chop the chocolate bar into evenly sized pieces and place in a microwave safe bowl. Microwave in bursts of 20 seconds, stirring in between each burst for 15 seconds until the chocolate is melted and smooth.

Dip one half of each cookie into the melted chocolate, scrape the bottom of the cookie on the bowl of the melted chocolate, and transfer to a sheet of parchment paper. Allow the chocolate to set at room temperature.
Recipe Video
Recipe Notes
Total time does not include 30 minutes of chilling time.