Mexican Street Corn (Elote) is roasted and then smothered with a delicious creamy topping, spices, fresh lime, and plenty of cheese to finish it off.
This addictive appetizer or side dish pairs perfectly with all your favorite BBQ dishes such as this grilled chicken marinade or this macaroni coleslaw salad!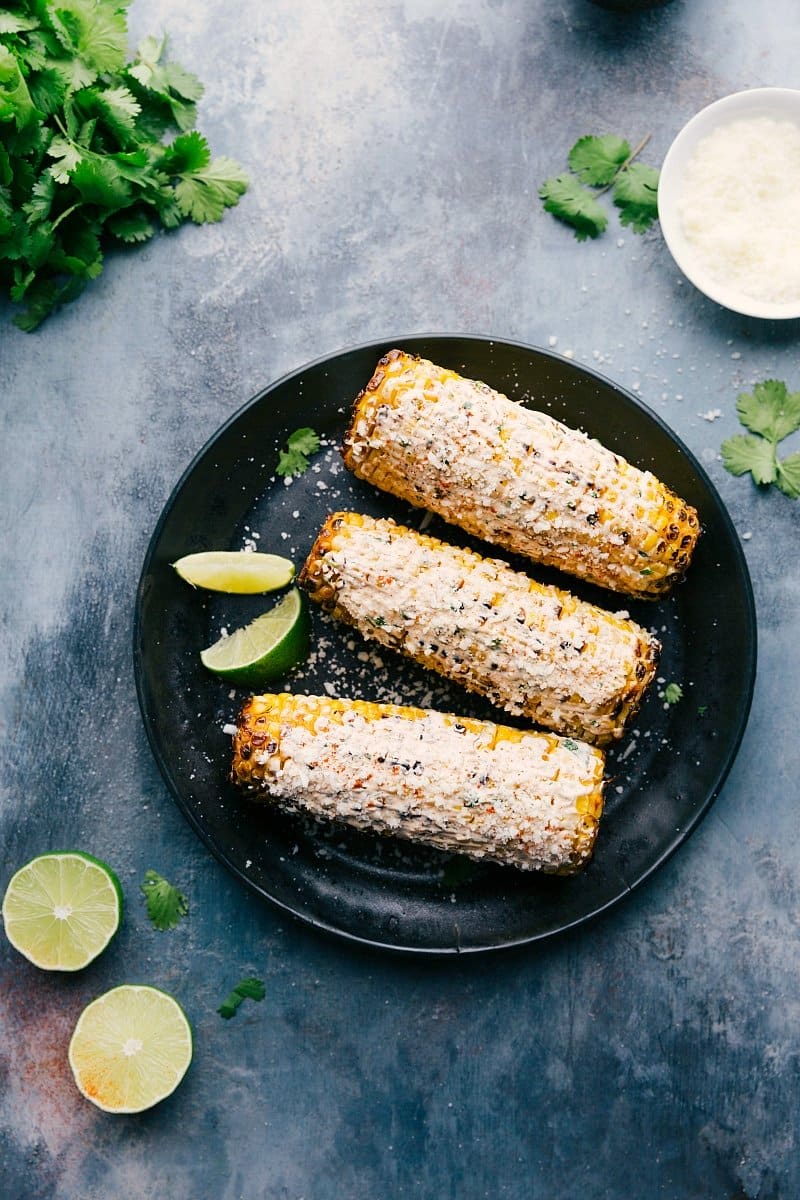 The first time I had Elote, I was in California on vacation. We went to a little Mexican restaurant and even though we ordered the street corn for an appetizer, I ended up eating it all… I did at least share my tacos with everyone else to make up for it ha! As a self-proclaimed corn addict, I became hooked. Mexican street corn is one of my all time favorites to this day!
Since I began this site in 2013, I've shared various versions of Mexican street corn inspired recipes (Mexican Street Corn pasta salad, Mexican street corn chicken tacos, and loaded sweet potatoes to name a few). So I can't believe I haven't shared with you a recipe for actual Mexican Street Corn/Elote. Remedying today!
But let's back up a little bit and give some background in case you aren't familiar.
Ingredients in Mexican street corn
Mayonnaise: use a good quality, full fat version for this recipe
Mexican Crema: in case you aren't familiar, Mexican crema is a thickened and slightly soured cream. It's less thick and a bit more mild than American sour cream and pretty common in most grocery stores. You can use American sour cream in place of the crema for this recipe.
Lime: I love a strong lime flavor so we use the zest AND juice for this recipe. Avoid the white pith of the lime when zesting to avoid a bitter flavor. Using a microplane makes removing the zest a breeze.
Spices: for this street corn, we use a medley of spices: chili powder, paprika, cumin, and a little cayenne. This is a few more spices than traditional elote has, but it's my favorite way to make it!
Garlic: I recommend grating a glove with a microplane to more evenly disperse it throughout the sauce.
Cilantro: a very fine chop gets this herb-y goodness in every bite!
Queso Cotija: traditionally, Mexican street corn is sprinkled with just cotija, but I gave a bag of queso cotija (found at my local Kroger store) a try and we are hooked! (Not sponsored, just a fan!) We LOVE it on elote.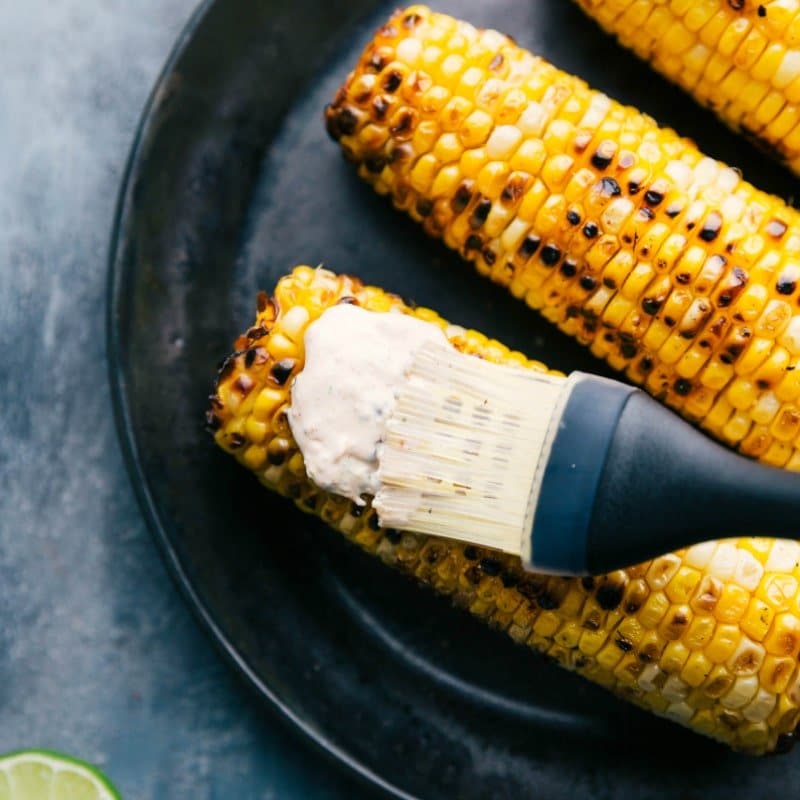 How to make elote
Grill corn: there are a lot of ways to grill corn, but this is my very favorite method! Begin by peeling back husks and removing the silk. Rub vegetable oil on all sides of the corn and sprinkle lightly with salt and pepper. Place on heated grill (400 degrees F) and rotate every 3-4 minutes or until charred. (This also works on a grill pan!)
Make sauce: while the corn is grilling, whip together the sauce by whisking everything together in a small bowl.
Enjoy: using a pastry brush or spoon, coat the corn with the sauce. Sprinkle with cheese and any additional lime juice. Enjoy while the corn is warm and sauce is melty!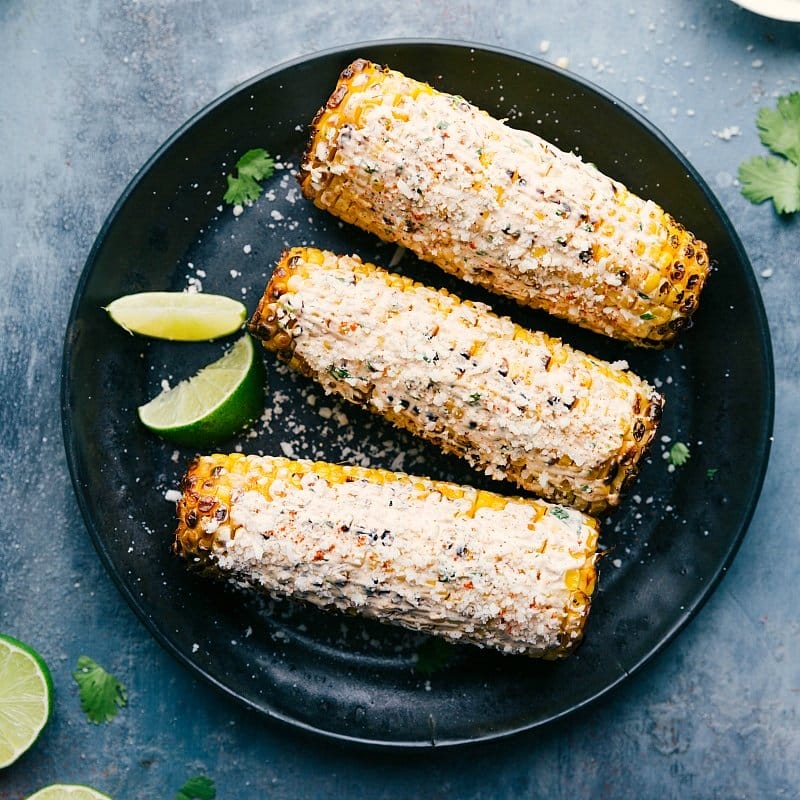 More delicious recipes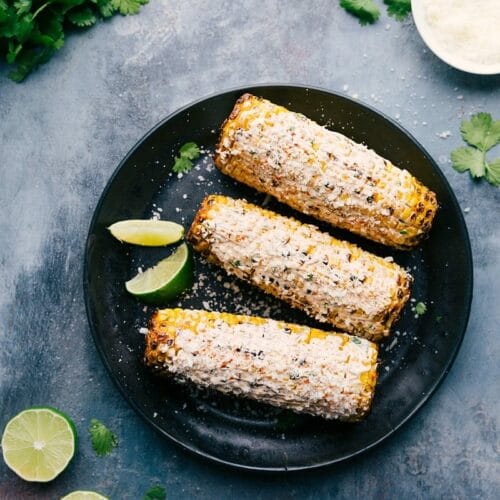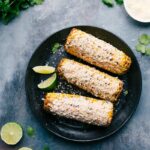 Elote
Mexican Street Corn (Elote) is roasted and then smothered with a delicious creamy topping, spices, fresh lime, and plenty of cheese to finish it off.
Keyword:
elote, Mexican Street Corn
Ingredients
8

ears of sweet corn

Vegetable oil

1/2

cup

Mexican crema

(or sour cream)

1/2

cup

mayo

1/3

cup

minced cilantro

(measure 1/3 cup BEFORE chopping)

1

clove

garlic,

very finely minced or grated on microplane

1/2

teaspoon

chili powder

(or 1/4 teaspoon chipotle chili powder for a smokier flavor)

1/4

teaspoon

paprika

1/8

teaspoon

ground cumin

1/8

teaspoon

cayenne pepper

1

large

lime

(1 and 1/2 teaspoons zest and 2 tablespoons juice)

1/2

cup

crumbled queso cotija

(or plain cotija cheese)

Optional: additional lime wedges for serving
Instructions
CORN Preheat a grill to medium high heat, around 400 degrees F. Once hot, clean the grill grates. Remove the husks and silk from the corn. Pour about 1 teaspoon of vegetable oil on each corn cob and rub that oil into all the sides. Very lightly sprinkle salt and pepper on all sides of the corn. (Remember the cotija cheese is quite salty, so you don't want to add too much salt here.) Place corn on grill grates (nothing needs to go down first/don't wrap in foil) and close grill. Allow to cook (temps remaining at 400F) for about 3 minutes per side undisturbed. Using tongs, rotate and continue cooking, for about 12 minutes total. When all sides are browned, remove from the grill onto a plate.

SAUCE while corn is grilling, whisk together the sauce. In a bowl, add the Mexican crema, mayo, cilantro, garlic, chili powder, paprika, cumin, cayenne pepper, lime zest, and lime juice. Taste and adjust any seasonings to personal preference.

ASSEMBLE using a spoon or pastry brush, brush the sauce generously coating each ear of corn. Sprinkle on cheese and if desired an additional sprinkle of chili powder. Serve immediately with lime wedges.
Recipe Video