This post may contain affiliate links. Please read my disclosure policy.
Our favorite burger recipe complete with toasted and buttered buns, a perfect cheese-stuffed burger, all the veggies, and the best burger sauce!
Alongside this burger recipe, I'm also sharing a corn salsa that makes the perfect pair. Other great sides: a bag of chips, this fruit salad, or this Mexican street corn pasta salad.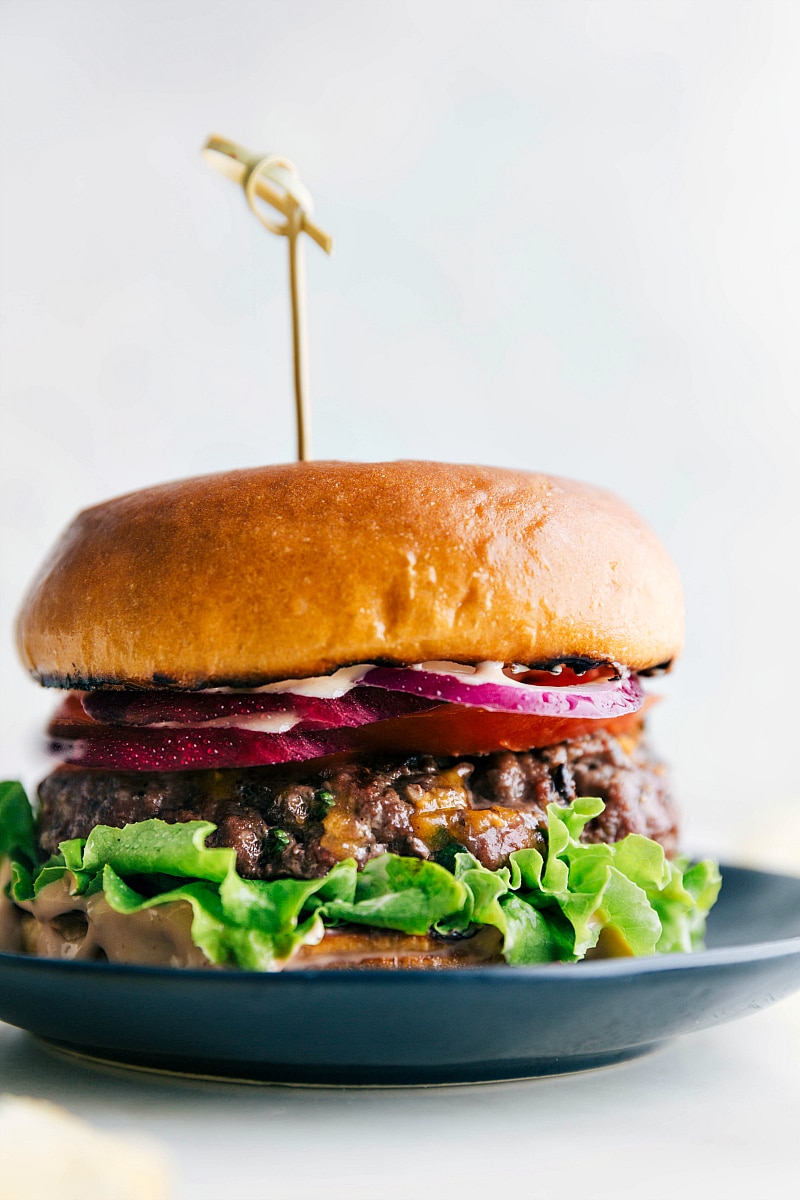 BBQ Bootcamp with Steven Raichlen
I had the opportunity of a lifetime to attend BUSH'S BBQ Bootcamp led by the master griller, Steven Raichlen. For those who aren't familiar with Steven, he's written 28 books on grilling, has been involved in many cooking shows, and currently teaches a course about grilling at Harvard University.
I was so excited to go and learn from the best and now I can't wait to share with you the experience I had and everything I learned about crafting the perfect burger. This burger recipe is our absolute favorite and it's best of all, simple to make. I'm also sharing a simple corn salsa recipe alongside the burger and the best sauce recipe! Let's get started 🙂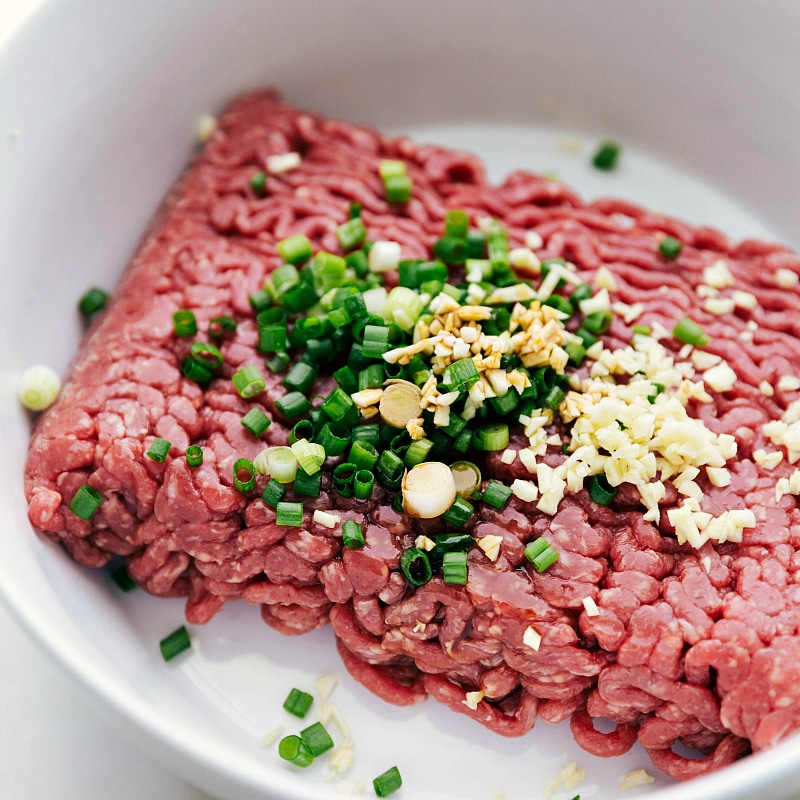 Burger recipe
Steven Raichlen is famous for his inside-out cheeseburgers. The idea is to stuff cheese, bacon, and scallions INSIDE the burger which gives an incredible burst of flavor and makes it that much easier to assemble your final cheeseburger. While he mixes the shredded cheese evenly throughout the patty, I've found these turn out best by stuffing cheese inside and covering it with the meat.
While you can season meat and add all kinds of mix-ins, a burger all comes down to the actual meat. For an ultra flavorful and juicy burger, use ground beef with a higher fat content. Ground beef with an 80/20 mix is always the best for grilled burgers.
Raichlen showed us how he grinds and mixes ground chuck and ground sirloin to create his own mix of 80 percent beef to about 20 percent fat. Don't be afraid to ask your butcher to grind a higher fat-to-beef ratio.
Burger recipe tips
You always want to start with a clean grill with oiled grill grates. Use a grill brush to remove any built-up residue and then oil the grill. I do this by drenching a rolled up paper towel in vegetable oil and, holding it with tongs, rub it over the grill grates.
Keep the meat as cold as possible. Any heat (your hands/warm environment) can melt the fat in the meat which prevents it from binding. If it doesn't bind, it will render as it cooks. (Which, you guessed it, will cause a dry burger.) Keep the meat as cold as possible and in the fridge as much as you can. Make sure to handle the meat as little as possible.
Don't overmix the beef: the less you handle the meat as you mix and form patties, the better your burger will turn out. Overworking beef will cause the fat and protein binding to break which will result in a crumbly burger.
Flip burgers, but never press them: once the patties are on the grill don't press them down with a spatula. Pressing forces the fat (and flavor) out of the burgers. You'll end up with dry, flavorless patties.
Use a large and wide metal spatula: this spatula (affiliate link) has changed my burger grilling. It's so much easier to flip and remove burgers with a wide metal spatula.
Rest your burgers: let the burgers rest for 1-2 minutes after they come off the grill. This allows the juices to re-distribute evenly throughout the burger (better flavor throughout).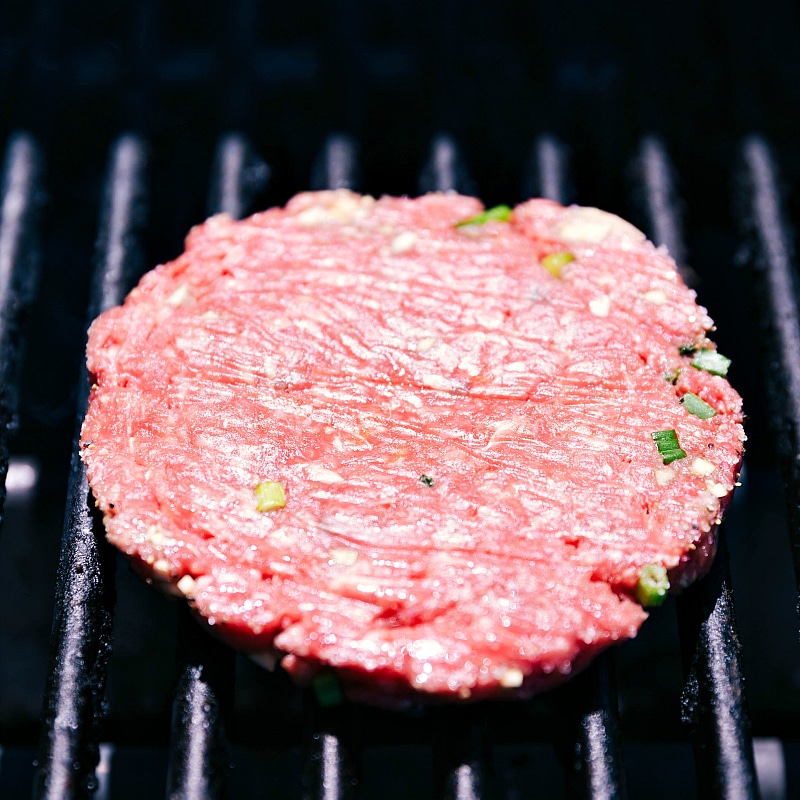 How to shape your burgers
The biggest thing to note about shaping burgers is that they shrink A LOT during cooking. I usually shape my burgers about one inch wider than the bun and about 1 inch thick at the edges.
One of Raichlen's biggest tips for shaping burgers is to indent the center (see pictures above). I form a bottom half with higher edges, fill it with cheese, and then place a top half on top. Press the two together and then make a wide indent in the center.
When you grill make sure to place the side with the indent face down on the grates.
I also like to shape the burgers on a sheet pan (double lined with parchment paper) to allow the handling to be as little as possible while also aiding in getting a firm patty shape. You can easily put the pan in the fridge to chill while the grill heats and bring the pan out to make transfer from pan to grill simple. Once the patties are on the grill, throw out that parchment paper and you can put the cooked patties on the pan. (As long as the pan was double lined with parchment and no juices got through)
How long should I grill burgers?
This will depend on how hot your grill is and how thick the patty is. I set the grill to around 400-450 degrees F and with a 4 to 4.5 inch wide patty (1 inch thick) below are the general times required:
Rare burgers: 125 degrees F (about 4 minutes total)
Medium-rare burgers: 135 degrees F (about 5 minutes total)
Medium burgers: 145 degrees F (about 6-7 minutes total)
Well-done burgers: 160-165 degrees F (about 8 minutes total)
The USDA recommends cooking ground meat to at least 160 degrees F, so use your personal discretion. We prefer this burger recipe done at about 5 minutes (2 and 1/2 minutes per side, around medium-rare doneness) Be sure to check the internal temperature with a food thermometer. Insert through the side not the top for the most accurate readings.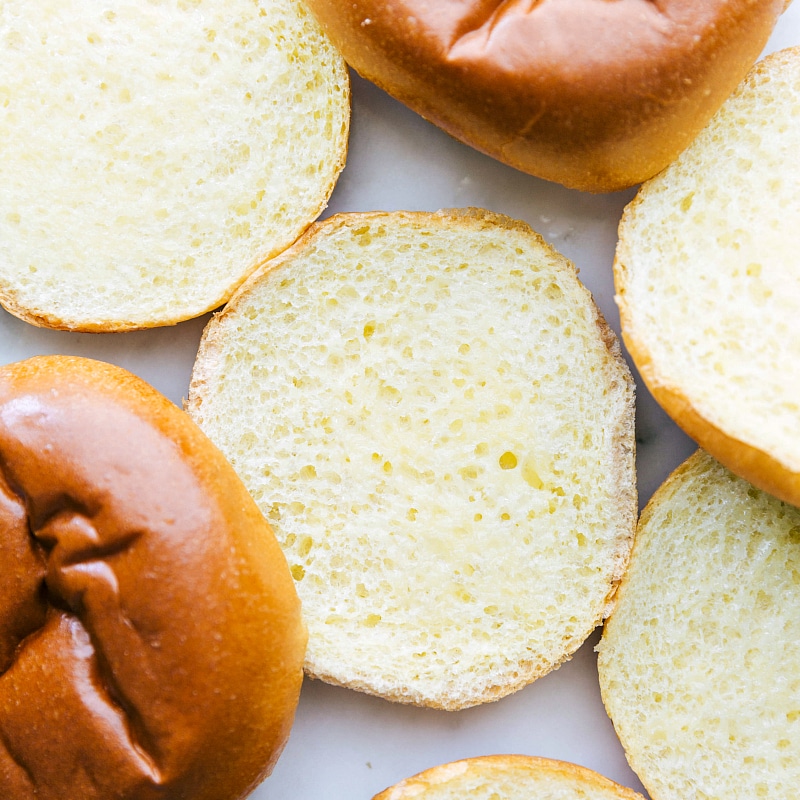 When should I toast the buns?
In my opinion, there is nothing better than a burger on a brioche bun. And once you've got those buns, you've got to toast them with some melted butter — trust me they're the best! Rub melted butter generously on the insides and outsides of the bun. Place them on the back of the grill (out of the direct heat) until they're golden and very lightly charred. This takes anywhere from 30 seconds to 1 minute.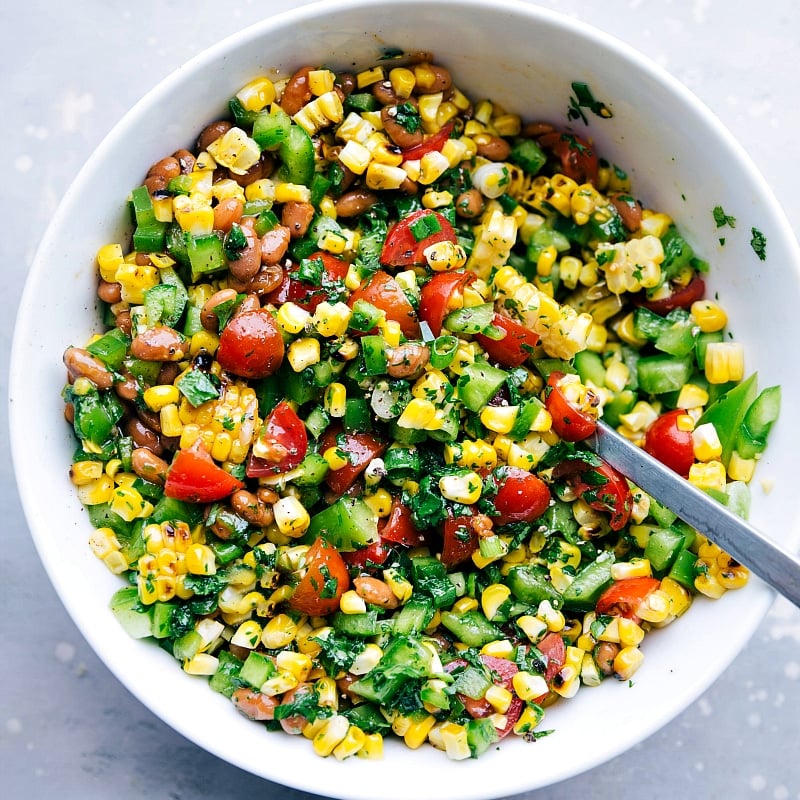 Burger recipe sides
While not necessarily a side, I've included a burger sauce that is a must have! It's the perfect complement to these burgers and brioche buns and takes minutes to whip together. You can double or triple it, make it ahead of time, and store it in the fridge for up to a week.
I'm also sharing a corn salsa, adapted from Steven from the boot camp. We love that salsa as a side to these burgers and it's easy to whip together for the side. It includes grilled corn and pepper which I start before grilling the patties. Then you can work on finishing up the salsa as you grill the burgers and allow them to rest.
Below are a few other side dish ideas: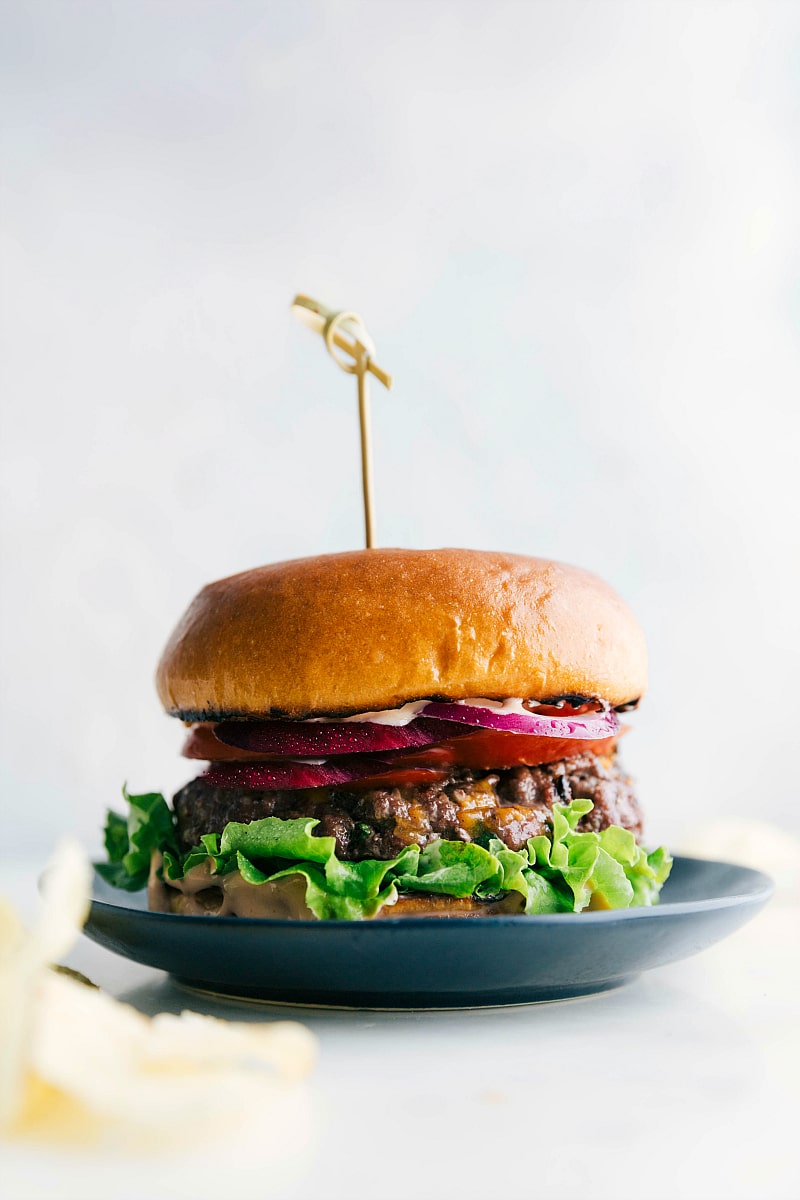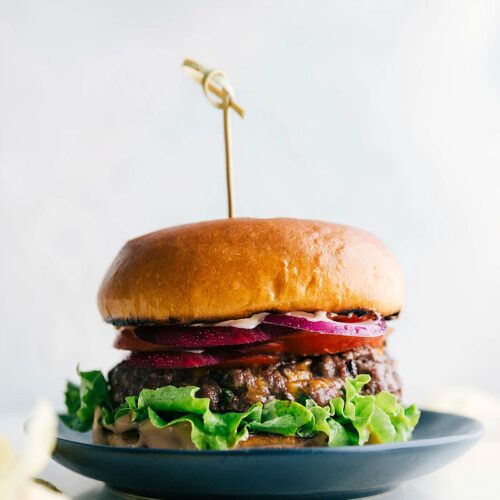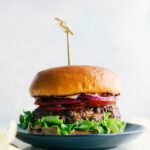 Burger Recipe
Our favorite burger recipe complete with toasted and buttered buns, a perfect cheese-stuffed burger, all the veggies, and the best burger sauce!
Servings
:
6
large burgers
Ingredients
Burgers
2

pounds

80/20 ground beef,

very cold

4

cloves

minced garlic

2

green onions (scallions),

thinly sliced (about 3 tablespoons)

1

tablespoon + 1 teaspoon

Worcestershire sauce

3/4

cup

extra sharp cheddar cheese,

freshly grated

Sea salt and freshly ground black pepper

(about 1 and 1/2 teaspoons total for all the burgers)

6

brioche buns

3

tablespooons

unsalted butter

Burger sauce

(Note 1)

Burger toppings such as: lettuce, tomatoes, red onion, pickles, etc.
OPTIONAL Corn Salsa
4

ears sweet corn,

shucked

1

green bell pepper

2

tablespoons

olive oil (plus some for corn and pepper)

1

cup

BUSH'S original baked beans

1

cup

cherry tomatoes,

diced

2

green onions (scallions),

thinly sliced

1

jalapeño

seeded and finely diced

¼

cup

fresh cilantro,

finely chopped

3

tablespoons

fresh lime juice
Instructions
Burgers
PREHEAT THE GRILL: heat the grill 450 to 500 degrees F.

BURGERS: In a large mixing bowl, add the (cold) beef straight from the fridge, the minced garlic, green onions, and Worcestershire sauce. Fold the meat just a few times (no longer than for 30-40 seconds) until ingredients are incorporated. Be careful to not overwork or over handle the meat.

SHAPE: Line a large sheet pan with two layers of parchment paper. Shape the burger patties on the tray instead of with your hands (this helps keep them from being over handled while also providing leverage to get the patties firm). Divide all the meat into 6 equal parts and then separate each part into 2 parts (with 1 part larger than the other). Gently form each large portion into a patty that is about 4 to 4 and 1/2 inches across and with 1 inch sides. Make a shallow depression in the middle. Add 2 tablespoons grated cheese into each shallow depression. Now take the other small part of meat and cover the cheese connecting the beef together and form into a patty with 1 inch thick sides. Again, depress the center of the patty (see pictures in post). The depression keeps the patty from shrinking too much and puffing up too much. Cover with plastic wrap and place in the fridge until grill is completely heated.

BUNS: Melt the butter and then brush (with a pastry brush) over both sides of all the buns. Set aside.

GRILL BURGERS: Prepare the fully preheated grill by cleaning with a grill brush. Generously oil the grill (I drench a roll-up paper towel in vegetable oil and, holding it with tongs, rub it over the grill grates). Remove burgers from the fridge and generously salt and pepper both sides of the patties. Hold your hand 6-7 inches above the meat and sprinkle the seasoning liberally or to taste. In total, I use about 1 and 1/2 teaspoons each of salt and pepper to all the patties.

Place patties INDENT SIDE DOWN on the grill. Cook to desired doneness:

Rare burgers: 125 degrees F (about 4 minutes total) Medium-rare burgers: 135 degrees F (about 5 minutes total) Medium burgers: 145 degrees F (about 6-7 minutes total) Well-done burgers: 160 degrees F (about 8 minutes total)  (We like medium rare best) Flip the burgers once during cooking, at the halfway mark. Never press down on the patties (this will make fat (flavor) escape). Use a wide metal spatula for best results in flipping and removing patties.

GRILL BUNS: When you have about 1 minute left on the cooking time for the patties, add the buttered buns to the grill (over indirect heat, alongside the edges of the grill). Watch carefully, they are toasted in about 30 seconds to a 1 minute.

SERVE: Remove burgers and buns from grill and transfer to a clean platter. Let the burgers rest for 1-2 minute before serving. Assemble by adding burger sauce (Note 1) and your favorite veggies such as lettuce, tomatoes, pickles, red onion, etc.
Corn Salsa
GRILL: Brush corn and green pepper with olive oil and season (to taste) with salt and pepper. Grill corn (400-450 degrees F) until browned on all sides, 8-12 minutes, (flipping every 2-3 minutes) and transfer to cutting board to cool. Grill green pepper until browned on all sides, 2-3 minutes per side and transfer to cutting board.

While veggies are grilling prepare the rest of the salad: chop the cherry tomatoes, thinly slice green onions, dice jalapeno, dice cilantro, and juice a lime. Add to a large mixing bowl with baked beans and olive oil. Toss. Once veggies have been grilled and cooled, slice kernels off the cob and dice the pepper. Toss all the ingredients to combine and season with salt and pepper to taste. Enjoy alongside the burgers!
Recipe Notes
Note 1: For the sauce, combine: 1/2 cup good quality full fat mayonnaise, 2 tablespoons ketchup, 1 tablespoon finely grated onion, 1 tablespoon sweet pickle relish, 1 teaspoon adobo sauce from canned chipotle chiles in adobo (increase for spicier), and 1/4 teaspoon salt. Stir until combined and smooth. Taste and adjust seasonings to personal preference. Feel free to add a teaspoon or more of the sauce from the chipotles to increase the heat.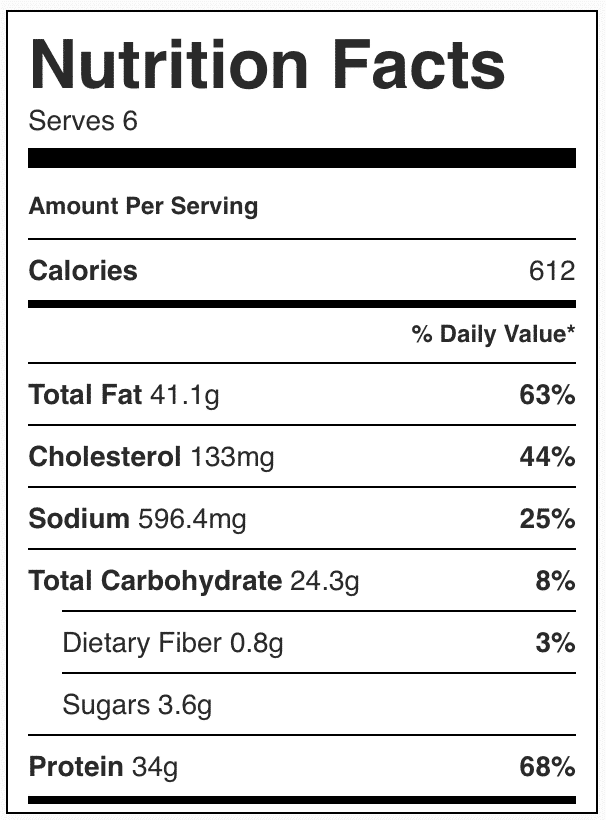 Recipe adapted from Steven Raichlen and BUSHS (Post updated from 2016)