Luscious, bakery-style pumpkin muffins that are dense, moist, and perfectly spiced.
Pumpkin spice is one of my favorite flavors, and I use it in more than just these delicious pumpkin muffins! Check out our other recipes for pumpkin cheesecake, pumpkin scones, pumpkin snickerdoodles! Go get the oven preheated!
Easy Pumpkin Muffins
These pumpkin muffins are incredible — soft, moist, and so flavorful. This recipe is for classic, bakery-style muffins with a quick, crunchy top. We love this recipe exactly how it's written, but this is also a great muffin to tweak and make your own.
You can add in anything from chopped nuts to mini chocolate chips. Just toss up to 1 cup of "add-ins" with the flour and you can also increase the spices if you like a more zesty muffin. Just remember to keep the add-ins small (like finely chopped nuts or shredded coconut). And truly, the muffins just get better with time — the spices intensify and become even more flavorful.
Making pumpkin muffins healthy
While these muffins are definitely a treat, a lot of fat and oil (that you'd find in a typical muffin recipe) is replaced with pumpkin. The spices also add so much flavor (and health benefits) without adding extra calories. Additionally, these muffins call for coconut oil, which is a healthier oil choice and eggs which are loaded with protein and nutrients.
Healthy swap suggestion: make healthier pumpkin muffins with unsweetened applesauce instead of the coconut oil. Just replace 1/4 cup coconut oil with 1/4 cup unsweetened applesauce (I wouldn't recommend replacing all the oil with applesauce).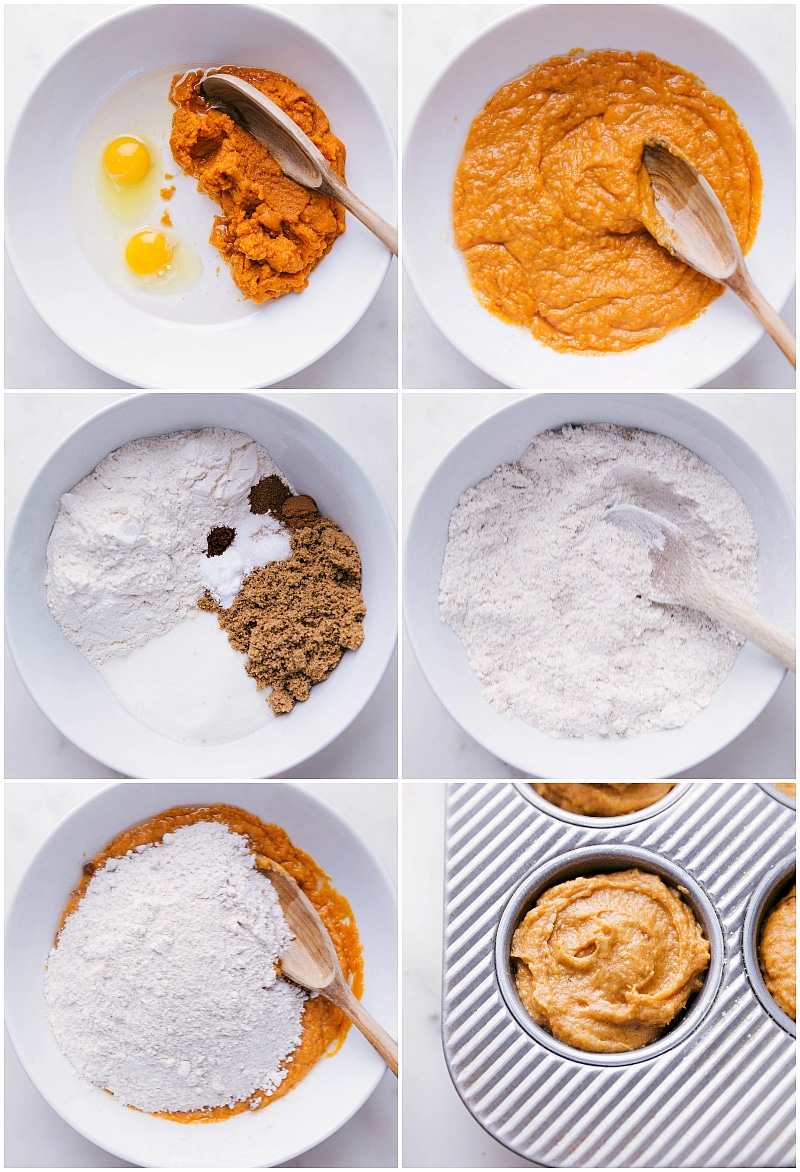 Pumpkin muffin FAQs
To make mini pumpkin muffins with this recipe:
Preheat the oven to 350 degrees F. Coat the cavities of (2) 24-cup mini muffin tins with cooking spray.
Prepare the pumpkin muffin batter according to the recipe.
Fill each muffin cup with a heaping tablespoon of batter.
Bake until muffins pull away from the sides of the pan and a toothpick, when inserted into the center of a muffin, comes out clean: about 10-14 minutes.
Frost these muffins and serve as cupcakes
These muffins can definitely double as cupcakes! Just pile on some cream cheese frosting and you're good to go.
Or check out this pumpkin cupcake recipe which is hugely popular — you might like this one even better.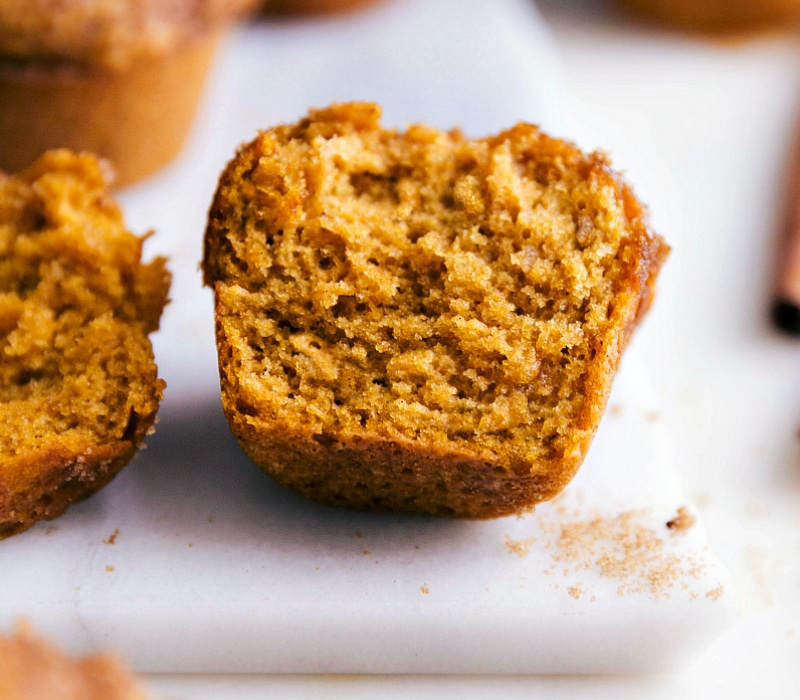 Pumpkin muffins pair well with:
a warm glass of milk
a bowl of seasonal fruit
a cup of hot chocolate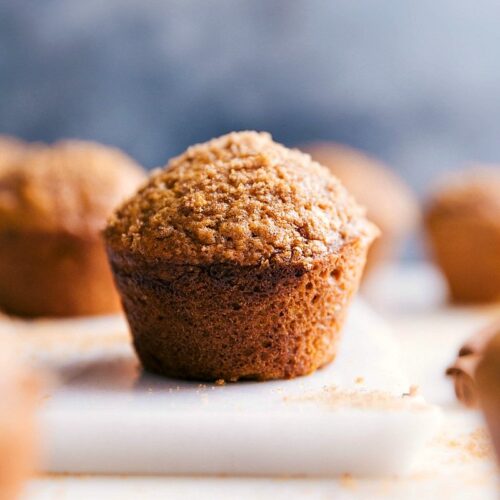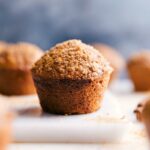 Pumpkin Muffins
Luscious bakery-style pumpkin muffins that are dense, moist, and perfectly spiced.
Course:
Breakfast, Dessert
Servings
:
12
large muffins
Ingredients
1/2

cup (94g)

melted coconut oil

1 and 3/4

cups (208g)

white all-purpose flour

(spoon and level the measurement)

3/4

cup (141g)

white sugar

3/4

cup (107g) + 2 tablespoons

dark brown sugar,

lightly packed (light can be used, we like dark best!) SEPARATED

1

teaspoon

baking soda

3/4

teaspoon

fine sea salt

2

teaspoons

ground cinnamon

1/2

teaspoon + 1/4 teaspoon

pumpkin pie spice,

SEPARATED

1/4

teaspoon EACH:

ground nutmeg, ground allspice

1/8

teaspoon

cloves

2

large

eggs

1

can (15 ounces)

pumpkin puree
Instructions
PREP: Preheat the oven to 375 degrees F. Generously grease a muffin tin with spray. Lightly dust with flour and set aside. Melt the coconut oil and then set it aside so it can come back to room temperature.

DRY INGREDIENTS: In a large bowl, combine the 1 and 3/4 cups flour, 3/4 cup white sugar, 3/4 cup dark brown sugar, 1 teaspoon baking soda, 3/4 teaspoon fine sea salt, 2 teaspoons cinnamon, 1/2 teaspoon pumpkin pie spice, 1/4 teaspoon nutmeg, 1/4 teaspoon allspice, 1/8 teaspoon cloves, and any desired mix-ins. Stir until combined.

WET INGREDIENTS: In a large bowl, add the eggs, and entire can of pumpkin puree (if it's watery, press off excess liquid with a few paper towels). Add in the 1/2 cup melted coconut oil that has cooled back to room temperature. (We want it melted, but not hot). Whisk wet ingredients together until smooth.

COMBINE: Add dry ingredients right on top of wet and stir until combined. Do not overmix. Separate the batter evenly among the 12 muffin tin cavities. The cavities will all be nearly filled -- use all the batter for the 12 cavities.

TOPPING: in a separate small bowl, whisk together the remaining 2 tablespoons brown sugar and remaining 1/4 teaspoon pumpkin pie spice. Sprinkle this mixture evenly on the tops of the muffins.

BAKE: Bake for 19-24 minutes or until a toothpick comes out clean from the center muffin. Don't under-bake or these will be overly moist and a bit gummy. Remove from the oven and let cool for 2-3 minutes in the pan. Transfer to a wire cooling rack to allow them to finish cooling. These muffins are best at room temperature so allow time for them to thoroughly cool.
Recipe Notes
Use a good, light colored metal, non-stick cupcake pan. This are the exact ones I use.