Deliciously thick oatmeal chocolate bars with a hint of pumpkin in the middle — thanks to pumpkin pie spice and pumpkin flavored marshmallows. These bars are easy to make and very rich!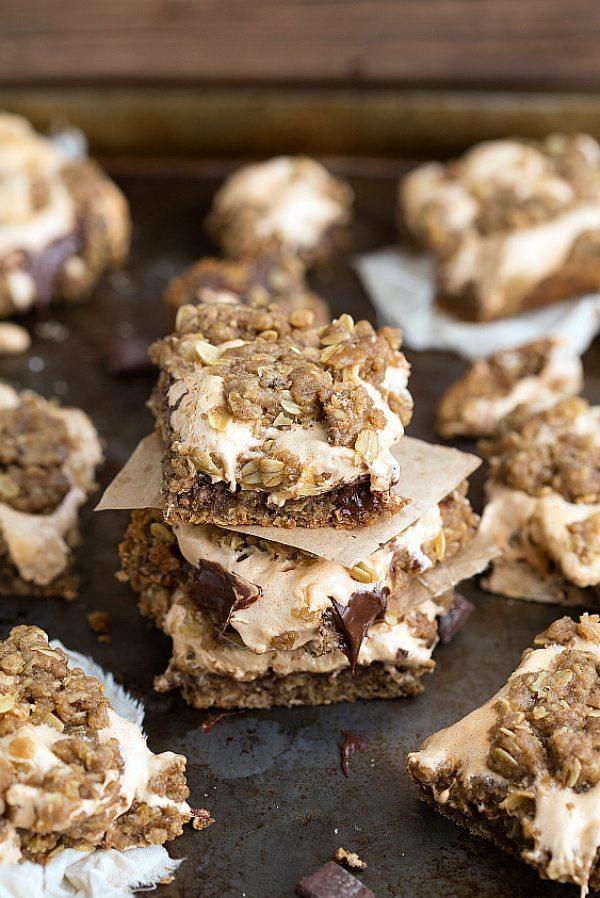 Pumpkin and oats were meant to be together. My favorite Fall cookies are pumpkin oatmeal chocolate-chip and these bars are basically those cookies in a gloriously gooey marshmallow form. Who's with me on pumpkin oatmeal cookies?!
P.S. Do you like how I specify they are my favorite "Fall cookies"? Because obvi I can't just have one favorite cookie. As a self-proclaimed cookie connoisseur I have to have a favorite cookie for every season and/or holiday. Like these ones for Christmas…nothing compares.
And there I go talking about Christmas again when I said I was going to wait. I'm such a freak about holidays!! Second P.S. the hubs and I went shopping and found the cutest wood pumpkin decoration. It's currently sitting on top of our mantel place and making me all sorts of happy and excited for Halloween. The good news is, it's not only a Halloween pumpkin, so it gets to stay up through Thanksgiving. And along with that shopping trip, we also found little Grey's Halloween costume. He's a lobster if you missed the picture of him. Bahaha — he is the cutest lobster ever!!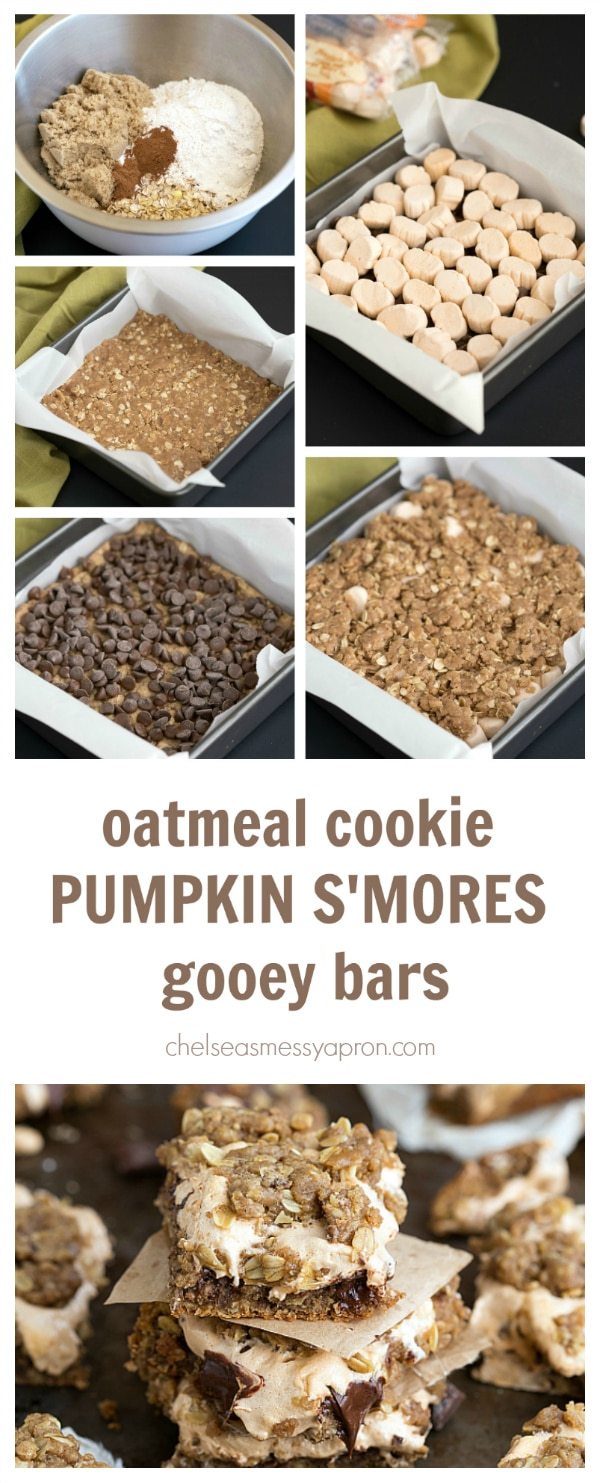 What is it and babies in Halloween costumes? I'm totally a crazy person on Pinterest looking at all the baby Halloween costumes all the time. Even before I had a baby. And errr. Even before I was married. Because babies dressed up like fat pumpkins, or popcorn, or LOBSTERS are my favorite kinds of things to look at. And now that I have a baby, the crazy can't be controlled. So the poor baby has to be in a Halloween costume like every other day because I can't stop dressing him up in it and then squealing like I'm 15. Please tell me I'm not the only mom that squeals at cute baby clothes particularly lobster Halloween costumes.
And enough about Halloween and adorable costumes because you are here for the food and probably not the crazy that is me around Halloween. Or all the holidays for that matter.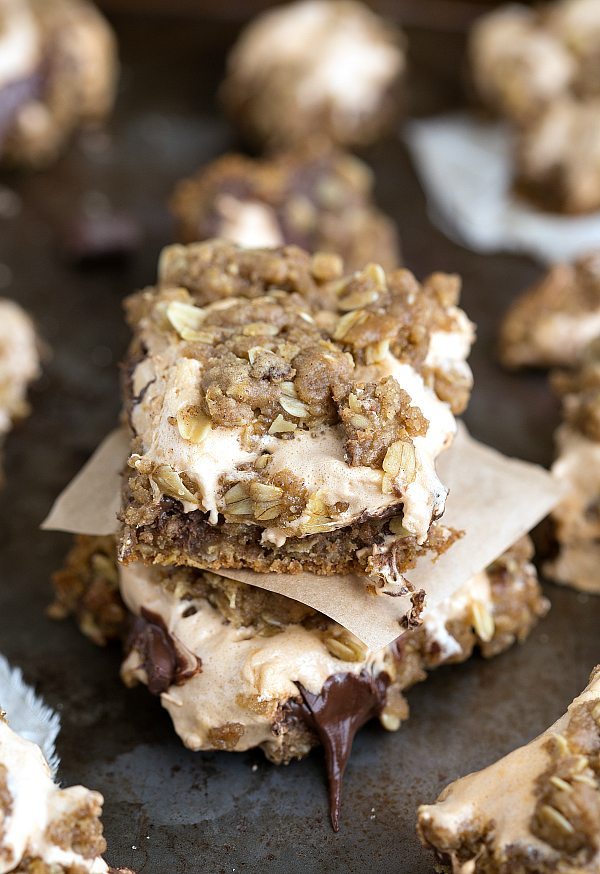 These bars are SO easy. Only one mixing bowl to make these and then the pan to bake them in. (Which if you line the pan it takes about .5 seconds to wash.) These bars are a must make for pumpkin season. Even though these technically don't have any pumpkin in them, they are still very much a pumpkin recipe. I used pumpkin spice mallows (my favorite marshmallows EVER!) and then some seasonings in the crust to make them taste all pumpkin-y.
You can definitely increase or decrease the seasonings depending on your love for pumpkin flavors. More cinnamon + pumpkin pie spice if desired and less if not desired. If you omit both the cinnamon and pumpkin pie spice, these taste more like oatmeal s'mores bars, but they still have a slight pumpkin hint from the marshmallows. Also, these are RICH. So be warned. If you want these to be a little less rich, just cut down the chocolate to either 1/2 cup or 3/4 cup. I love the thick chocolate layer, but it definitely makes these over the top rich!
While I get back to Pinterest searching for babies in Halloween costumes, you'd better get to making these. You're going to love them!!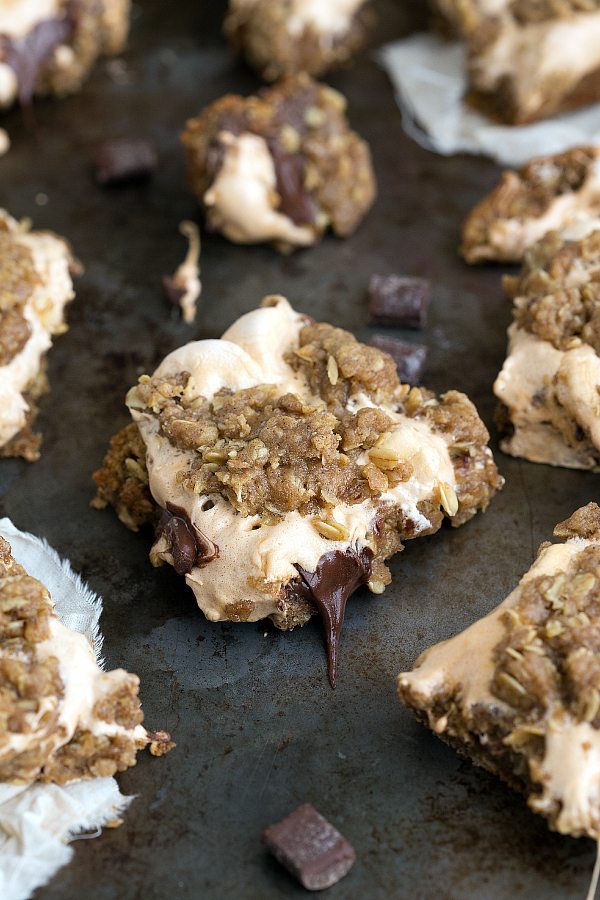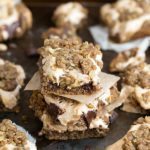 Oatmeal Cookie Pumpkin S'mores Gooey Bars
Ingredients
1 and 1/2

cups

white flour

1

cup

light brown sugar

packed

1

teaspoon

baking soda

1

teaspoon

cinnamon

1

teaspoon

pumpkin pie spice

1/8

teaspoon

salt

1 and 1/2

teaspoons

vanilla extract

3/4

cup

butter

melted

1 and 1/2

cups

old-fashioned oats

1

cup

milk chocolate chips

~1 and 1/2

cups

Pumpkin Spice Mallows
Instructions
Preheat the oven to 350 degrees F. Line an 8 x 8 baking pan with parchment paper and set aside.

In a large bowl, beat together the flour, brown sugar, baking soda, cinnamon, pumpkin pie spice, salt, vanilla and butter. Beat until well combined and then stir in the oats.

The mixture should be crumbly, but also be able to pack together well. If it is too wet, add a bit more flour, and if it is too dry, add a tablespoon or more of butter.

Separate this crust mixture in two and press 1/2 of the mixture into the prepared baking pan.

Bake for 12-14 minutes and then remove.

Immediately pour over the chocolate chips and spread evenly on top of the crust.

Then press the marshmallows evenly on top of the chocolate chips (there should just be one layer of marshmallows)

Crumble the remaining crust mixture on top and bake for another 5 minutes. Even though the top may still appear a bit gooey, don't bake for longer or the marshmallows will get gross.

Remove from the oven and allow to set up for at least 1 hour (or eat them immediately, but they will be pretty gooey and messy. Which personally I love!)

Cut these bars with a knife that is slightly wet.
Here are some more pumpkin treats: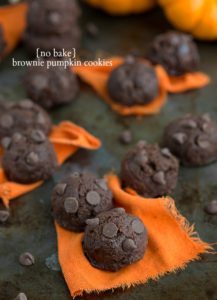 No Bake + 4 Ingredients Brownie Pumpkin Cookies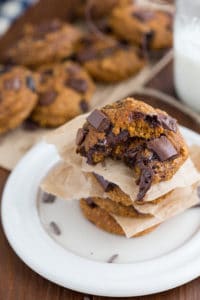 Flourless and Healthy Pumpkin Chocolate Chip Cookies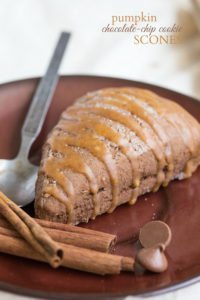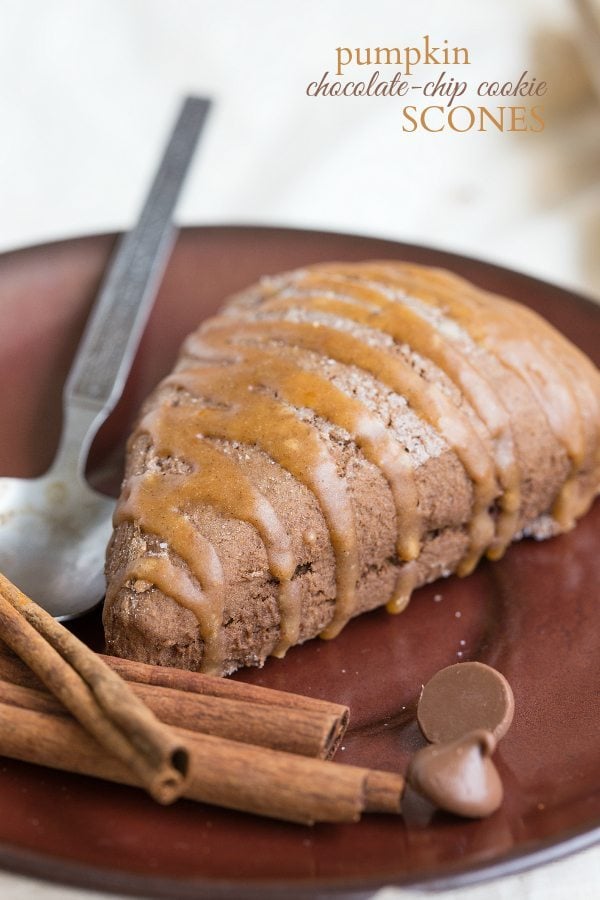 Pumpkin Chocolate-Chip Cookie Scones