These chocolate pumpkin scones have all the great flavors you know and love from pumpkin chocolate-chip cookies. PLUS there are chocolate chips in them and a delicious cinnamon-spice pumpkin glaze covering them!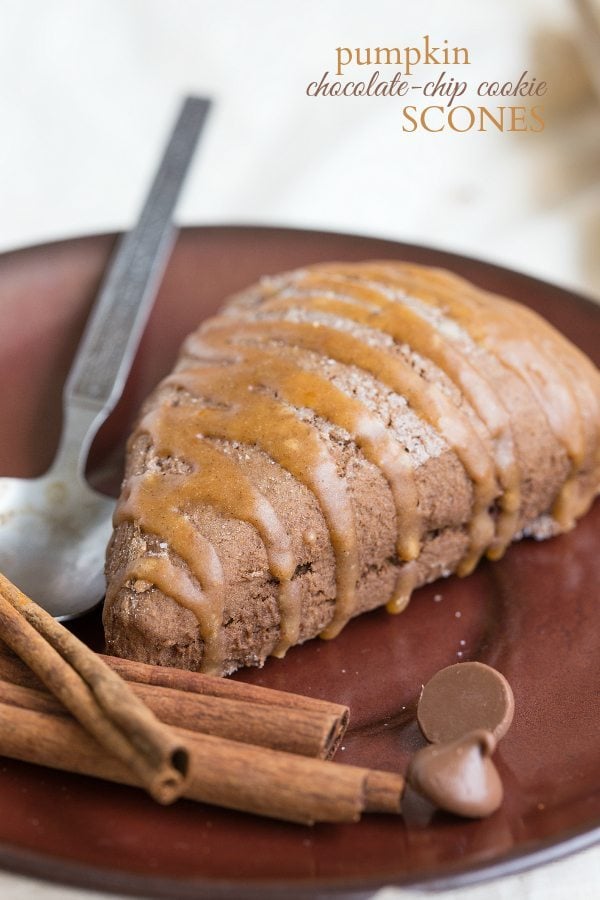 And it's time to bring out the pumpkin. Because I've got about 15 different pumpkin recipes you're going to want to make!
In my mind summer is long gone. In preparation for the blog, I've started baking with pumpkin, cinnamon, and other comfort food ingredients and automatically I felt like it was Fall despite the still warm weather and lack of Fall-signs (no boot wearers, no pumpkins sitting out on people's front doors, no leaves changing colors…). ALLLthough, I have been seeing Fall decor in some stores, therefore, it is all working out in my mind that Fall is here. Despite the twenty something days left of official summer.
On a totally random side-note, does anyone type "pumpking" when trying to type "pumpkin"? So far, every single pumpkin has been a pumpking that I edited. Please tell me I'm not the only one with this problem? Type it up and lemme know!
Anyways, I've been so excited to share this recipe with you all since I made it about a week and a half ago. I actually made these with my sisters while I was in Utah. It's always fun baking for a larger crowd since I get so much feedback on the recipes. And if you were wondering – overwhelmingly positive feedback for the few pumpkin recipes we made.
In fact, my "dieting" father (okay not dieting, just "watching what he eats") ate one right after another one of these scones. With the second one almost polished off, he thought to ask if it was okay if he was eating them or if I still needed to take pictures. To his great relief, the pictures had been taken and he could finish the whole batch if he wanted. I think he may have done just that. 🙂
If you've ever made scones you probably know they aren't too hard to make. In fact, they are really simple and don't take too long at all.
After mixing up the dough ingredients, shape the dough into a flat ball and then cut the dough into the final scones shapes. This recipe makes 8 scones by cutting the dough in half horizontally, in half vertically, and then cutting twice more – diagonally from each side to make an "X."
Once the scones have been all cut out, I like to brush the tops with a little bit of the extra buttermilk (or heavy cream if you'd rather use that) and then sprinkle the tops with some white sugar – this helps to brown and almost caramelize the tops of the scones during baking. It adds the slightest "crunch" or different texture to the scone which I love.
A few extra tips for these scones: always line the baking tray with parchment paper – this keeps the scones cooking evenly and prevents the bottoms of the scones from burning and sticking to the tray. Another tip has to do with the butter – the colder you are able to keep the butter throughout the making process, the lighter and less dense the scones are. And finally, the less you are able to stir and knead your dough, the lighter the scones will be. The more stirring and kneading you do, the denser these become.
Happy scone making! And bring on the Fall! (my favorite season <3)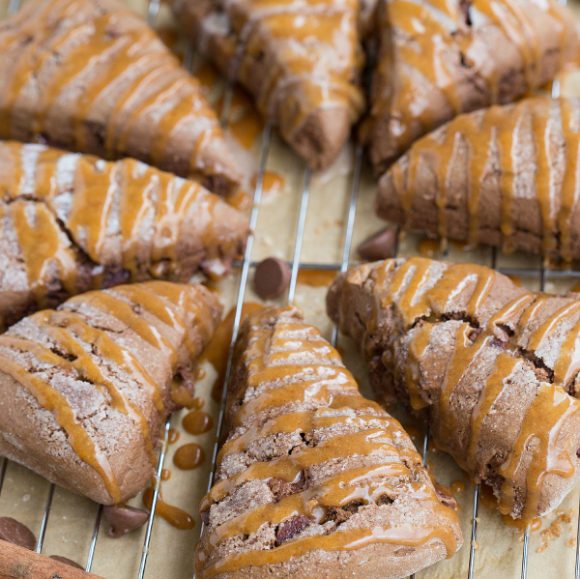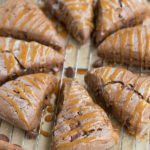 Pumpkin Chocolate-Chip "Cookie" Scones
Ingredients
3

tablespoons

low-fat buttermilk

1

large

egg

1

teaspoon

vanilla extract

1/2

cup

canned pumpkin

not pumpkin pie filling

2

cups

flour

1/4

cup

unsweetened cocoa powder

1/2

cup

white sugar

1

tablespoon

baking powder

not teaspoon

1/4

teaspoon

salt

1

teaspoon

allspice

1

teaspoon

cinnamon

1/4

teaspoon

ground cloves

1/3

cup

butter

1/2

cup

milk chocolate chips

Extra buttermilk and sugar for topping scones
Pumpkin Glaze
1 and 1/2

cups

powdered sugar

1/2

teaspoon

cinnamon

pinch

allsprice

pinch

Pinch ground cloves or nutmeg

2

tablespoons

canned pumpkin

2

tablespoons

milk or heavy cream
Instructions
Preheat the oven to 375 degrees F. Line a baking sheet with parchment paper and set aside,

In a large bowl, beat together the buttermilk, egg, pumpkin, and vanilla.

In a separate bowl, combine the flour, cocoa powder, white sugar, baking powder, salt, allspice, cinnamon, and ground cloves. Stir together until completely combined.

Cut the room temperature butter (do not soften or melt) into small cubes.

Using a pastry blender or two knives, cut the butter into the dry mixture until it resembles coarse crumbs.

Stir in the chocolate chips.

Slowly add the dry to the wet, stirring just until a thick dough is formed. Add a little bit more buttermilk or flour if needed.

Pour the mixture on to a floured surface and knead until it comes together into a ball of dough. You don't want to over-stir or over-knead the dough or it will make for a tough and less soft scone.

Shape the dough into a round circle and cut into eight different scones or wedges. Using a pastry brush, brush a little bit of extra buttermilk over all of the scones. Sprinkle lightly with white sugar.

Bake for 18-20 minutes or until a toothpick when inserted comes out clean. Then remove from the oven and allow to cool.

Once cool, you can top with the glaze.

To make the glaze, beat together all of the ingredients adjusting the seasonings as desired.

Pipe (in a frosting bag or plastic bag with top cut off) or spread (witha butter knife) onto the scones.
Recipe Notes
The last paragraph in the post has a few scone tips - check them out before making these!
More pumpkin recipes:
Single Serving Size Pumpkin Chocolate Chip Cookies