The best ever, soft and chewy, Fall-spiced pumpkin snickerdoodles
These pumpkin snickerdoodles have just the right amount of spice, and are soft on the inside with perfectly crisp edges. The flavor is incredible and the texture is unbelievable. If you've tried my famous snickerdoodle cookies recipe and loved them, you'll be obsessed with these pumpkin snickerdoodles!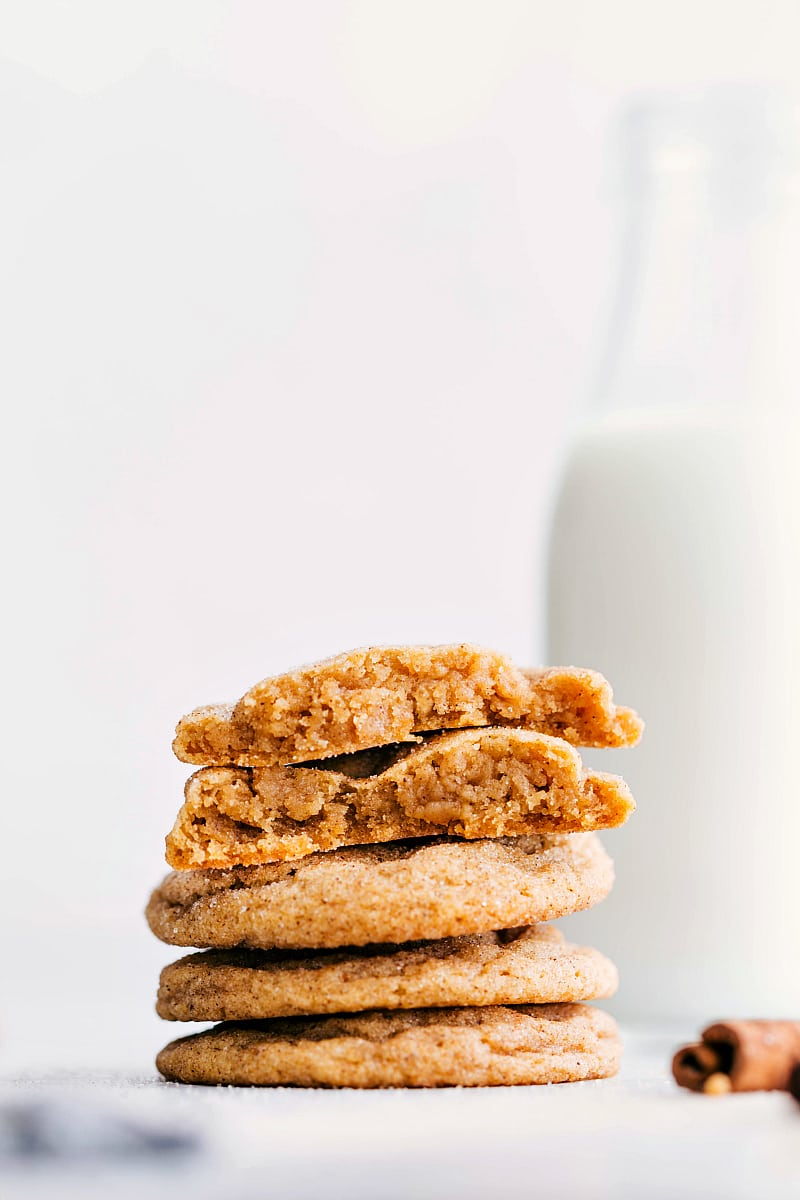 The BEST Pumpkin Snickerdoodles
Remember last year when I set out to perfect snickerdoodles for my brother-in-law for their wedding? Well, snickerdoodles are his favorite cookie and I spent months creating what I consider the perfect snickerdoodle. When he agreed and begged for more, of course I made them! But once those were perfect, I had the itch to create a fun twist on the original – pumpkin spiced snickerdoodles! Not only did the brother-in-law become obsessed over these pumpkin snickerdoodles, but I found out after the fact he doesn't even like pumpkin — ha!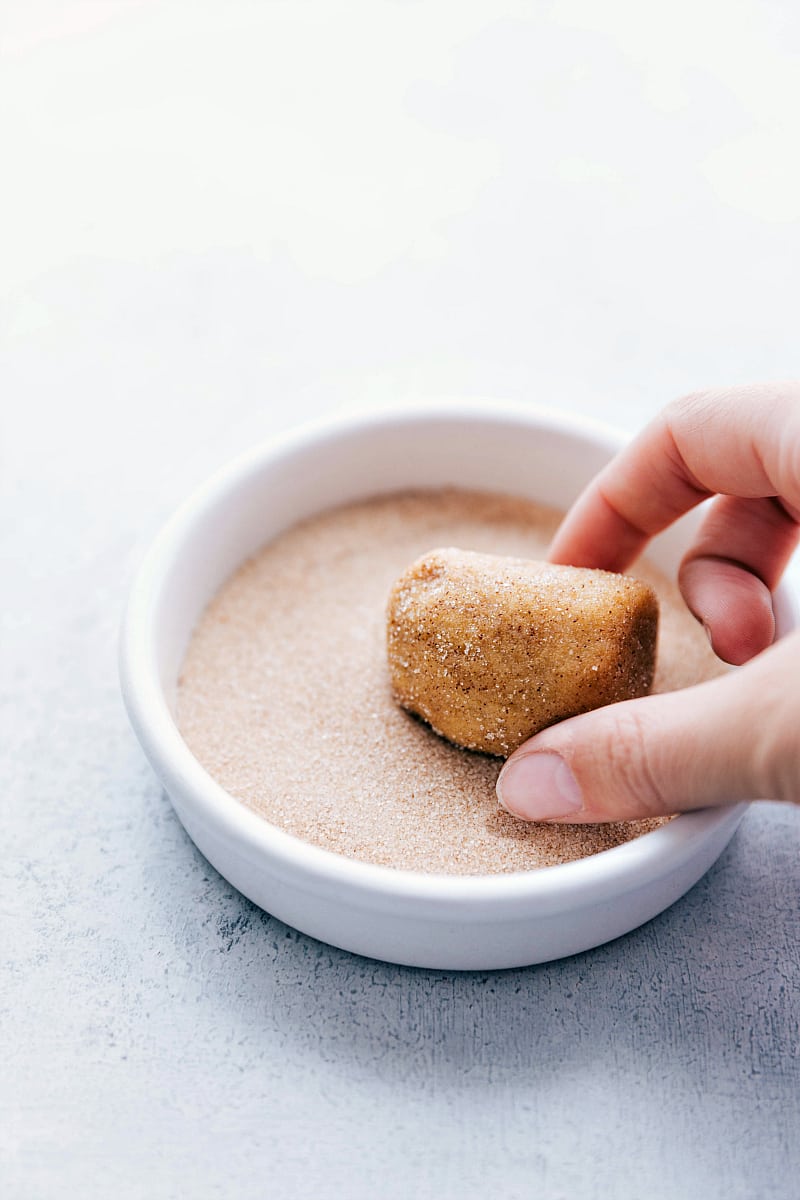 How to make the BEST Pumpkin Snickerdoodle Cookies:
For these pumpkin snickerdoodles, we start with partially melted butter. I don't melt it all the way because I've found it tends to make the cookies a bit greasy. The reason I melt the butter in the first place is because I love the texture it adds to the cookies. (When you melt butter for cookie recipes, chilling the dough is a MUST before baking. This matters because the fats need to re-solidify. If the dough is baked immediately with melted butter in it, the cookies will spread while baking and become thin, hard, and crispy. The longer the fat stays solid, the less the cookies will spread. The sugar in the dough also gradually absorbs liquid so when you chill the dough, the sugar has a chance to absorb more liquid further preventing spread.)
After the butter is melted, you'll whisk in the brown and white sugar. I like using dark brown sugar in these pumpkin snickerdoodles, but light brown sugar will also work. Dark brown sugar simply has a higher molasses content so you're getting a more intense molasses flavor which I associate with Fall/Winter treats 🙂
For the dry ingredients, we've got pretty standard snickerdoodle ingredients: flour, baking soda, salt, and cream of tartar. Cream of tartar is what gives snickerdoodles their classic flavor so you won't want to skip that ingredient! To amp up the pumpkin flavor, there is a whole array of pumpkin-y spices and you won't want to miss those! I'd say we like a more mild pumpkin flavor, so if you're looking for a super intense pumpkin flavor, feel free to increase those spices. Remember when you taste the dough, it will be more spiced than the baked pumpkin snickerdoodles end up.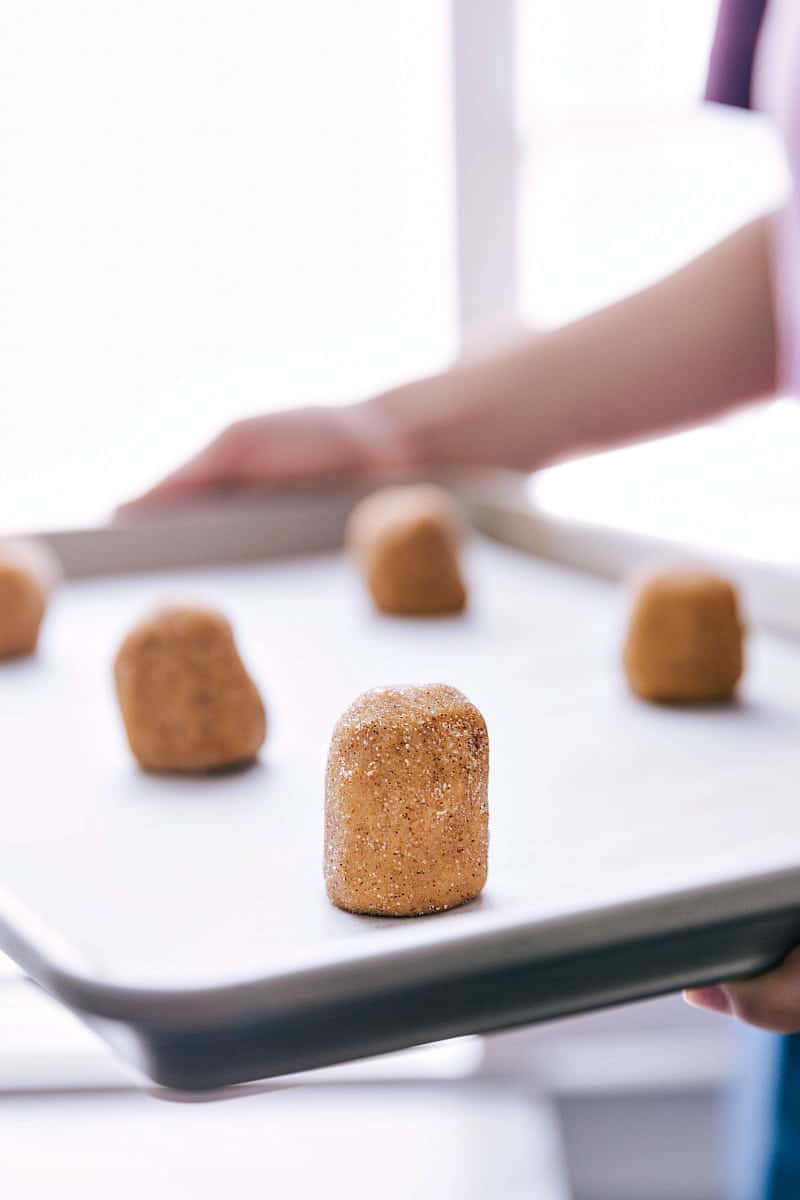 Tips to make the BEST Pumpkin Snickerdoodle Cookies:
Use a good solid-packed pumpkin: I highly recommend Libby's pumpkin (not sponsored) for these pumpkin snickerdoodles as I've always had the most success with their canned pumpkin. You want to make sure your pumpkin is not watery (if it is, press out extra liquid in a mesh strainer) and is thick. A bright orange color will also tell you it's a good canned pumpkin.
Correctly measure the flour: If you press a measuring cup into a bag of flour you will pack in way too much flour (which will result in cake-like cookies with the wrong texture). To properly measure your flour, spoon the flour into the measuring cup until its overfilled. Then use the back of a butter knife to level the measuring cup at the top. You'll have a perfect flour measurement now!
Roll tall cookie dough balls: Instead of rolling a perfect ball, I've found if you roll the dough so it's taller and skinnier, when the cookies bake you'll get that perfect thick & chewy center AND the crisp edges. Using this technique, the bottom of the cookie "ball" bakes first, which will push out and become the crisp edge. The top of that tall cookie dough "ball" then becomes the thick and chewy center. Perfect texture every time! See the 3nd picture in this post for the general shape of these cookies. And now I know we're getting technical, but I also love to weight my cookie dough balls quickly on a food scale. You know you'll be getting the same result for every cookie and they look nice if you're taking them to a party or serving them to guests. For these cookies, I weigh the dough to be 1.7 ounces.
How long do these cookies last?
I LOVE soft fresh cookies so in my opinion they are best day 1 and day 2 of being made. That said, these pumpkin snickerdoodles will last in an airtight container, at room temperature, for 5-7 days. Also, you can freeze the dough for these snickerdoodles! Form the dough into the cookie shape and freeze them on a sheet pan in the freezer. Once the balls are hard transfer them to a plastic bag/airtight container and you can store them in the freezer for up to three months. When you're ready to bake, take the frozen cookie dough balls and bake them straight from the freezer. They'll take a few extra minutes so keep an eye on them!

More delicious pumpkin recipes: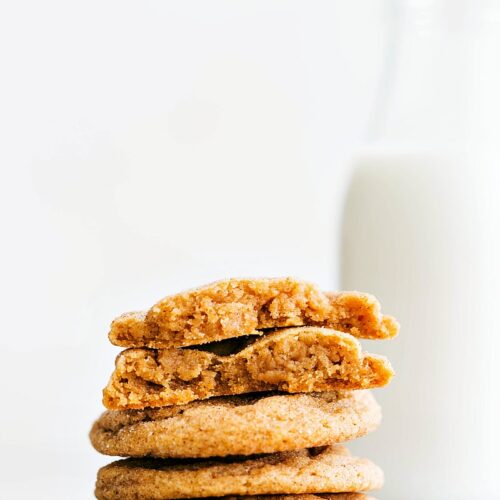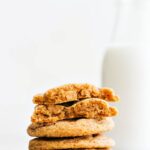 The BEST Pumpkin Snickerdoodles
The best ever, soft and chewy, Fall-spiced pumpkin snickerdoodles
Ingredients
16

tablespoons (1 cup)

unsalted butter,

80% the way melted

2/3

cup

white sugar

2/3

cup

dark brown sugar,

packed (light brown sugar also works)

6

tablespoons

solid pack pumpkin (I highly recommend Libby's)

1/2

tablespoon

pure vanilla extract

2 and 3/4

cup

all-purpose white flour,

spooned and leveled

1 and 1/2

teaspoons

cream of tartar

1/2

teaspoon

salt

1

teaspoon

baking soda

1

teaspoon

ground cinnamon

1/4

teaspoon EACH:

nutmeg, ground cloves

1/2

teaspoon

allspice

1-2

teaspoons

pumpkin pie spice

(increase/decrease to personal preference)
Cinnamon Sugar Coating
1/4

cup

white sugar

1

teaspoon

pumpkin pie spice
Instructions
In a large bowl add the 80% melted butter, sugar, and brown sugar. Whisk together until smooth. Add in the pumpkin and the vanilla extract. Whisk until just combined and smooth.

In another bowl, stir together the flour, cream of tartar, salt, baking soda, cinnamon, nutmeg, cloves, allspice, and pumpkin pie spice. (We add 1 teaspoon pumpkin pie spice for a mild flavored pumpkin cookie; add more to personal preference) Whisk to combine.

Add all of the dry ingredients into the wet ingredients and mix until JUST combined. Do not overmix the dough. Cover tightly and place in the fridge for 45 minutes to 1 hour.


Preheat the oven to 325 degrees F. (If you have a convection oven, also do 325 degrees F at convection bake). In a small bowl stir together the white sugar and cinnamon.


Remove the dough and roll tall balls of dough (see the 3rd photo in the post). If you have a kitchen scale, the balls of dough should be about 1.7 ounces. Roll the balls of dough generously into the cinnamon-sugar mixture.


Place dough balls on a parchment or silpat lined sheet pan and bake for 9-13 minutes. Watch carefully being sure to not over-bake. I think slightly under-baked snickerdoodle cookies are the BEST!


Remove and let stand on cookie sheet for 2 minutes before removing to a cooling rack.


Cookies best enjoyed within 1-2 days. The pumpkin flavor does intensify at day 2.
For more delicious recipes, follow along on Pinterest, Instagram, Facebook, and YouTube