This delicious healthy pumpkin bread is bursting with Fall flavors and made with tons of healthy ingredients. This recipe can be made with or without chocolate chips.
Looking for more pumpkin recipes? Check out these Pumpkin Muffins, these Pumpkin Cookies, or this Pumpkin Cake.
Healthy pumpkin bread
Call me crazy, but I started experimenting with this healthy pumpkin bread recipe since at start of the summer! The first trial run was in May sometime and it was a complete failure. I was trying to make the recipe with blended-up old fashioned oats and no refined flour.
Unfortunately I was never able to get a bread that worked with only oats.
Ones that tasted good? Yes, actually they did! They just weren't very "sliceable" and tended to burn around the edges and tops. The insides were actually pretty delicious though.
Flash forward many more trial runs to a bread that I am confident is one of the best healthy pumpkin bread recipes you'll find. And as a bonus, it doesn't burn on the tops or sides 🙂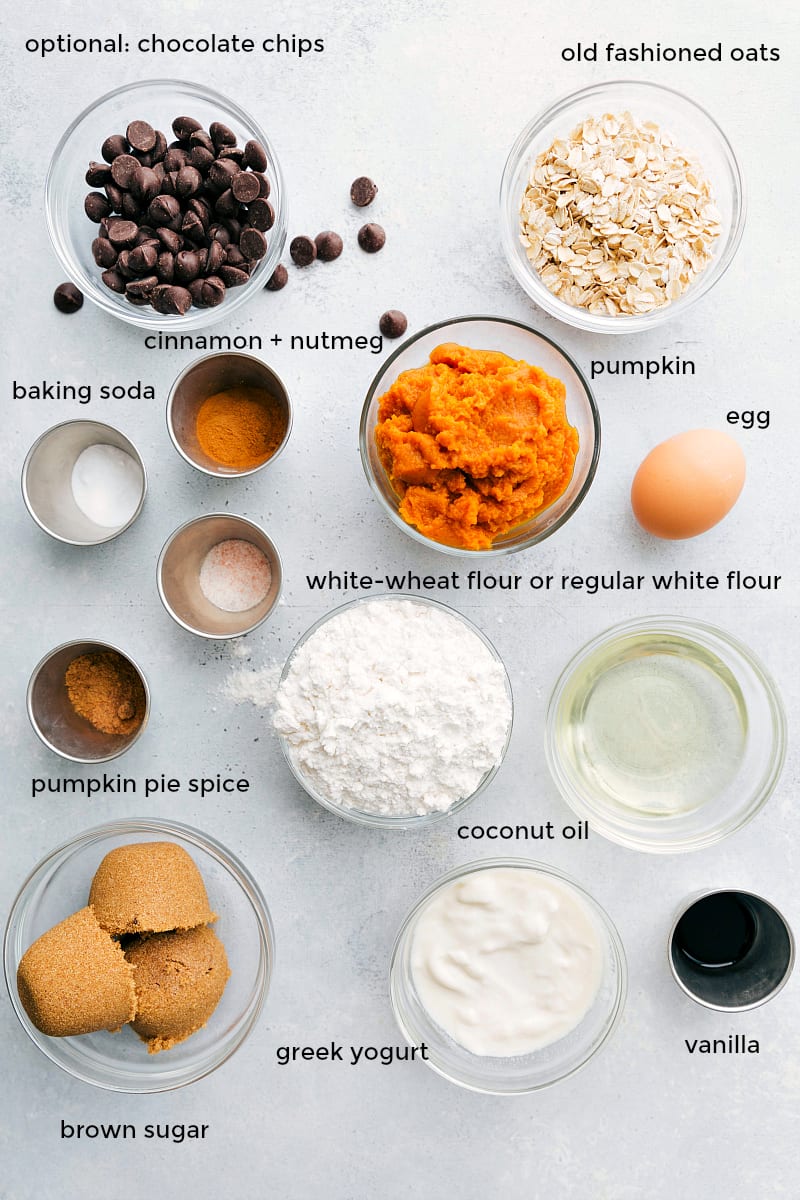 Ingredient substitutes
I tried making this healthy pumpkin bread with almond flour and regular flour, but I like this version best with oat flour. Oat flour is made by simply blending up old fashioned oats – and it's much healthier than using regular white flour.
I never could find a good substitute for sugar, so this recipe does have some refined sugar in it. However, this sugar replaces a great deal of less-healthy ingredients (such as butter and vegetable oil). This isn't necessarily a low-calorie healthy pumpkin bread, but the calories you are eating are far better for your body than your typical pumpkin bread. Low calorie does not always mean healthy!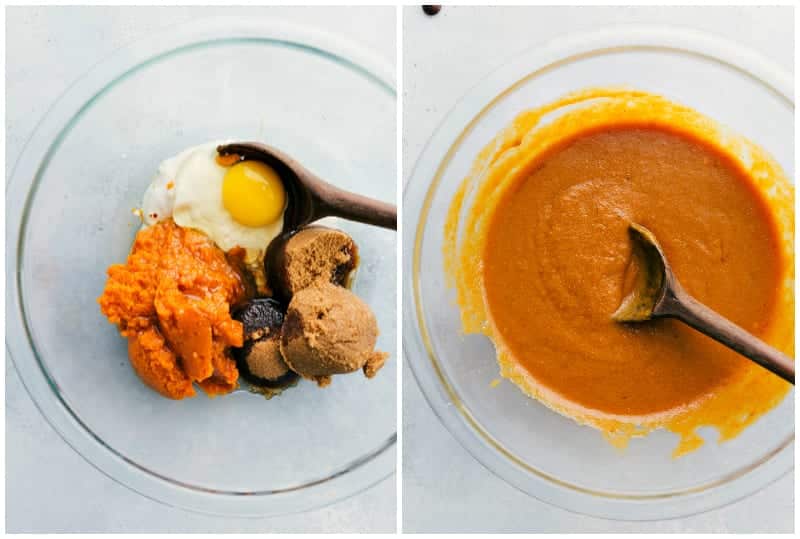 What makes this healthy?*
Oats: Rich in antioxidants and contain powerful soluble fiber.
Greek Yogurt: High in protein and packed with probiotics, potassium, and calcium.
Coconut Oil: High in healthy saturated fats which can boost fat burning and provide your brain and body with quick energy. Also raises HDL cholesterol (GOOD cholesterol) in your blood which is linked to reduced heart disease risk.
Egg: Good source of protein, vitamins, and minerals.
Pumpkin: Highly nutritious! Rich in vitamin A, antioxidants, and immune-boosting vitamins.
Cinnamon: One of the healthiest spices on the planet! Lowers blood sugar levels and reduces heart disease risk factors.
White Whole Wheat Flour: A healthy alternative to white flour. Read more here.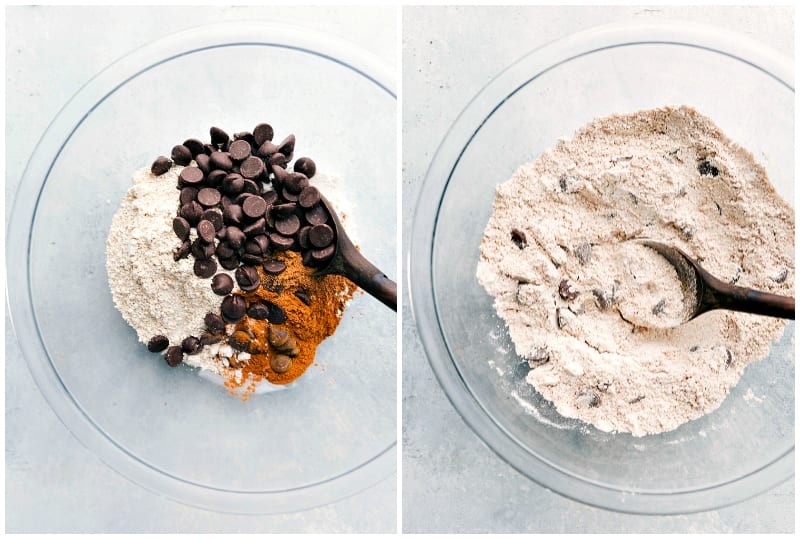 Tips for this recipe
My top tip for success: use good quality ingredients! I've found Libby's pumpkin to be the thickest (least watery) and have the most flavor. I love LouAna's coconut oil (make sure to measure AFTER it's melted not before), and Greek Gods honey vanilla yogurt. None of this products are sponsored on this website, but I have found them to make the BEST healthy pumpkin bread! Do not try to use a low fat Greek yogurt or a plain (non-Greek) yogurt in this bread as they won't yield the same result.
To add chocolate chips or not: If using dark chocolate chips, you're still keeping this pumpkin loaf on the healthier side — dark chocolate has healthy fats and plenty of antioxidants! That said, you can absolutely remove the chocolate chips and still make a delicious pumpkin bread. If you opt to not have the chocolate I would increase the pumpkin spices a bit (add an additional 1 teaspoon pumpkin pie spice). You can also add chopped nuts in the place of the chocolate chips (1/2 cup).
Don't over-mix it: if you over-mix the batter, you'll end up with a denser loaf of bread. Mix until ingredients are JUST combined and then pop it in the oven! I like to grease the bread pan with nonstick spray AND lightly dust with flour — that way this healthy pumpkin bread comes out like a breeze (let it cool 10 minutes before removing from the pan).

How to make "oat flour"
Oat flour tends to make a baked good more moist than wheat flour and it also adds-in some extra flavor. Exactly what we want in this healthy pumpkin bread recipe! Making oat flour at home is easy – here's how:
Place the oats (you can use old fashioned OR quick oats) into the bowl of your food processor or small blender jar.
Pulse the oats until they are ground into a powder-like consistency that resembles flour.

Depending on the speed and power of your food processor or blender, this takes about 60 seconds or less.

Stir the oats around if needed to ensure that ALL the oats have been finely ground. (See photo below)
Make sure to measure your oat flour measurement for this recipe AFTER it's been turned to flour and not in the whole oat form beforehand.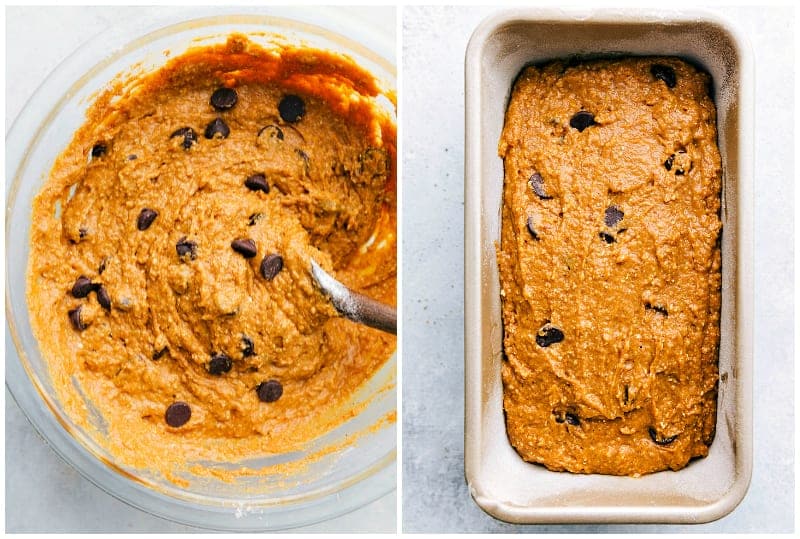 FAQs
How many calories are in this healthy pumpkin bread recipe?
194 calories per slice. While not very low calorie, remember most of the ingredients are REAL foods that are good for your body.
Can I freeze this pumpkin bread?
Yes! Freeze the freshest bread you have. If you just baked it, allow the bread to cool completely before freezing to avoid soggy bread or mold. Wrap the bread tightly in plastic wrap and then seal it completely in an airtight container or bag. Freeze the loaf of bread. Bread freezes safely for 3 months. Individual slices of this healthy pumpkin bread defrost in under 10 minutes at room temperature and take slightly longer to defrost in the refrigerator.
How long does this healthy pumpkin bread last?
2-3 days at normal room temperature (wrapped tightly/stored in an airtight container). After 3-4 days, this bread is more prone to molding because of the moistness of it and the ingredients used.
Do I need to refrigerate this healthy pumpkin bread?
After 1 day of the bread being at room temperature, I recommend refrigerating it and warming individual slices in the microwave for 5-10 seconds. While not necessary to refrigerate the bread, it will keep it fresher for longer.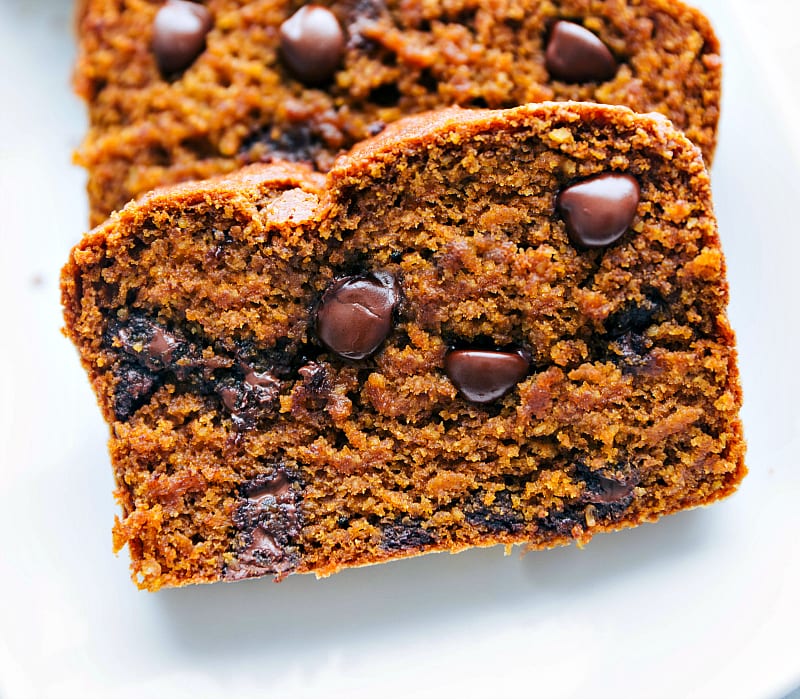 Other healthy pumpkin recipes: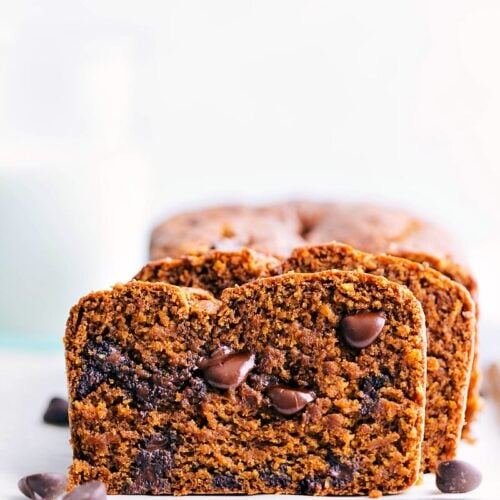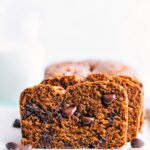 Healthy Greek Yogurt Pumpkin Bread
The best ever healthy pumpkin bread is bursting with Fall flavors and made with tons of healthy ingredient swaps. This healthy pumpkin bread with yogurt can be made with or without chocolate chips.
Keyword:
healthy pumpkin bread
Servings
:
1
loaf of bread
Ingredients
1

cup

pumpkin*

1/2

cup

vanilla Greek yogurt

(must be Greek yogurt)

1

large egg

1

teaspoon

vanilla extract

1/3

cup

coconut oil,

measured when melted

3/4

cup

brown sugar,

lightly packed

1

teaspoon

baking soda

1/4

teaspoon

sea salt

2

teaspoons

ground cinnamon

1

teaspoon

pumpkin pie spice

1/2

teaspoon

nutmeg

1

cup

flour,

all-purpose white or white-whole wheat (regular whole wheat not recommended)

1/2

cup

oat flour

(blended up old fashioned oats)

1/2

cup

dark chocolate chips or chopped nuts

optional
Instructions
Preheat the oven to 350 degrees F. Grease and flour a bread pan (I use 4.5 x 8.5 inch pan) and set aside.

In a large bowl, stir together the pumpkin, Greek yogurt, egg, vanilla, coconut oil (measure in MELTED and slightly cooled form), and brown sugar until well combined.

In another bowl, stir together the baking soda, salt, cinnamon, pumpkin pie spice, nutmeg, flour, and oat flour (measure oat flour AFTER blending the oats; to make oat flour, put old fashioned or quick oats in a blender and pulse them until they resemble flour). Stir in chocolate chips or nuts if desired. You don't need to use chocolate or nuts for this bread, but if you leave them out I recommend adding 1 additional teaspoon pumpkin pie spice.

Mix the wet and dry together until just combined (over-mixing will yield a denser bread). (Increase spices if desired.)

Pour into the prepared bread ban and bake for 40-55 minutes or until a fork when inserted into the center comes out clean or the bread starts to pull away from the edges. If needed, tent the top with tin foil if the top of the bread is baking faster than the rest.

Store in an airtight container in the fridge. (I microwave a piece for 10-15 seconds before enjoying). Best eaten within 2-3 days otherwise tightly wrap individual pieces and freeze.
Recipe Notes
*Make sure you are using regular canned pumpkin puree and not pumpkin pie filling. Also make sure to only use 1 cup and not an entire can! To ensure the best bread make sure you are using high quality and not watery pumpkin.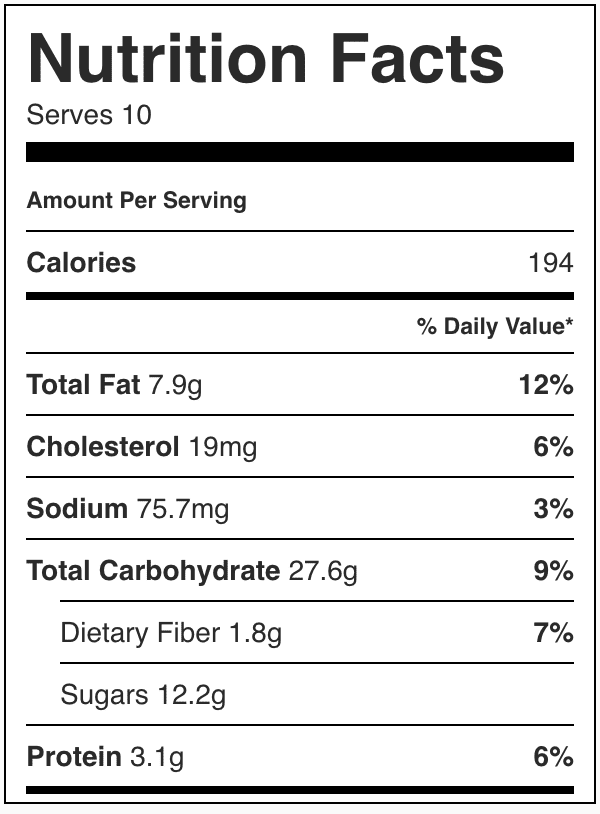 *While I have my background in Exercise and Wellness (B.S.), all the content in this post is for informational purposes only. Please consult a doctor or dietician for any specific dietary needs/questions.