This delicious frozen peppermint cheesecake is an easy make-ahead dessert with phenomenal results – the brownie crust with the light peppermint cheesecake topping is a great combination!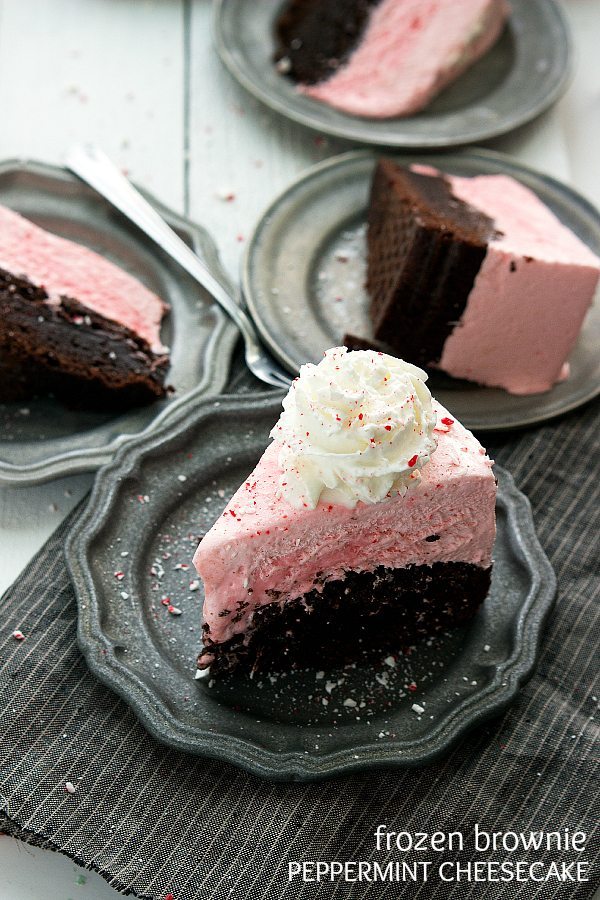 Happy week of Thanksgiving everyone!! Of course, it may seem like I've skipped Thanksgiving since we started Christmas here on CMA a few days ago, but my apology for that is in the form of this brownie cheesecake. And this is probably the best form of an apology EVER because this cheesecake is dang good. I mean, it has a brownie crust…can you go wrong with a brownie crust?!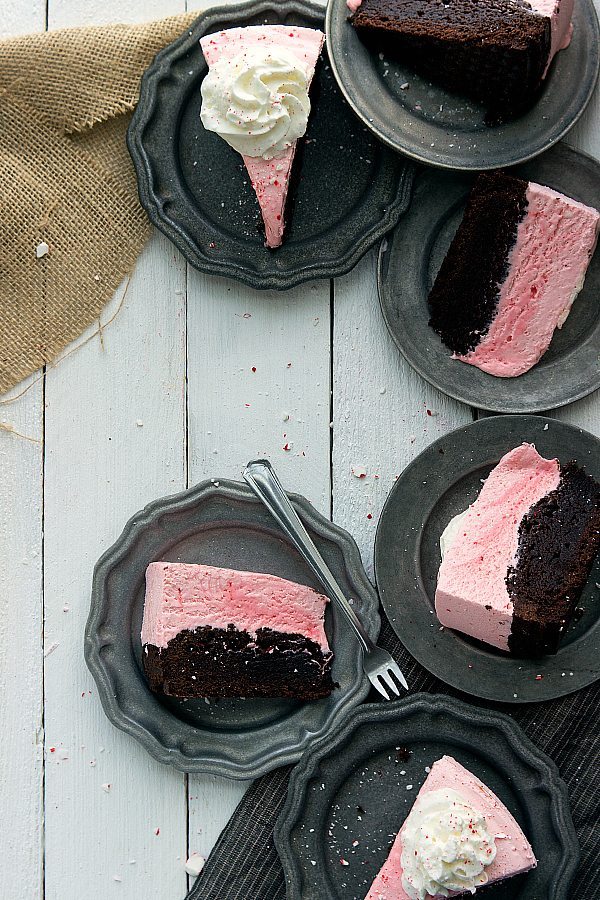 So let's talk about this dessert – the brownie bottom is from a box mix. I have never found a homemade brownie I like as much as the boxed version and I've tried tons! So I usually stick to the box, because why mess with the genius of the brownie mix? I prepared the brownie mix and then poured it into a very well greased 7-inch springform pan. You can use different sized springform pans, just note it will not be as "high" of a cheesecake with larger springform pans. Still just as tasty though, and perhaps even tastier for people that like thinner layers.
This dish could also be prepared in a 9 x 13 dish and cut into bars. I even had the idea of doing a layer of oreos in between the brownie and cheesecake mixture – what do you think? Yum right! The oreos could also be a layer in a springform pan, you just may need to get creative about their placement or have to cut a few up to make sure there is an equal layer of oreos.
Next up is the "cheesecake." This gets frozen so it is more like an ice cream cheesecake, but it's got all the great flavors. It's super simple – cream cheese, sweetened condensed milk, and some thawed whipped topping. Then you can do the peppermint extract to your taste preference in case you like a less strong or stronger flavor than the recipe indicates. And same with the candy canes – feel free to increase or decrease the amount of crushed candy canes.
Although this dessert takes about 8 hours to freeze and be fully set-up — it's totally worth it! Plus it's a nice dessert to make beforehand and have ready the next day – definitely important for how busy the holidays get! Oh, and lastly, if there are any leftovers, don't forget to return this to the freezer.
Have a great Monday everyone 🙂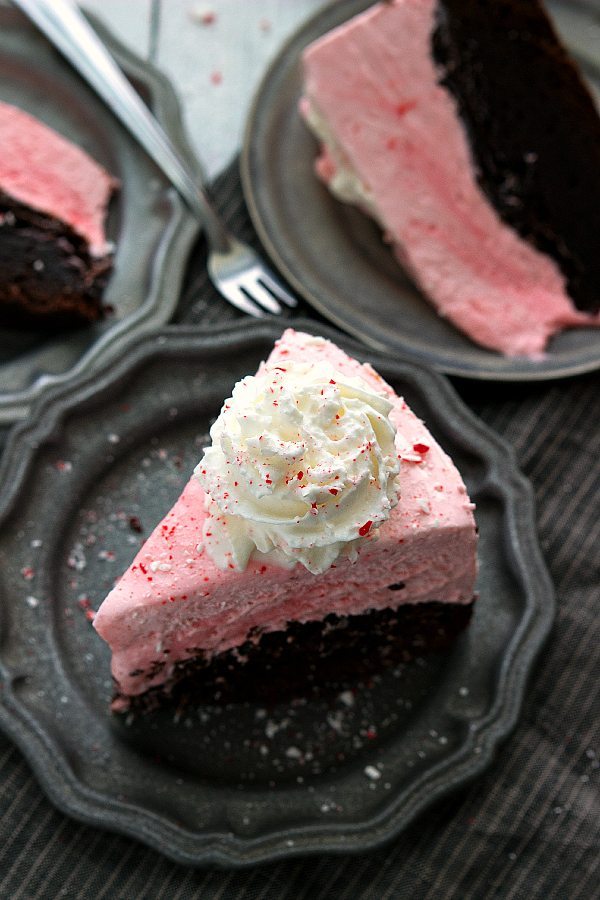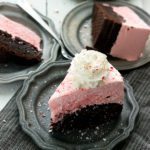 Frozen Peppermint Cheesecake with a Brownie Crust
Ingredients
1

package (18.4 ounces)

chocolate fudge brownie mix

2

large

eggs

2/3

cup

vegetable oil

1/4

cup

water

1

package (8 ounces)

cream cheese

at room temperature

1

can (14 ounces)

sweetened condensed milk

1 and 1/2 to 2

teaspoons

peppermint extract

do not use mint extract

6

candy canes

crushed

Red food coloring

optional for richer color

1

container (8 ounces)

frozen whipped topping

thawed

Whipped topping

optional
Instructions
Preheat the oven to 350 degrees F. Grease a 7-inch (or larger, but I used 7-inch) springform pan. You could also do these in bars in a 9 x 13 pan.

Prepare the brownie mix according to package instructions -- combining the eggs, vegetable oil, and water.

Pour the brownie mix into the prepared pan and bake according to package directions until baked all the way through.

Remove and allow to cool completely.

Meanwhile, in a large bowl, beat the cream cheese until smooth and creamy. (Make sure it is at room temperature first - I leave mine out for an hour in advance. Microwaving sometimes makes it "chunky" so I wouldn't recommend that)

Once it is smooth, slowly add in the sweetened condensed milk while continuing to beat the mixture. Beat until smooth.

Beat in the peppermint extract, food coloring if desired, and crushed candy canes (you can crush them in a food processor or powerful blender)

With a spatula, fold in the whipped topping to the mixture gently until completely combined. Taste the mixture and increase any of the peppermint flavors if desired. Make sure to not overstir or stir the mixture with the whipped topping too much.

Pour the cheesecake mixture over the brownie mixture and freeze for at least 8 hours.

Remove and allow to thaw out for about 5 minutes before cutting and serving.

Return any leftovers to the freezer.
Adapted from my Frozen Hot Chocolate Cheesecake
Here are some more Christmas desserts: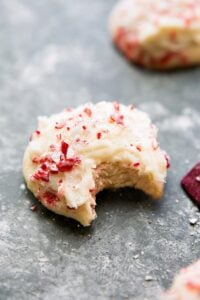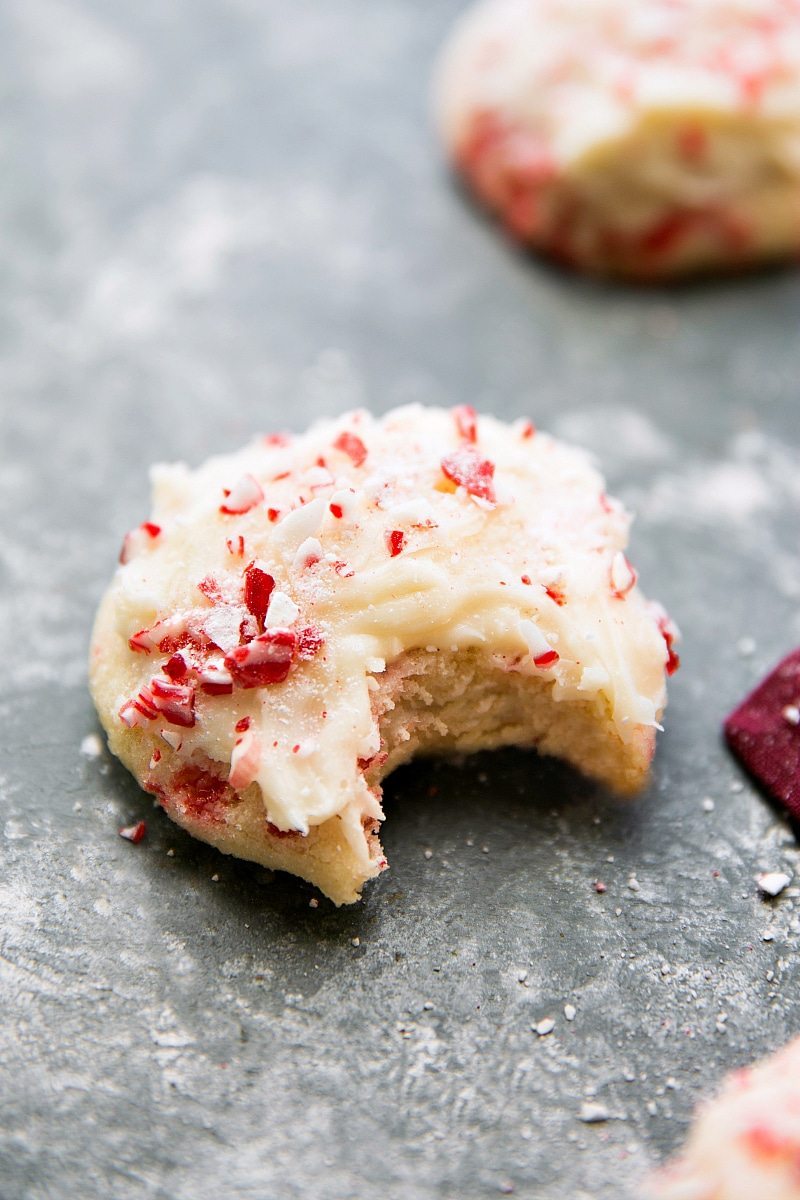 Super Soft Peppermint Sugar Cookies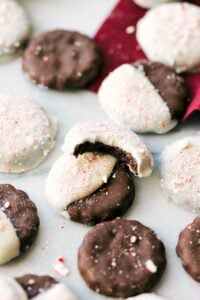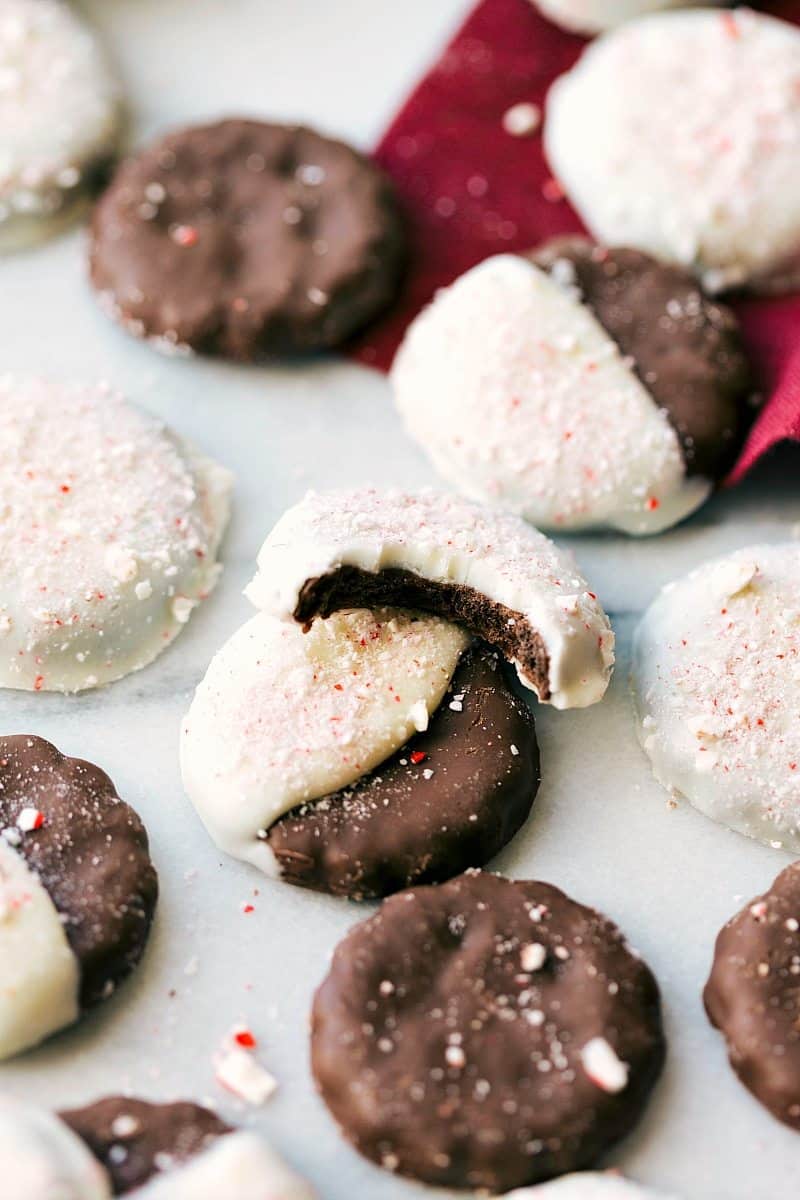 5-ingredient Peppermint Bark Cookies