This simple chocolate caramel fudge is made easy with one bowl, only 5-ingredients, and all in the microwave!

This video ?? shows how to make this caramel chocolate fudge AND this mint chocolate swirled fudge (<–click to get the link to the second recipe)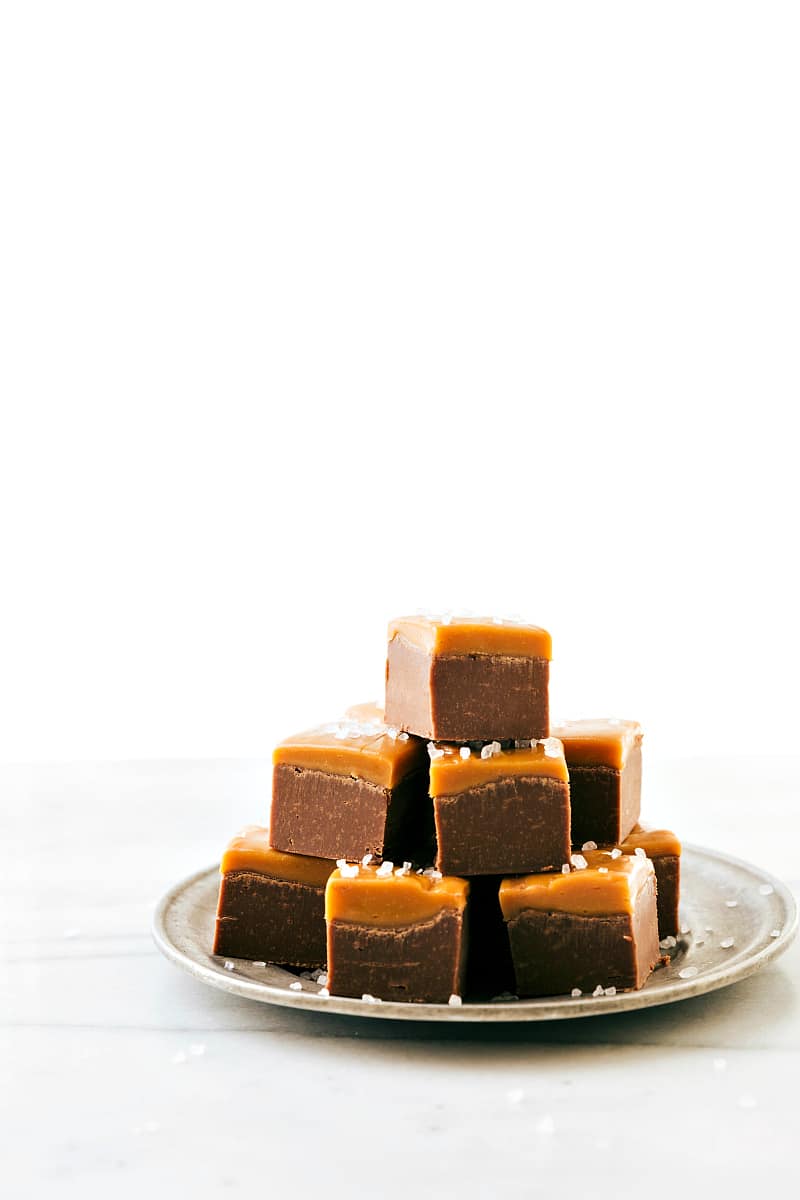 Who loves fudge?! Fudge was an absolute holiday essential for my house growing up. I'm pretty sure we made half a dozen batches a week in December.
The main reason is my mom is a MAJOR chocolate addict – I believe she could eat chocolate for every meal of the day if she could still stay healthy and do it. Instead she settles for lots of chocolate and lots of exercise. She always jokes that she can eat more chocolate around the holidays since she is running around like crazy with holiday busyness. I seem to have adapted that mentality as well. Man the holidays are busy!! Which means more chocolate fudge for me as I run around trying to get everything done 🙂
BUT this chocolate fudge does not have to be a huge time suck. In fact it's so quick and easy to make. Just one bowl, 5-ingredients, and all in the microwave. BAM. You are welcome busy people trying to prepare for the holidays.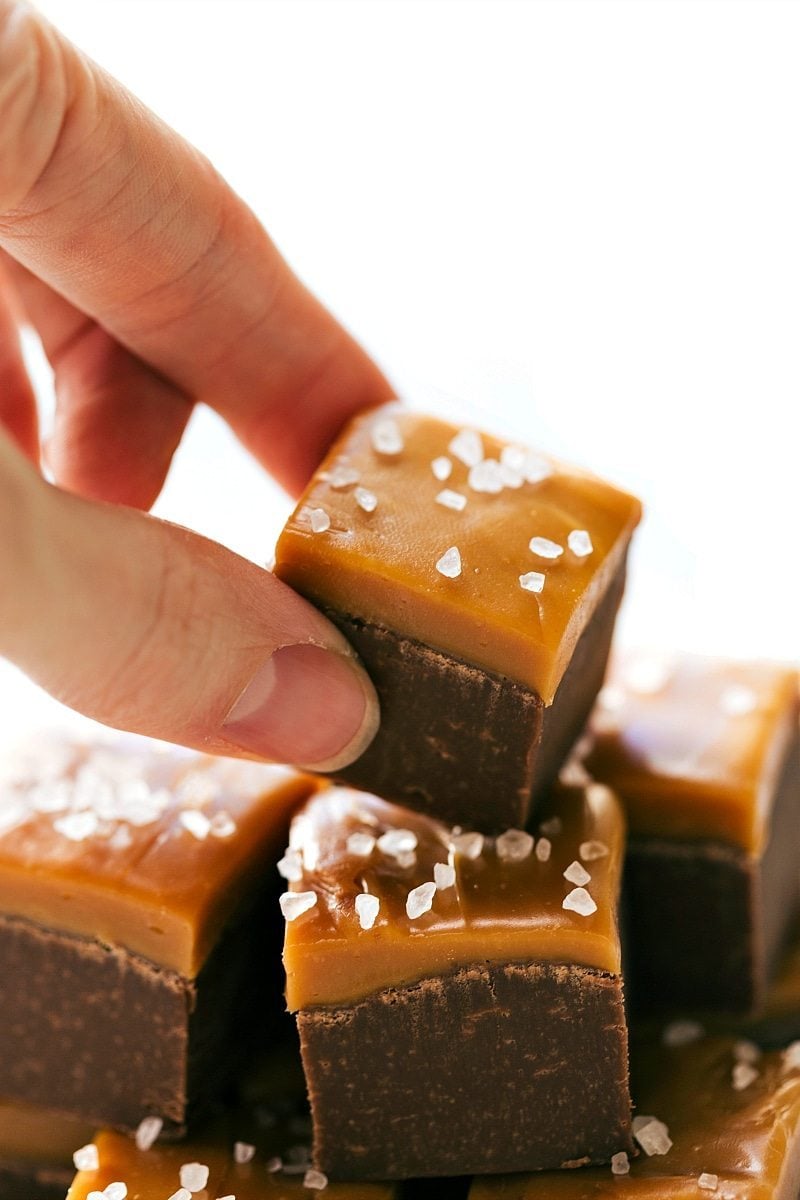 Okay ready for my microwave-fudge tips?! The most important thing to note when making fudge in the microwave is to be patient – it's better to melt the chocolate slowly than to burn it right?! So although it may be a little overkill, I always microwave in bursts of 15-30 seconds with stirring in between for at least 30 seconds. A lot of melting is going on even outside of the microwave. So the first "burst" I do is 30 seconds and after that I burst microwave the fudge for 15 seconds while stirring in between for 30 seconds. I'll stir for longer if it seems it's mostly all melted.
Once the chocolate fudge layer is completely melted, gooey, and delicious, pour it into the prepare 8 x 8 pan and smooth it with a spatula. I like to spray the spatula with nonstick spray to get a nice even layer of fudge without it sticking to the spatula.
The caramels are the same way — microwave in bursts. 30 seconds for the first burst and 15 second bursts after that until it's melted. This caramel is very gooey. If it weren't so gooey it would be hard to bite into the fudge (imagine hard caramels on top of soft fudge…blah). But because it is so gooey you will need to keep this fudge in the fridge. It also makes these a little difficult to cut. Use a wet knife and put the fudge back in the fridge if it is getting too soft. ALSO, I know unwrapping caramels can be a pain, but you've got to use the wrapped caramels because the unwrapped ones are coated in a thin layer of wax (to keep them from sticking together) and they don't work too well with this fudge.
Last, but not least, sea salt is dang good on these if you are a salted caramel fan <3.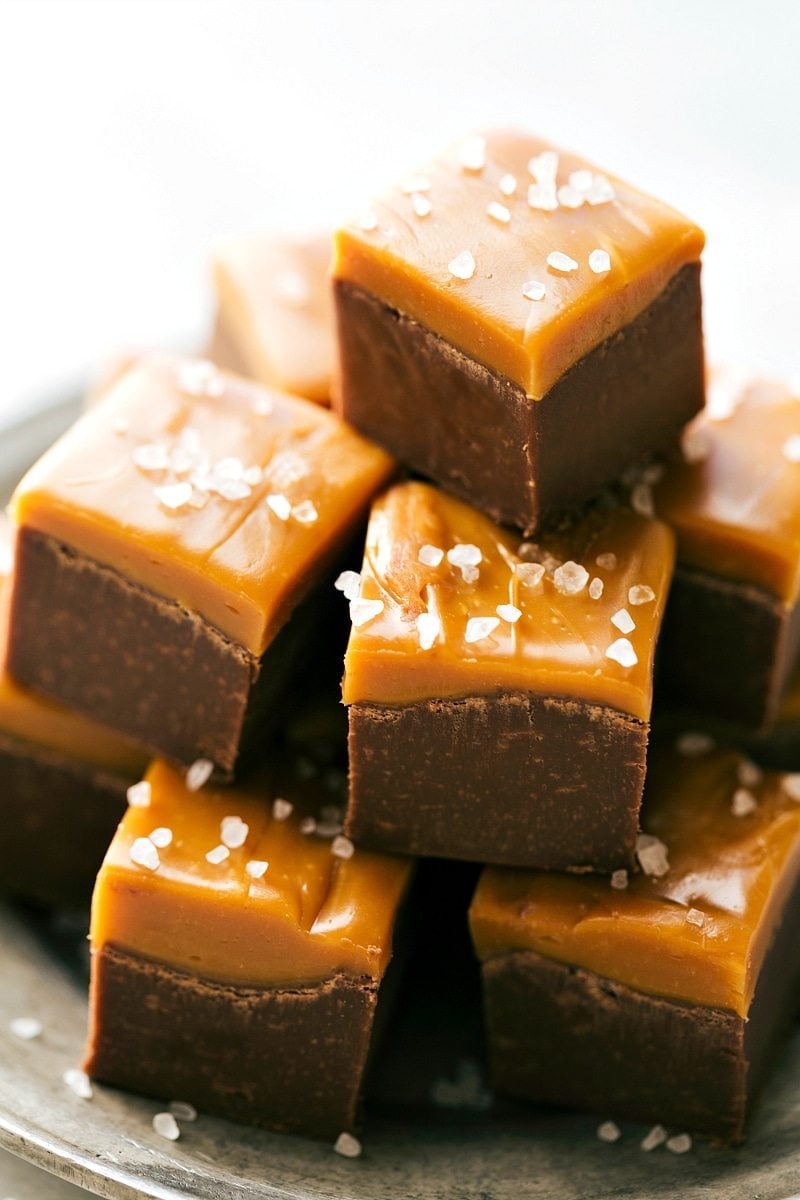 More Christmas treats: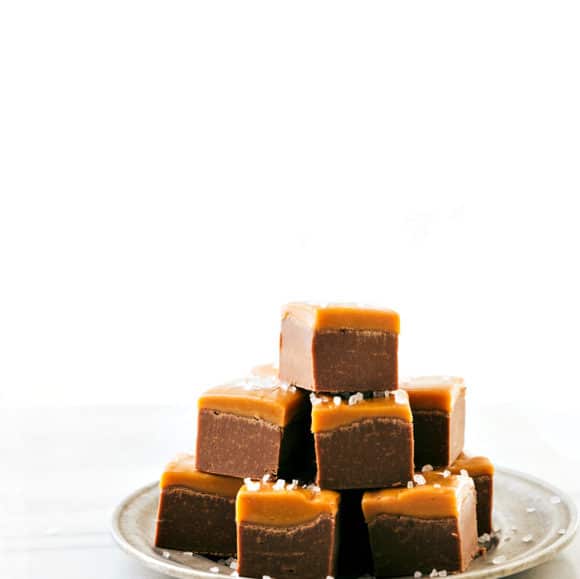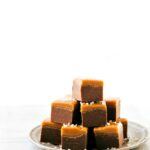 Chocolate Caramel Fudge
This simple chocolate caramel  fudge is made easy with one bowl, only 5-ingredients, and all in the microwave!
Keyword:
Chocolate Caramel Fudge
Ingredients
4

tablespoons

butter

3

cups

milk chocolate chips

highest quality possible*

1

can (14 ounces)

sweetened condensed milk

full-fat, NOT evaporated milk

2

teaspoons

vanilla extract

optional

25

caramels

unwrapped

1-2

tablespoons

heavy cream

Sea salt

optional
Instructions
Line an 8 x 8 pan with parchment paper - do not skip this or you likely won't be able to get your fudge out looking very nice.

In a large microwave safe bowl, melt the butter. Add in the chocolate chips and stir.

Stir in the sweetened condensed milk and vanilla. Stir together and microwave for 20 seconds then stir for 20 seconds.

Continue microwaving in bursts of 15 seconds stirring for 30 seconds in between until completely melted.

Pour into the prepared pan. Spray a spatula with nonstick cooking spray and smooth the chocolate fudge.

Quickly rinse out and dry the bowl. Combine the unwrapped caramels and 1 tablespoon heavy cream in the bowl. Microwave for 30 seconds then stir for 30 seconds. Return the mixture to the microwave and microwave in bursts of 15 seconds stirring for 30 seconds in between until completely melted. If needed, add additional tablespoon of heavy cream (with harder caramels you will likely need both tablespoons, softer (newer) caramels you'll likely only need 1 tablespoon)

Pour the caramel over the chocolate evenly.

If desired top the fudge pieces with sea salt.

Cover tightly and place in the fridge to harden/set up overnight.

Cut the fudge with a hot and very sharp knife (run it under hot water, dry, and then make quick cuts).

Store any leftover fudge in an airtight container in the fridge. Best enjoyed within 2-3 days.
Recipe Notes
*Milk chocolate is my favorite but makes for a very rich fudge. Use semi-sweet or dark chocolate for a more bitter tasting fudge. **Cook time refers to chilling time
If you want a chocolate caramel swirl fudge, prepare the two layers at the same time (so they are both melted at the same time) lay down the chocolate and then immediately (because it hardens quickly) pour the caramel over in vertical lines. Using a butter-knife swirl the layers together.