A delicious addictive Christmas snack mix that is perfect for the holidays! This snack mix is filled with cereal, pretzels, M&Ms, and coated in melted white chocolate. No baking required.
Serve this Christmas snack mix as a snack or dessert for your holiday celebrations! Some of our other favorite Christmas treats: Christmas oreo pops, reindeer chow, and peppermint bark brownie cookies.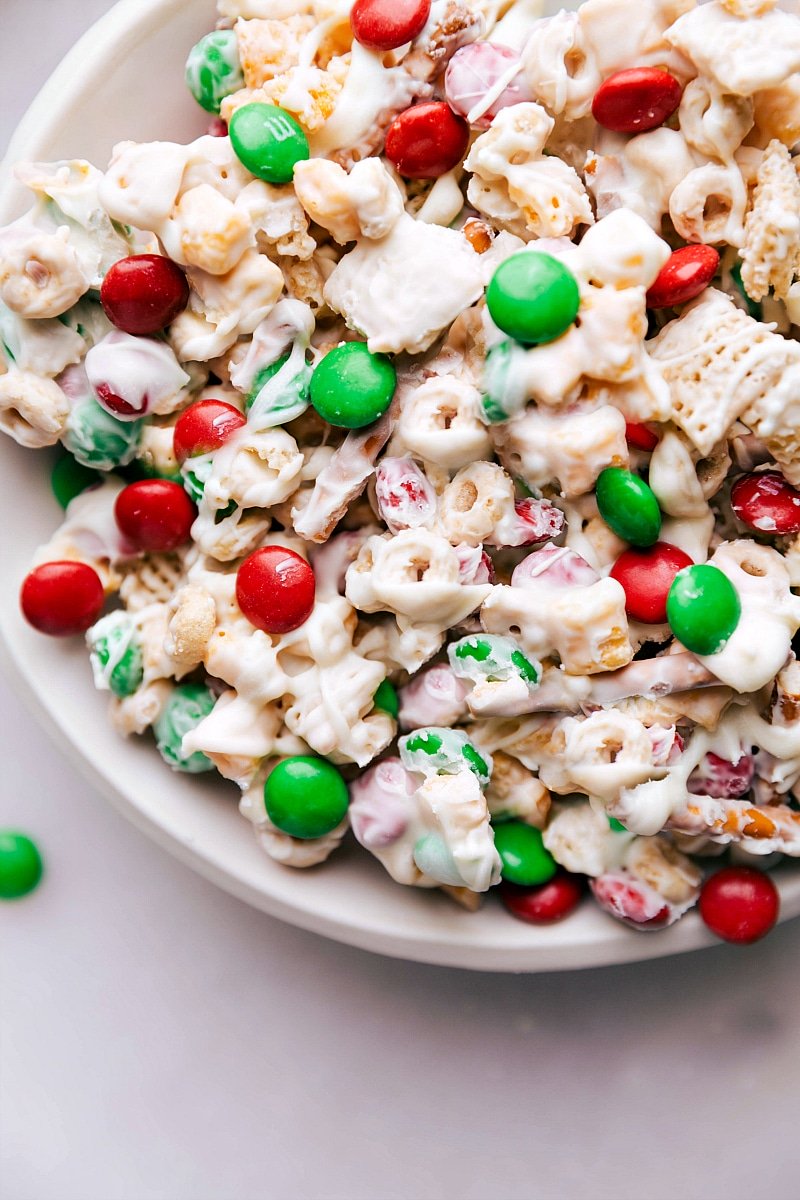 The holidays are busy and you might not always have the time to make chewy chocolate chip cookies from scratch or this brownie trifle, but this white chocolate Christmas snack mix?! There is definitely time for this; it can be ready in about 15 minutes total!
It's totally addictive, sweet, and festive looking. It's also so easy to customize! You can change up ingredients to based on personal preferences as long as the quantities remain fairly consistent.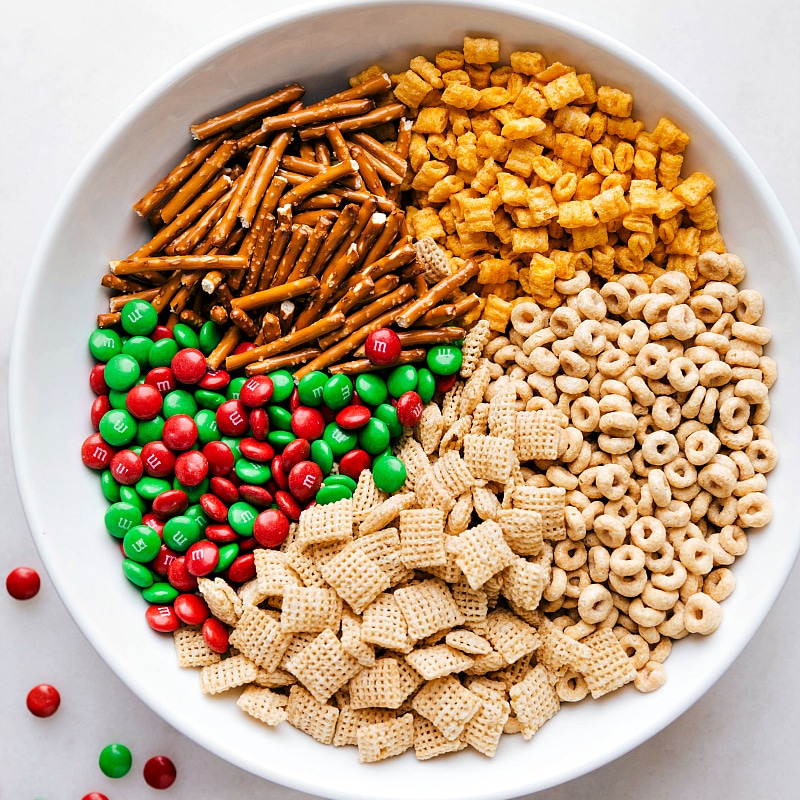 How to make this Christmas snack mix
Combine Ingredients: Use a large bowl to add in all the ingredients. The bigger the bowl, the easier it will be for everything to get an even coating of white chocolate.

Note on ingredients: This mix is best with ingredients that are generally the same size. While most of the ingredients are similar sizes, regular sized pretzels can easily overpower everything else; grab itty bitty pretzels OR mini pretzel rods. If you get the mini rods, break them in half!

Melt White Chocolate: microwave the chocolate until melted and then immediately toss it with the mix. White chocolate has a tendency of hardening quickly, so work quickly.
Transfer the mix: to a parchment paper lined sheet pan to finish hardening.
Let harden: let the Christmas snack mix stand at room temperature to harden OR if you're in a rush, stick it in the fridge for about 10-20 minutes. Break apart and enjoy it or package it up for a simple homemade Christmas gift!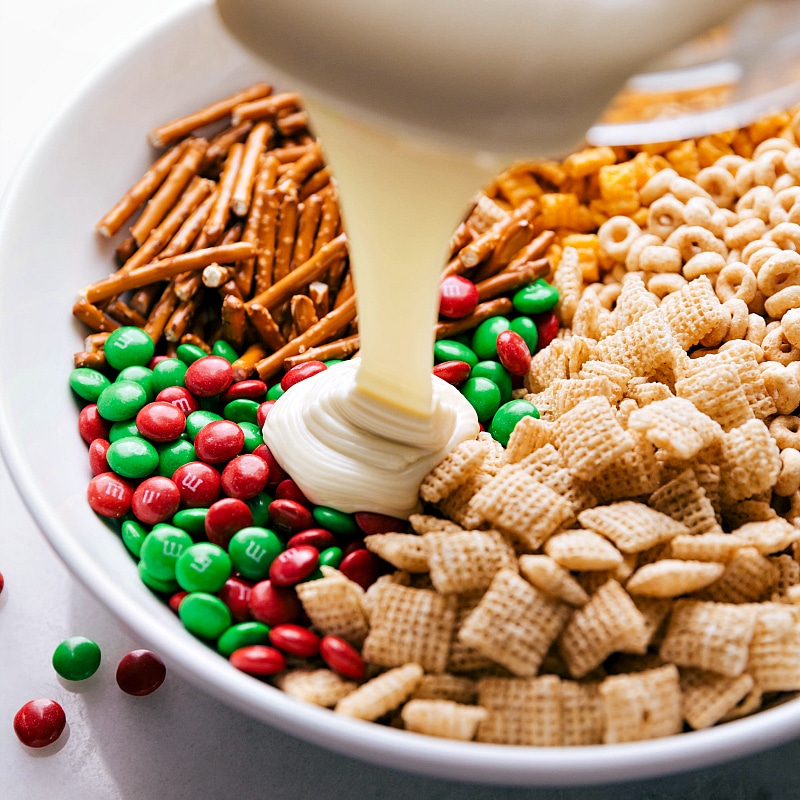 Melting white chocolate (tips)
Use high quality white chocolate for best results: both a better melt and a better flavor. (My favorite on this Christmas snack mix is Ghirardelli or Guittard.) Nestle will also get good results.
The best tip I have for avoiding burned white chocolate: stir the chocolate often in between the melting process (every 30 seconds) and stir it for at least 20-25 seconds in between each microwave burst. Remember the chocolate is still melting even outside of the microwave.
Don't allow any liquid near the white chocolate — if it gets wet it will seize and harden
Work quickly: white chocolate hardens quickly, so mix it with the other ingredients immediately after it is fully melted.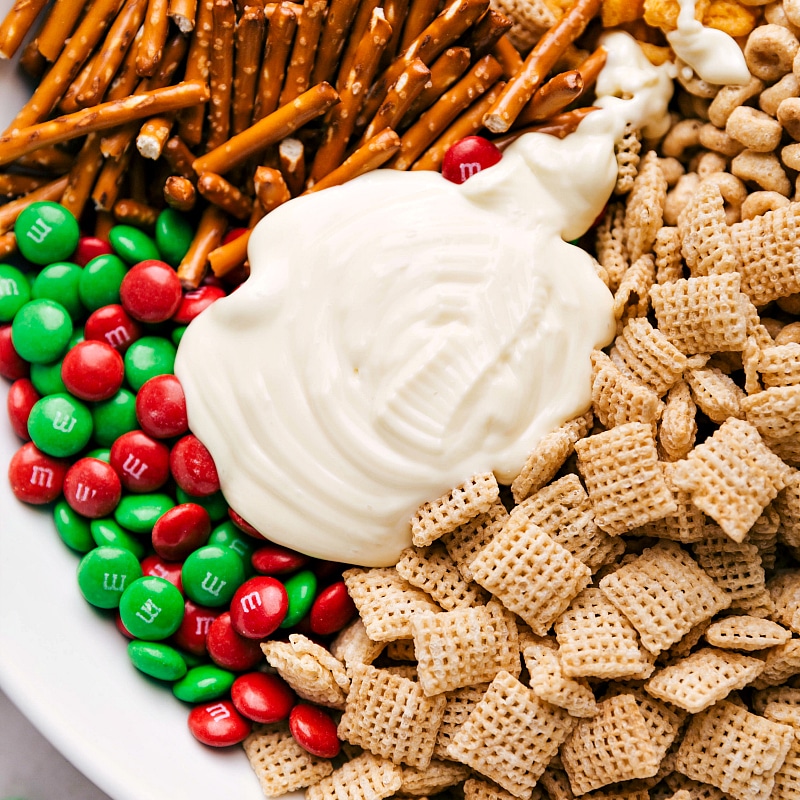 Christmas snack mix storage tips
Store this Christmas snack mix in an airtight container at room temperature for up to a week. We like this snack mix best within 2-4 days.
You can freeze any leftover snack mix in an airtight container/bag for up to 3 months; thaw at room temperature!
Variation ideas
Add some festive Christmas sprinkles to the mix
Replace some of the cereal with popped plain popcorn
Use chocolate covered pretzels instead of plain pretzels
Add in mini marshmallows (just make sure to eat the mix the same day!)
Replace the holiday M&Ms with holiday (red & green) Cadbury egg candies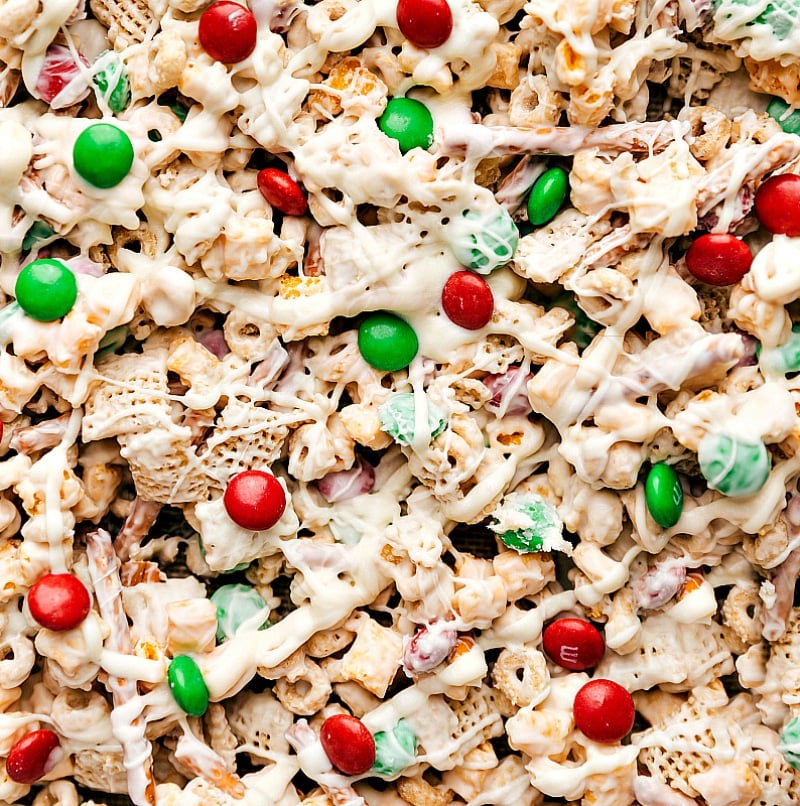 More fun Christmas treats: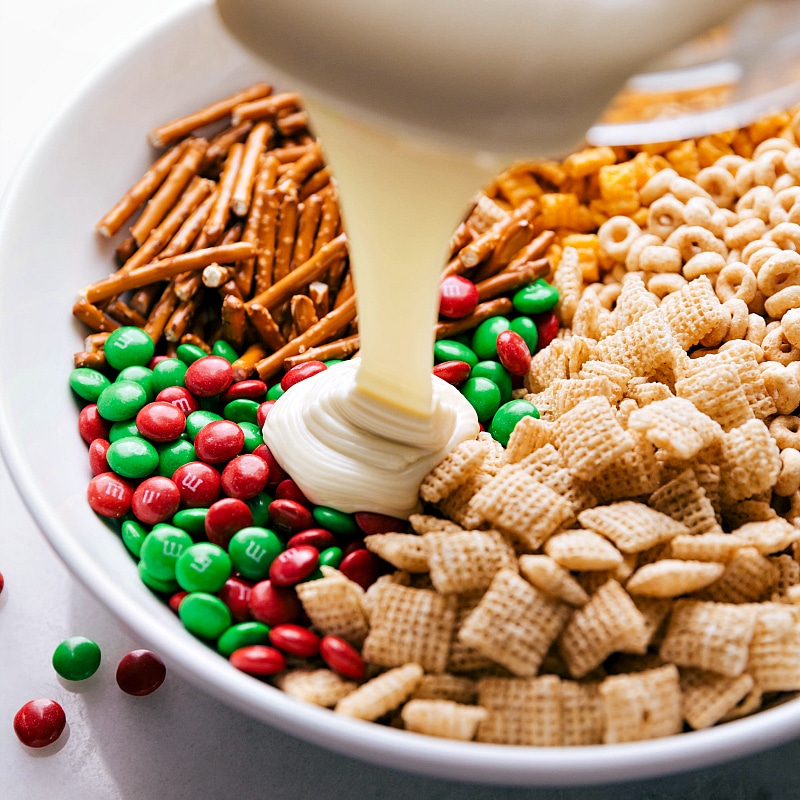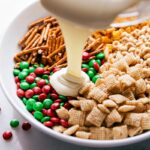 Christmas Snack Mix
A delicious addictive Christmas snack mix that is perfect for the holidays! This snack mix is filled with cereal, pretzels, M&Ms, and coated in melted white chocolate. No baking required.
Keyword:
christmas snack mix
Ingredients
2

cups

corn or rice chex

1

cup

miniature pretzel twists or pretzel rods

2

cups

Cap'n Crunch cereal

(with no berries)

2

cups

cheerios

1

cup

Christmas (green and red) M&Ms

1 and 1/2

bags (~3 cups or 16 ounces total)

high quality white chocolate chips

1 and 1/2

teaspoons

vegetable oil or shortening

Optional: Christmas sprinkles
Instructions
PREP: Line a large sheet pan with parchment paper and set aside.

COMBINE: In a large bowl combine the Chex cereal, pretzels (Note 1), Cap'n crunch cereal, cheerios, and M&Ms. Mix together making sure that everything is evenly distributed.

WHITE CHOCOLATE: In a medium sized microwave safe bowl add the white chocolate chips and vegetable oil. Microwave for 30 seconds, stir, and microwave for another 25 seconds. Stir until melted and smooth. If needed, return to the microwave for a little longer. (Bursts of 10 seconds stirring for 10 seconds in between each burst). Pour the melted and smooth white chocolate over the snack mix.

COMBINE: Gently stir until completely combined and all ingredients are coated in white chocolate (work quickly, white chocolate hardens fast!) and then transfer to the prepared baking sheet and spread into one even layer. IF desired, add some Christmas/festive sprinkles while white chocolate is still wet.

FIRM UP: Allow white chocolate to firm up and harden at room temperature or place in the fridge until firm, about 10-20 minutes. Break into pieces and serve.
Recipe Notes
Note 1: if using miniature pretzel rods, break in half first!