Frog Eye Salad: a retro side or dessert "salad" with canned fruits, acini de pepe pasta, and whipped topping.
This salad is a holiday classic that pairs perfectly with other side dishes such as mashed potatoes, roasted vegetables, brussel sprouts, and/or a sweet potato casserole!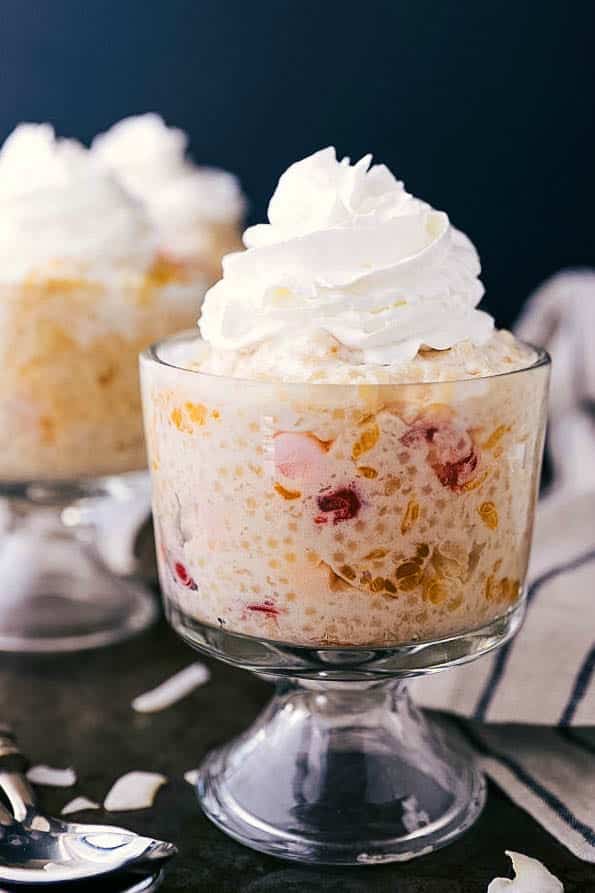 Frog Eye Salad
As a born and raised Utahn, I'm no stranger to frog eye salad. In fact, this salad was a staple in my home growing up! My Aunt or mom made it (or this Watergate Salad) for every family potluck meal or holiday dinner.
Which brings us to the question everyone is eager to know…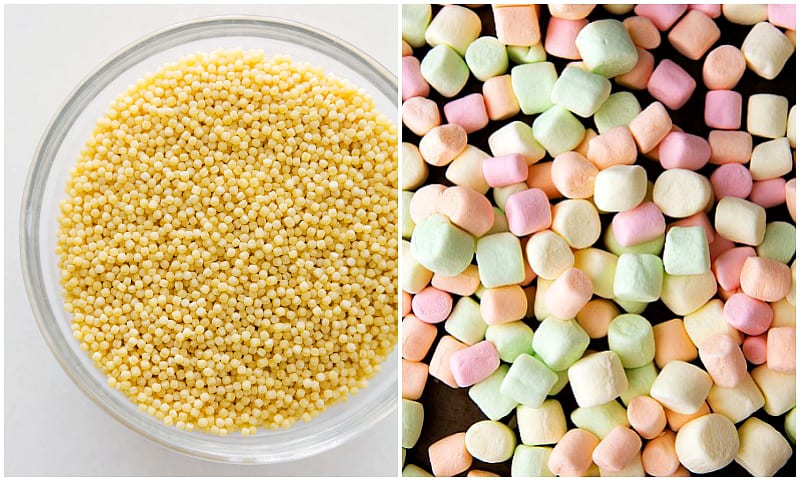 Why do they call it a Frog Eye Salad?
While there isn't necessarily an origination story (that I know of), frog eye salad is named after the acini de pepe pasta — it looks like tiny little frog eyes in this salad.
Despite the (slightly) creepy name, this salad is one of the most unique pasta salads. It's a sweet salad that can easily pass as a dessert, but in Utah we like to call it a side salad to save room for 7 layer bars, carmelitas, and lemon bars. 🙂
This is not necessarily a healthy salad, but here are a few ideas to make it better-for-you:
Ensure the canned fruit is canned in JUICE not syrup.
Use a whipped topping alternative: such as Truwhip OR whip your own cream (higher calories, but less chemicals) OR for simply less calories use a "lite" whipped topping.
Use coconut sugar in place of white sugar — it gives this salad a more coconut-y flavor.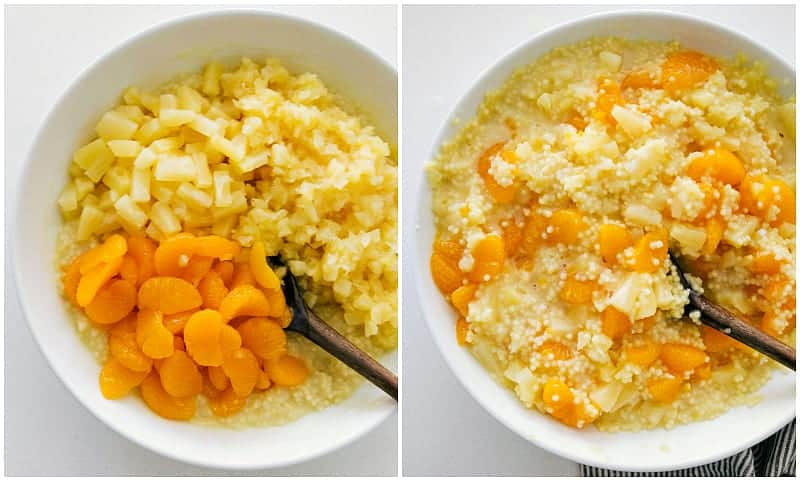 Main Dishes that pair well with this salad: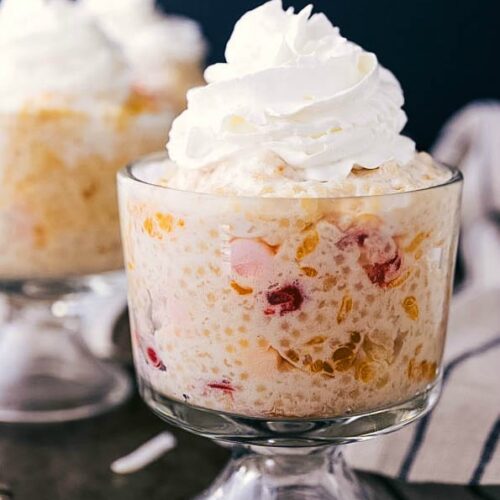 Frog Eye Salad
Frog Eye Salad: a retro side or dessert "salad" with canned fruits, acini de pepe pasta, and whipped topping.
Keyword:
frog eye salad, frog eye salad recipe
Ingredients
1

cup

acini di pepe pasta OR pastina pasta

1

can (20 ounces)

pineapple tidbits in JUICE (not syrup),

drained but RESERVE THE JUICE

1

can (20 ounces)

crushed pineapple in JUICE,

drained but RESERVE THE JUICE

1

large egg

1

tablespoon

white flour

1/2

teaspoon

salt

1/2

cup

white sugar

1/2

tablespoon

freshly squeezed lemon juice

2

cans (15 ounces EACH)

mandarin oranges in JUICE

1

container (8 ounces)

frozen whipped topping*,

completely thawed

Optional: 1/3 cup miniature colored marshmallows, 1/2 cup shredded coconut
Instructions
Prepare the pasta according to package directions to cook it al dente. Drain and rinse the pasta in very cold water. Place in a large bowl in the fridge.


Drain out the pineapple tidbits to get 1 cup pineapple juice. (Use more juice from the crushed pineapple if needed).


Remove 1 tablespoon of the pineapple juice and pour in a small bowl. Pour the remaining pineapple juice into a medium-sized pot and set over medium heat. Briskly whisk in the egg. Add the flour to the reserved tablespoon of pineapple juice and whisk with a fork until smooth like a paste -- add to the egg and pineapple juice mixture, whisking constantly. Add in the salt and white sugar.


Cook over medium-heat until the mixture has thickened, stirring occasionally, about 10 minutes. Remove the pot from the heat, stir in the lemon juice, and allow to cool in the fridge for about 30 minutes. Pour over the pasta and return the bowl to the fridge until both the pasta and the pineapple juice mixture are completely chilled.

Meanwhile, open the cans and drain the mandarin oranges, the crushed pineapple, pineapple tidbits. Make sure all the canned fruits are VERY well drained or your salad will be watery.


Add the drained fruit into the cooled pasta mixture and gently stir together.


Gently fold in the thawed whipped topping until all the ingredients are well combined. Cover and refrigerate for at least 30 minutes up to overnight.


If desired, stir in colored marshmallows and shredded coconut right before serving.

Recipe Notes
* To make your OWN whipped topping: pour 1 and 1/2 cups COLD heavy whipping cream in a large bowl and using hand mixers, beat until stiff peaks form. You should have about 3 cups when it's done; use this in place of 1 container of whipped topping.