Gluten-free healthy breakfast cookies made with peanut butter and old-fashioned oats. There is no flour, no butter, and no oil in these cookies which can be ready in about 20 minutes!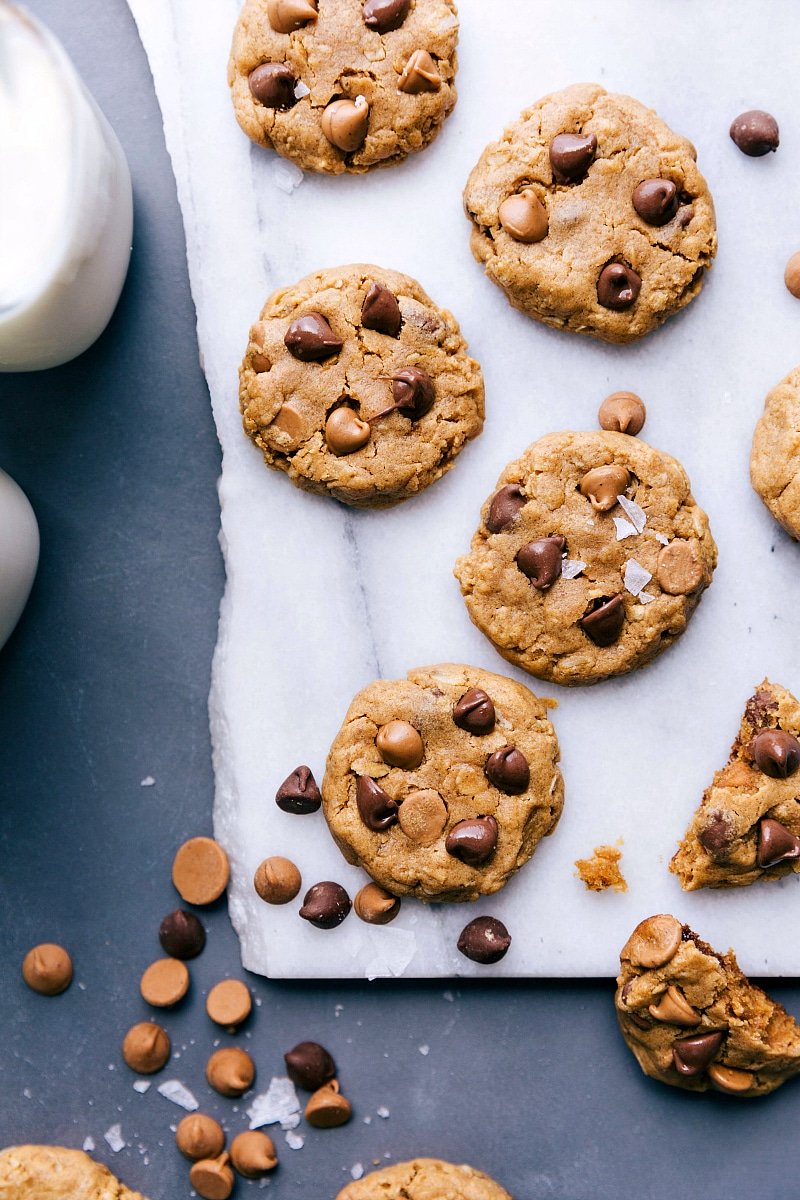 Cookies you can eat for breakfast!
Besides this egg skillet (or this egg wrap), I tend to love sweet instead of savory breakfasts. Gimme all the crepes, pancakes, or bread pudding and I'll be happy as a clam (with a blissful sugar coma).
So naturally if there is an excuse to eat cookies for breakfast, you know I'm all over that! And while these cookies do have a bit of sugar in them, they're mainly made with good ingredients — honey, peanut butter, an egg, and old fashioned oats. I mean, depending on how much sugar you add to your bowl of oatmeal, it may even have more sugar than these cookies 🙂 Or is that just me?…
And while these are certainly not limited to breakfast, they make a great a snack or afternoon pick-me-up.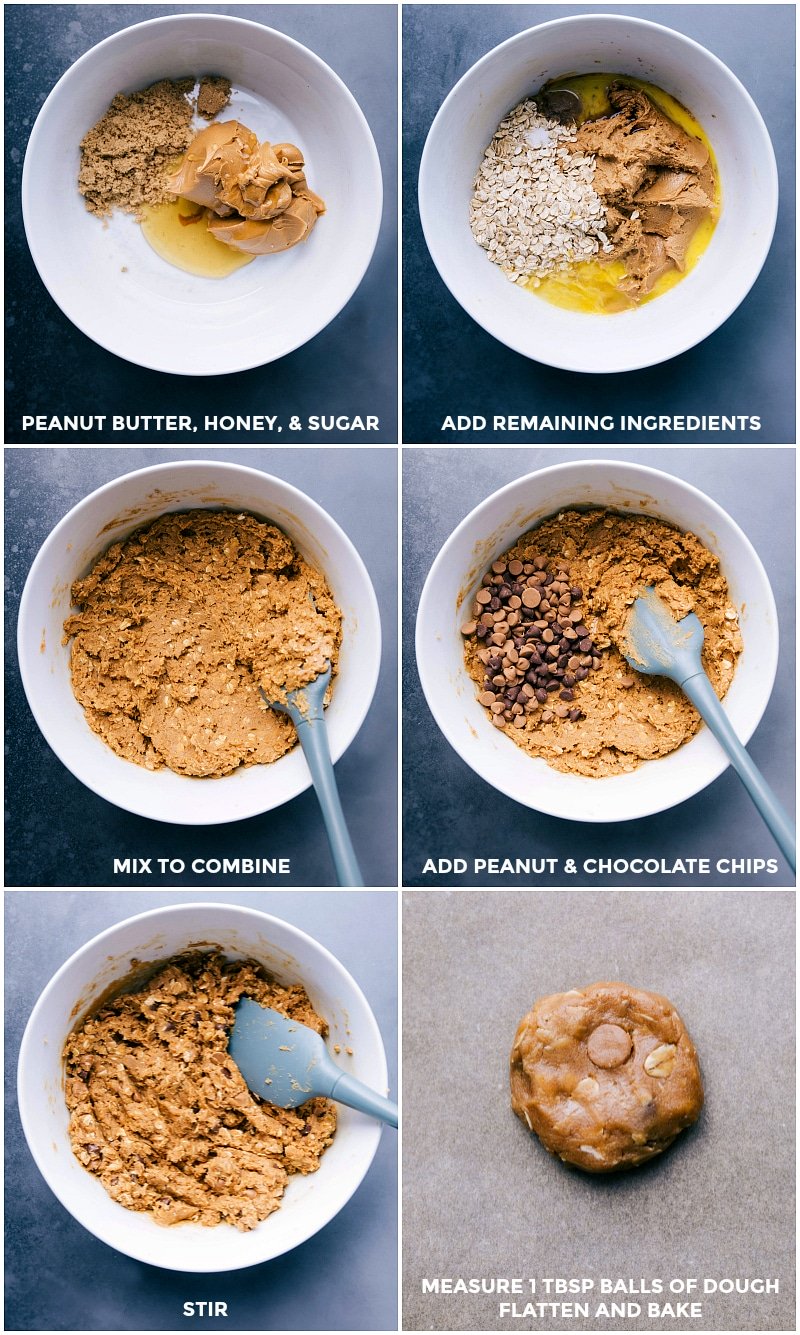 Cookie tips
Use a 1 tablespoon measuring spoon to measure equal balls of dough so cookies bake evenly.
Slightly flatten the dough balls; these cookies don't spread much when baking so roll the dough balls wider instead of taller.
Make sure to use creamy not crunchy peanut butter for best results. I recommend using a peanut butter that you love — if you like a spoonful of the peanut butter plain, you'll love it in these healthy breakfast cookies.
Do not over-bake: these cookies don't take a whole lot of baking time and will go from perfectly cooked to burned quickly. These cookies continue to firm up after being baked as they sit and cool. You'll know the cookies are done if they don't look gooey, wet, or shiny on top at the end of the bake time.
Variation ideas
The chocolate and peanut butter chips do make these more of a dessert, so to make them healthier, try dark chocolate chips. Dark chocolate has lots of healthy fats and antioxidants among other benefits.
Instead of adding chocolate chips, try raisins, dried cranberries, dried tart cherries, or nuts instead.
Add a sprinkle of Maldon sea salt flakes to the tops of these cookies if you're craving a salty-sweet treat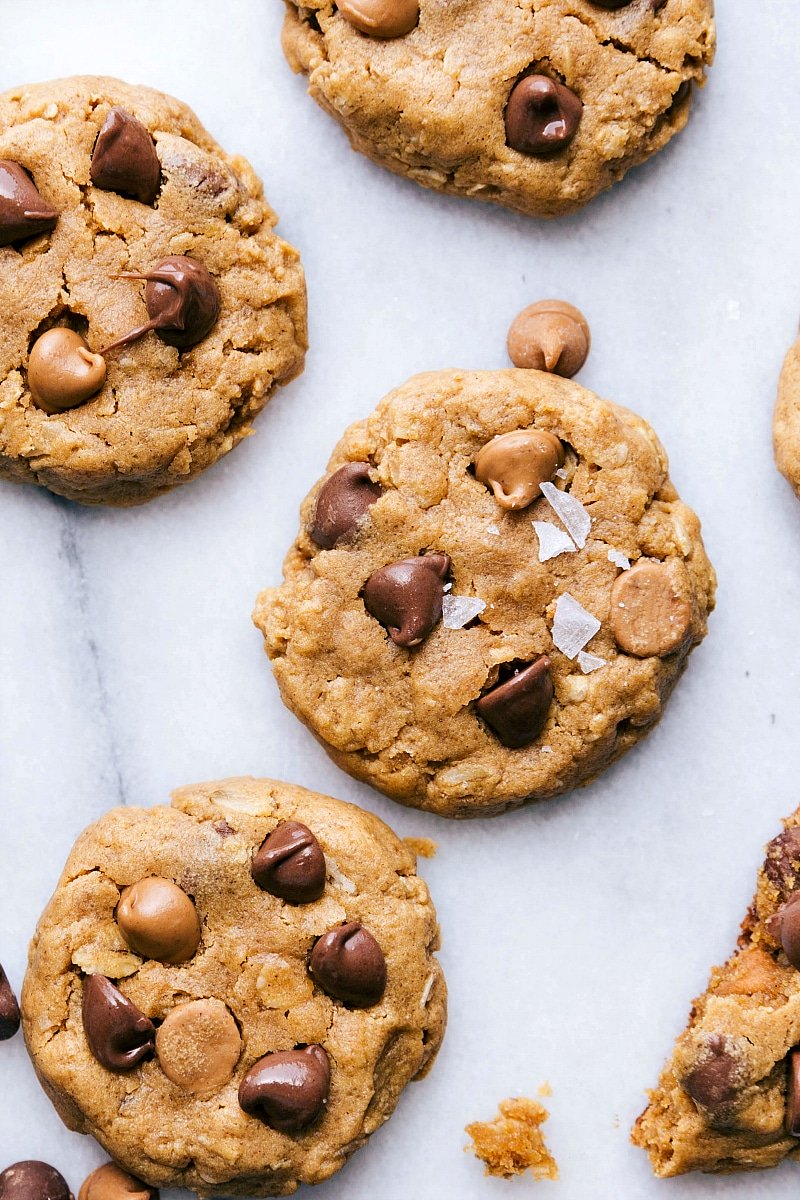 More healthy baked goods: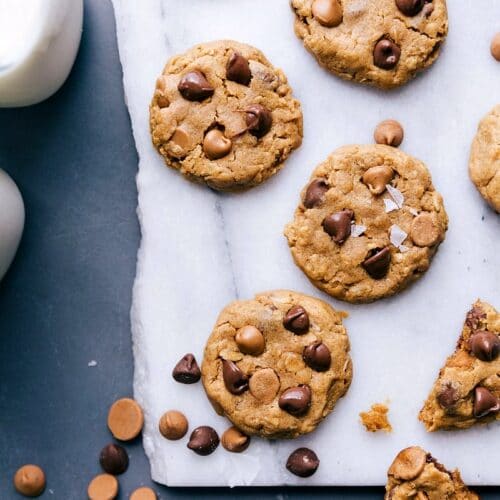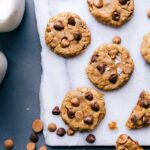 Healthy Oatmeal Breakfast Cookies
Gluten-free healthy breakfast cookies made with peanut butter and old-fashioned oats. There is no flour, no butter, and no oil in these cookies which can be ready in about 20 minutes!
Ingredients
1

cup (257g)

creamy peanut butter*

2

tablespoons

honey

4

tablespoons (47g)

light brown sugar

lightly packed

1/2

cup + 2 tablespoons (57g)

old-fashioned oats

1/8

teaspoon

salt

1

teaspoon

baking soda

1/2

teaspoon

vanilla extract

1

large

egg

1/2

cup (92g)

peanut butter chips + chocolate chips

Nestle has this combo
Instructions
Preheat the oven to 350 degrees F.

In a medium sized bowl stir together the peanut butter, honey, and brown sugar. Do NOT warm up the peanut butter or the honey.

Add in the oats, salt, baking soda, and vanilla extract. Stir well.

In a separate bowl lightly beat the egg and then add it to the mixture.

Stir in desired add-ins (I used a peanut butter and chocolate chip mixture), but you can use dark chocolate chips, raisins, craisins, peanuts, etc. to make these even healthier and more breakfast worthy.

The mixture will be thick and hard to stir. Continue stirring until combined and then use a 1 tablespoon measuring spoon to measure balls of dough. Press and squeeze the dough tightly together into a ball and then flatten the ball to form a disc.

Place the cookie dough discs onto a cookie sheet and bake for 6-8 minutes.

Watch the cookies closely and remove when the bottom barely starts to brown even if they don't look completely done (they cook more as they cool). I burned a few cookies by not watching them - they look underdone and 30-60 seconds later they are burned! (TIP: I also found cooking smaller batches - like 6 on a tray worked the best)

Remove and allow to cool completely.
Recipe Video
Recipe Notes
Check the post on how to avoid "crumbly" cookies! Also, I have not experimented with a natural or no-stir version of peanut butter and can not vouch for its work-ability in this recipe.
For a gluten-free version, make sure oats are certified gluten free.