A gluten-free, healthy breakfast cookie made with peanut butter and old-fashioned oats as the base. There is no flour, no butter, and no oil included! These cookies can be ready in 20 minutes flat!
These are the best breakfast cookies ever.
I feel a little disloyal saying that since my no-bake healthy breakfast cookies have always been my favorite.
They still are my favorite no-bake version though – does that work?
And to be fair, these cookies are adapted from that recipe. I wanted some that I could bake. That were warm and gooey and fresh out the oven.
So I've been experimenting with that recipe and changing things to create these cookies. I wanted these cookies to be just as quick and easy, and still have all the great flavors. But, baking is never as fast. Although I do have these down to a pretty quick baking time – about 7-9 minutes. Mine usually took 8 minutes with one batch taking 7 minutes.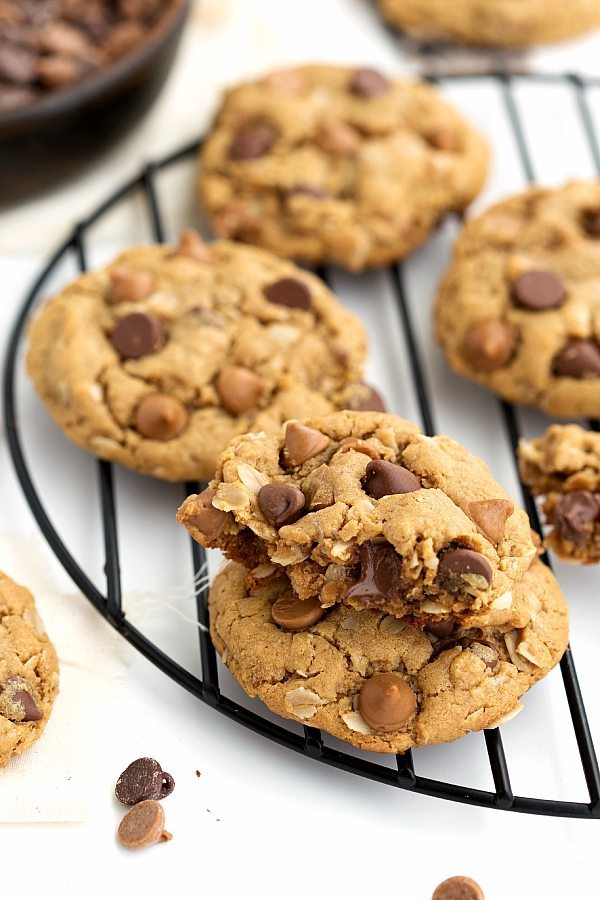 Also, can I just say the husband did NOT even know they were healthy? Not joking.
He kept saying, you mean there's really no flour? How much sugar then? WHAT?! Okay, how did you do that? How is there no flour?
Yeah, I felt pretty good about that. Not to mention he has finished half the batch by himself in a mere afternoon. If they are healthy…it's okay, right??
I did find that these cookies had the tendency to be a little bit crumbly. Here's how you avoid that! First of all, use a cookie scoop!! Pack the dough into the scoop into a tight ball. Release the scoop onto a tray and then very lightly flatten the top.
Next, make sure to let them cool completely before picking them up and eating them. If you want them hot out of the oven, you'll just have to deal with a little bit of crumbliness!
These cookies are removed from the oven a little under-baked. The longer they are allowed to set-up and harden, the less crumbly they will be. (If they make it that long…) Plus slightly under-baked cookies is the secret to soft + chewy + YUM.
Healthy Oatmeal Breakfast Cookies
A gluten-free, healthy breakfast cookie made with peanut butter and old-fashioned oats as the base. There is no flour, no butter, and no oil included! These cookies can be ready in 20 minutes flat!
Ingredients
1

cup

creamy peanut butter*

2

tablespoons

honey

4

tablespoons

light brown sugar

lightly packed

1/2

cup + 2 tablespoons

old-fashioned oats

1/8

teaspoon

salt

1

teaspoon

baking soda

1/2

teaspoon

vanilla extract

1

large

egg

1/2

cup

peanut butter chips + chocolate chips

Nestle has this combo
Instructions
Preheat the oven to 350 degrees F.

In a medium sized bowl stir together the peanut butter, honey, and brown sugar. Do NOT warm up the peanut butter or the honey.

Add in the oats, salt, baking soda, and vanilla extract. Stir well.

In a separate bowl lightly beat the egg and then add it to the mixture.

Stir in desired add-ins (I used a peanut butter and chocolate chip mixture), but you can use dark chocolate chips, raisins, craisins, peanuts, etc. to make these even healthier and more breakfast worthy.

The mixture will be thick and hard to stir. Continue stirring until combined and then use a cookie scoop to scoop out the dough. Press the dough very tightly in the cookie scoop to form the balls. Without a cookie scoop these tend to crumble.

If not using a cookie scoop you will have to work with the dough a little bit more by squeezing it into a ball.

Form the balls onto a cookie sheet and bake for 7-9 minutes.

Watch the cookies closely and remove when the bottom barely starts to brown even if they don't look completely done (they cook more as they cool). I burned a few cookies by not watching them - they look underdone and 30-60 seconds later they are burned! (TIP: I also found cooking smaller batches - like 6 on a tray worked the best)

Remove and allow to cool completely.
Recipe Notes
Check the post on how to avoid "crumbly" cookies! Also, I have not experimented with a natural or no-stir version of peanut butter and can not vouch for its work-ability in this recipe.
For a gluten-free version, make sure oats are certified gluten free.
More healthier cookie recipes:
Healthier oatmeal chocolate-chip cookies
Flourless and Healthy Chocolate Chip Cookies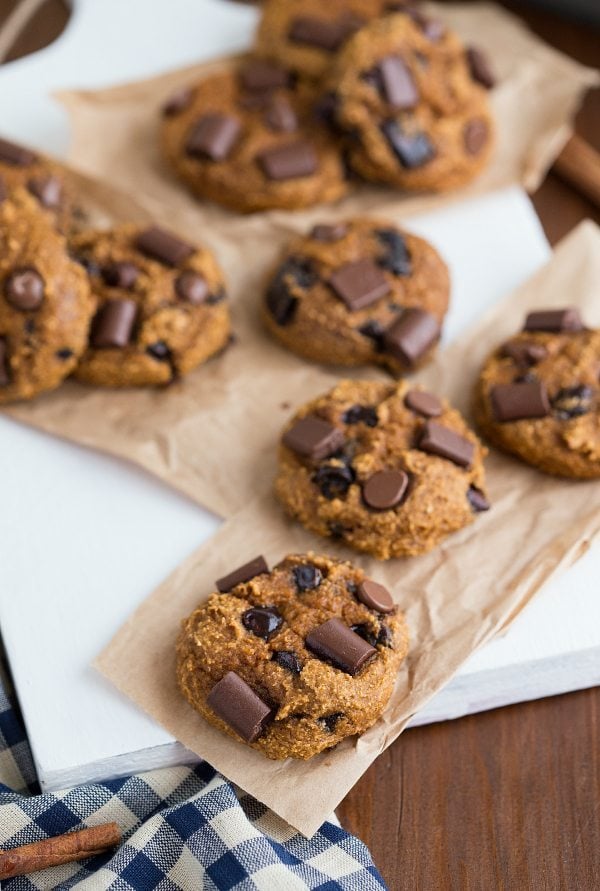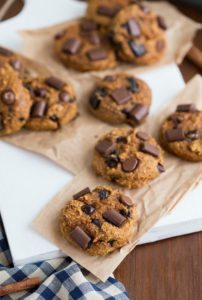 Healthy and flourless pumpkin chocolate chip cookies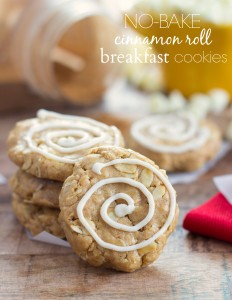 No-Bake Cinnamon Roll Breakfast Cookies