Perfectly seasoned and roasted butternut squash and black beans are loaded in a tortilla with the best sauce. These vegetarian butternut squash tacos are loaded with good-for-you ingredients and tons of flavor.
These tacos are great on their own, but would also pair nicely with these roasted brussel sprouts and/or this panzanella salad.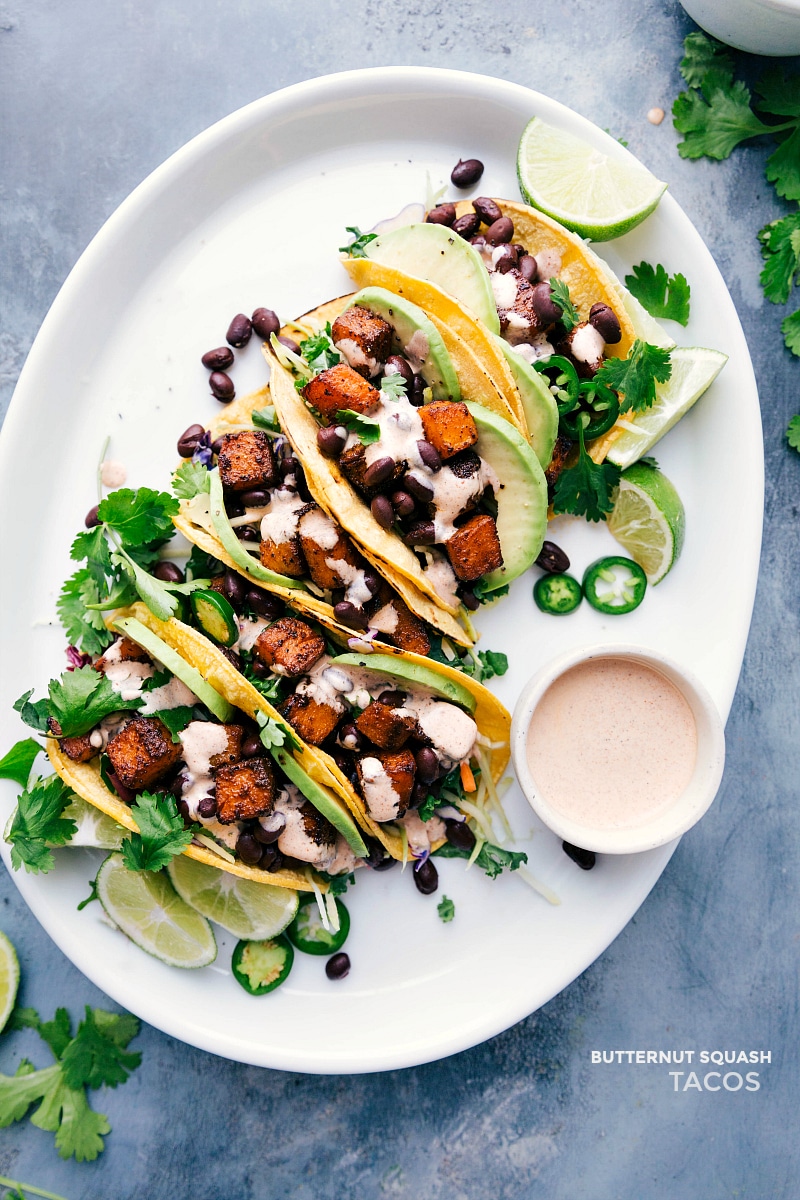 If you're a long time reader, you know all about my obsession with tacos. And you probably also know I will find any way to fill up a tortilla and call it a taco. 🙂 As long as that tortilla is loaded with flavorful ingredients I don't care if it's loaded with chicken, shrimp, beef, or all vegetables!
But with January upon us, I'm always eager to share more veggie-based recipes in case eating those types of recipes falls under a New Year's resolution for you — eating healthier, eating vegetarian, or eating more sustainably. While these butternut squash tacos are all those things, they are first and foremost, loaded with flavor. From the crunchy cabbage to the perfectly seasoned and deliciously caramelized squash, to the buttery avocado & fresh citrus toppings, and finally to the finishing creamy sauce — these are the best butternut squash tacos ever!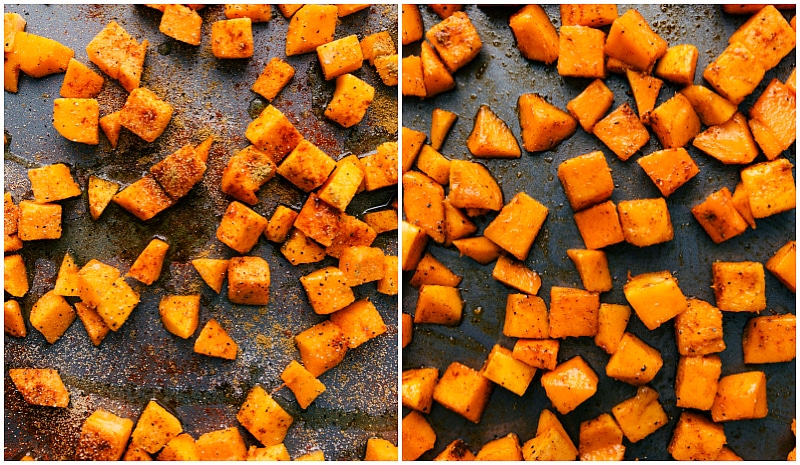 How to make butternut squash tacos
Prepare the squash: See more info on prepping the squash below this text.
Black beans: Drain and rinse the beans — you'll toss the beans with the squash right out of the oven to warm them through and get some of the flavor from the spices on the beans.
Sauce: This sauce is crazy easy and uses most of the same spices that were used in the squash. Whisk it together with a fork and chill until ready to heat.
Tortillas: Char, grill, or warm the tortillas and then layer them up with everything! I like to char the tortillas on my stove top; I spray the tortillas (both sides) with olive oil cooking spray and then place directly over the gas flames for a few seconds. Use tongs to flip until tortillas are lightly charred.
Toppings: More on how to top these tacos below.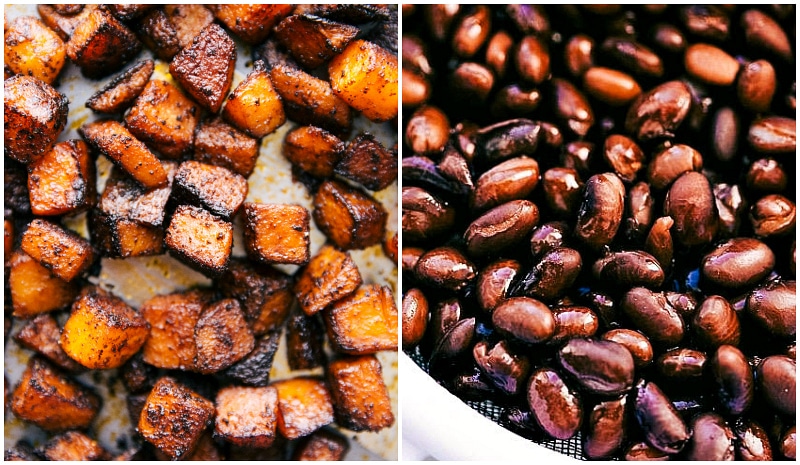 Roasting butternut squash
The key to good butternut squash tacos is of course the butternut squash in them — so it's important to get this step right. Before you even get to the roasting, make sure to pick out a good squash. Look for butternut squash with a solid beige color and one that feels heavy for its size. Alternatively, you can use pre-cut butternut squash as a great time saver; you'll need about 1 and 1/2 pounds (or 5 cups).
To prepare the squash:
Remove the stems at both ends and then peel the entire squash with a vegetable peeler or paring knife. Cut the squash in half where the thinner end begins to widen around the middle.
Slice the thick end in half, and with a sharp spoon, scoop out and remove the seeds.
Dice the squash into even 1-inch cubes — the more equal your pieces, the more perfectly the squash will roast!
Place the squash cubes on a large sheet pan and toss with the olive oil and spices. Make sure to spread the squash into one even layer. Crowded squash cubes will end up steaming instead of roasting. I use this sheet pan and it works perfectly!
Stir squash halfway through the cooking time to get an even char throughout.
Here's a great video tutorial to preparing squash.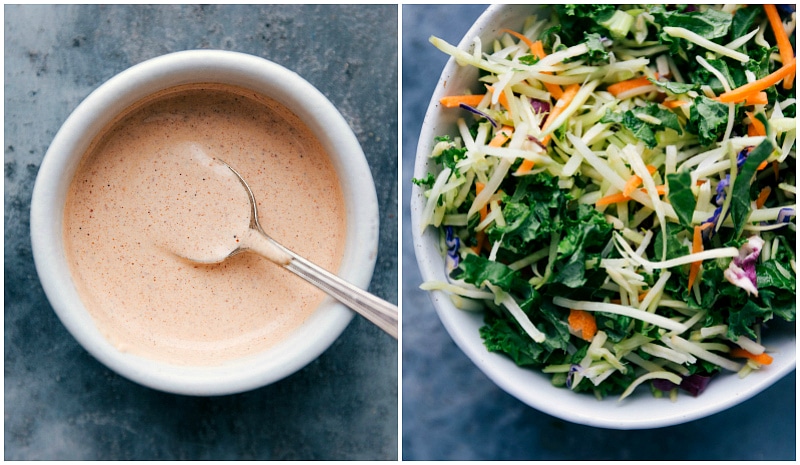 What to top these butternut squash tacos with
Kale slaw Salad/Cabbage: I love kale slaw salad on the base of these tacos — kale slaw is basically finely chopped kale combined with fresh cabbage and broccoli slaw. Any greens will work, though you want something with a bit of a crunch and a fairly neutral flavor. Broccoli slaw, regular coleslaw (without dressing), or the kale slaw will all work great.
Fresh lime: I usually cut a few limes and serve them on the side. This allows people to squeeze as much or as little lime onto their tacos as they like, depending on how much of a citrus kick they're looking for.
Fresh cilantro: Grab a few pieces to top each taco with OR finely dice it and sprinkle a little on each taco
Fresh avocado: Avocado gives these roasted butternut squash tacos an extra creamy element that is healthy and delicious! You could also add on some guacamole.
Cheese: I think these tacos are great without cheese, but if you want cheese on yours I'd suggest a queso cotija blend.
What tortillas to use
As far as nutritional stats go, corn tortillas are typically the healthiest, followed by whole-wheat tortillas. You can read more about the nutritional breakdown of tortillas here.
When it comes to flavor, we've tried this on corn tortillas and white flour tortillas and honestly loved both — use which every you like best.
We like this recipe best with small or street–sized tortillas

Butternut squash tacos variation ideas
For a healthy taco bowl, try these sweet potato taco bowls (vegetarian) or these Navajo taco bowls. You can also make a butternut squash taco bowl by layering all the ingredients (minus the tortillas) in a large bowl and drizzling the sauce right over. You can add rice or quinoa to the base of your taco bowl if desired.
To make vegan black bean and butternut squash tacos, use a vegan mayo in place of the regular mayo in the sauce. All other ingredients are vegan!
Feel free to change out the black beans with pinto beans or white beans.
Spice up the tacos: add diced jalapeños as a topping for more heat. You can also add 1/4 teaspoon cayenne pepper to the squash for more heat.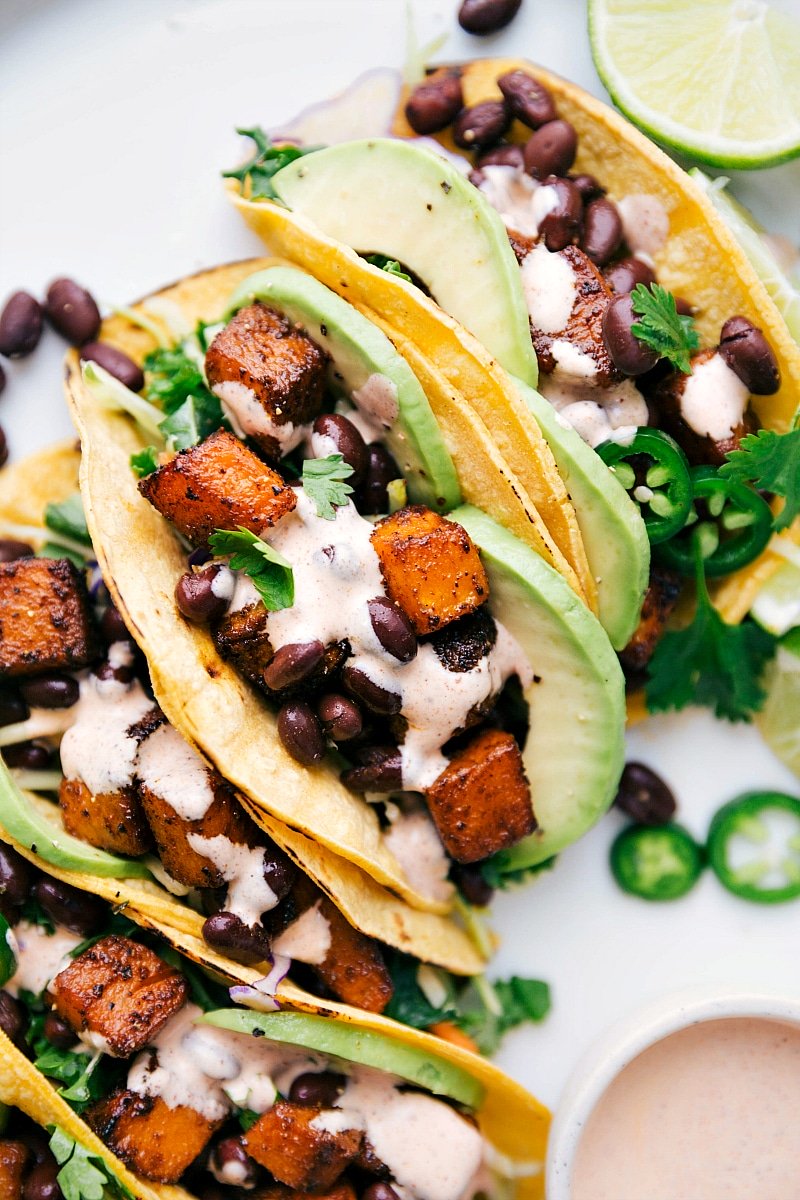 Other vegetarian recipes: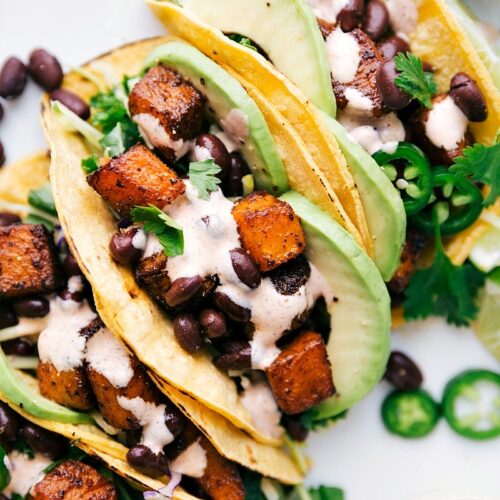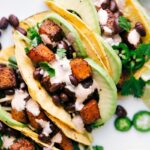 Butternut Squash Tacos
Perfectly seasoned and roasted butternut squash and black beans loaded in a tortilla with creamy sauce. These vegetarian butternut squash tacos are loaded with good-for-you ingredients and tons of flavor.
Keyword:
Butternut Squash Tacos
Ingredients
Squash & Beans
5

cups

butternut squash,

cut evenly into 1-inch cubes

2

tablespoons

olive oil

1/2

teaspoon EACH:

fine sea salt, chili powder, paprika, cumin, garlic powder

1/4

teaspoon

freshly cracked pepper

1

can (15 ounces)

black beans,

drained and rinsed
Tacos
1

bag

kale slaw or regular coleslaw or broccoli slaw

street-sized corn or flour tortillas

(OR skip the tortillas and serve over cilantro lime rice!)

fresh, ripe avocado, fresh lime, fresh cilantro,

for topping

optional: queso cotija cheese

(we didn't find the tacos needed cheese, but add if you want!)
Dressing
1/2

cup

full-fat regular mayo

1-2

large

limes

(3 tablespoons juice and 1/4 teaspoon zest)

1/8

teaspoon

ground cumin

1/4

teaspoon

paprika

1/2

teaspoon

chili powder

1

teaspoon

Sriracha or hot sauce

pinch of salt and ground black pepper
Instructions
PREP SQUASH: Preheat the oven to 425 degrees F. Peel the squash and chop into bite-sized (1-inch) even cubes. Toss the squash with the 2 tablespoons olive oil, 1/2 teaspoon (each) of salt, chili powder, paprika, cumin, garlic powder and 1/4 teaspoon pepper. Spread evenly on a very large sheet pan. You don't want squash pieces overlapping each other or they'll steam instead of roast, so use 2 sheet pans if needed.

BAKE SQUASH: Place the sheet pan(s) of squash in the oven for 10-15 minutes. Remove from oven, toss around and return for another 10-15 minutes or until caramelized and crisp tender. (Bake time varies a lot depending on how ripe the squash is, actual temperature of oven, and the actual size of pieces; I cut the pieces pretty small and spread them out a lot on a dark sheet pan so they roast for 10 minutes, flip, and another 10 minutes is perfect!).

BEANS: Meanwhile, drain and rinse the beans. Once the squash is tender, remove the sheet pan and mix the drained beans with the squash. Toss to combine and warm the beans.

SAUCE: While the squash is baking you can also prepare the sauce. Zest and juice 1 lime to get 3 tablespoons juice and 1/4 teaspoon zest. Add the juice and zest to a bowl along with 1/2 cup mayo, 1/8 teaspoon cumin, 1/4 teaspoon paprika, and 1/2 teaspoon chili powder. Add 1 teaspoon Sriracha and a generous pinch of salt and pepper. Whisk together with a fork until smooth.

ASSEMBLE: Char, grill, or warm the tortillas and top with the kale slaw (or coleslaw or broccoli slaw), a big scoop of the squash and beans, and whatever toppings you'd like (we love avocado and cilantro!). Drizzle on fresh lime if desired and add a few spoonfuls of the sauce to each taco. Enjoy while hot!