A delicious meatless dish – Sweet Potato Enchiladas are chock full of delicious and good-for-you vegetables, brown rice, and salsa. This meal is a quick dinner and family friendly!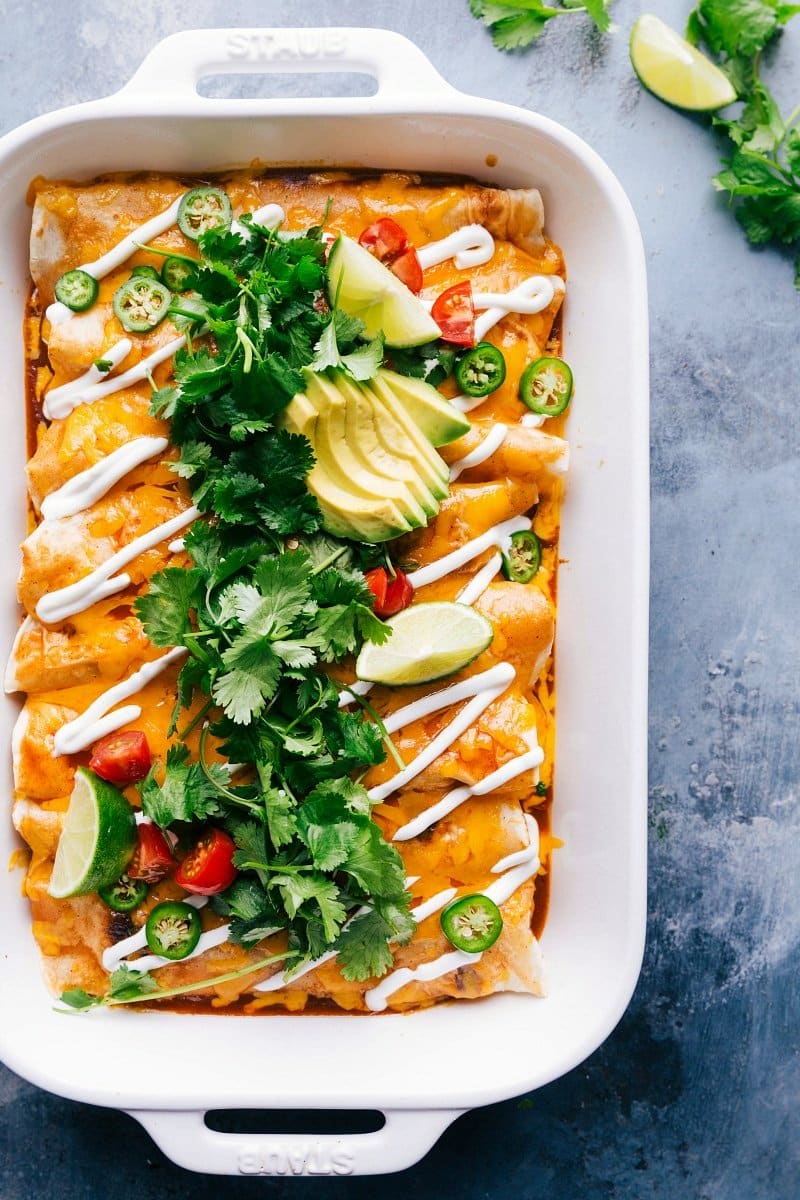 Sweet Potato Enchiladas
These enchiladas are one of my all time favorite recipes. I made them every few weeks throughout college and they were one of the first dinners I made for my husband as a newlywed. My husband was convinced a meal wasn't a meal if it didn't have meat, that is, until these vegetarian enchiladas came into his life. These were what convinced him that veggie meals can be equally as filling and flavorful as a meat-filled dish.
In this post, I'll walk through how to make Sweet Potato Enchiladas, how to top the enchiladas, some variation ideas (including a quick homemade taco seasoning blend), and how to make these enchiladas ahead and/or freeze. Let's get started!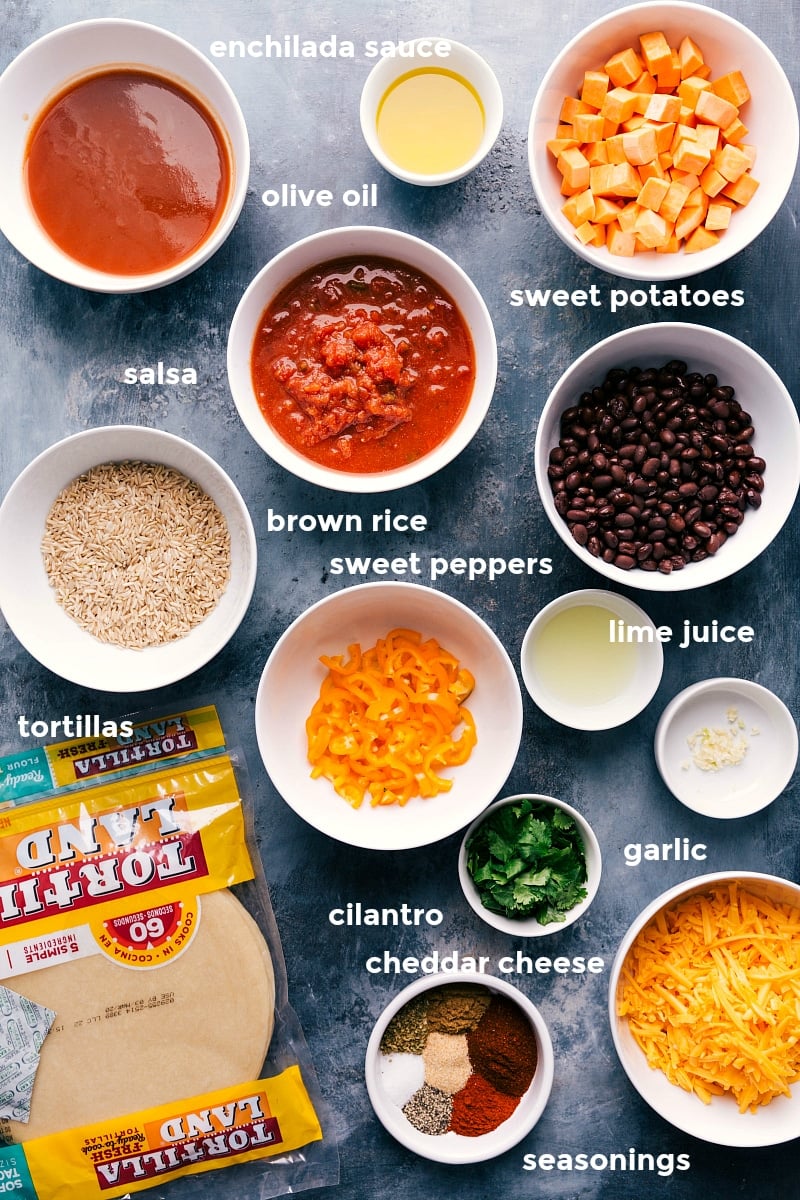 How to make Sweet Potato Enchiladas
Numbered photos throughout this post correlate to the descriptions below.
Saute: Start by adding the peeled, cubed sweet potato to a large skillet with olive oil. Saute over medium high heat until mostly tender and starting to brown on the outside, about 7 minutes. Add in the bell peppers and saute for another 3-4 minutes.
Add seasonings and garlic: Stir them around they can get fragrant and more potently flavored.
Reduce the heat: We don't want the garlic or seasonings to burn, so reduce the heat as needed.
Add in black beans: Warm the black beans and get them coated in the seasonings.
Cilantro, salsa, and lime juice: Add them all in.
Combine: Mix to combine.
Rice: Stir in the cooked and slightly cooled brown rice (leftover rice is great here).
Mix: Toss gently and the filling is finished! Make sure to give the filling a taste and adjust any seasonings.
Fill tortilla: Spoon in 1/2 cup of the filling into a tortilla along with some freshly grated cheese. Roll up the tortilla and place in the pan.
Top: Add enchilada sauce and grated cheese on top and then bake! Once they're baked, it's all about the toppings (read more below).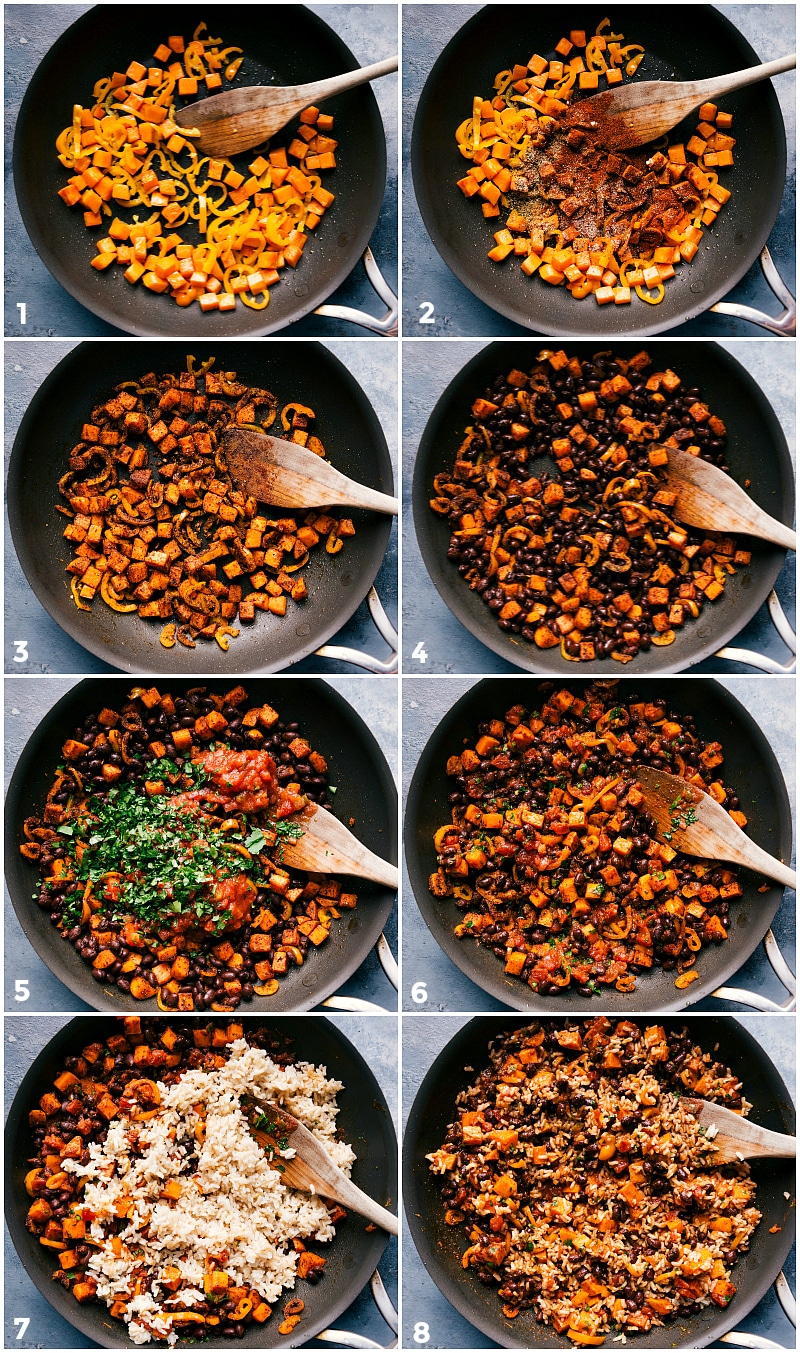 What to top your sweet potato black bean enchiladas with
Whatever you like to top enchiladas with will likely work here. Below are some of our favorites:
Fresh lime: the juice and individual wedges so people can add more to their sweet potato black bean enchiladas.
Fresh cilantro: finely diced or a big handful if you love cilantro
Pico de gallo or a fresh tomato: add a scoop of pico or dice up some cherry tomatoes to add on top
Fresh avocado: thinly sliced or chopped. (A scoop of guacamole also works great)
Sour cream: fat free or lite work great! You can also use plain Greek yogurt.
Jalapeños: if you want some heat, add some thinly sliced jalapeños right on top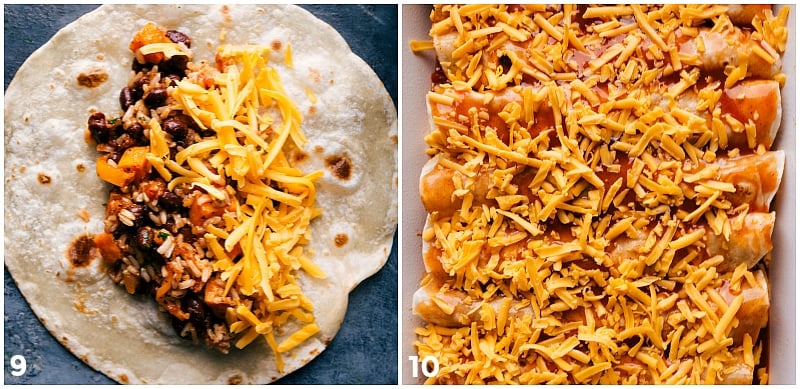 Variation ideas
Add an onion: add 1/2 cup diced yellow onion when sautéing the sweet potatoes.
Sweet peppers: you can leave them out or substitute a green or poblano pepper.
Roasted sweet potato enchiladas: if you'd rather have roasted sweet potatoes (instead of cooked in the skillet), check out this post for making roasted sweet potatoes; use those in this recipe instead.
Make a black bean sweet potato enchilada casserole: instead of enchiladas by following this recipe.
Reduce calories: you can use reduced-fat cheddar cheese (and less of it) and fat free sour cream
Add heat: if you like things spicy, add in a can of fire-roasted diced green chiles. You could also add in a diced jalapeño pepper to the enchiladas. Another way to add more heat would be to add an extra 1/2 teaspoon chili powder and 1/8 teaspoon cayenne pepper.
Taco seasoning
For these enchiladas, feel free to use a taco seasoning packet to make things easy. If you'd like to make your own taco seasoning, here's my recipe for that:
1 tablespoon chili powder
1 teaspoon paprika and 1 teaspoon cumin
1/2 teaspoon oregano and 1/2 teaspoon roasted garlic powder
1/2 teaspoon fine sea salt and 1/2 teaspoon freshly cracked pepper
Simply whisk together these seasonings in a small bowl and use in place of the taco seasoning packet.
How to make ahead of time (meal prep)
When I was in college, I would prepare the "filling" for these enchiladas (usually doubling it to freeze half) on a lighter school day/meal prep day and then have it ready to go into tortillas come dinner-time.
So if you have a prep day, this is the perfect meal to do beforehand! Once the filling it done, you just stuff the tortillas, cover with sauce + cheese, and bake. If you do make the filling beforehand though, warm it up in a skillet before filling up the tortillas (or the insides of your enchiladas will be cold). You don't really want to cook these for longer than the time indicated with the cheese on it. (You can bake without the cheese for about 15-20 minutes covered and then uncover and add cheese and cook until melted)

These enchiladas make a great freezer meal!
The great thing about making black bean enchiladas is that you can easily make a big batch of them and freeze some for later. Here's how to do that:
Prepare the enchiladas as you normally would, but don't bake. (Make sure they're in a freezer safe pan)
Place a layer of plastic wrap right on top of the pan to prevent freezer burn and then cover with a few layers of foil making sure the seal is tight.
Freeze the enchiladas for up to 3 months.
Bake frozen enchiladas (no need to thaw) by removing the plastic wrap and foil and baking them for 50-60 minutes or until fully heated through.
The "filling" (everything inside the enchiladas) can also be frozen. Thaw in the fridge overnight and then prepare according to the recipe to make enchiladas.
More sweet potato recipes: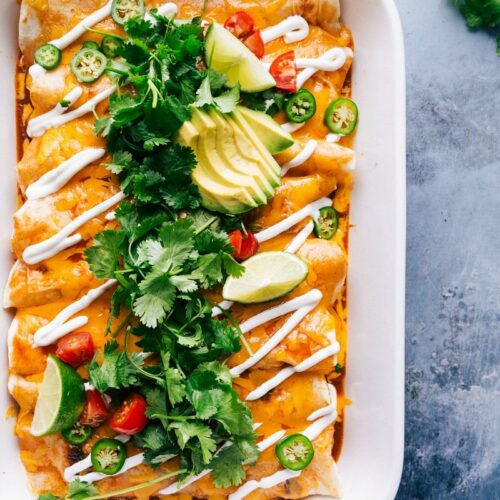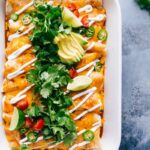 Sweet Potato Black Bean Enchiladas
A delicious meatless dish - sweet potato black bean enchiladas chock full of delicious and good-for-you vegetables, brown rice, and tomato salsa. This meal is a quick dinner and family friendly!
Keyword:
Sweet Potato Black Bean Enchiladas
Ingredients
1

cup

brown rice,

uncooked (or 2 cups cooked rice)

3

tablespoons

olive oil,

separated

2

cups

diced sweet potatoes,

in 1/2 inch cubes

1

cup

sweet bell peppers,

very thinly sliced

1

packet

taco seasoning

Note 1

1/2

teaspoon

minced garlic

1

can (15.25 ounces)

black beans,

drained and rinsed

1 and 3/4

cup

salsa,

separated, I used mild

2

tablespoons

freshly squeezed lime juice

1/4

cup

chopped cilantro

2

cups

freshly shredded cheddar cheese,

separated

1

cup

red enchilada sauce

12

white or whole-wheat tortillas

(I like using TortillaLand; not sponsored)

Optional: sour cream, extra salsa, cilantro, green onions
Instructions
BROWN RICE: Follow package directions to cook one 1 cup of brown rice. So when it is cooked, it will yield about 2 cups. Or use leftover cooked brown rice.

SWEET POTATOES & PEPPERS: meanwhile, peel and chop (into small pieces) the sweet potatoes. In a large skillet (12 inches), combine 2 tablespoons olive oil and the sweet potatoes over medium-high heat. Cook until the potatoes begin to get tender (about 8 minutes) and then add in the 1 cup of thinly sliced sweet peppers (remove stems and seeds and chop) with the last tablespoon of olive oil. Cook for an additional 3-4 minutes.

SPICES: add in the taco seasoning packet or homemade taco seasoning and 1/2 teaspoon minced garlic. Saute for 1-2 minutes or until fragrant. Add in the 1 can of drained and rinsed black beans. Stir for another 30 seconds to a minute.

FINISH FILLING: remove the skillet from the heat, and stir in 1 cup salsa, 2 tablespoons lime juice, and 1/4 cup chopped cilantro. Stir. Add in the cooked rice and again stir to combine. Taste the filling and adjust seasonings to preference (increase any spices; add salt and pepper).

ENCHILADA PREP: Preheat the oven to 350 degrees F and grease a 9 x 13 pan with nonstick spray. Add the remaining 3/4 cup of salsa to the bottom of the pan. Use the back of a spoon to spread it evenly.

FORM ENCHILADAS: Scoop 1/2 cup of the mixture onto the left side of a white or whole-wheat tortilla. Sprinkle with a handful of cheddar cheese -- about 1 and 1/2 tablespoons. Roll up tightly. Place the enchilada seam-side down into the prepared pan. Repeat until the pan is filled with enchiladas. (I usually fit 8 in a 9 x 13 pan and save the remaining 4 to make in an 8 x 8 pan).

BAKE: Pour 1 cup red enchilada sauce over the enchiladas and sprinkle with 1 cup of cheese. Bake for 15-20 minutes or until the cheese is melted and the enchiladas are warmed through.

GARNISH: Remove and enjoy immediately with sour cream, extra salsa or freshly chopped tomatoes, additional cilantro, additional limes/lime juice, and/or ripe avocado or guac.
Recipe Notes
Note 1: to make a "homemade" taco seasoning, combine the following in a small bowl and whisk together: 1 tablespoon chili powder, 1 teaspoon paprika and 1 teaspoon cumin, 1/2 teaspoon oregano and 1/2 teaspoon roasted garlic powder, 1/2 teaspoon fine sea salt, and 1/2 teaspoon freshly cracked pepper