A delicious meatless dish – sweet potato black bean enchiladas chock full of delicious and good-for-you vegetables, brown rice, and tomato salsa. This meal is a quick dinner and family friendly!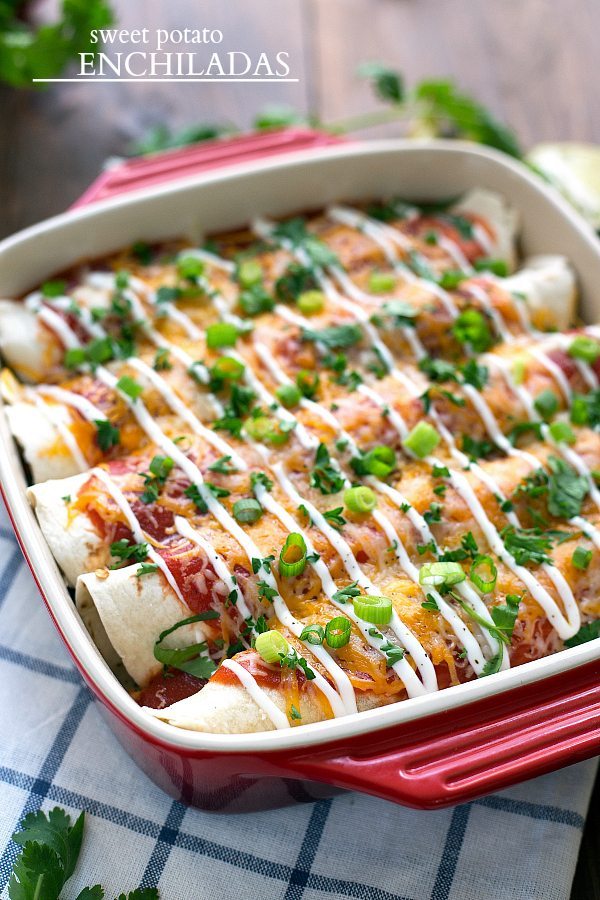 And the only thing to follow eating about 10 batches of hot fudge cookies is a healthy + meatless meal. This one is definitely the meal to fit the bill. Look at me rhyme 🙂
But seriously, this recipe is one of those "healthy" meals that is secretly healthy. Like you wouldn't guess it was healthy because it tastes so flavorful and rich! Although, depending on the amount of cheese you are piling in these and on top of these, it becomes a little less healthy. The great thing is you can totally scale down (or up) the amount of cheese! I've even had these with no cheese and still LOVED them. I know, I bet you never guessed I would say that.
Obviously I usually pile on these cheese when I make these.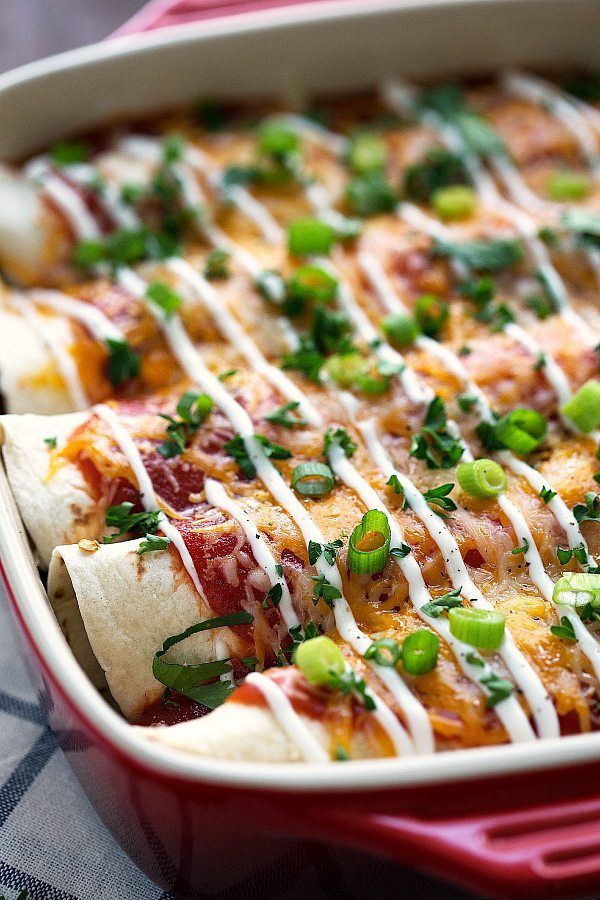 I'm speaking like I've made these a time or two and that's because I have. Probably over a dozen times because they are a family (and personal) favorite. Why I haven't shared the recipe until now is completely beyond me.
And those of you unconvinced about a meatless meal – well this is the meal that I used to convince my husband dinner could be dinner without meat in it. This was the first meatless meal I ever made for him and he had no idea. He LOVED it. And when I was so excited after he asked for seconds, he wondered what was up.
I had to tell him these were healthy + meatless. Direct quote, "These don't have meat? Hmmm. I didn't notice." MAJOR WIN for the then newlyweds.
And ever since then, the meatless meals have continued with success. It's like my secret goal for him to LOVE dinner and there to not be meat in there. Because anyone that follows me on Pinterest, well, you may have noticed I have a board called, "My Husband is a Carnivore." Truer words were never spoken.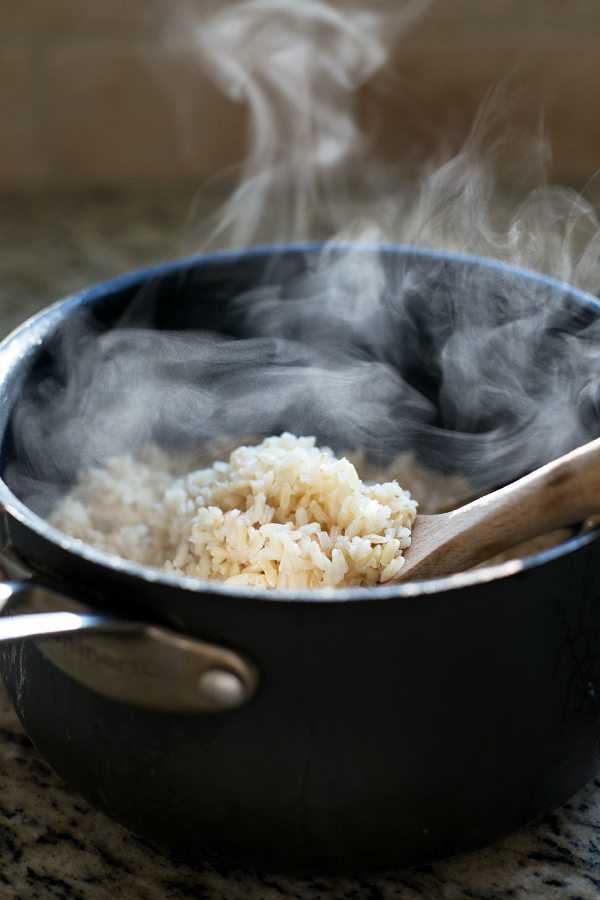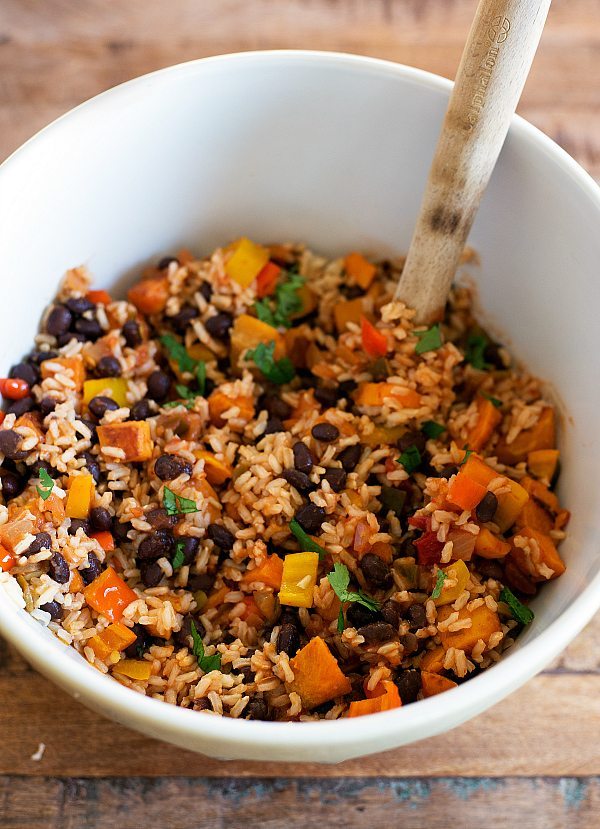 This meal can't be considered under 30 minutes, because baking time and brown rice cooking, but as far as your preparation time/working in the kitchen – definitely under 30 minutes.
When I was in college (and working 2 jobs), I would prepare the "filling" for these enchiladas (usually doubling it) beforehand on a lighter school day and then have it ready to go into tortillas come dinner time. So if you have a prep day, this is the perfect meal to do beforehand! Once the filling it done, you just stuff the tortillas, cover with sauce + cheese, and bake. If you do make the filling beforehand though, warm it up in a skillet or in the microwave before filling up the tortillas or the insides will likely be cold. And you don't really want to cook these for longer than the time indicated with the cheese on it. (You can bake without the cheese for about 15-20 minutes covered and then uncover and add cheese and cook until melted)
I don't love enchiladas warmed up the next day (am I weird or is this normal?), so if that's you, fill up the tortillas with just what you'll eat and store the rest of the fillings + toppings in the fridge to throw together another day. And if you don't want to bake them all over again, it's pretty easy to roll up the filling in a tortilla and warm it up in a skillet. Just make sure the filling is packed in there (roll it up like a burrito) and then turn it around in a skillet until all the edges are lightly browned. Top with warmed enchilada sauce and you are good to go!
Okay time to impress those meat-lovers with this meal!!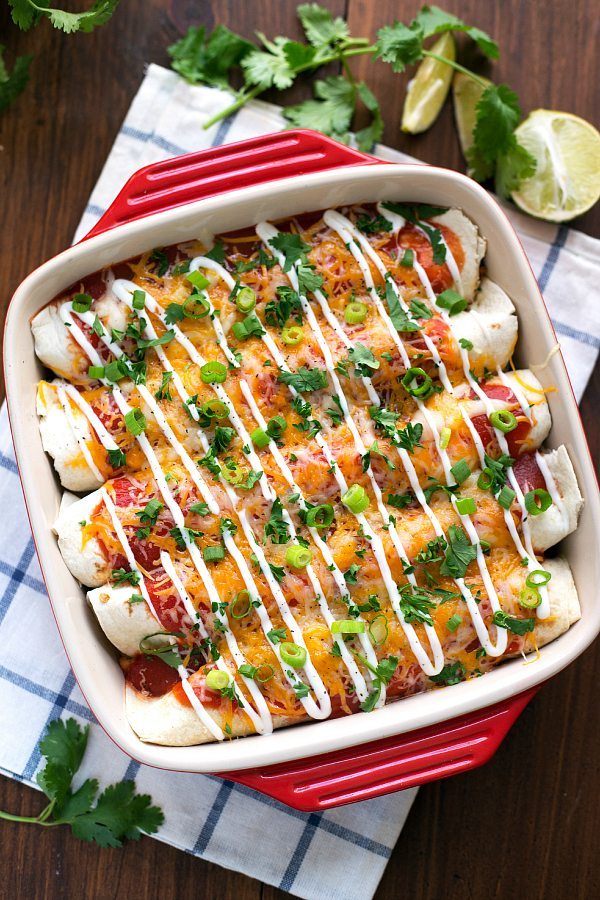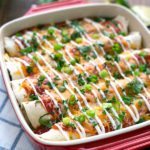 Sweet Potato Black Bean Enchiladas
A delicious meatless dish - sweet potato black bean enchiladas chock full of delicious and good-for-you vegetables, brown rice, and tomato salsa. This meal is a quick dinner and family friendly!
Keyword:
Sweet Potato Black Bean Enchiladas
Ingredients
1

cup

brown rice

uncooked

3

tablespoons

olive oil

separated

1

cup

sweet bell peppers

2

cups

sweet potatoes

1

packet

taco seasoning

1

can (15.25 ounces)

black beans

drained and rinsed

1/2

teaspoon

minced garlic

optional

1 and 3/4

cup

salsa

separated, I used mild

2

tablespoons

lime juice

1/4

cup

chopped cilantro

packed with stems removed

1

cup

red enchilada sauce

2

cups

freshly shredded cheddar cheese

separated

12

white or whole-wheat tortillas

Optional: sour cream, extra salsa, cilantro, green onions
Instructions
Follow package directions to cook one 1 cup of brown rice. So when it is cooked, it will yield about 2 cups.

Meanwhile, peel and chop (into small pieces) the sweet potatoes. In a large skillet, combine 2 tablespoons olive oil and the sweet potatoes over medium-high heat.

Cook until the potatoes begin to get tender (about 8 minutes) and then add in the sweet peppers (remove stems and seeds and chop) with the last tablespoon of olive oil. Cook for an additional 3-4 minutes and then add in the minced garlic and black beans. Stir for another 30 seconds to a minute.

In a large bowl combine the sweet potato mixture with 1 cup salsa, 1 packet taco seasoning (you can use less than a packet if desired), and cooked rice. Stir it all together really well. Add in the lime juice and chopped cilantro. Season with salt and pepper. (Increase lime juice or cilantro here if desired).

Preheat the oven to 350 degrees F and grease a 9 x 13 pan with nonstick spray. Smooth on the bottom of the pan the remaining 3/4 cup of salsa.

Scoop about 1/2 cup of the mixture onto the left side of a white or whole-wheat tortilla. Sprinkle with a handful of cheddar cheese (you can leave it out for a healthier meal). Roll it up.

Place the enchilada seam-side down into the prepared pan. Repeat until the pan is filled with enchiladas.

Pour 1 cup red enchilada sauce over the enchiladas and sprinkle with 1 cup of cheese. (If you use packaged and pre-shredded cheese it tends to get greasy when baked so I like to use freshly grated!)

Bake for 15-20 minutes or until the cheese is melted and the enchiladas are warmed through.

Remove and enjoy immediately with sour cream (I use fat free), extra salsa, shredded cilantro, or chopped green onions.