Our favorite beef tacos with crispy taco shells, robustly seasoned taco meat, melty cheddar, and your favorite taco toppings! Kid-friendly and easy to customize.
Pair these incredible tacos with this cool and crisp cucumber salad, cilantro lime rice, or roasted sweet potatoes.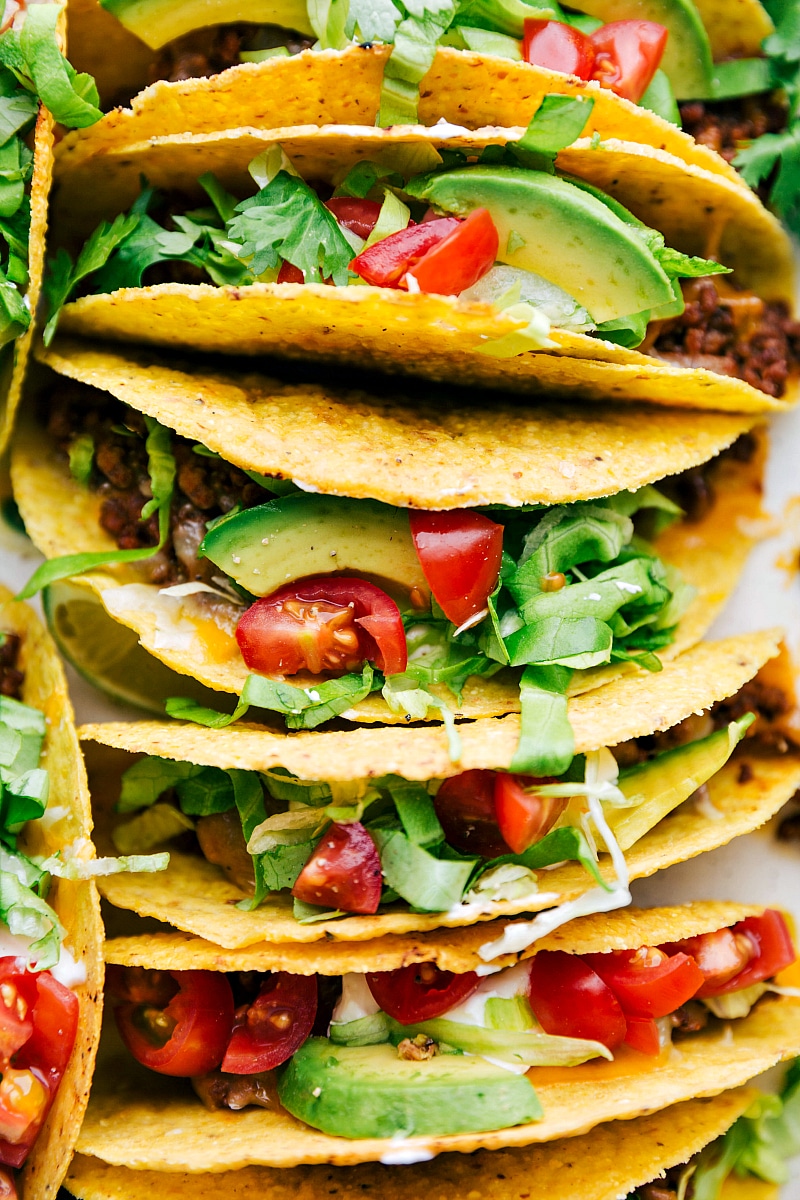 A few weeks ago I bought crispy taco shells to make these beef tacos and when I went to get them out of the pantry, the box was empty. Turns out my kiddos ate every single one of them — plain ha!
The next time I bought the shells I had to hide them until I got around to making these tacos. At first my kids were disappointed they were filled up (they wanted to keep eating them plain) but after one bite, they agreed these beef tacos are the best! They've got the best flavors, perfect textures, and make for such a great, well-rounded (easy to make) meal.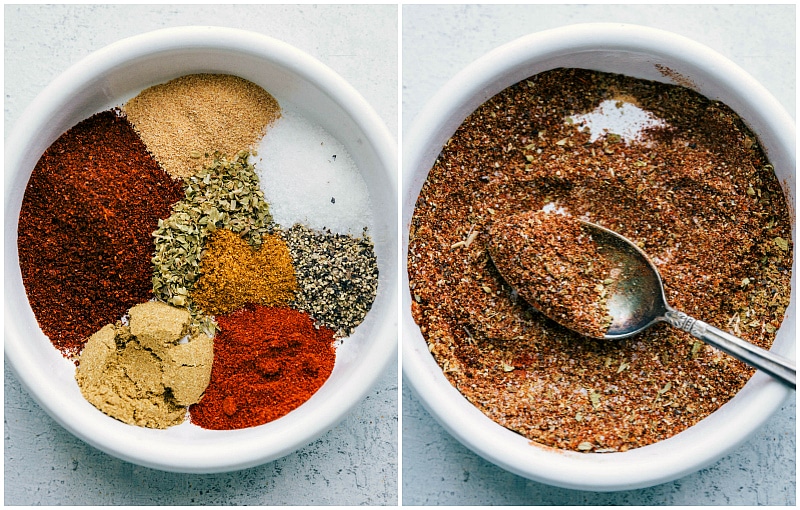 Beef tacos filling
To fill up these lettuce wraps, I use lean ground beef with my homemade taco seasoning and tomato sauce.
You can replace the tomato sauce with picante sauce which is what I do in this taco bowl recipe.
A few quick tips:
Make sure to purchase the freshest ground beef you can (look at the date furthest from you when purchasing)
To avoid steaming (we want to brown the meat!) try to use a cast iron pan and wait for it to be HOT until you add in the meat.
In order to brown (and become more flavorful), the beef has to maintain contact with the pan for a little while. Remember that as you break the meat into smaller pieces the moisture evaporates which can cause the meat to steam instead of brown. Give the meat a few minutes to cook and develop brown color before breaking it up with a wooden spoon.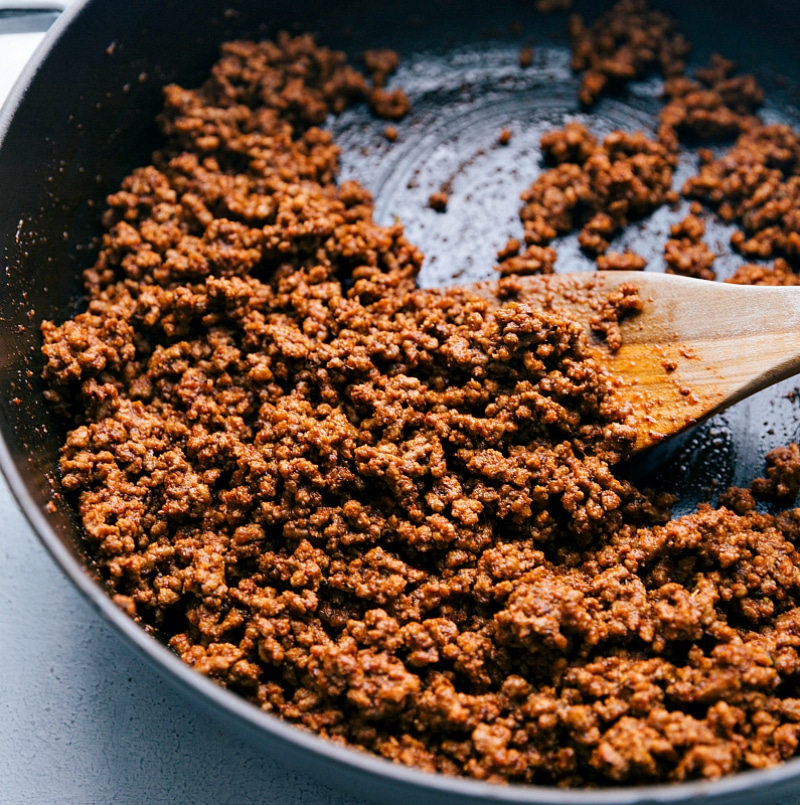 After the base meat filling is done, it's all about the toppings! Below are some of our favorite toppings, but get creative with what you like best on your beef tacos.
Beef tacos topping ideas
Cheese (monterey jack, extra sharp cheddar cheese, or pepper jack) We like a blend of monterey jack and extra sharp cheddar best!
Chopped tomatoes, salsa, or pico de gallo
Black beans or pinto beans
Freshly chopped cilantro
Fresh lime juice we like serving these tacos with lime wedges
Avocado or guacamole
Cooked white rice
Taco sauce or hot sauce
Crispy tortilla strips
Creamy cilantro sauce (like the sauce in this honey lime chicken recipe)
Sour cream (fat free or low fat works great!)
Crema Mexicana by Cacique is another one of our favorites (not sponsored)
Variation ideas
Use ground turkey, ground chicken, or ground pork instead of ground beef. When substituting different ground meats just keep in mind they have different moisture contents and flavor intensities. You may need to add in a bit more or less tomato sauce and additionally compensate with more spices.
Add fresh grilled corn on the cob (cut the corn off the cob and add it as a topping). See this post on elote to learn how to perfectly grill corn on the cob!
Healthy beef tacos: to keep these on the healthier side, use fresh veggies as toppings and reduce, omit, or use reduced-fat cheese. Alternatively, try these taco lettuce wraps for a healthier or low carb alternative.
Beef tacos with peppers and onions: add a sautéed pepper and onion topping; to do so add 1 tablespoon olive oil to a cast iron skillet. Add in 1 thinly sliced yellow onion and 1 thinly sliced bell pepper (sweet or green pepper). Season with salt and pepper, sauté until crisp tender and lightly charred.
Don't like crispy beef tacos? Pile the filling and toppings into soft shell flour or corn tortillas. Just make sure to warm through the tortillas first (more on this below).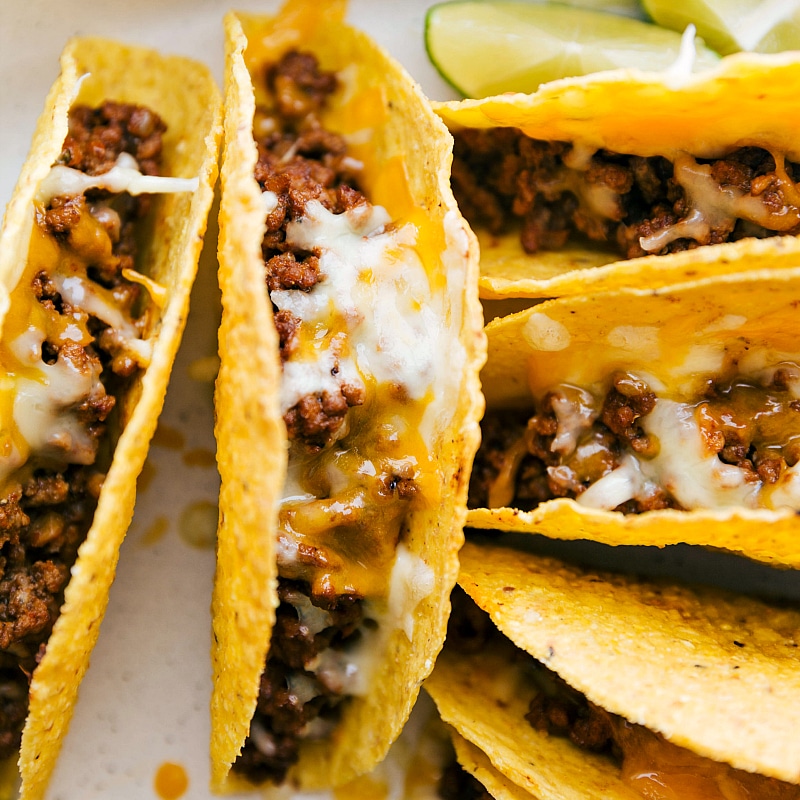 How to warm tortillas
If you opt to use soft tortillas instead of crispy, make sure to warm them through before filling them up! This not only contributes to the flavor, it also helps them to fold and hold the filling and toppings easily.
My favorite tortillas for ground beef tacos are the unbaked (flour or corn) ones generally found in the refrigerated section of the grocery store near block and grated cheese (by TortillaLand — not sponsored). Or a few other options below:
Wrap a stack of 5 tortillas in a damp paper towel and microwave for 15-30 seconds at a time until warmed through.
Cook in a hot, dry skillet, griddle, cooktop, or grill grates — flip after 10-15 seconds
Place on a gas stovetop over a medium/low flame — place the tortilla right on the flame on the stovetop and flip after 10-15 seconds.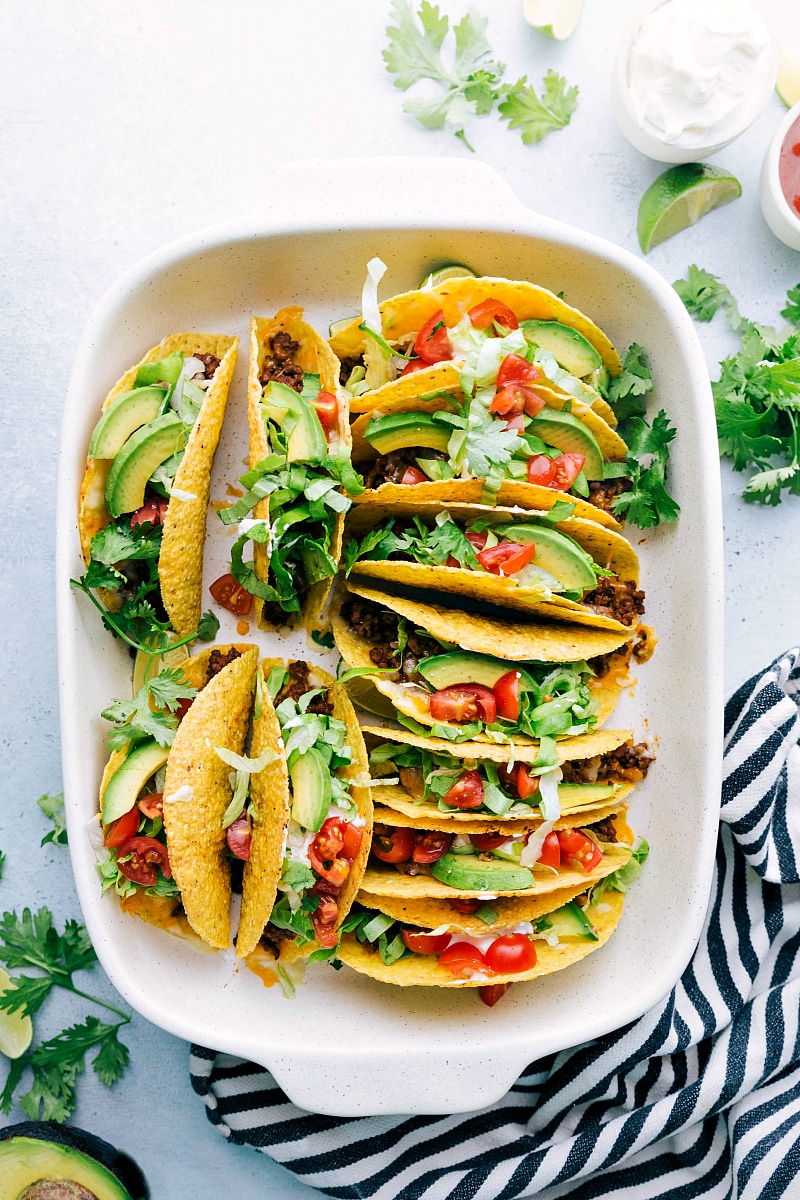 More delicious taco recipes: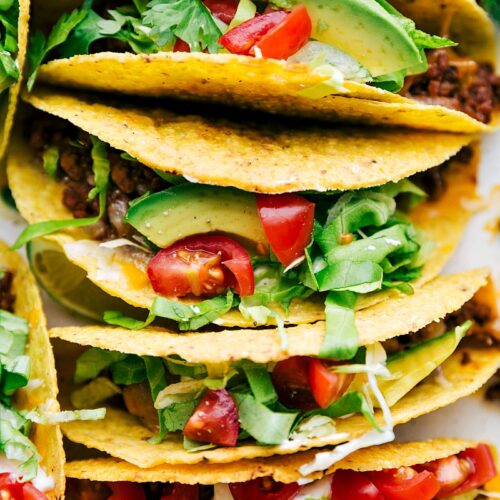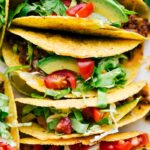 Beef Tacos
Our favorite beef tacos with crispy taco shells, robustly seasoned taco meat, melty cheddar, and your favorite taco toppings!
Ingredients
1

package (with 12 total)

crispy taco shells

(can use soft flour or corn tortillas instead!)

1

tablespoon

olive oil

1/2

cup

finely diced yellow onion

1

teaspon

minced garlic

1

pound

lean ground beef or ground chuck

1/2

cup

tomato sauce

1

tablespoon

chili powder

1

teaspoon EACH

paprika and cumin

1/4

teaspoon

ground cayenne pepper

(optional, omit if sensitive to spice)

1/2

teaspoon EACH

oregano, roasted garlic powder, salt, and pepper

Toppings: freshly grated cheese (I like using equal parts of both Monterey jack and extra sharp cheddar), shredded iceberg (taco) lettuce, sour cream (fat free or low fat works great), salsa/chopped cherry tomatoes/pico de gallo, avocado or guac, chopped cilantro, taco sauce, chopped onions, lime wedges
Instructions
PREP: Prepare everything for cooking the beef filling, because the process goes quickly! Dice the onion, mince the garlic, and stir together all of the seasonings. Place taco shells in a 9x13 baking pan (all 12 should fit) and set aside. Preheat the oven to 375 degrees F.

BEEF: Heat oil in a large skillet (cast iron if possible) over high heat. Add onion and cook for 2-3 minutes or until lightly golden. Add in the garlic and cook for 30 seconds.

BEEF CONT.: Add ground beef and cook for 2-4 minutes, breaking it up into small pieces as you go, until meat is no longer pink. Avoid stirring/breaking beef up too much, allow it to brown too. If there is a lot of extra grease (from higher fat percentages of beef) drain off. Add in all the seasonings: chili powder, paprika, cumin, cayenne pepper, oregano, garlic powder, salt, and pepper. Stir for another 1-2 minutes or until beef is completely cooked through. Add in the tomato sauce and stir until thickened, another 1-2 minutes. Remove from heat and set aside to slightly cool.

STUFF SHELLS: Divide the taco beef evenly between the 12 shells. Add cheese on top of each (eyeball it, I add about 2-3 tablespoons per taco of even mixture of monterey jack and extra sharp cheddar). Bake for 6-8 minutes or until cheese is melty.

SERVE: While tacos are cooking, set out all the toppings in individual bowls or on a large platter. Our favorites: chopped cherry tomatoes, iceberg (taco) lettuce, sliced ripe avocado, chopped cilantro, fresh lime wedges, and a scoop of sour cream. Other ideas: guacamole, taco sauce, salsa, pico de gallo, chopped onions, etc. Serve hot tacos out of oven and let everyone add whatever toppings they like best! Enjoy with a squeeze of fresh lime!