One of the best Italian appetizers channeled into a delicious dinner — Bruschetta Pasta is fresh, light, and filled with flavor!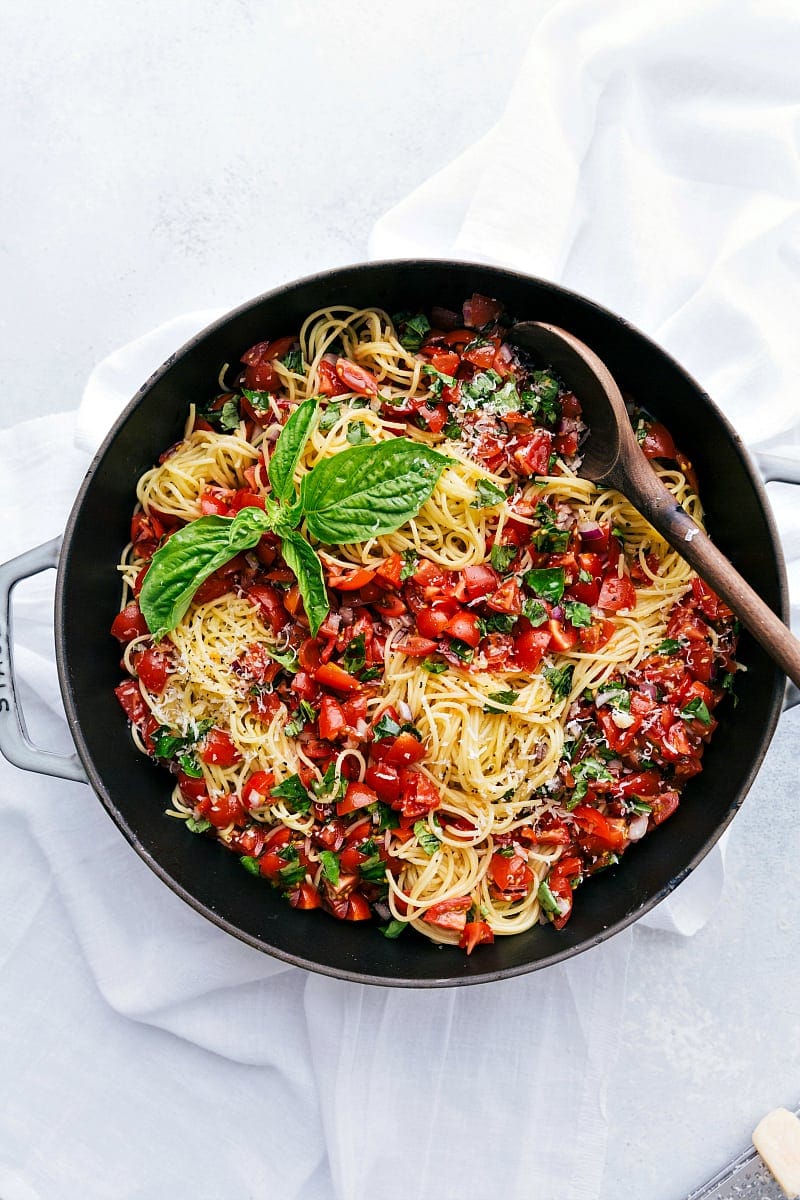 Our garden is exploding with basil and tomatoes right now! We've been eating this bruschetta chicken every few nights, snacking on this tomato bruschetta frequently, and eating this caprese salad for lunch at least a couple times a week. And while I don't think any of us could get sick of those recipes, I was itching to make something a little different that could still use all our tomatoes and basil. Enter: bruschetta pasta!
First off, if you aren't familiar, what is "bruschetta?"
Bruschetta al pomodoro is a classic antipasto (appetizer) originating from Italy that consists of grilled bread, and is topped with ripe tomatoes, fresh basil, garlic, and olive oil.
Bruschetta is not the same as "tomato bruschetta" although tomatoes happen to be one of the most common toppings for the grilled bread in the US. At the very simplest, bruschetta is toasted bread that has been brushed with a good quality olive oil and then rubbed with a garlic clove. Bruschetta al pomodoro is the version topped with tomatoes and basil and it's the version of bruschetta I'm converting into a pasta dish today!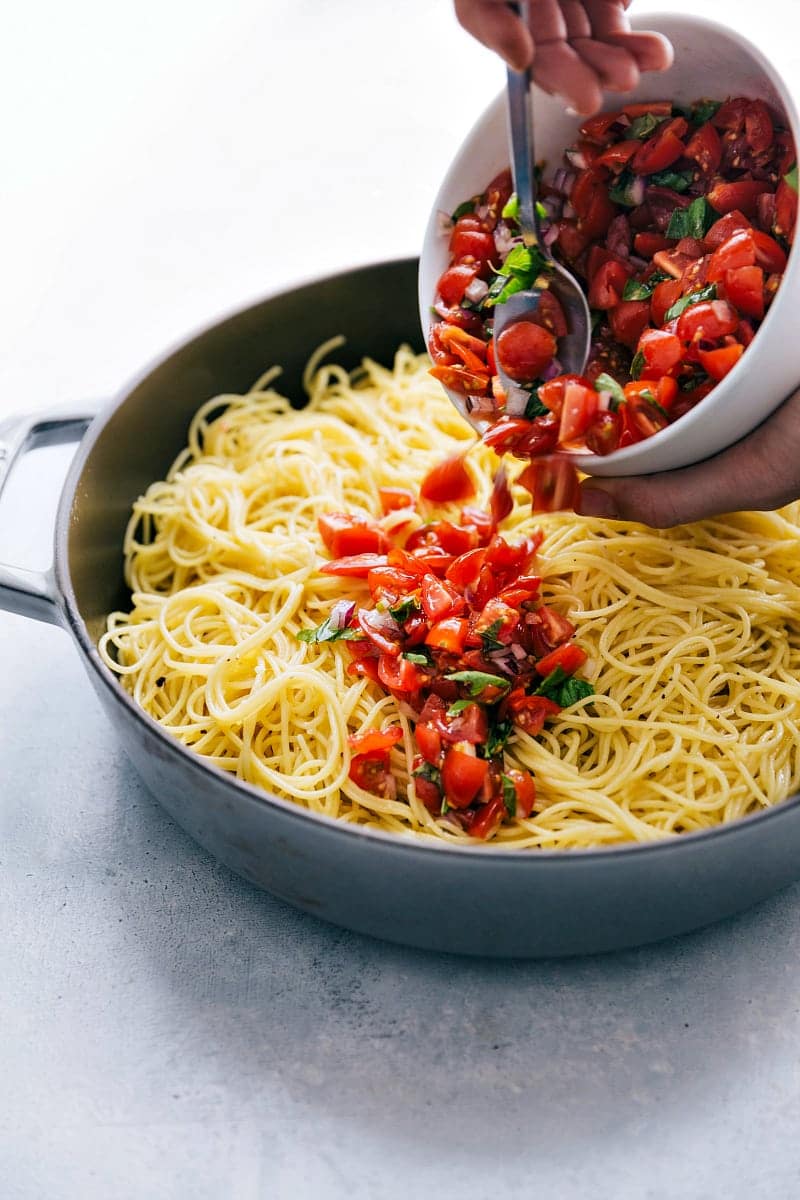 So, what exactly is "bruschetta pasta?"
I could be wrong, but I don't think bruschetta pasta is actually a "thing" served in Italy (or really anywhere). I'm basically taking the famous bruschetta al pomodoro toppings (ripe tomatoes, fresh basil, garlic, and olive oil) and adding it to olive oil + parmesan coated pasta. It's a match made in heaven and some serious summer comfort food 🙂 While there is a fair amount of oil and cheese in this dish, this bruschetta pasta does not feel like a heavy pasta dish. It's light, fresh, and filled with good flavor.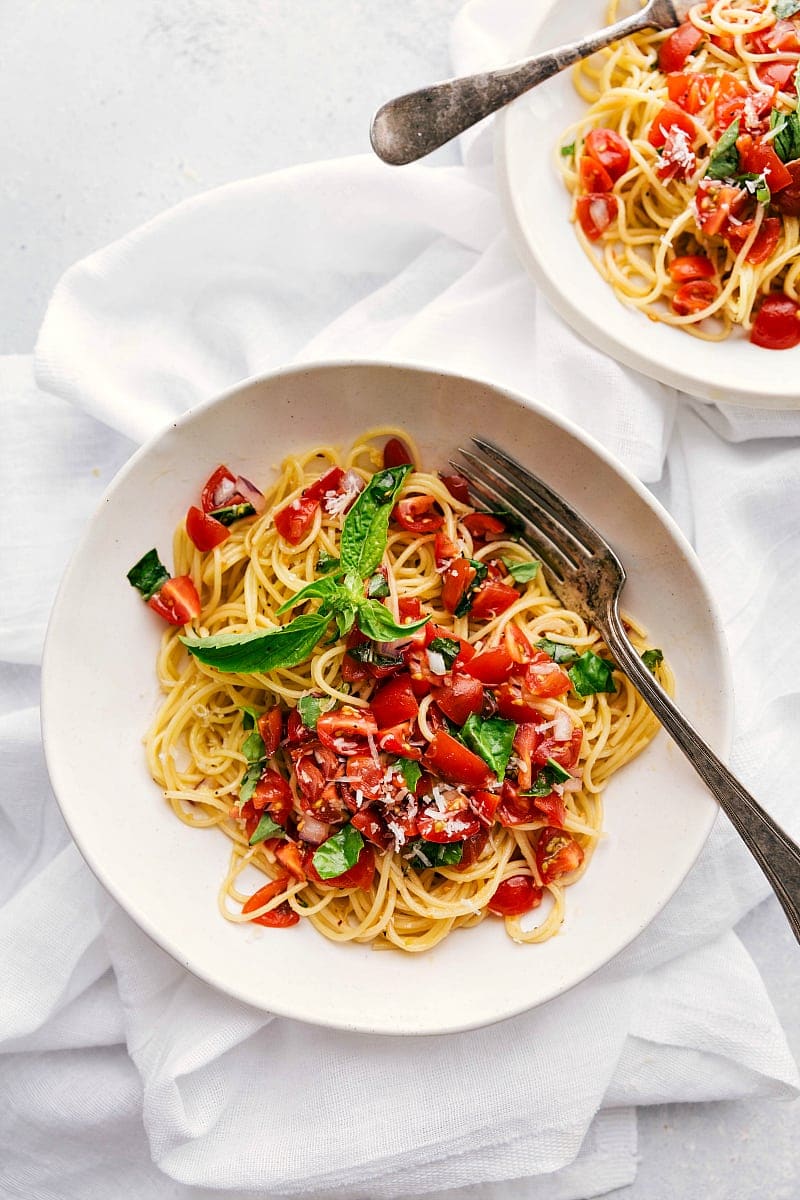 What tomatoes are best to use for this bruschetta pasta?
This is a meal that is very simple with few ingredients so the ingredients you use matter! Bottom line if your tomatoes aren't great, your bruschetta pasta will not be as good as it can be. While it doesn't matter greatly what tomatoes you use, you want in-season (and the freshest possible) tomatoes for this dish. Garden fresh cherry tomatoes are my absolute favorite in this bruschetta pasta.
How do you make this bruschetta pasta?
You'll start by preparing the pasta. I like using a fine spaghetti for this dish, but angel hair or regular spaghetti would also work! Drain that spaghetti making sure to reserve some pasta water (1 and 1/2 cups) for the "sauce" of this dish.
That sauce? It starts by heating some olive oil on a large pot (big enough to hold your spaghetti!) and adding in some slivers of fresh garlic. You'll cook the garlic until it barely begins to turn golden around the edges and then add in some red pepper flakes. Cook for another 30 seconds and then you'll add in that reserved pasta cooking water. This mixture gets boiled and reduced until it's reduced to about a third. And there you have your basic garlic sauce for this pasta! Toss the drained pasta vigorously with tongs in this sauce and then remove it from heat.
Here's where you'll add in the parmesan to the still warm pasta. Toss to get a smooth cheesy pasta and set aside for a bit.
While everything is cooking/reducing, you can prepare the tomato topping. This task takes a minute to cut all the tomatoes, but it's well worth it! Once the tomatoes are all chopped up, you'll add in some red onion, another drizzle of olive oil, and some fresh basil. Remember to rip the basil from the plant instead of chopping up the basil to keep it from browning. Add this tomato mixture to the pasta and it's ready to be served 🙂
What are some good side dishes for this bruschetta pasta?
Not a side dish, but I LOVE this sparkling blueberry lemonade with this bruschetta pasta
A good crusty side of bread (toasted or grilled with some olive oil!)
Sauteed fresh asparagus or green beans

More Pasta Dishes: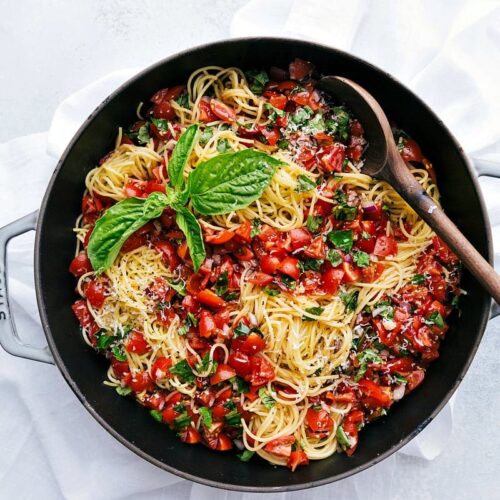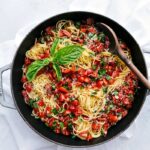 Bruschetta Pasta
One of the best Italian appetizers channeled into a delicious dinner -- Bruschetta Pasta is fresh, light, and filled with flavor!
Keyword:
bruschetta, pasta
Ingredients
1

pound

thin spaghetti + reserved pasta water

Fine sea salt + freshly cracked pepper

8

cloves

fresh garlic,

sliced into very thin slivers

1/3

cup + 1 tablespoon

extra virgin olive oil,

separated

1/4 to 1/2

teaspoon

red pepper flakes,

optional

1

cup

freshly grated Parmesan cheese

(plus additional for topping if desired)

2

cups

cherry tomatoes,

finely chopped

3

tablespoons

red onion,

finely chopped

1/3

cup

fresh basil,

ripped
Instructions
Bring a large pot of water to a boil. Once boiling, add in 2 tablespoons of salt and the pasta. Cook according to package directions and before draining, remove and set aside 1 and 1/2 cups of the pasta's cooking water. Drain the pasta and set aside.

Meanwhile, add 1/3 cup olive oil to a large shallow pot (big enough it can hold all the spaghetti later) over medium heat and add in the thin slivers of garlic. Cook for 1-2 minutes, stirring near constantly, until the garlic begins to get golden on the edges. Watch carefully to avoid burning the garlic! Add in the red pepper flakes (if using; add to heat preference) and cook for another 30 seconds. Carefully add in the reserved 1 and 1/2 cups pasta cooking water. Bring to a boil and then reduce the heat and let the mixture simmer for about 7 minutes or until the mixture is reduced by 1/3. Season with salt and pepper to taste.

Add your drained pasta to this mixture and toss vigorously to coat. Remove from heat, add 1 cup freshly grated Parmesan cheese and again, toss vigorously to coat.

Meanwhile: prepare the tomato topping: add all of the finely chopped cherry tomatoes to a large bowl. Top with the red onion, ripped basil and remaining 2 tablespoons olive oil. Season with salt and pepper to taste. Stir with a spoon and let stand until the rest of the dish is finished.

Add the tomato topping to this finished pasta. Taste and adjust seasonings. Toss and serve with additional parmesan as desired.

Meal is best enjoyed the same day it's made.
For more delicious recipes, follow along on Pinterest, Instagram, Facebook, and YouTube