This post may contain affiliate links. Please read my disclosure policy.
Show-stopping Vegetarian Shepherd's Pie with a delicious medley of vegetables, a flavorful gravy, and the best mashed potatoes on top.
Not only will you be craving veggies like crazy after eating this meal, you also won't be missing the meat! This veggie Shepherd's pie is great for company (especially when serving vegetarians) and this recipe is a perfect candidate for making ahead of time or making as a freezer meal.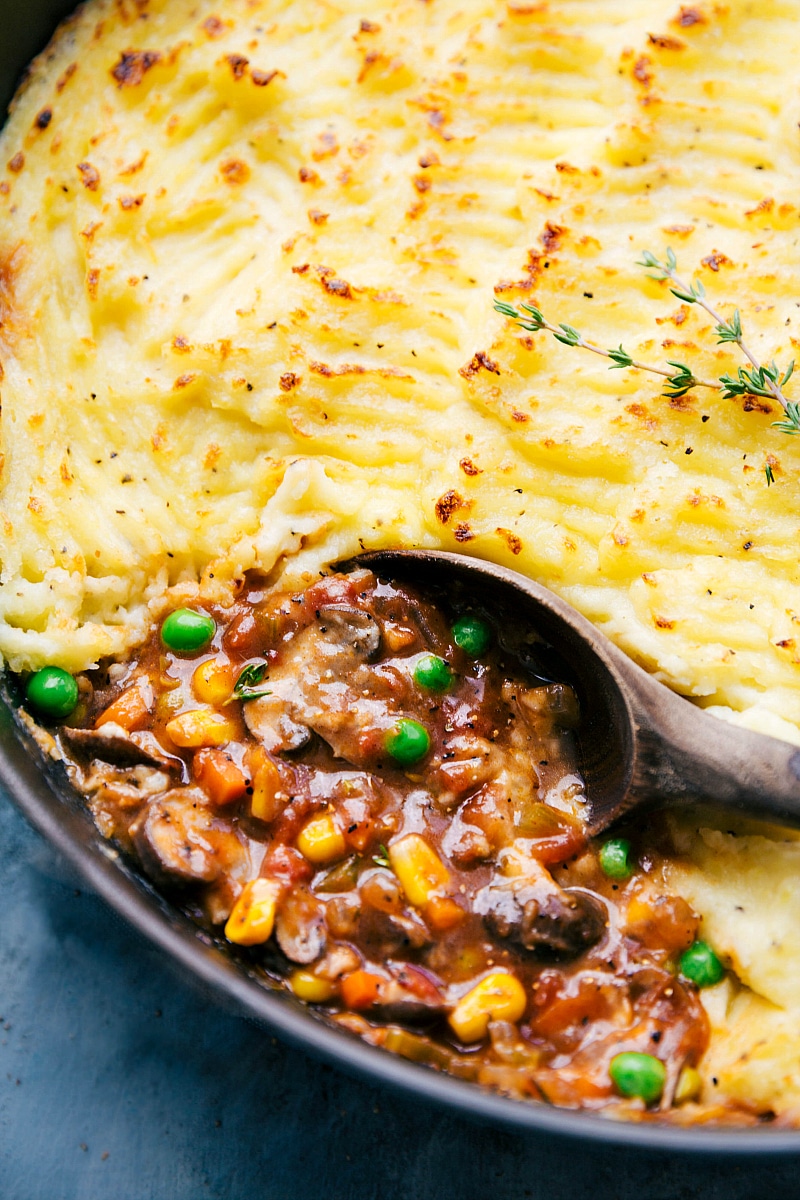 After sharing this traditional Shepherd's Pie (well, technically, a Cottage Pie) last year, I've made it for company countless times. It gets rave reviews every time I serve it, including from my boys — they'll request it frequently. And since I have several vegetarian family members, I thought it was time they got in on the amazing-ness that is Shepherd's pie — vegetarian style!
While I'll be the first to admit, I love the tender beef in Shepherd's pie, this vegetarian version is nothing short of amazing. It's got a great "meatiness" from the mushrooms and so much flavor from the variety of vegetables and herb-infused gravy. The mashed potatoes, of course, are the perfect creamy finishing touch. So, let's get started talking about this Vegetarian Shepherd's Pie!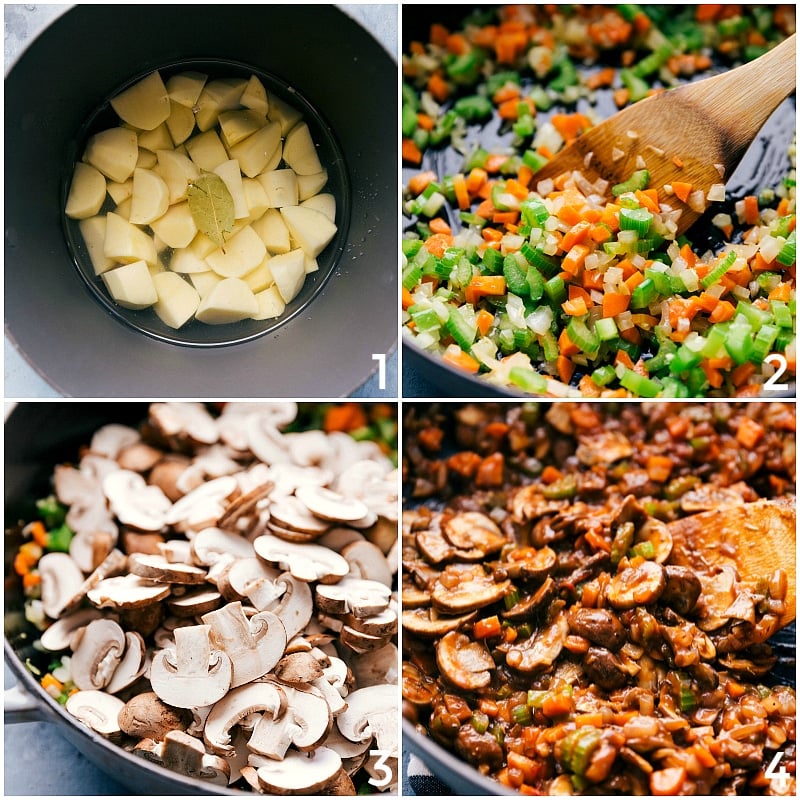 How to make Vegetarian Shepherd's Pie
Start with the mashed potatoes: peel and chop the potatoes, add cold water to cover, add salt and a bay leaf (we'll finish the potatoes while the veggies are simmering)
Saute onion, garlic, carrot, and celery: the key here is to finely dice the vegetables so they cook down and get tender quickly (and evenly).
Add in thinly sliced mushrooms: try to purchase small (bite-sized) and evenly sized mushrooms for best possible texture
Add in flour, tomato paste, herbs, and then grape juice: cook down until it looks like this image. Make sure to get 100% pure grape juice so the gravy isn't too sweet. The sweetness of the grape juice balances the acidity of the tomatoes and tomato paste perfectly.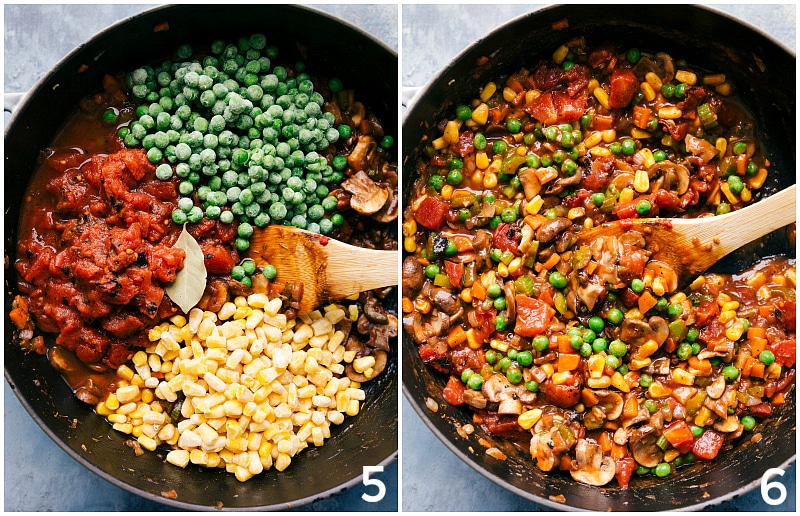 Process continued
5. Once cooked down, add in the fire-roasted diced tomatoes, peas, corn, bay leaf, and vegetable stock. While vegetable broth works, the stock adds more flavor. I highly recommend San Marzano tomatoes for this vegetarian Shepherd's pie.
6. Now the base is all in; time to simmer down and reduce until it's thick and vegetables are perfectly tender.
7. While everything is simmering, the potatoes can be pressed through the ricer and finished off. For perfectly fluffy potatoes, I recommend a potato ricer (affiliate link). I find the ricer makes finishing the potatoes a cinch AND gives the potatoes the perfect texture. Don't forget to season the potatoes before adding them to the pie!
8. Add a drizzle of olive oil on top, bake, and then broil to get the crispy top.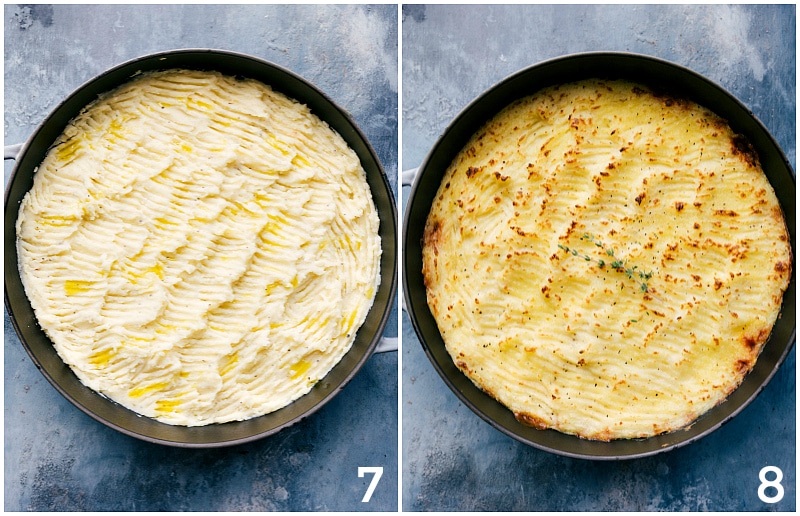 Vegetarian Shepherd's Pie FAQS
Because shepherd's pie is a heavier dish that already includes meat, potatoes, and vegetables, I would recommend a lighter salad to go with it. Here are a few of my favorite sides:
Make ahead vegetarian shepherd's pie
Vegetarian Shepherd's Pie is the perfect dish to prepare ahead of time. Make the veggie base the night before (or morning of) and store it covered tightly in the fridge. Prepare the mashed potatoes at the same time and store (covered, in the fridge) separately. Assemble right before baking when ready to eat (slightly warm the mashed potatoes so they'll spread easily). You'll need to add 5-10 additional minutes to the bake time depending on how cold the pie is.
After your shepherd's pie is cooked, you can store typically it for an additional 3-5 days, covered in the fridge. You may need to adjust the storage time depending on whether you used fresh ingredients or leftovers. With using all fresh veggies, it should last 5 days in the fridge (covered and stored well).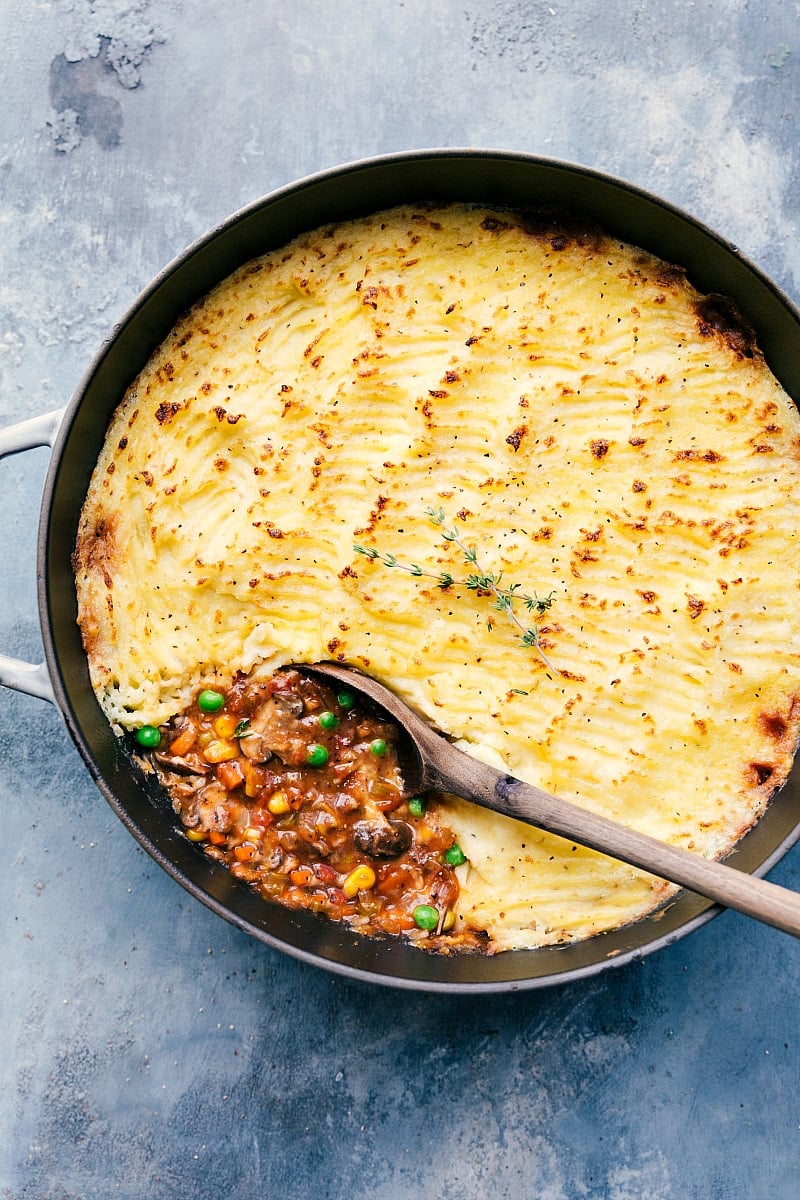 Variation ideas:
Vegetarian Shepherd's Pie with meat substitute: feel free to add in up to 8 ounces frozen vegetarian meat crumbles (add when adding in mushrooms)
Vegetarian Shepherd's Pie with cauliflower mash: replace the mashed potatoes with cauliflower mashed potatoes instead. You can also reduce the calories on the mashed potatoes by using fat free or low fat sour cream and/or using half and half (or whole milk) in place of the heavy cream.
More delicious vegetarian meals: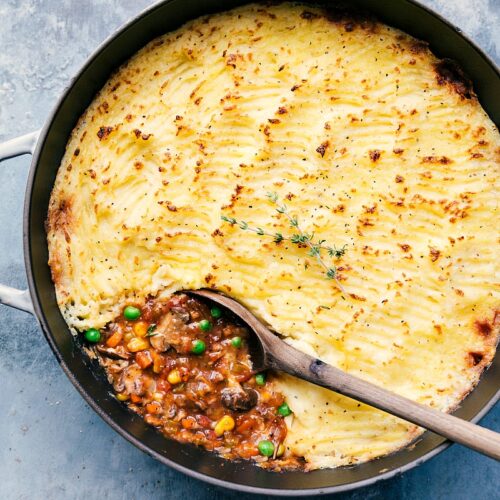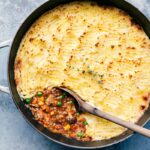 Vegetarian Shepherd's Pie
Show-stopping Vegetarian Shepherd's Pie with a medley of fresh vegetables, a flavorful gravy, and the best mashed potatoes on top.
Cuisine:
American, Vegetarian
Keyword:
vegetarian shepherd's pie
Ingredients
2

tablespoons

olive oil,

separated

2

garlic cloves

minced

1

cup

diced yellow onion

(~1/2 of 1 large onion)

3/4

cups

diced carrots

(~2-3 large carrots)

3/4

cups

diced celery

(~3-5 stalks)

8

ounces

cremini mushrooms,

thinly sliced

1

teaspoon EACH:

dried thyme, Italian seasoning

1/2

teaspoon

paprika

1 tsp salt, 1/2 tsp pepper

2

tablespoons

white flour

2

tablespoons

tomato paste

1/2

cup

100% grape juice

2

bay leaves,

separated

1

cup

frozen sweet peas

1

cup

frozen yellow corn

1

can (14.5 ounces)

fire-roasted diced tomatoes,

undrained

1

cup

vegetable stock

1/2

teaspoon

red wine vinegar
Topping
2 and 1/2

pounds

potatoes,

I use an equal mix of Yukon Gold and Russet; if just using one use Yukon Gold; peeled and cubed

1/2

cup

heavy cream

(can use half and half)

1/2

cup

sour cream

(can use light or fat free)

6

tablespoons

unsalted butter

Fine sea salt and freshly cracked pepper

Optional: fresh parsley or fresh thyme

(for topping)
Instructions
POTATOES: Peel and then cube the potatoes into golf-ball sized pieces. Place in a strainer and rinse under cold water until the water rinsing through comes out clear. Place in a large pot and cover with cold water. Add 1 tablespoon fine sea salt and 1 bay leaf, stir, and bring to a boil. Reduce to a simmer until the potatoes are fork-tender; about 15-20 minutes. When a potato can easily be pierced, drain the potatoes in a strainer and make sure you get rid of ALL the extra moisture. Let them dry for about 3 minutes. Discard the bay leaf.

VEGGIES: MEANWHILE (while potatoes are cooking), Pour 1 and 1/2 tablespoons olive oil in a large (oven-safe to save a dish!) skillet (1.5 quart skillet) over medium high heat. Add finely chopped onion and cook, stirring frequently for about 1 minute. Add in the garlic, stir for 30 seconds. Add the finely chopped carrots and celery and cook for another 3-5 minutes or until veggies are softened, stirring occasionally. Meanwhile, thinly slice the mushrooms. Add in the mushrooms and cook another 3-5 minutes, stirring occasionally until mushrooms are tender. Add in the flour and stir for 1 minute to cook off the rawness of the flour. Add in the tomato paste, thyme, Italian seasoning, paprika, and salt and pepper to taste. (I add 1 teaspoon salt, 1/2 teaspoon pepper, add to preference). Stir for another 1-2 minutes. Add in the grape juice and stir for 1-2 more minutes or until thick.

FINISHING VEGGIE BASE: Reduce heat to medium and add in the can of diced tomatoes, frozen peas, frozen corn, and remaining 1 bay leaf. Add in the vegetable stock and stir until combined. Bring this mixture to a simmer then reduce heat to medium and bring the mixture to a rapid simmer. Cook for 25-35 minutes at medium heat, stirring every 5 or so minutes, until you have a good thickened gravy. Stir in the red wine vinegar. Preheat the oven to 350 degrees.

FINISHING VEGGIE BASE CONT.: Remove veggies from heat, cover, and refrigerate until ready to bake. (I like making in the morning and assembling before dinner). If making immediately, place in the fridge until potatoes are completely finished (you want the mixture to chill for as long as possible so the layers stay separate when baking, 15-20 minutes at a minimum). If you didn't prepare in an oven-safe skillet, transfer to a 1.5-2 quart oven-safe dish. Remove the bay leaf and discard.

POTATOES CONT.: While the potatoes are drying in the strainer, add the heavy cream, sour cream, and butter to the pot the potatoes cooked in. Melt on low heat and stir to combine. While potatoes are still hot, put them through a ricer and add right on top of the butter/sour cream mixture. Stir with a wooden spoon until smooth. Season to taste with salt and pepper (I use about 1/2 teaspoon salt and 1/4 teaspoon pepper). Cover and place in the fridge until ready to assemble pie.

ASSEMBLY: Gently spread the potatoes in an even layer on top of the veggies. Use a soup spoon to press them to cover all the veggies and make sure to "seal" the edges with potatoes. Use a fork to add marks into the surface of the potatoes. Drizzle with remaining 1/2 tablespoon olive oil.

BAKE: Bake in preheated oven for 25-30 minutes or until the potatoes are golden brown and the edges are bubbling. Broil for 1-2 minutes on high to get the very tops of the potatoes crispy! Remove from heat and garnish with fresh thyme or fresh parsley as desired. Serve hot.