These amazing & meatless sweet potato taco bowls are easy to make and packed with bold flavors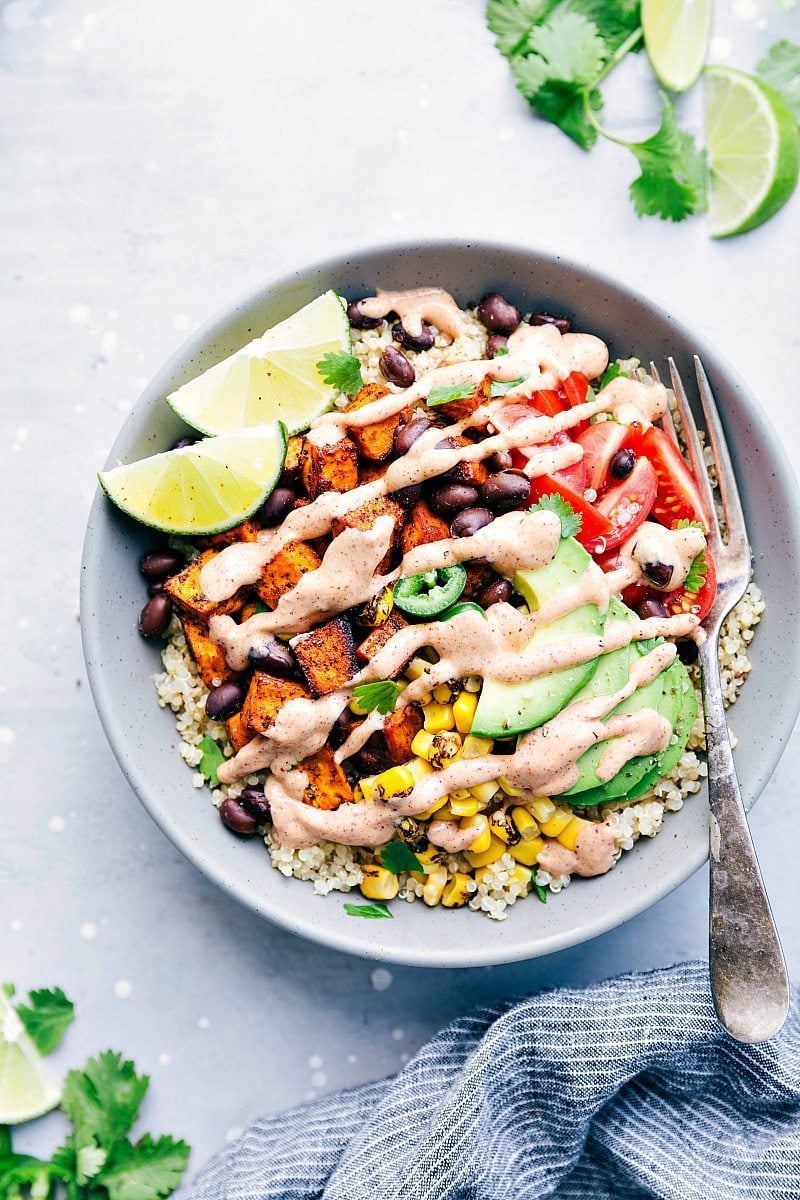 Almost a year ago to date, I posted these sweet potato burrito bowls and today I'm bringing you a variation on those: sweet potato taco bowls!
Out of all the dinner recipes on my blog, those sweet potato burrito bowls are the most frequently made meal in my home. I make them for dinner often and even more so, I'll make a double batch on Sunday and that will be our lunches for the week. It's a meal that everyone in my family loves AND -bonus- its pretty healthy.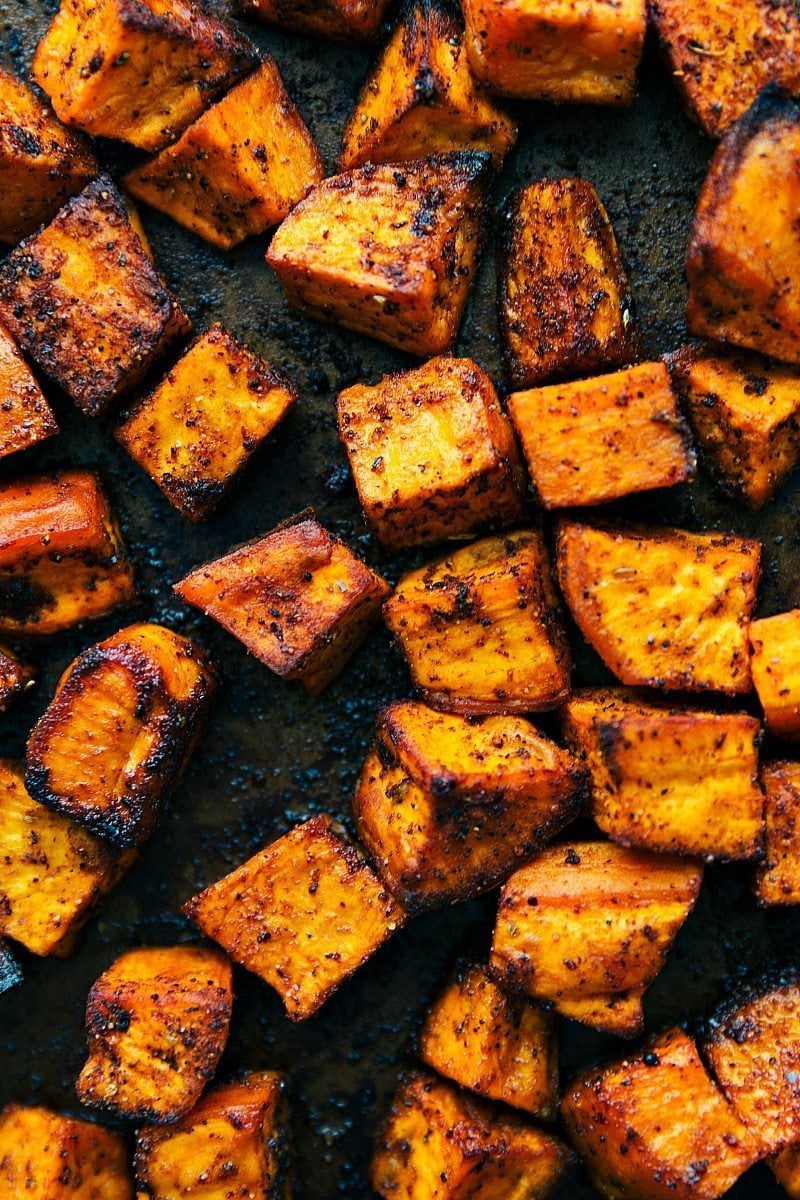 The last few times I've made the sweet potato burrito bowls, I've played around with the seasonings, the bowl additions, and the sauce to bring you this very recipe. This meal is like tacos in a bowl and, if we're being honest, I'd take these over tacos any day.
You'll start off making a seasoning mix that will get tossed with the sweet potatoes AND it will also get mixed in the final sauce that tops off these bowls. The seasoning mix has pretty standard "taco seasoning" spices, but it is so delicious and definitely worth the extra couple of minutes to assemble it.
While the sweet potatoes are getting roasted, tender, and perfectly delicious, you can make the base of these bowls: I recommend either rice or quinoa. We switch between brown rice, quinoa, and white rice for these bowls. The rice or quinoa gets mixed with a little fresh lime + cilantro which makes the ultimate taco bowl base.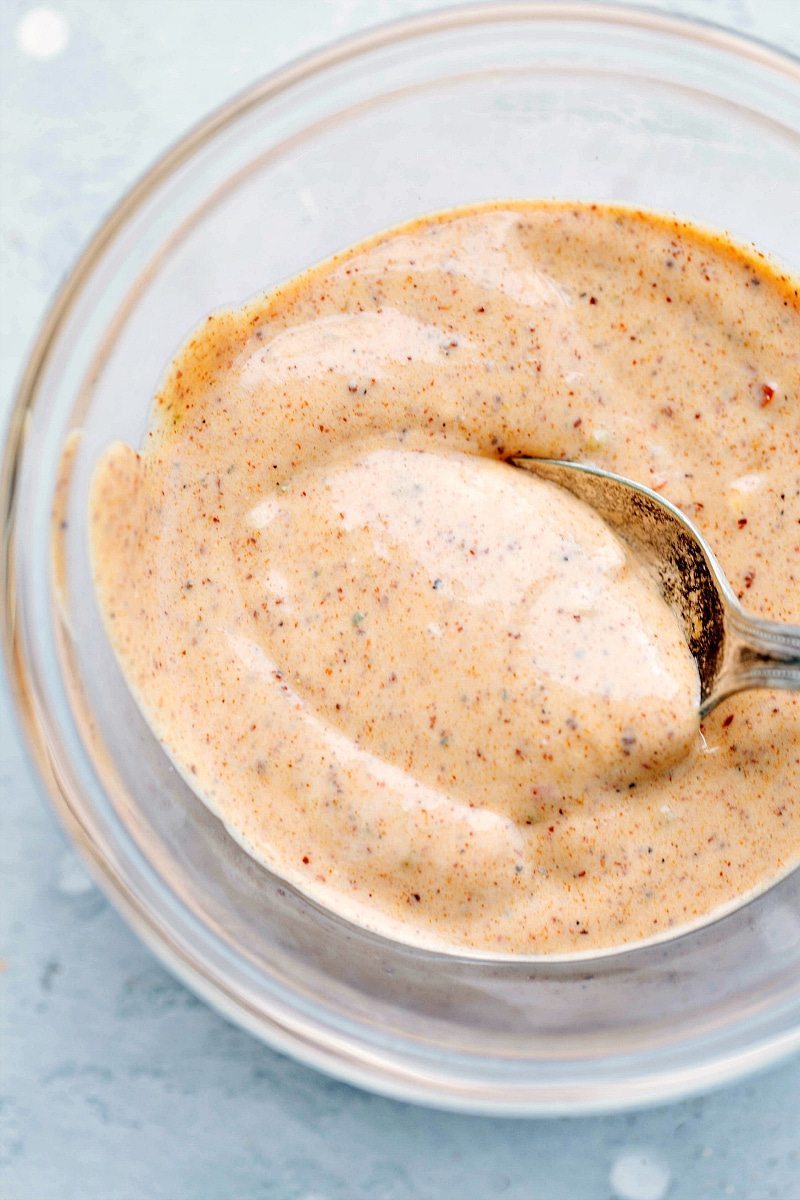 With the sweet potatoes roasted and the rice or quinoa prepared, it's just a matter of assembling the toppings for your bowl and quickly whisking together the sauce. The sauce uses the same spice mixture used with the sweet potatoes, a little lime, and some hot sauce. Whisk it together and it's ready to go! (If you're worried about spice, add the spice mixture slowly to the sour cream and taste as you add.)
The sauce is actually pretty low calorie if you use fat free sour cream. You'll be amazed how delicious and creamy tasting it is for so few calories!
As far as toppings for these sweet potato taco bowls, pick your favorite taco additions. Our favorites:
Black beans
Fire-roasted canned corn (love the flavor of fire-roasted)
Cherry tomatoes (or a diced roma tomato)
Sliced avocado (my favorite addition!)
Fresh Lime
Freshly chopped cilantro
Jalapeno
Diced Green Chiles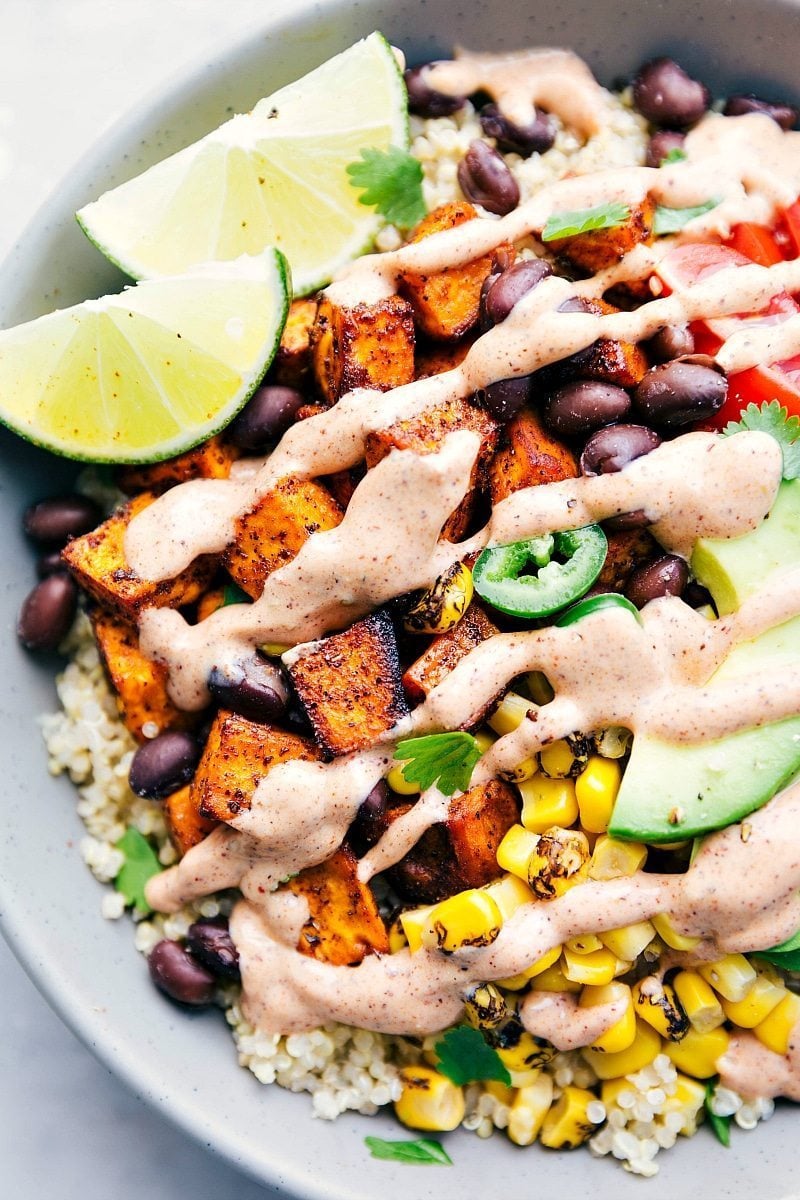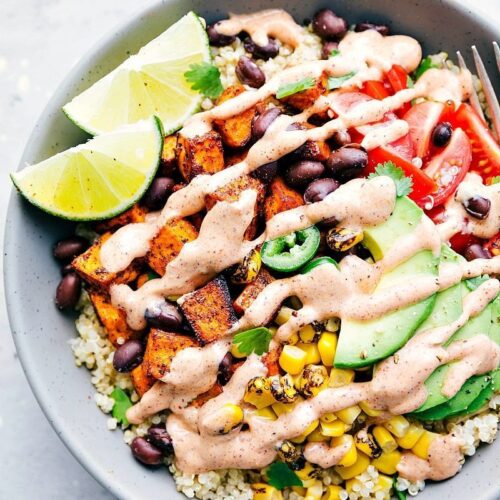 Sweet Potato Taco Bowls
These amazing & meatless sweet potato taco bowls are easy to make and packed with bold flavors
Cuisine:
Healthy, Mexican
Ingredients
1

tablespoon

chili powder

1/4

teaspoon EACH:

garlic powder, onion powder, dried oregano

1/2

teaspoon

paprika

1 and 1/2

teaspoon

ground cumin

Seasoned salt and pepper

2-3

large

sweet potatoes,

peeled and chopped (about 4.5-5 cups)

3

tablespoons

olive oil

1

can (15 ounces)

black beans,

drained and rinsed

1

can (15 ounces)

fire-roasted sweet corn,

drained

1-2

large

avocados

3-4

fresh limes,

separated

Optional toppings: fresh cilantro, jalapeno, cherry tomatoes, sweet peppers

1/2

cup

sour cream

(I use fat free)

1

teaspoon

hot sauce

(like Cholula)

1-2

large

limes

(1/2 teaspoon zest + 3 tablespoons juice)
Cilantro-Lime Rice or Quinoa
1

cup

quinoa or rice

(+ 2 cups chicken stock, chicken broth, or water)

1

tablespoon

butter

1

large

lime

(2 tablespoons juice and 1 teaspoon zest)

1/3

cup

finely chopped cilantro

Salt and pepper,

to taste
Instructions
Preheat the oven to 425 degrees F. Combine the seasoning mixture: In a small bowl, stir together the chili powder, garlic powder, onion powder, dried oregano, paprika, ground cumin and 1 teaspoon salt and 1 teaspoon pepper. Stir.

Peel the sweet potatoes and chop into bite-sized chunks. Toss the potatoes with 3 tablespoons olive oil and 1 tablespoon + 2 teaspoons of the seasoning mixture. Toss together with your hands until well coated and then bake for 15 minutes. Remove from the oven, toss around and return for another 15 minutes. Remove, toss around and if needed cook for another 5-10 minutes or until sweet potatoes are tender. Remove the tray and add the drained & rinsed black beans, drained corn, and 1 more teaspoon of the seasoning mixture. Toss everything on the tray (The beans and corn will get warm on the hot tray).

Meanwhile, make cilantro lime rice or quinoa: Bring 2 cups of water to a boil over medium-high heat. Stir in the butter and rice (or quinoa) and return to a boil. Reduce the heat to low, cover, and simmer until the rice (or quinoa) is cooked through and tender. Stir in the lime juice, lime zest, cilantro, and salt + pepper to taste.

Make the sauce: combine the sour cream, lime zest & 3 tablespoons freshly squeezed lime juice, Cholula hot sauce, and 1/2 to 1 full tablespoon* of the remaining spice mixture (or add the spice mixture to personal preference). Whisk until smooth.

Assemble: in bowls or on plates, add the rice as a base. Top with sweet potatoes, corn, & black bean mixture. Add your other desired toppings such as avocado, tomatoes, and additional cilantro. Drizzle the sauce over or serve as a side. Squeeze on some fresh lime and enjoy immediately!

For leftovers, store the sauce separately from the other ingredients.
Recipe Notes
*You'll likely have a bit extra of the seasoning mixture. I wanted to make sure you have more rather than less depending on how much you want to add to the sour cream. I love a lot of spice in the sour cream, but my family preferred less. 
The Nutrition Label below for these sweet potato taco bowls does not include optional toppings (avocado, tomatoes, extra cilantro, etc.) since that will widely vary on how you top your bowl!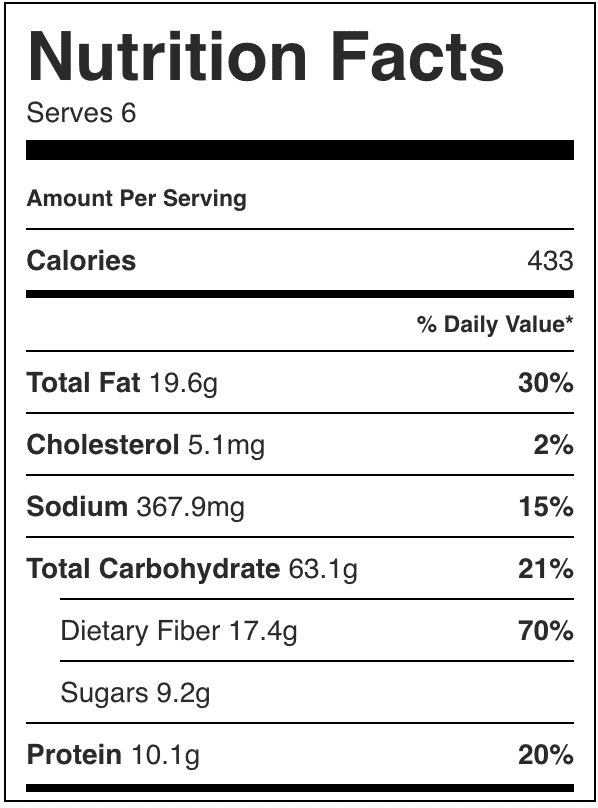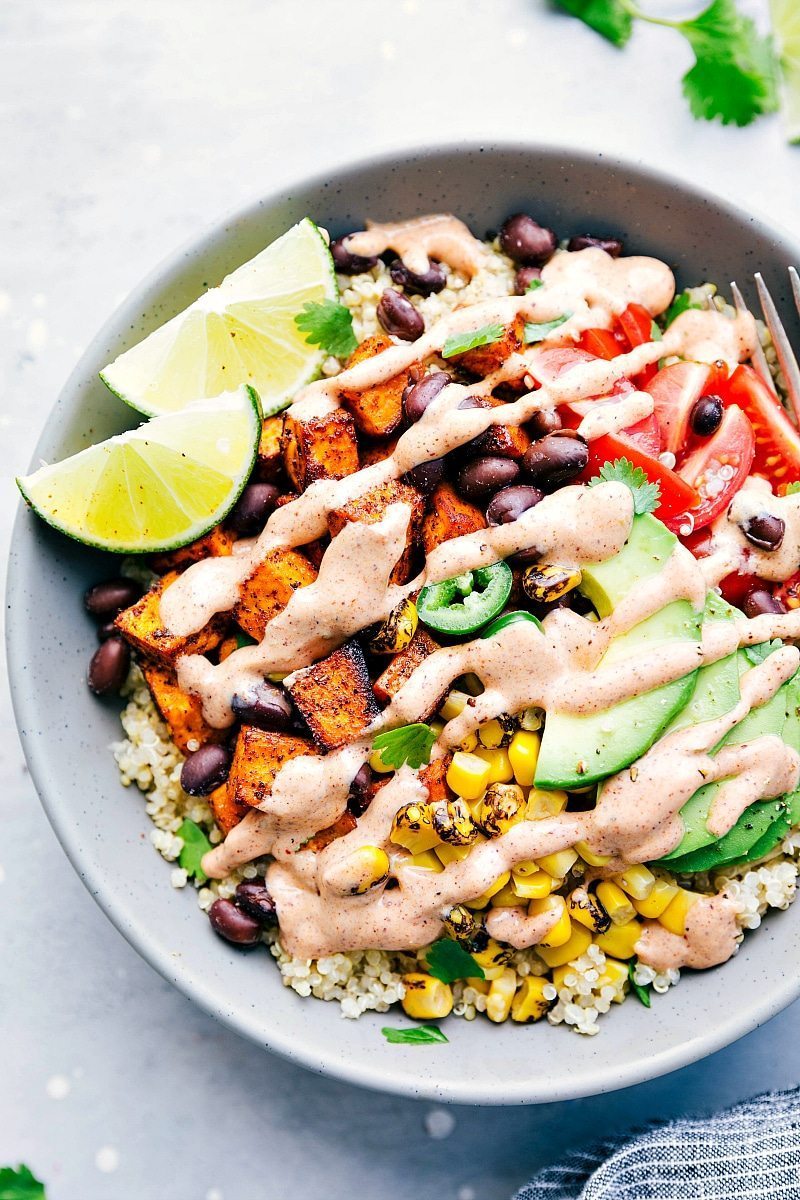 More Vegetarian Dinners: