This burrito bowl recipe with spice-rubbed chicken, cilantro-lime quinoa (or rice), beans, vegetables, and an addictive chili lime sauce is a meal you'll want to make over and over again!
Make these burrito bowls for a weekly meal prep recipe or a delicious dinner served alongside this strawberry salad, panzanella salad, or mandarin orange salad.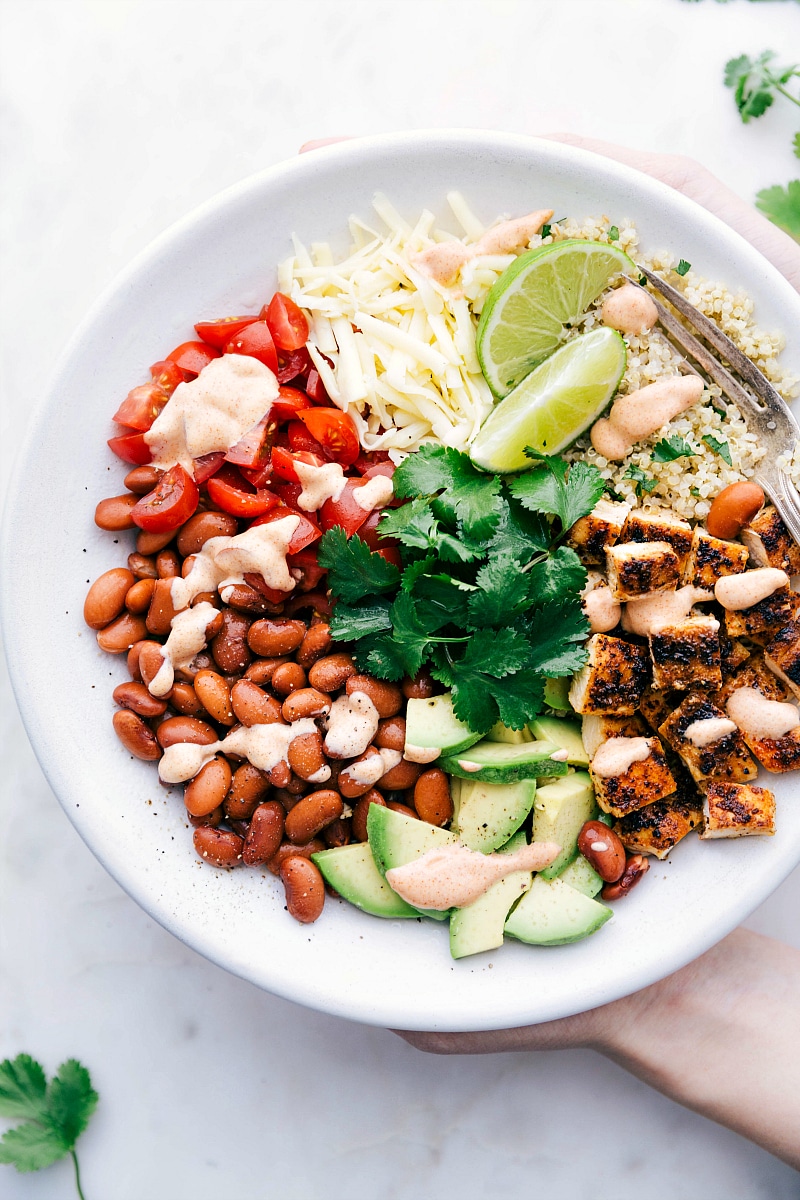 Burrito bowls are one of my family's favorite meals to eat, but if I'm honest, there is a fair amount of work that goes into this meal. That's why when I make this burrito bowl recipe, I like to make enough to meal prep the leftovers. Meal prepping is a great way to ensure you're eating healthy, and it's a real time-saver when you don't have the time or energy to make dinner at nights.
This burrito bowl recipe is quite healthy to begin with, but there are some additional modifications available to make them even healthier: reduce or omit the cheese, use an avocado-based mayo for the sauce (or omit the sauce entirely), and use quinoa for the base instead of using rice (that's how I like it best anyways).
Again the steps to make this burrito bowl recipe are a bit more involved, but the result is well-worth the work required. Here's a quick overview of the process:
How to make this burrito bowl
Prep the chicken: toss together all of the seasonings and then rub on all sides of the chicken. Make sure to slice the chicken breasts in half or pound them into even pieces before adding the seasoning blend. This ensures even cooking!
Prep the cilantro lime quinoa or rice: my secret to extra flavor here? Cooking the quinoa or rice in chicken broth or stock! Check out this helpful guide on how to cook quinoa
Assemble: fluff the quinoa or rice with a fork and top it with cooked and chopped chicken. Next, add a selection of your favorite toppings. We like pinto beans, chopped avocado, chopped tomato, more cilantro, cheese, and plenty of fresh lime. On top of it all is the delicious chili lime sauce that really puts this burrito bowl over the top!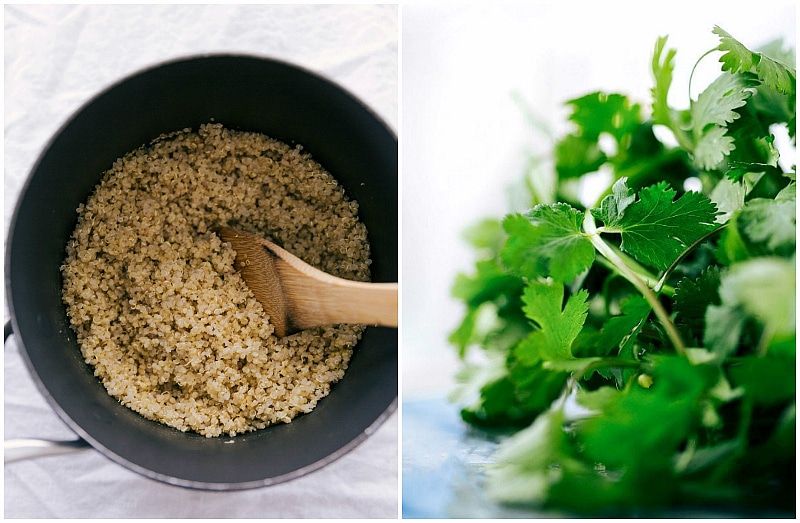 Chicken grilling tips
Generously oil your grill grates. I do this by rolling up a few paper towels, drenching them in oil (I use canola), and using tongs, rub the drenched paper towels along the grill grates. Doing this will contribute to a beautiful sear, and ensure the chicken doesn't stick to the grates.
Fully preheat your grill. I know it's hard to wait, but adding meat to a fully preheated grill will sear the surface of the meat which will give you a juicier chicken. It also allows the chicken to get a great char.
Let the cooked chicken rest, tented with foil, for 5-10 minutes before cutting in.
Not grilling the chicken? Check below for alternative cooking methods.
Alternate chicken cooking methods
Cooking times will vary depending on several factors so I always recommend using a thermometer to test your chicken as it cooks. Aim to hit exactly 165 degrees Fahrenheit. (Undercooked = unsafe; Overcooked = dry chicken)
Baked Chicken: Preheat oven to 425 degrees F. Place chicken on a baking sheet lined with parchment paper. Bake for approximately 18 minutes, flipping the chicken halfway. Remove from the oven, and loosely cover sheet pan with foil. Let the chicken rest for 5-10 minutes.
Sauteed Chicken: Heat 1 tablespoon oil in a sauté pan over medium-high heat. Add chicken breast and cook for 4-6 minutes per side until the chicken is cooked through and the juices run clear. As you saute the chicken, brush it generously with the reserved marinade. Transfer the chicken to a clean plate, and loosely cover with foil. Let the chicken rest for 5-10 minutes.
Variation Ideas
Add roasted (or grilled) corn
Use guacamole in place of the avocado
Serve with pico de gallo in place of chopped cherry tomatoes (see below)
Add roasted or raw bell peppers (see: how to cut a bell pepper)
Top the chicken and rice with a mango salsa
Looking for more inspiration? Check out what Chipotle adds to their burrito bowl recipe. (Add your favorites from the list!)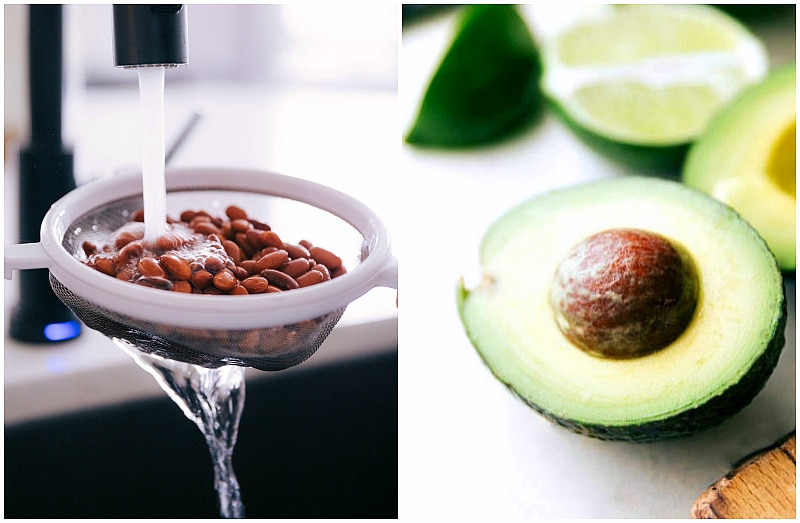 A common question I've seen if you're planning to meal prep with this burrito bowl recipe:
Do you eat burrito bowls cold?
While you CAN eat burrito bowls cold, they're definitely best warmed through. If you're making these burrito bowls fresh, they'll be warm already. However, if you're enjoying this burrito bowl recipe as a meal prep option, check the notes above for how to best store these burrito bowls to easily re-heat.
How many calories are in a burrito bowl?
It's hard to exactly quantify a caloric value to a burrito bowl because there is a lot of variance with how much and what you top your bowl with. That said if you use my exact recipe, each serving comes to 453 calories (4 servings total).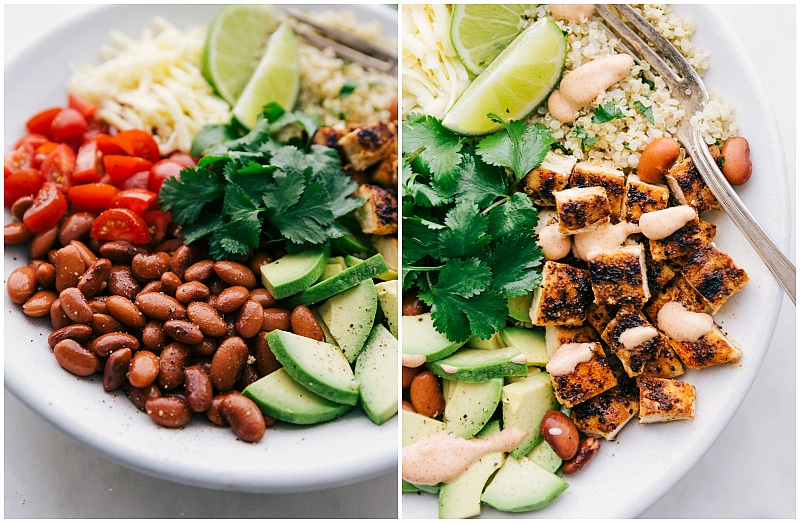 Other recipes you'll love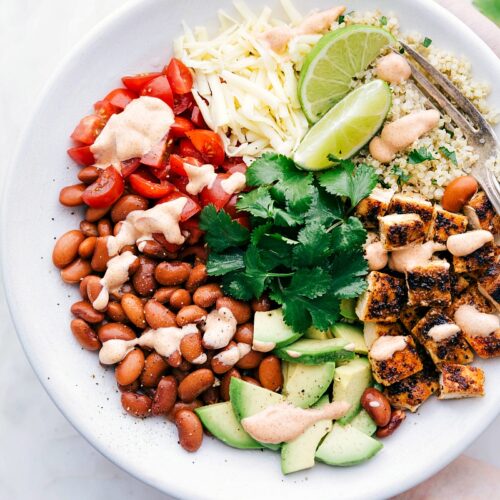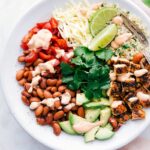 Burrito Bowls
This burrito bowl recipe with spice-rubbed chicken, cilantro-lime quinoa (or rice), beans, vegetables, and an addictive chipotle sauce is a meal you'll want to make over and over again!
Keyword:
burrito bowl recipe
Ingredients
Chicken
1

pound

boneless skinless chicken breasts (or thighs)

1

teaspoon

ground chili powder

(Note 1)

1

teaspoon

garlic powder

1/2

teaspoon

ground cumin

1/2

teaspoon

dried oregano

Fine sea salt and freshly cracked pepper
Cilantro Lime Quinoa (OR Rice)
1

cup

white quinoa OR use white basmati rice

2

cups

chicken broth, stock, OR water

1

large

lime

2-3

tablespoons

chopped cilantro
Toppings
1

can (15 ounces)

pinto beans

1

cup

diced cherry tomatoes (OR quick pico de gallo)

1

large

avocado,

diced

1/2

cup

freshly grated monterey jack cheese

Additional limes/cilantro
Sauce
1/2

cup

full fat mayo

1-2

large

limes

(3 tablespoons juice and 1/2 teaspoon zest)

1/2

teaspoon

chili powder

(Note 1)

1/4

teaspoon EACH:

ground cumin, paprika

1

teaspoon

Sriracha or hot sauce
Instructions
Chicken
Remove excess fat from the chicken breasts. Slice the breasts in half horizontally and pound halves to an even thickness (this helps them cook evenly) Add the chili powder, garlic powder, cumin, oregano, 1 teaspoon salt and 1/2 teaspoon pepper to a small bowl. Stir. Pat chicken dry with a paper towel and then sprinkle and press this seasoning mixture evenly onto all sides of the chicken pieces.

(Read Note 2) Preheat a grill to medium-high heat (about 400 degrees F.) Generously oil the grill or ridges of grill pan (I drench a rolled-up paper towel in vegetable oil and, holding it with tongs, rub it over the grill grates.)


Place the chicken onto the grill and grill 5 to 6 minutes per side, until the chicken is cooked. Remove the chicken from the grill and let rest for 10 minutes. Chop the chicken into small, bite-sized pieces.
Quinoa/Rice
Cook rice or quinoa in chicken broth, stock, or water. Once cooked, fluff with a fork and add the juice of a lime (to taste; I add all of it) and cilantro to taste.
Assembly/Toppings
Separate the rice or quinoa and chopped chicken into 4 separate plates or bowls. Add your favorite toppings evenly among the bowls. Add the sauce and enjoy!

For the sauce: whisk all sauce ingredients together. Season to taste with salt and pepper.
Recipe Notes
Note 1: for a smoky flavor use chipotle chili powder
Note 2: for alternate cooking methods check "Alternate chicken cooking methods" in the blog post.