Bell peppers are used in so many dishes from salads to pizzas and casseroles to soups so you'll want to know the most efficient way to cut a bell pepper. This guide will teach you how to navigate the stems, ribs, seeds, & skin to get a bell pepper cut exactly how you need it.
Once you learn the basics, you can cut a bell pepper into so many different ways from thin to thick strips, small or large chunks, diced pieces, rings, etc. After the step-by-step tutorial, make sure to check out some of the TOP recipes from my website that use bell peppers. Below the recipes are some FAQs (and answers) concerning bell peppers.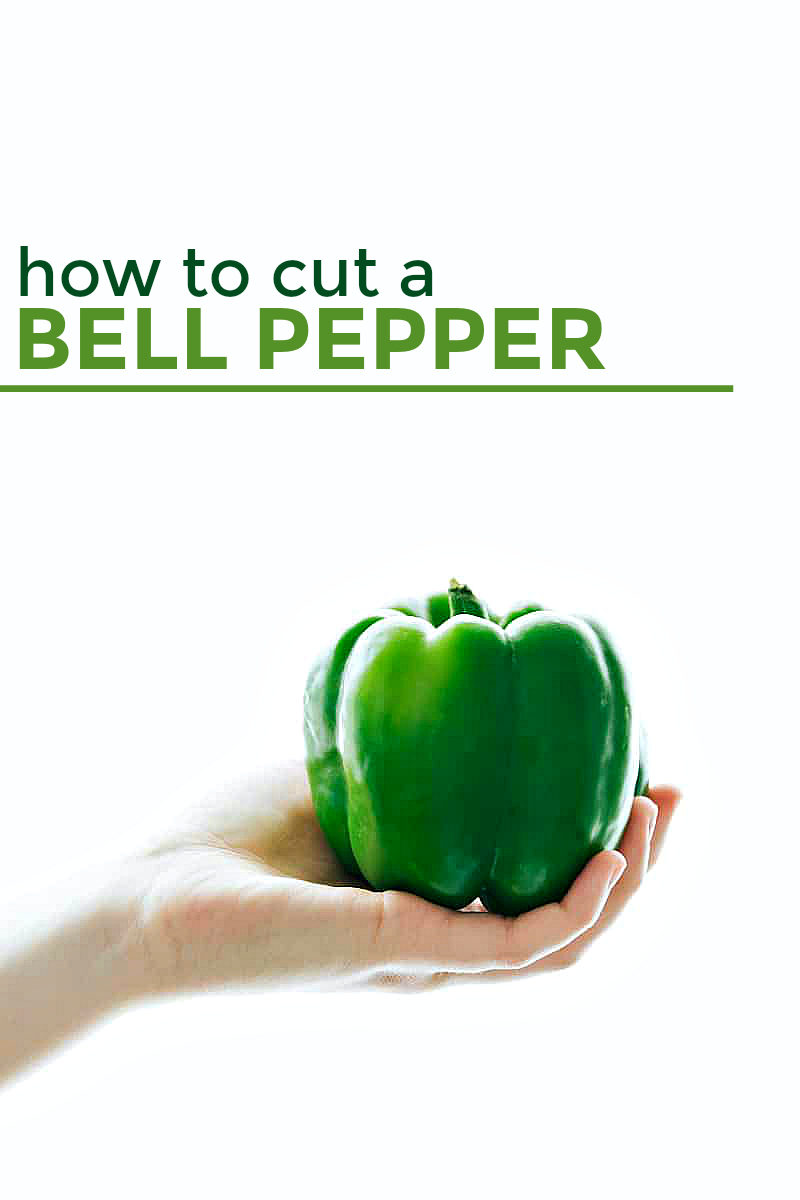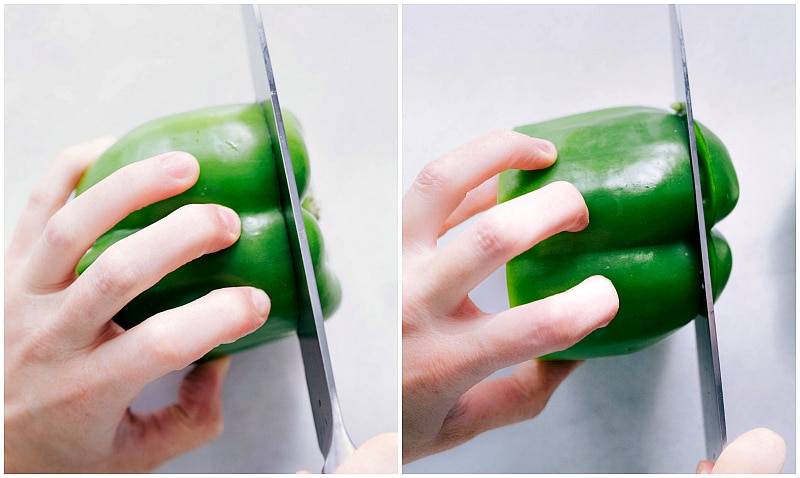 Step One: Cut off the Ends
Place your washed and dried bell pepper on a cutting board. Use a sharp knife to cut off about 1/2 inch from the stem end. Next cut about 1/2 inch from the bottom.
You can use the rounded bottom and tops for quick snacks or in another recipe where the shape/size of the bell pepper doesn't matter.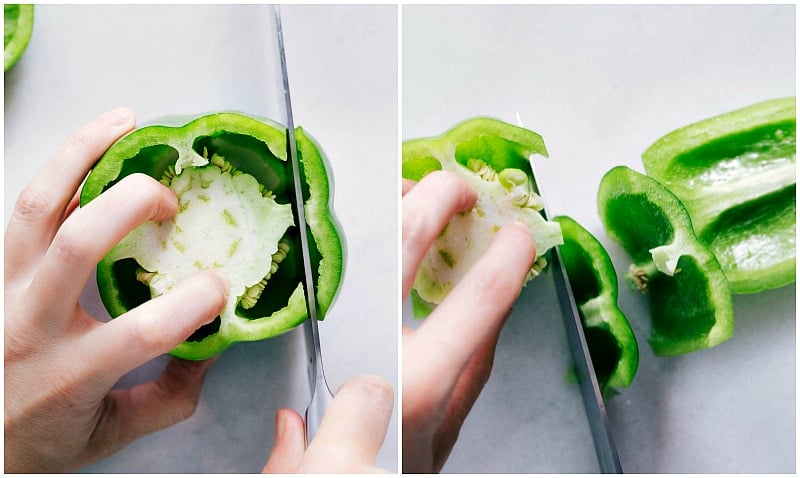 Step Two: Cut off the Sides
Now that you've cut off the bottom and top, you can set the pepper up on your cutting board securely. Here's where my tutorial is a bit different than most: instead of cutting the bell pepper into one long strip and using a knife to remove the core/seeds we are cutting off the four (or three*) sides. I've found this technique to be faster and more efficient when removing the ribs/seeds.
In five cuts, you'll have four sides of the pepper and one large core with seeds attached. Discard the core and seeds.
*P.S. Myth or Truth? Female peppers have only 3 bumps/sides and are better for snacking while male peppers have 4 bumps/sides and are better for cooking. Read more here.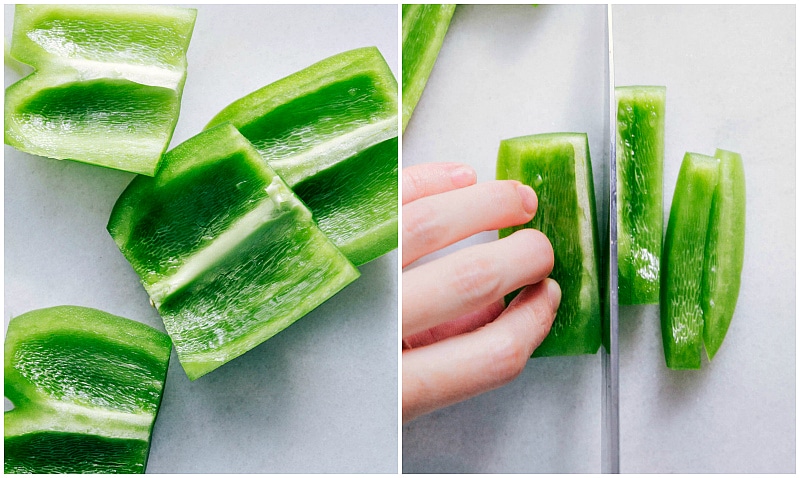 Step Three: Cut into Strips
You now have three or four sections (sides) of the cut bell pepper. Take each section, lay skin-side down on the cutting board, and use a sharp knife to cut into strips. Depending on the recipe you can cut these strips extremely thin OR thick.
For snacking, the thickness of strips are best moderately thin, just over 1/4th inch.
If you are going to be cutting the strips into cubes, be aware of how thick you want the cubes and cut the strip's thickness accordingly.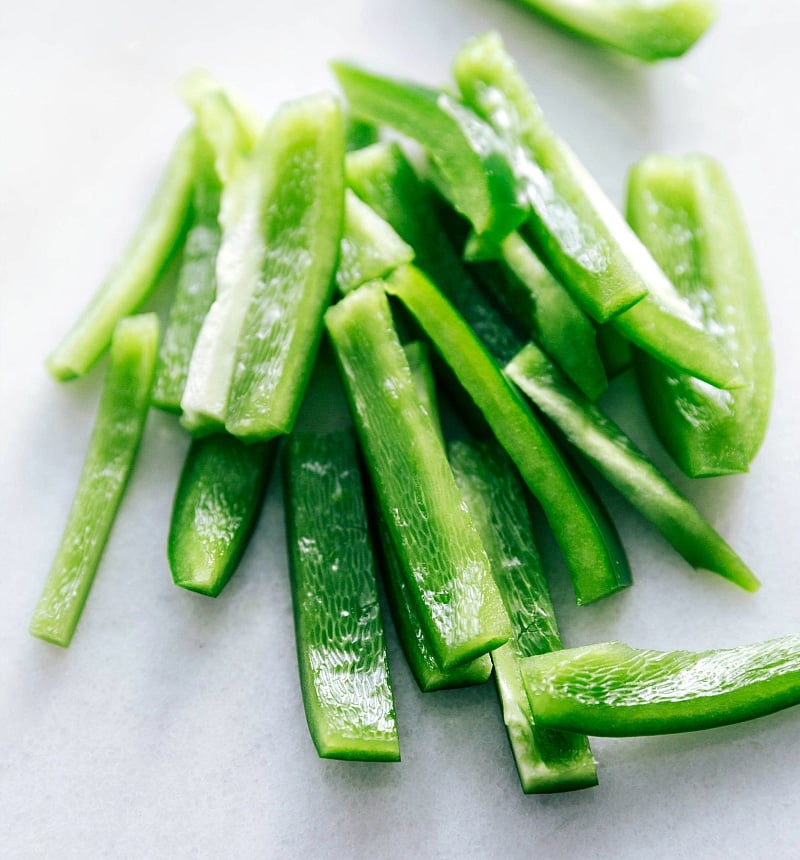 Step Four: Use the Strips OR Cut Into Cubes
Thick cubes: cut thick strips 2-4 times
Thinner cubes: cut medium size strips, 4-6 times
For a DICED pepper: follow steps 1-2 and then for each section of bell pepper make parallel slits to your desired width. Leave 1/4th of one end of the pepper intact. Rotate the piece 90 degrees and then cut those strips into very small cubes.
Other Cuts:
How to cut bell peppers into a ring:
Complete step one. Run your knife around the inside of the flesh to cut away the core and seeds. Discard. Lay the bell pepper on its side and thinly slice it into rings.
How to cut mini peppers:
Cut (washed and dried) mini peppers in half lengthwise and remove the small core. Then prepare as necessary (strips, cubes, dice, etc.)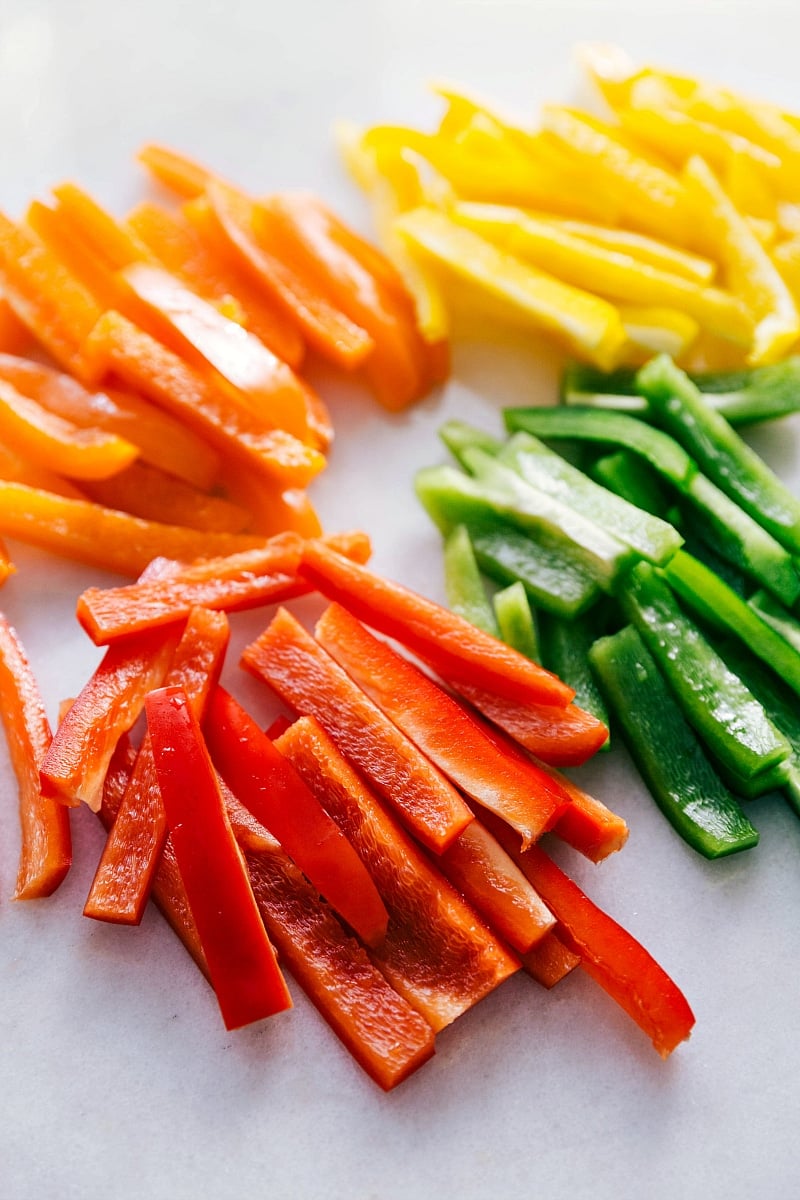 Step Five: Use your Perfectly Cut Peppers
Either snack on the peppers with a good veggie dip or use the seasoning mix on this roasted vegetables recipe to toss with peppers and roast as a delicious side dish. To incorporate your cut peppers into meals, check out some of the top recipes from my website that use bell peppers:
Here are some of our favorite recipes using bell peppers: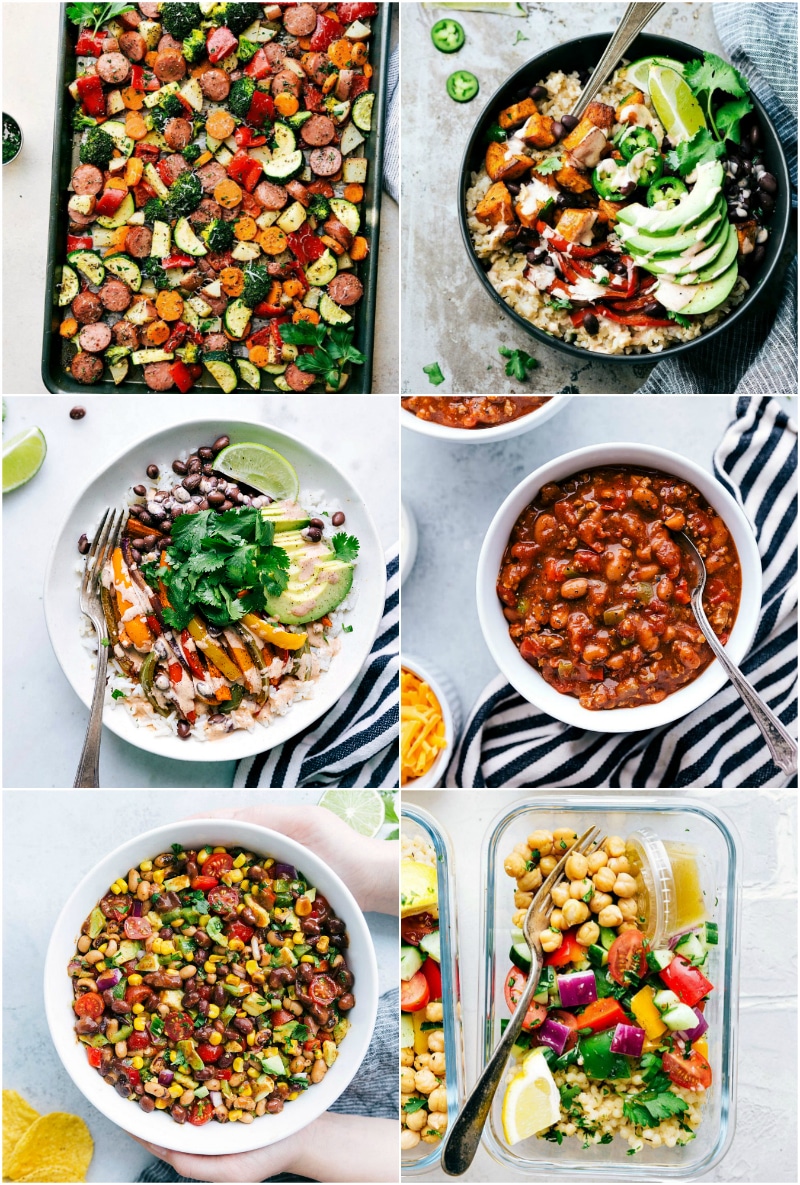 (from left to right)
Italian Sausage and Veggies (Reader FAVORITE!)
Crockpot Chili (RAVE reviews!)
Couscous Salad (Greek)
How to Cut a Bell Pepper: FAQS
What is the difference between bell peppers?
Green peppers are less sweet and slightly more bitter than yellow or orange peppers. Red bell peppers are the sweetest.
Is a bell pepper and capsicum the same?
It depends on which part of the world you are living in and what type of taste you are expecting. More info here.
Which bell peppers are good for cooking?
Bell peppers are amazing raw (especially with a good veggie dip!) and they are great for cooking. As a general rule: the more colorful, sweeter peppers (red/orange) are better for eating raw and the green pepper, with a less sweet taste, is better for cooking.
Is it okay to eat raw bell peppers?
Yes, definitely!
How do you keep peppers fresh after cutting?
Store cut peppers in plastic wrap or in a plastic bag for up to 2 days in the fridge. Bell peppers do have a tendency to get a little slimy once cut so wrap them in a sheet of paper towel to prevent that.
How do you select the best bell peppers?
At the grocery store look for a pepper that feels firm and has a smooth skin. Look for peppers that have vivid color (especially around the stem), minor blemishes, and no soft spots. Choose peppers that feel heavy for their size; peppers that seem light may have been picked too early or lost a lot of their moisture.