The absolute BEST EVER Dessert Strawberry Smoothie — a "Jamba Juice Copycat" recipe made dairy-free.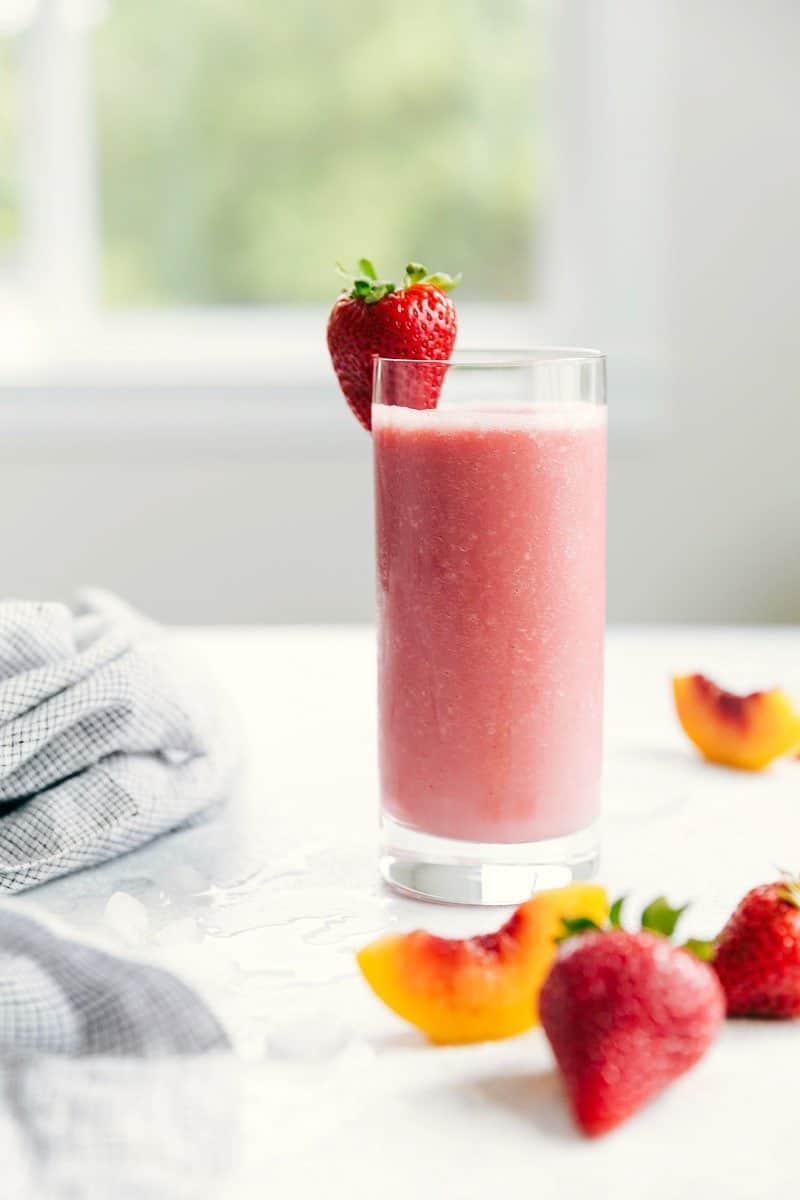 I'm a chocolate lover through and through. Whenever we got out for treats as a family, my first pick is some sort of chocolate ice cream or chocolate milkshake. My toddler is the exact opposite and loves everything vanilla. Except, he can't really say the word "vanilla" so he calls it "white ice cream" or a "white milkshake."
Because he always calls vanilla treats "white" treats, I've found myself calling them the same thing occasionally. And a couple of weeks ago, when we went out for treats as a family, I ordered a small "white milkshake" in the drive-thru.
There was a pause on the other end….."Um…You want a VANILLA milkshake?" Haha. Yes. (Palm to forehead).
So, my order of choice is chocolate. The toddler always wants vanilla and the husband will always choose strawberry. I really am not a fan of strawberry milkshakes and the husband does not like chocolate. Which also means we can never share drinks… (Have you seen this video? Totally me.)
One of the days we were all out together we passed a Jamba Juice and decided to stop there for a treat. I thought it might be interesting with all our different taste preferences, but we all decided on sharing two fruity smoothies. And amazingly, we all went crazy for the smoothies. No chocolate, no vanilla, and not really a pure strawberry one either, but we were all equally obsessed. After a little sticker shock from those smoothie prices, I knew I needed to create my own at home.
And THIS smoothie, right here, is my ALL TIME favorite strawberry smoothie. I'm being completely honest with you — I would pick this drink over a chocolate milkshake. Really, though, this smoothie is insanely good.
It's also made a bit healthier and dairy-free. I'm not at all claiming this drink to be healthy, but I do think it's a bit better than the Jamba Juice drinks.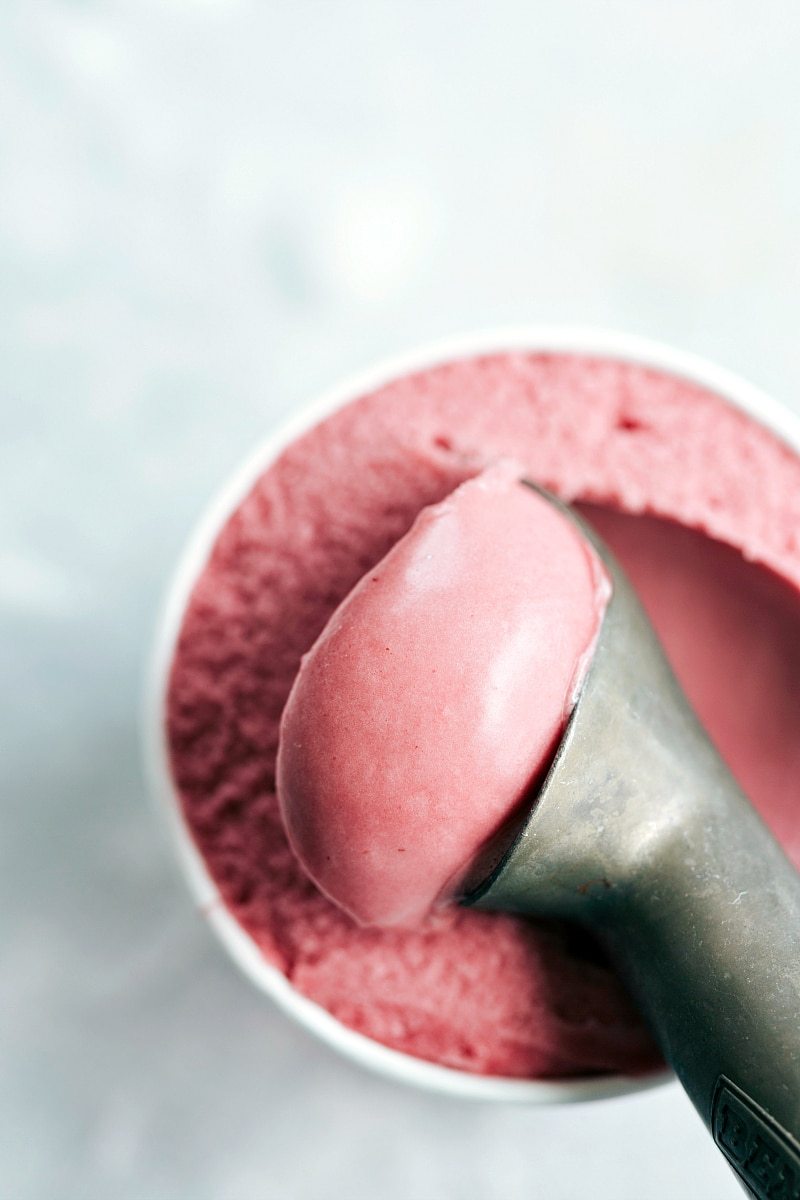 This drink is sort of a "Jamba Juice" copycat recipe — it's closest to their "Carribean Passion" drink (our absolute favorite!). Overall, it does taste very close to how most of their smoothies taste. The difference between this and the Jamba recipe is the removal of dairy. I use the Silk Protein Nutmilk and sorbet to keep it dairy-free. That said, if you aren't worried about removing dairy from your diet, you can use orange sherbet in the place of the sorbet and I'm pretty certain you'll have an identical drink to Jamba.
More delicious smoothies: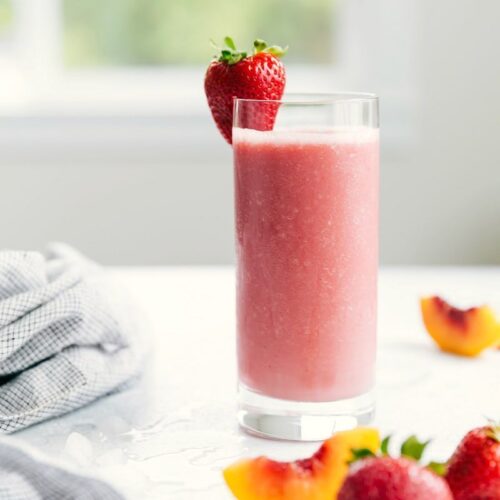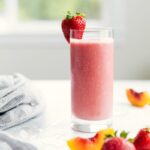 Dairy-Free Strawberry Smoothie
The absolute BEST EVER Dessert Strawberry Smoothie -- a "Jamba Juice Copycat" recipe made dairy-free.
Ingredients
1

cup

wildberry punch frozen concentrate,

completely thawed

1/4-1/2

cup

almond milk (add to desired consistency)

8

ounces (1/2 of a 16 ounce container)

strawberry sorbet

(next to sherbet/ice cream in most grocery stores)

1

cup

frozen strawberries

1/2

cup

frozen peaches

1/2

cup

ice

Optional: fresh strawberries for garnish
Instructions
In a large and very powerful blender, add the ingredients in this order: the frozen concentrate (completely thawed; measured when thawed), 1/4 cup Protein Nutmilk, sorbet, frozen strawberries, frozen peaches, and ice.

Blend until smooth adding the additional 1/4 cup milk as needed to smooth the consistency.

Divide evenly among 2 cups (large serving) or 4 cups (treat size serving) and if desired, add a strawberry to the rim of the glasses. Enjoy immediately.