Special thanks to Premier Protein for partnering with me this year to bring you delicious recipes like this cookies and cream dip!
A delicious and protein-filled cookies and cream dip with only FOUR ingredients!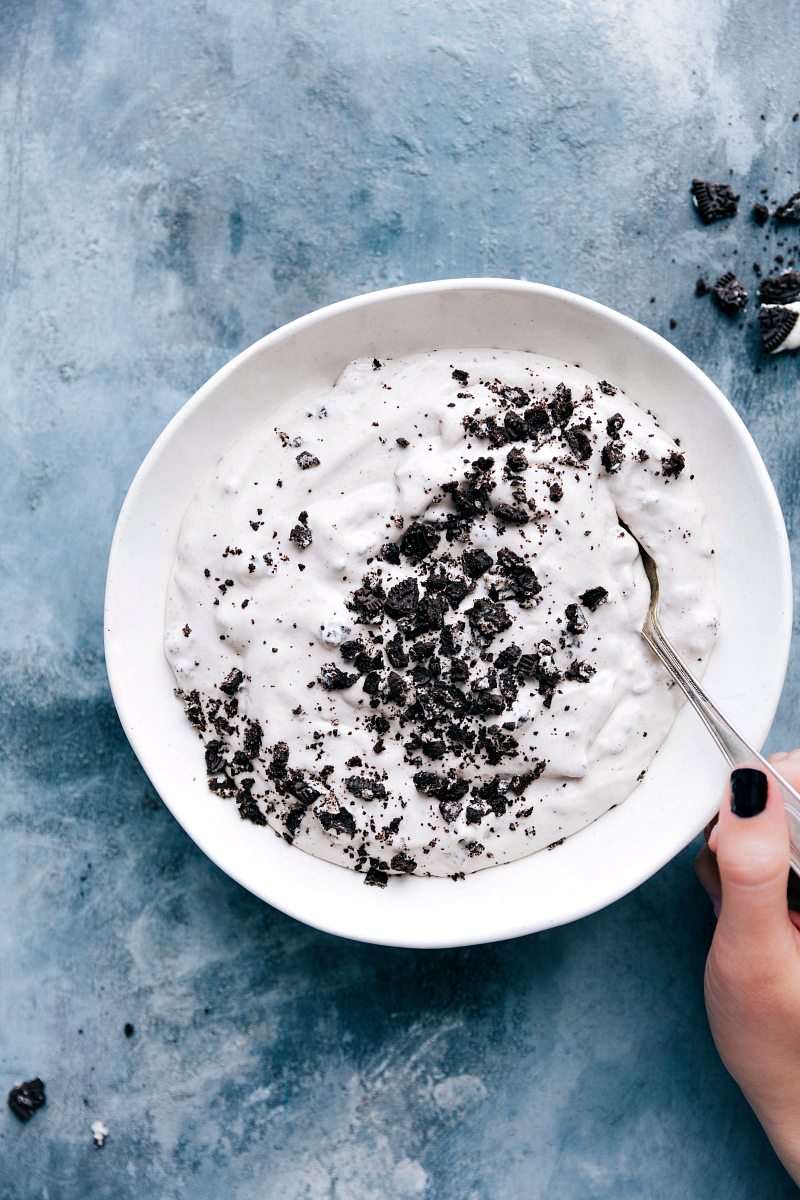 While I was in college studying "exercise and wellness" I worked part-time at the University's wellness center where I helped to develop and implement health challenges for the University's faculty. As part of that work, we maintained a blog/website that shared healthy recipes, nutrition and health tips, exercise routines, etc. I loved that job and the work I did there was a big part of why I started Chelsea's Messy Apron almost 5 years ago.
One of the first recipes I posted on the wellness blog was my ultimate chocolate "milkshake". I've made this shake ever since I was in high school (it was how I curbed the cravings for a real chocolate milkshake when I was working towards being healthier), and I couldn't wait to share it with others.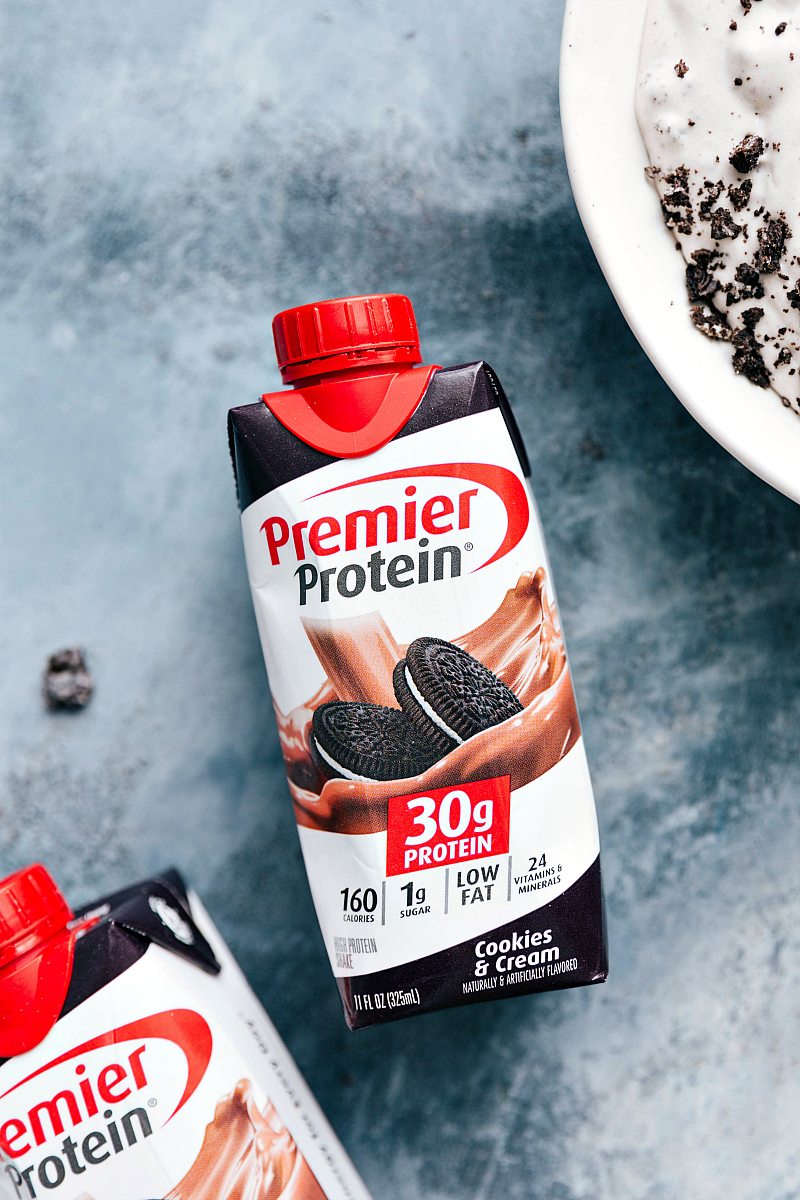 The recipe? 1 Chocolate Premier Protein shake, a banana, and about a cup of ice. Pretty complex, I know:) I remember taking photos of my creation and being so excited for it to go "viral" across the internet and change everyone's life like it did mine. But…that never happened…(Who knew blogging was so hard, right?)
Despite this shake's simplicity, and the fact that it never took over the internet, it's still a drink I continue to make to this day. And now my little boys love it just about as much as I do:)
So when Premier Protein reached out to me about creating some recipes with their protein shakes, I responded with an emphatic yes. I LOVE with these protein drinks. They're the best tasting protein drinks I've tried, and the nutritional components in these drinks have really helped me (as well as so many others) stick to their health goals.

You've probably guessed that their chocolate flavor is my favorite, but a very close second is their cookies and cream flavor. It's rich, creamy, and you really wouldn't guess it's packed with protein, low on sugar, low fat, and filled with vitamins and minerals. (It tastes like a healthy oreo milkshake!)
I've taken the cookies and cream shake and added just a few other ingredients to make a delicious and healthier (than most recipes) cookies and cream dip! Plus with only 4 ingredients it couldn't be easier to make. You simply whisk together the protein shake, milk, and pudding mix, then fold some whipped cream into it all. Chill this mixture for an hour to overnight and then you can stir in some chopped cookies or enjoy it plain (both are great!).
We like dipping fresh fruit (strawberries are the best!) in this dip, but there are lots of healthy options that would go great with this cookies and cream dip.
ALSO I have great news for those of you that aren't huge fans of chocolate/cookies and cream, this dip recipe works with any of the Premier Protein flavors! You can use their peaches & cream, bananas & cream, strawberries & cream, caramel, chocolate, or vanilla shake as the base of this recipe! So get creative and enjoy!

More Easy and Healthier than most Dessert Recipes:
Gluten Free Peanut Butter Oatmeal Cookies
For more delicious recipes, follow along on Pinterest, Instagram, Facebook, and YouTube
Premier Protein shakes are available at most major retailers; for more information (including where you can purchase these!)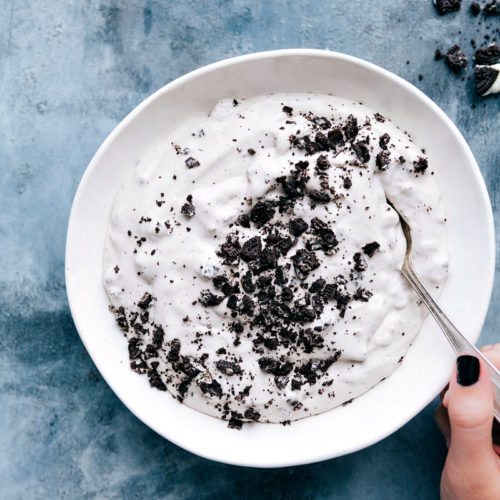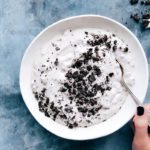 Cookies and Cream Dip
A delicious and protein-filled cookies and cream dip with only FOUR ingredients!
Ingredients
1

Protein Shake (11 ounces)

Premier Protein Cookies and Cream

1/2

cup

lowfat milk

(not skim)

1

package (3.4 ounces)

vanilla or white chocolate pudding mix,

dry

1

container (8 ounces)

Truwhip (a healthier frozen whipped topping)

completely thawed

Optional: 3/4 cup crushed low-fat chocolate sandwich cookies

Fresh fruit such as strawberries for dipping
Instructions
In a large bowl, add the cookies and cream protein shake and the milk. Slowly add in the pudding mix while whisking constantly. Whisk for 2-3 minutes.

Add in the thawed whipped topping and fold to combine. Don't overmix. Cover the mixture tightly and place in the fridge for at least an hour and for best results, overnight.

When ready to serve, crush the cookies or give them a coarse chop and stir them into the mix (don't add crushed cookies to anything you'll have leftover or they get soggy!).

Serve the dip with fresh fruit and enjoy!