An easy and quick BBQ chicken salad loaded with fresh ingredients: tomatoes, avocado, corn, black beans, red onion, and cilantro. This salad has a quick "shortcut" chicken and the best creamy cilantro ranch dressing.
Today I'm sharing how to make this salad, some short-cut ideas (how to make this recipe even quicker!), and listing some of the health benefits of this salad!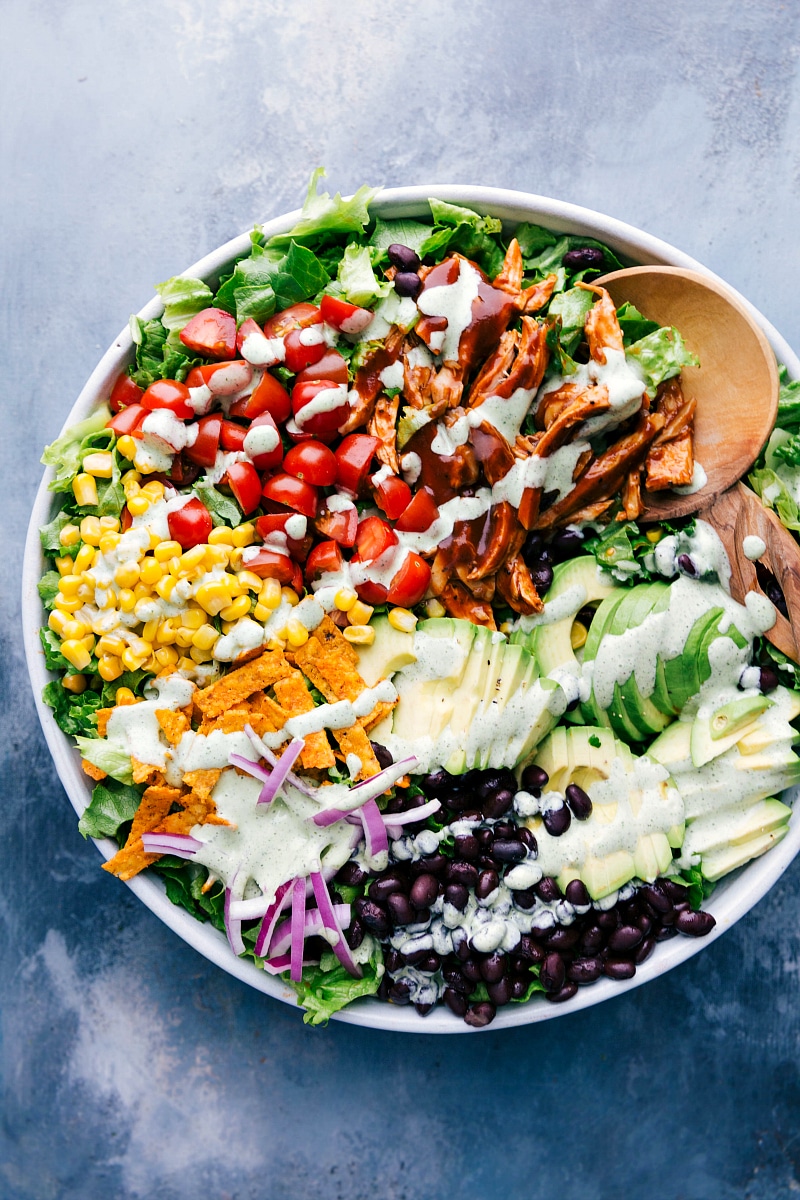 BBQ chicken salad
BBQ chicken salads are always my favorite to order when going to a soup, salad, & sandwich cafe. I love the flavors, ingredients, and the textures.
This salad is based off one of my favorites at a local cafe; they use similar ingredients and then top the salad with a creamy cilantro ranch dressing. As I worked to "copycat" that dressing recipe, we ended up liking this recipe even better! It's fresh, creamy, and loaded with flavor. Thank you cilantro 🙂 If you're looking for a super traditional BBQ chicken salad, you can always use a homemade ranch dressing (or store-bought ranch) instead. If you opt for a store bought dressing, I recommend grabbing the freshly made ones typically found in the produce section (such as Marie's, Litehouse, etc.).
Although, if you like cilantro, skip the plain Ranch, you've got to try this recipe!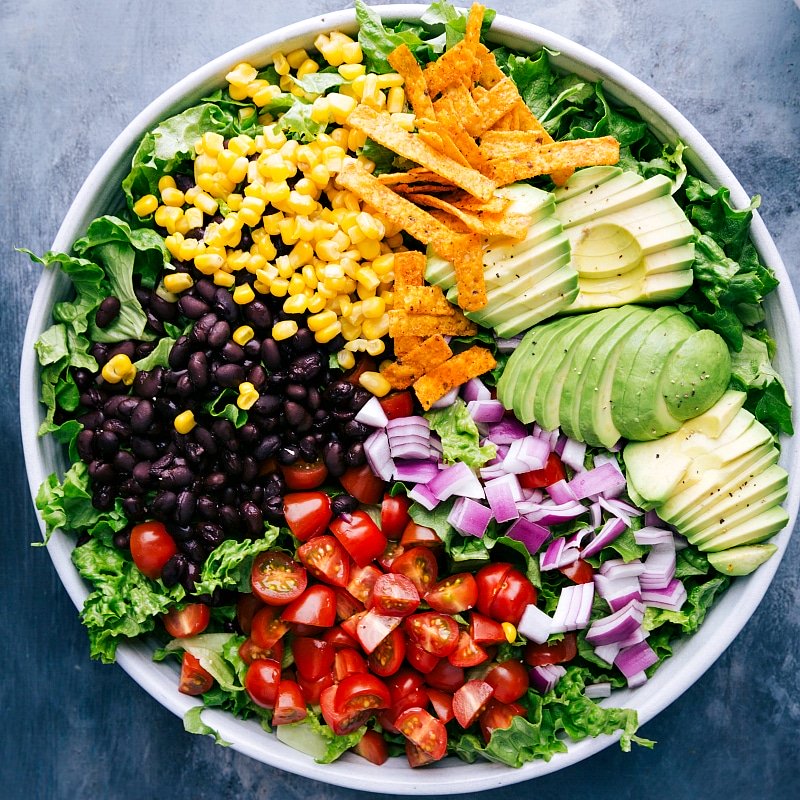 What to put in this healthy salad:
This BBQ chicken salad is loaded with good-for-you ingredients. Below I'm sharing some of the ingredients that work together to make this a healthy and wholesome salad. I'm also listing a few health benefits for each ingredient; add more or less of the ingredients in your salad depending on your specific health needs.
Chicken: a great source of low-fat protein, vitamin b6, and other minerals.
Avocado: great source of vitamins and provide good omega-3 fatty acids
Tomatoes: major dietary source of antioxidant lycopene which has been linked to reduced risk of cancer & heart disease
Black beans: filled with fiber, potassium, folate, and lack of cholesterol which are all components to help support heart health.
Corn: preserves healthy skin, enhances energy, and reduces the risk of anemia (helps produce red blood cells in the body)
Red onion: contains cancer fighting compounds and is loaded with antioxidants.
Cilantro: loaded with vitamins and minerals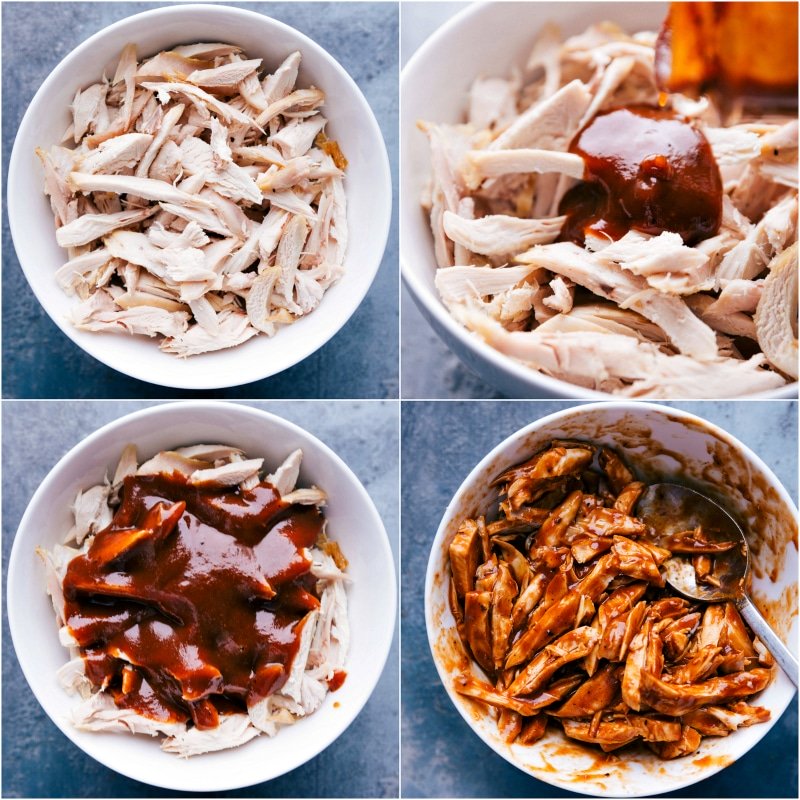 Shortcut ideas
Rotisserie chicken: using rotisserie chicken is a huge time saver! And speaking of a quick prep time, you can buy rotisserie chicken meat that has already been pulled from the bones and shredded to make this salad even faster.
Pre-made BBQ sauce: using store-bought BBQ sauce is also a huge time saver (especially with the rotisserie chicken — it takes only minutes of prep time!). If you want to make your own or have some leftover, then by all means use it! I highly recommend Stubbs or Baby Rays in this recipe (not sponsored).
Dressing: the dressing is pretty quick to whip together, but if you're in a pinch I recommend Bolthouse's Cilantro Avocado dressing (not sponsored). It's the most similar to the homemade dressing I'm sharing in the recipe card.
Guacamole: if you don't have the time to chop up an avocado or can't find a ripe one, store-bought guacamole will work in a pinch. You'll still get that creamy element and flavor from the guacamole.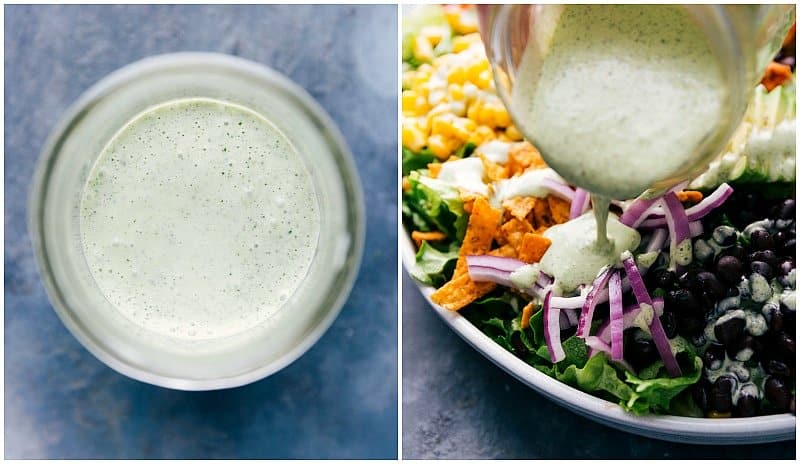 Make ahead & storage
This salad doesn't sit well once dressed, but it can be prepared, made ahead, and stored as long as ingredients are stored separately.
The dressing can be made ahead of time (and is even better after sitting for a few hours in the fridge!) Dressing stays good for 5-7 days in an airtight container in the fridge.
If you plan to have leftovers, don't dress all of the salad. Keep ingredients separate and toss together right before enjoying.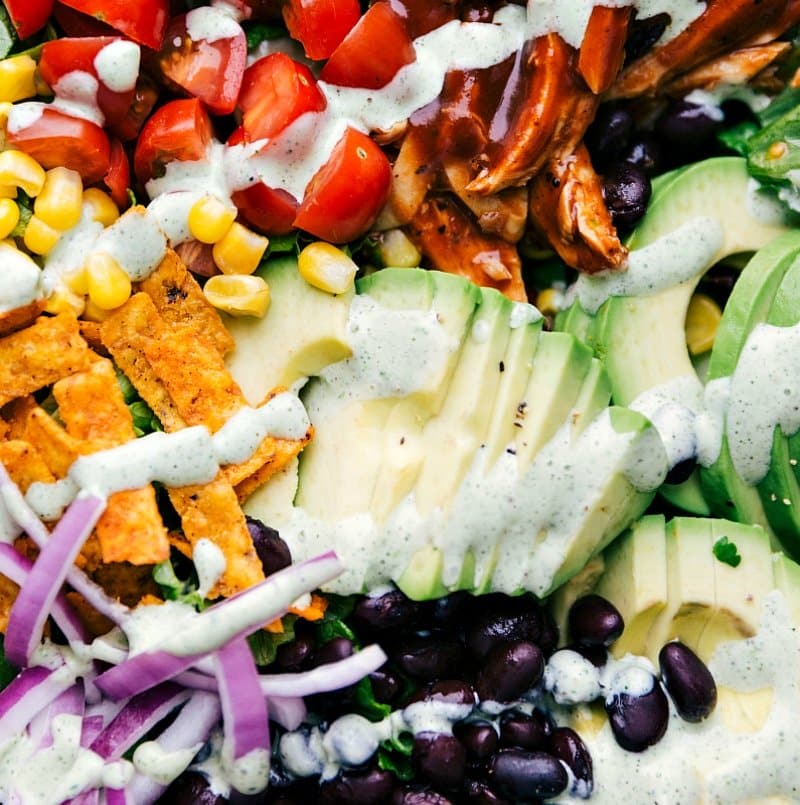 More salad recipes: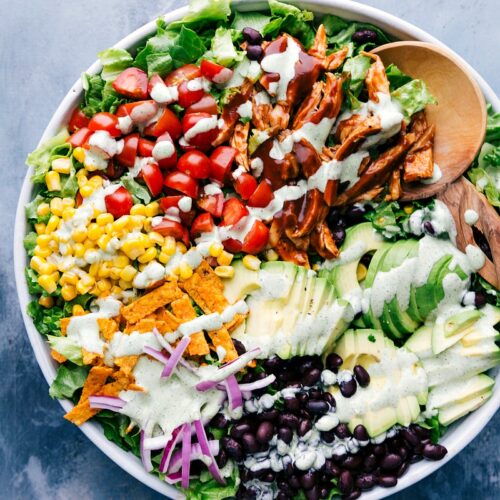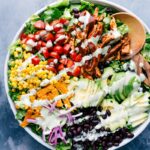 BBQ Chicken Salad
An easy and quick BBQ chicken salad loaded with fresh ingredients: tomatoes, avocado, corn, black beans, red onion, and cilantro. This salad has a quick "shortcut" chicken and the best creamy cilantro ranch dressing.
Keyword:
bbq chicken salad
Ingredients
Chicken
2 and 1/2

cups

rotisserie chicken,

shredded

1/2

cup + 2 tablespoons

Stubbs (or similar high quality) BBQ sauce
Salad
1

head of green lettuce

(~8 cups lightly packed salad)

1

cup

black beans,

drained & rinsed

1

cup

frozen corn,

(or use canned southwestern corn)

1

cup

grape tomatoes,

halved

1/4

cup

chopped cilantro,

finely chopped

1/2

cup

red onion,

diced

1

large

ripe avocado

Optional: cheddar cheese, store-bought tortilla strips
Dressing
3/4

cup

cilantro,

gently packed in to measure (~1/2 of a large bunch)

1-2

large

limes

(2 tablespoons lime juice and 1/2 tsp. zest)

2

tablespoons

prepared ranch mix

(dry, don't prepare)

1/2

- 1 full

jalapeno

1

teaspoon

minced garlic

1/2

cup

regular full-fat mayo

1/2

cup

buttermilk

Salt and pepper,

to taste
Instructions
DRESSING: (Note 3) Combine all of the ingredients: 3/4 cup cilantro, zest and juice a lime to get 1/2 teaspoon zest and 2 tablespoons lime juice, 2 tablespoons dry ranch mix, 1/2 to 1 full jalapeno (remove seeds; use less for less spicy), 1 teaspoon minced garlic, 1/2 cup mayo, 1/2 cup buttermilk, and salt and pepper to taste (1/2 teaspoon salt and 1/4 teaspoon pepper is what I use) into a miniature powerful blender. I use Blendtec Twister jar. Blend until smooth. Taste and adjust any ingredients to personal preference. Store in the fridge to chill and allow flavors to meld/deepen while preparing the rest of the salad.

SALAD: Chop the lettuce into small bite-sized pieces. Wash and THOROUGHLY dry the lettuce (salad spinner comes in handy here!). Wet lettuce keeps the dressing from adhering properly.

VEGGIE PREP: Drain and rinse the black beans. Drain canned corn or thaw frozen corn. Halve cherry tomatoes, finely dice the cilantro, dice the red onion (Note 1), and peel, remove pit, and thinly slice or chop the avocado. ( I like to toss the slices with some lime juice to keep from browning).

CHICKEN: Shred a rotisserie chicken (or use a pre-shredded rotisserie chicken) and measure to get 2 and 1/2 cups. Pour in the BBQ sauce; starting with 1/2 cup and adding the additional 2 tablespoons as needed. Gently toss with tongs until the chicken is coated to your liking. (I like to warm the chicken for just a minute in the microwave or in a skillet.) Set aside.

ASSEMBLE: Add the lettuce to large bowl (or individual plates). Top with black beans, corn, tomato, cilantro, red onion, and avocado. Add tortilla strips and cheddar cheese if using. Add sauced chicken right on top.

ENJOY: Drizzle dressing over salad (Note 2 and Note 3). Gently toss to combine and enjoy!
Recipe Notes
Note 1:  if you're sensitive to the flavor of raw red onion, soak the onions in ice cold water (with a pinch of salt) for 10 minutes. Drain thoroughly and dry before adding to the salad.
Note 2: Only add dressing, cheese, and tortilla strips to the amount of salad that will be eaten the same day you make it. The lettuce/veggies/tortillas don't sit well with the dressing; everything needs to be stored separately.
Note 3: there is a lot of dressing and you will likely not use it all in this recipe! You can halve it if you'd like, but I like to make this full batch and use it on other recipes throughout the week. It will last 5-7 days stored in an airtight container in the fridge.
How many calories are in a BBQ chicken salad?
There are 563 calories in a serving of this BBQ chicken salad. This is assuming 4 large servings and that all the dressing is used, which it likely won't be. If you'd like to dramatically reduce the calories, leave out the avocado (or use less) and use only 3-4 tablespoons dressing per serving.