These simple, yet boldly flavored BBQ-ranch chicken tacos are made in the slow cooker and perfect for a summer get together!

If you are fan of lots of flavor for very little work, you have come to the right spot! These chicken tacos are crazy easy to make, but the result is some of the tastiest chicken tacos I've ever had!
My family goes crazy over chicken tacos and so naturally, we have them quite a bit at our home. Whenever we have chicken tacos, the chicken is always cooked in the slow cooker. Slow cooking chicken breasts yields (in my opinion) some of the very best and most tender chicken.
Sometimes I will put a bunch of chicken breasts in the slow cooker, shred the meat, and then place it in freezer bags. Thaw out a bag of the chicken and it's ready to be thrown into a simple dinner (AKA chicken tacos). It's one of my favorite dinner hacks if you can call it that. Or I guess just my favorite way to prep meals for the week 🙂
So, when I saw some delicious grilled chicken (flavored BBQ ranch) on Pinterest from Plain Chicken's blog, I knew those would need to be the flavors for our next chicken tacos.
These chicken tacos start with some of that ultra-tender slow cooked chicken. I prefer slow cooking the chicken on low (I believe it yields more tender shredded chicken) for about 6 hours, but you can cook this chicken on high for about 3-4 hours and it is still amazing.
Once the chicken is cooked through it practically falls of the fork. Shredding the chicken is a breeze! At this point, all you do is add a simple 6-ingredient sauce, slow cook it for a little longer, and the chicken for your tacos is done.

Because the sauce is so simple and has very basic ingredients, the ingredients you use are key. Namely one of those ingredients — the BBQ sauce. I've tried so many BBQ sauces and I have to say that Baby Ray's is one of my top favorites. There are some other great ones such as Bulls-Eye original, KC Masterpiece, and Trader Joe's All Natural.
The thing that all these sauces have in common is thickness. You want to use a BBQ sauce that is thick and packed with flavor for these tacos to be the best. If you use a BBQ sauce that has a high water or vinegar content, the chicken will end up soggy or watered-down. Go for a high quality and flavorful BBQ sauce and it will totally be worth it.
You can feel free to try different flavors of BBQ sauce, but I generally use original in this recipe to help the flavors from the packet of ranch really shine through.
Honestly the star of these tacos is the chicken. I've even enjoyed a few with just chicken and a little bit of cheese. BUT the fun part of having tacos are all the different toppings. Our favorites included red onion, sour cream, chopped tomato, iceberg lettuce, and some cilantro. I'm betting some guac would be pretty good though too! 🙂
Crockpot BBQ Ranch Chicken Tacos
Ingredients
2

(~1 and 1/2 pounds)

very large boneless skinless chicken breasts

1

teaspoon

minced garlic

1 and 1/2

cups

chicken broth

2

cups

BBQ sauce *

best quality recommended

1

package (1 ounce)

Ranch Salad Dressing & Seasoning Mix

dry

1

tablespoon

brown sugar

packed

1/2

tablespoon

Worcestershire sauce

1

teaspoon

yellow mustard

1/4

teaspoon

pepper

Tortilla shells

Toppings such as: cheddar cheese, shredded iceberg lettuce, chopped tomato, cilantro, squeeze of lime, chopped red onion, sour cream
Instructions
Cut the chicken breasts in half so you have four big pieces.

Spray a slow cooker with nonstick spray.

In the slow cooker, place the chicken, garlic, and chicken broth. Cook on high for 3-4 hours or low for 6-7 hours until the chicken is very tender and shreds easily.

Drain the slow cooker and shred the chicken with two forks.

Measure the chicken, you should have 3 cups when shredded. If you weren't able to weigh your chicken and since chicken breasts vary in size, if you don't have this much or you have more, adjust the sauce to the amount you have.

For the sauce, in a large bowl, mix together the BBQ sauce, seasoning mix, brown sugar, Worcestershire sauce, yellow mustard, and pepper.

Pour the sauce mixture over the chicken, stir, and cook for another 30-45 minutes on low. (25-30 minutes if you have a hot slow cooker)

Place the chicken inside the tortilla shells and top with the toppings of your choice.
Recipe Notes
*The BBQ sauce is a HUGE part of the flavor of this dish. Use a high quality (and not a water-y) BBQ sauce. My favorite is Baby Ray's and is what I used in this dish.
Recipe adapted/inspired by Plain Chicken and my recipe for these Crockpot Chicken Tacos.
More easy slow cooker meals:
Crockpot Southwest Quinoa and Veggies
Crockpot chicken tacos with a honey chipotle sauce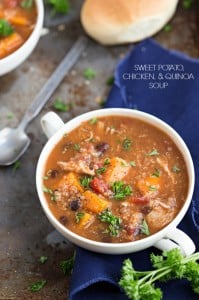 Slow Cooker Sweet Potato, Quinoa, and Chicken Soup
Slow Cooker Honey Chipotle Pork Taquitos