Two delicious types of hot chocolate — a slow cooker toasted marshmallow hot chocolate and a minty dark hot chocolate. Plus inspiration for a hot cocoa bar and a video tutorial!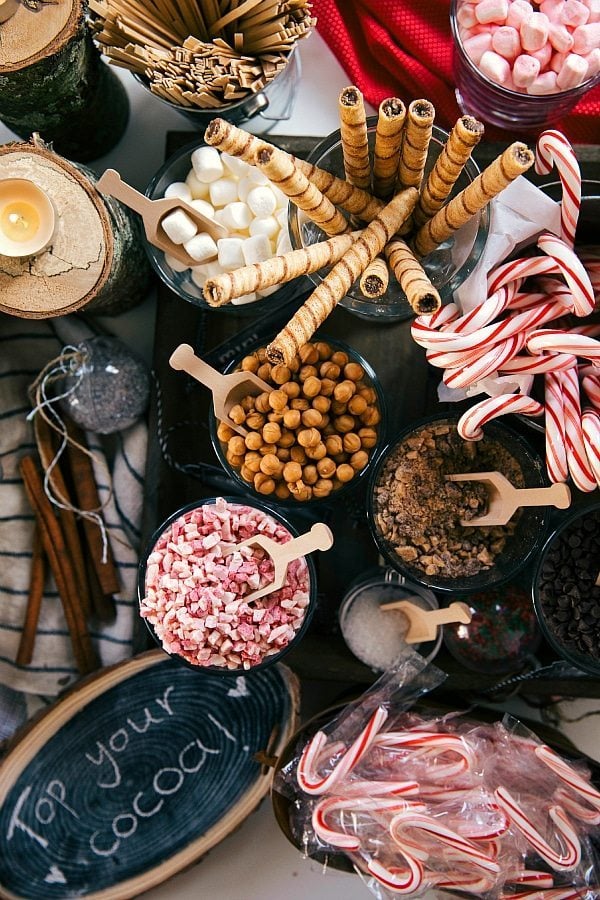 Happy Friday everyone!! Also known as ONE week before Christmas Friday. ??? Yeah, I did just make that up, but there really is only one more week today! I can't believe it. The Christmas tree went up before Thanksgiving was even over (I know…?) and presents have been under the tree for well over a few weeks, but it still feels way too soon!
It's been an especially busy Christmas season because we've all been helping to plan my sister's wedding. My sister closest in age to me gets married tomorrow!!
While she's been finishing up her finals, crazy busy with work, and applying to graduate schools, my mom has been helping out and DIY-ing like crazy for her wedding. I got put on baking prep this week and I've already made over 500 (?) miniature snowflake sugar cookies, a bunch of chocolate-covered macaroons, and some chocolate-filled "hot chocolate spoons" (peppermint, dark chocolate, white chocolate, etc.).  While Grey has absolutely loved making sugar cookies (he "helps" roll the dough and has also pressed the cookie cutter into about 90% of the cookies) I am ready to be done with sugar cookies for a bit!
But we aren't quite done yet. Today we are glazing them and everything should be ready for the big day tomorrow. (Yay! ???!)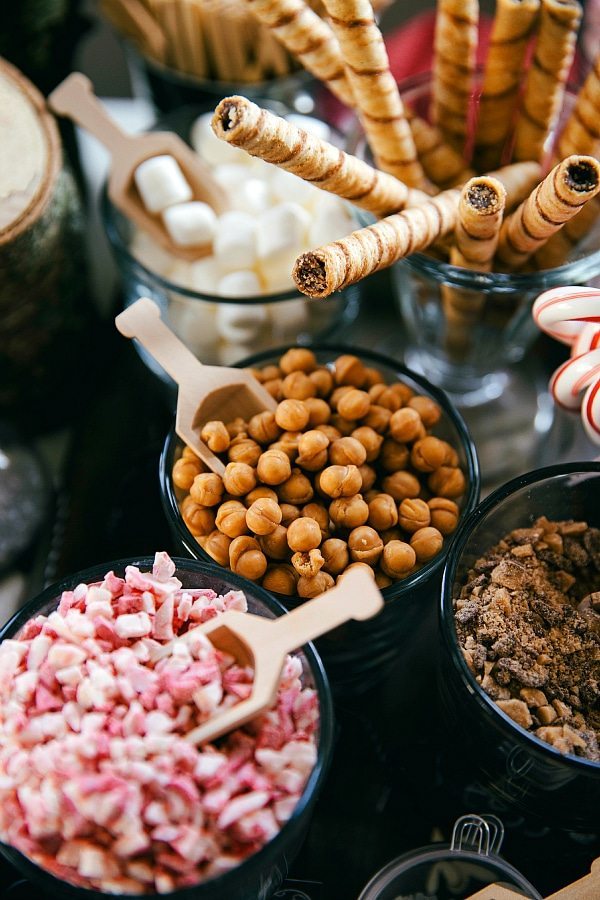 Her entire wedding theme is frozen/wintery. She's got different shades of blue and lots of white + silver. The venue is going to be gorgeous!
The main food attraction? A hot chocolate bar!! I'm pretty sure this was my idea way back when she got engaged and she loved it. So there will be tons of toppings, flavored syrups, and chocolate-coated spoons to stir into the hot chocolate.
It was such a fun idea that I couldn't help but make my own little hot chocolate bar with 2 delicious hot chocolate recipes. While my hot chocolate bar isn't as "elaborate" as her wedding one will be, it is perfect to have a few friends over, to do for a shower (can you tell I have weddings on my mind?!), or just with your own family.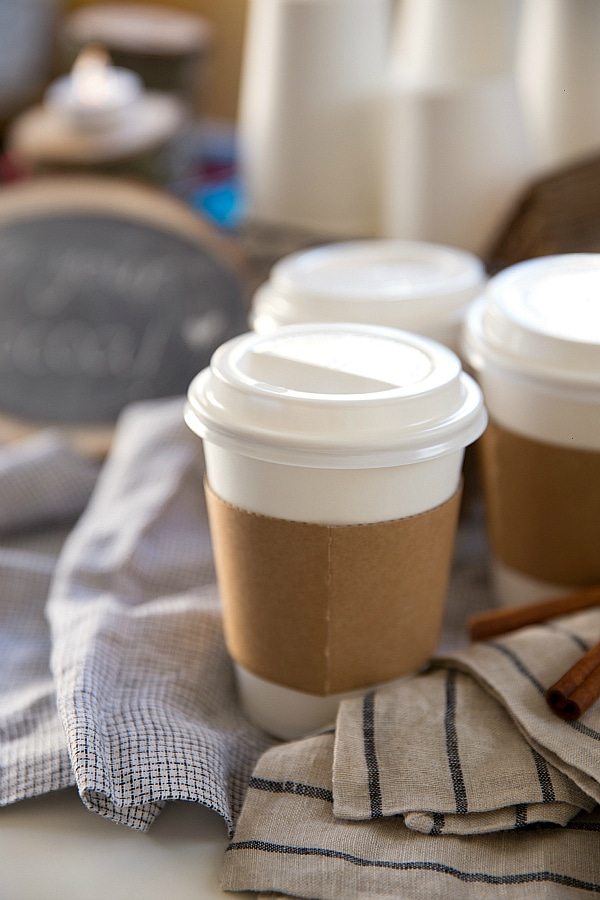 I thought that individual hot chocolate cups would be fun (and cute), so I ordered the cups, lids, and cup sleeves all on Amazon. If you are interested, here's exactly what I ordered. And the little mini wooden scoops are an Amazon purchase as well. Found here. Wooden stir sticks for the hot cocoa here. (Someone please take away my Amazon prime membership ?) The small chalkboard signs (by the toppings) and the wooden one (that says "Top your cocoa") was found in the "wedding" aisle at Wal-Mart.
And now onto the toppings on this hot chocolate bar:
✔️ Miniature Chocolate Chips
✔️ Crushed toffee (heath) bars, found in the baking aisle
✔️ Miniature peppermint sticks, found in the seasonal aisle
✔️ Regular peppermint sticks, seasonal aisle again
✔️ Variety of holiday sprinkles, seasonal and baking aisle
✔️ Pirouette Cookies, seasonal aisle and cookie/snack aisle
✔️ Peppermint white chocolate crunch (FAVE ?), seasonal and baking aisle
✔️ Caramel bits, baking aisle
✔️ Miniature white marshmallows + miniature peppermint marshmallows, baking aisle
✔️ Dehydrated marshmallows, coffee/hot chocolate aisle
✔️ Cinnamon sticks, near spices and occasionally in seasonal aisle
✔️ Coffee creamers, whipped topping, found in refrigerated aisle near milk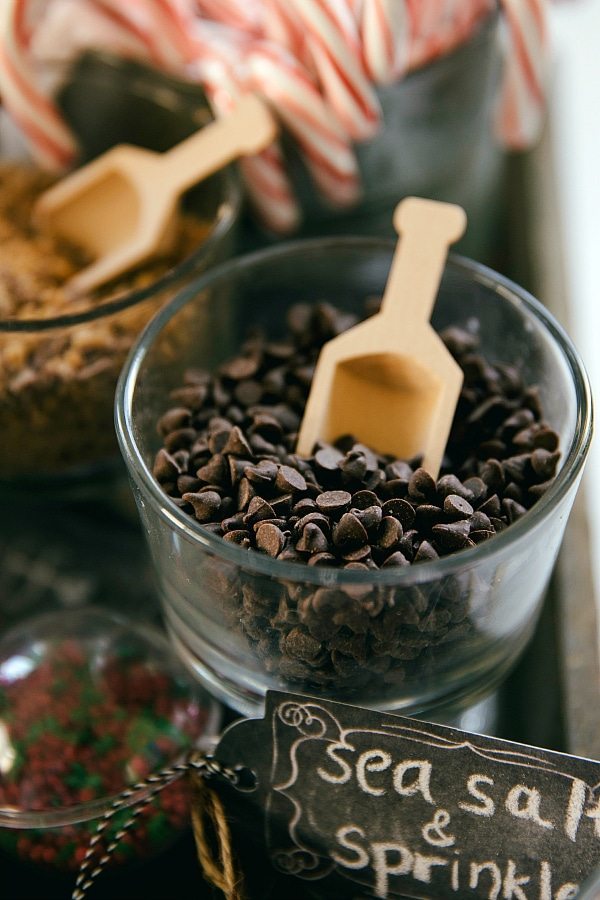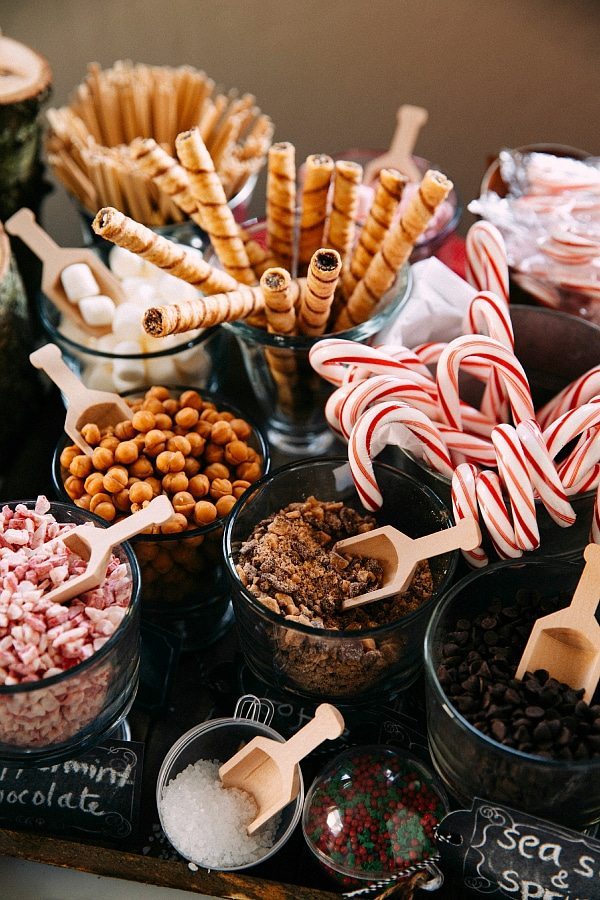 Okay are you ready for the hot chocolate recipes?! The first one I'll share is actually very simple! It's only ? ingredients and absolutely delicious. It's inspired from a hot chocolate party that I went to a couple of weeks ago. ☺️
Dark Chocolate Peppermint Cocoa.
All you need:
✔️ International Delight's Dark Hot Chocolate
✔️ Peppermint Stick Ice Cream
✔️ Whipped topping (and optional: crushed peppermint)
The International Delight's Hot Chocolate is pre-made (refrigerated) hot chocolate. (It's really pretty genius to have hot cocoa this way.) It's absolutely delicious (just like their creamers!) and it's quick to make. You pour the hot chocolate in a cup and then warm it in the microwave. OR you can warm it up over the stove. They have a new dark and milk hot chocolate, but I went for the dark in this recipe. If you like milk better, use that!
All you do is warm up the dark hot chocolate to pretty scorching hot (you'll be adding ice cream!) and then put a generous spoonful of peppermint stick ice cream in the cocoa. Top it with a generous dollup of whipped topping plus some crushed peppermint and stir it all together. ??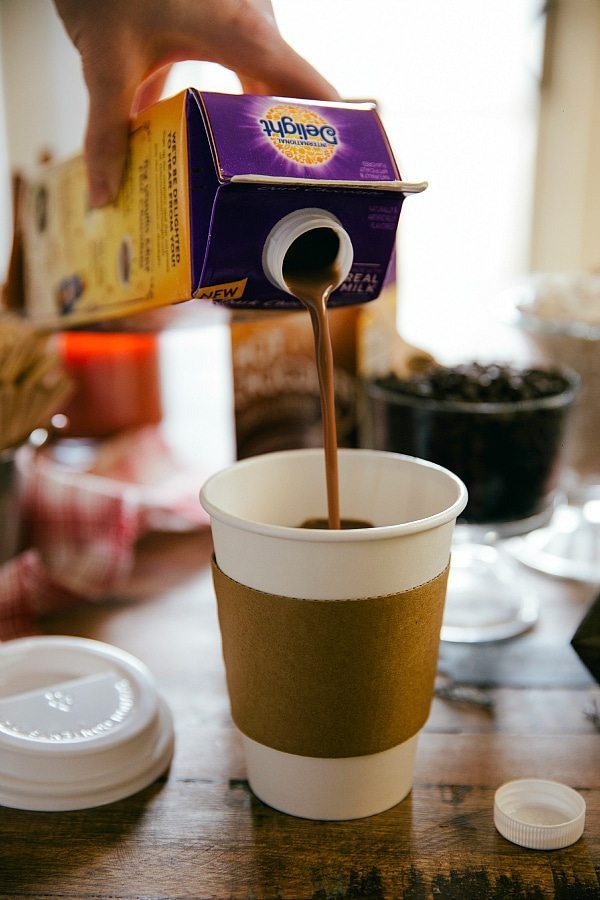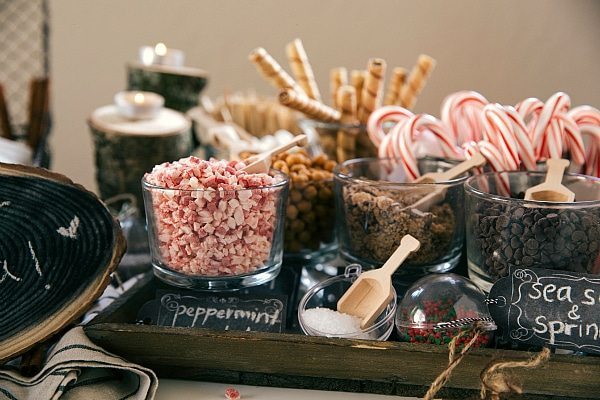 Next up is a slightly more "involved" hot chocolate recipe. It's made in the crockpot which is nice to keep it warm for guests. However, you'll need a pretty large slow cooker! I used a 6-quart crockpot and it gets quite full.
You start up with, none other than, CHOCOLATE. I prefer doing actual baking bars in this recipe to keep the separation to a minimum (chocolate chips tend to separate) and for flavor. If you love all things rich chocolate, you'll love using milk or dark chocolate in this recipe. Otherwise, stick to the semi-sweet chocolate because it is extremely rich.
I prefer milk chocolate, but I also did a semi-sweet version for friends. And there is a video, BUT it does leave out a pretty important part. (SORRY!) I was running late and wasn't able to video the finishing step of the hot chocolate. After slow cooking for a few hours, all the chocolate should be melted, however, it doesn't always integrate perfectly with the other ingredients. So you will need to transfer the mixture to a blender to get an ultra smooth and creamy hot chocolate. The difference that makes is pretty amazing. It totally changes the consistency after blending and makes the cocoa a bit frothy. Transferring the mixture to the blender only takes about an extra ten minutes and is well worth the time! So just because the video leaves that out, I never make this cocoa without blending it.
Enjoy! 🙂 And have a wonderful weekend!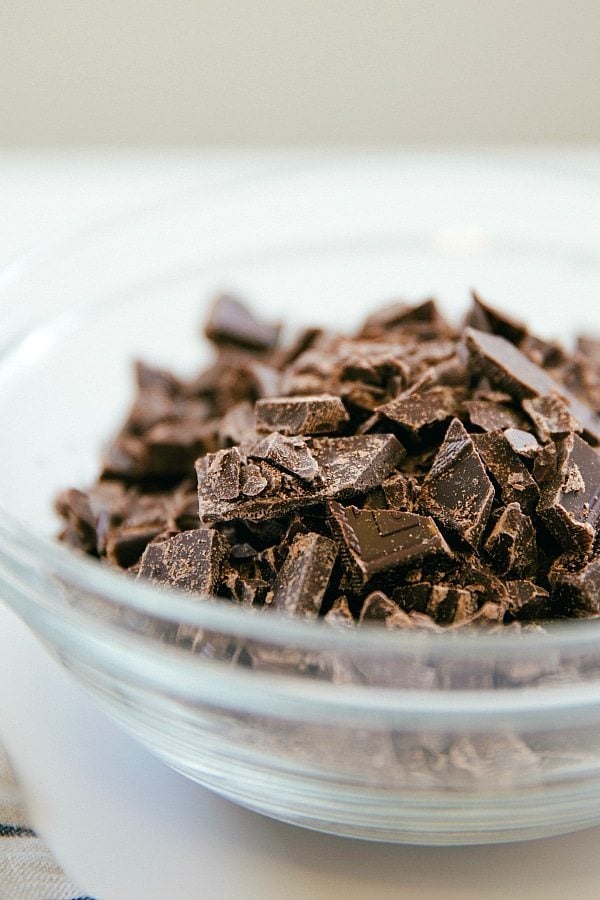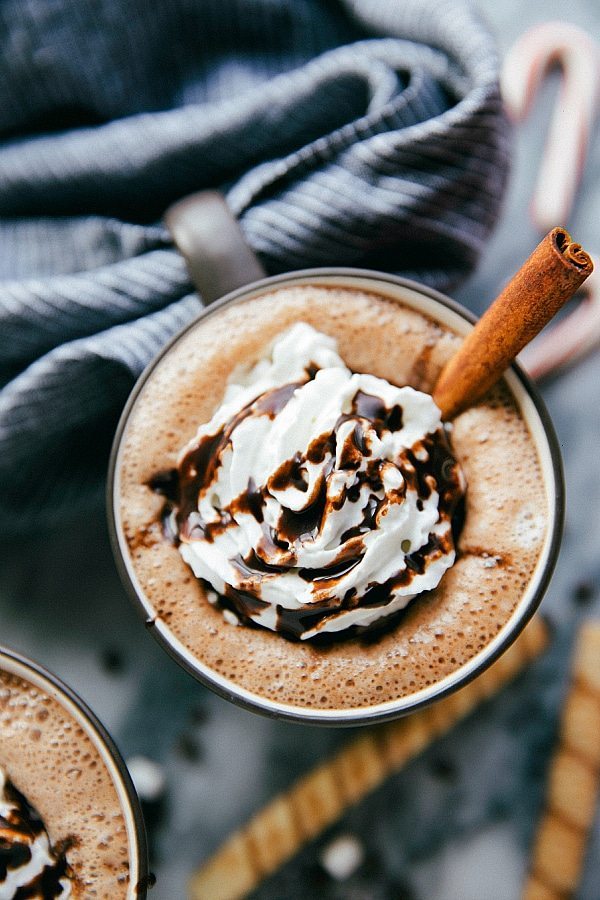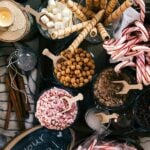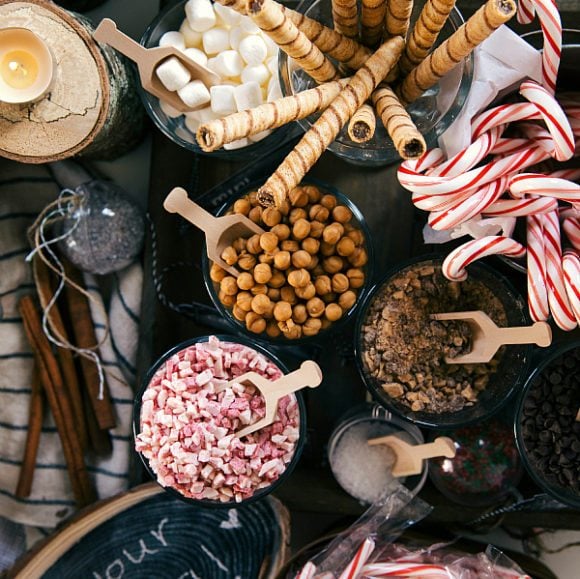 Crockpot Toasted Marshmallow Hot Chocolate + a Hot Chocolate Bar with Dark Hot Chocolate
Ingredients
2 packages

(4 ounces EACH)

semi-sweet baking bars

milk or dark chocolate for very rich cocoa, or about 2 and 1/4 cups chocolate chips

6

cups

milk

not skim, 1%, 2%, or whole

1 and 1/2

cups

heavy whipping cream

not whipped

1

tablespoon

vanilla extract

Pinch of salt

1 can

(14 ounces)

sweetened condensed milk

2 and 1/2

cups

miniature marshmallows
Instructions
Chop the chocolate bars to the size of chocolate chips. Alternatively use chocolate chips.

Add the chopped chocolate or chocolate chips to the slow cooker. (I use a 6 quart crockpot and it get's over 1/2 the way full)

Add in the milk, I use 1 or 2% (whole would be ultra rich), heavy whipping cream, vanilla, salt, and the can of sweetened condensed milk.

Stir together and set on low in the crockpot.

For the toasted marshmallow: preheat the oven to Broil at 550 degrees F. Move the oven rack to the highest position.

Cover a cookie sheet with foil and then generously spray the foil with non stick spray.

Lay the marshmallows evenly on top of the foil.

Place in the oven on the top rack and leave the oven door slightly ajar. Watch the marshmallows the entire time and pull them out when they look toasted. Watch carefully because they can go from perfectly toasted to burned very quickly!

Remove and then add into the hot chocolate. Stir and cover.

Cook on low for 2-3 hours or until all the chocolate and marshmallows are melted.

Carefully transfer the mixture (in 2-3 batches) to a blender.

Blend each batch for at least 30 seconds. This allows a great immersion and a delicious frothier texture.

Return to the slow cooker and keep on warm for guests.
Recipe Notes
This hot chocolate does store well. Transfer to an airtight container in the fridge. When ready to enjoy again you will likely need to blend the mixture again and then just warm it up. Can be made 2-3 days in advance.
Adapted from this hot chocolate recipe
More delicious desserts for the holidays: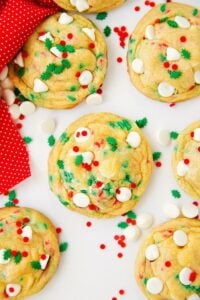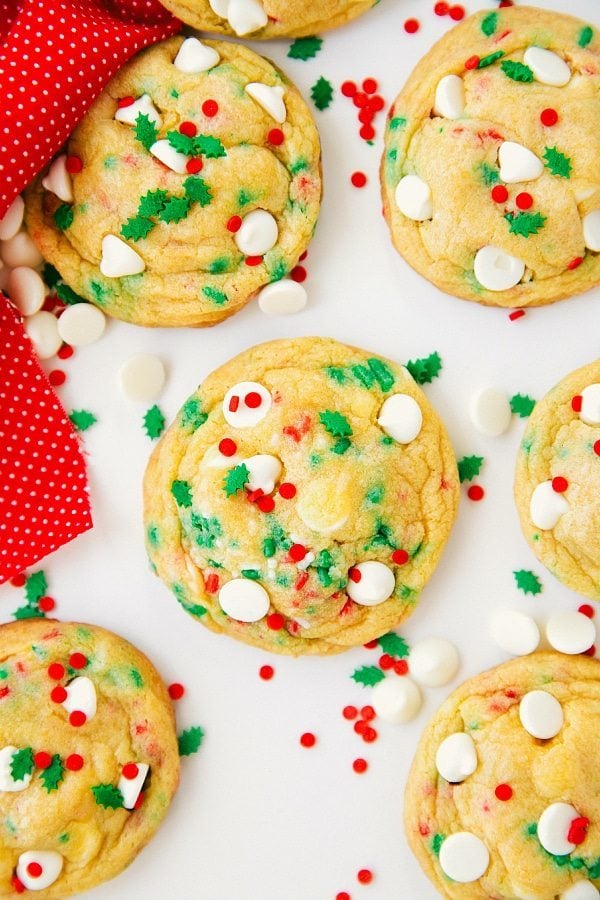 Soft Cake Batter Christmas Cookies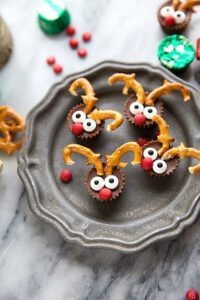 5-ingredient miniature reindeer candies
Sparkling (non alcoholic) pomegranate cranberry juice