2 secret ingredients make up some of the best ever sugar (circle OR cut-out) cookies. This Cut Out Sugar Cookie Recipe holds the shape of a cutter extremely well! Plus a delicious and creamy frosting recipe!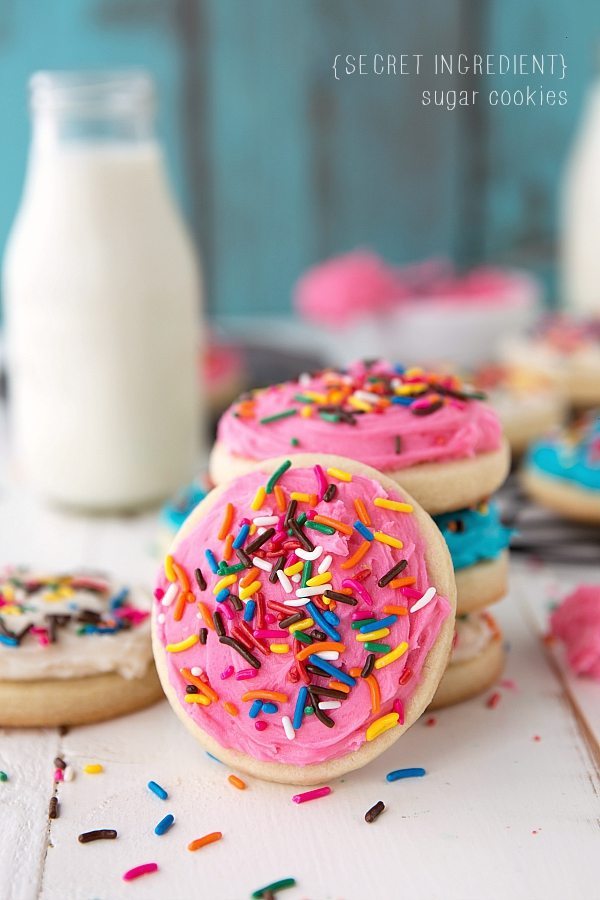 I know what you are thinking. ANOTHER sugar cookie claiming to be the best sugar cookie ever. But really…these cookies are delicious!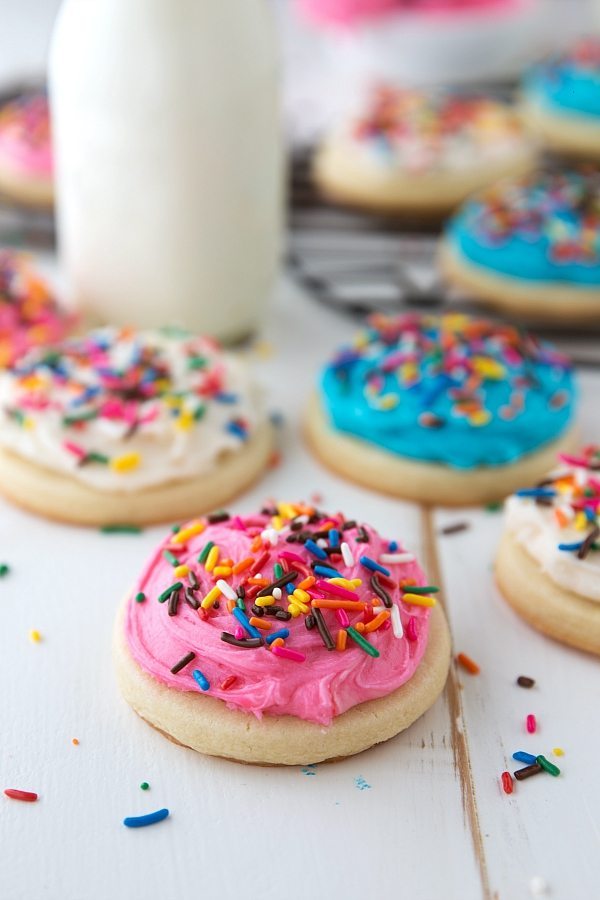 First, the INGREDIENTS:
Okay so let's get to this. First things first, there really aren't that many ingredients in sugar cookies when you compare the ingredient list to most other cookies. My recipe calls for a few more ingredients than most, but the main players (sugar, butter, flour, baking agent) are all the same. With fewer ingredients, the ingredients you use are important to the flavors and textures of these cookies. The better your ingredients, the better your results will be hands down. Below are simply tips, not necessarily requirements. To best equip you with the exact recipe I use, I want to tell you exactly how I make these and what ingredients get used when I bake these cookies. 🙂
Here is a comprehensive list of exactly what I use in these cookies. First, sugar — I have a huge container of sugar that I store vanilla beans in. This really heightens the flavor of the sugar. Next, butter — I call for salted and recommend you stick to that as I don't know how much salt you are going to want to add if you use unsalted. For sugar cookies you absolutely do not want to substitute any kind of margarine or butter knock-off. Not only will your cookies have an off taste, but they also will likely need to be chilled.
Third, the egg. I am a huge proponent of organic eggs in baking. They heighten the flavors immensely and as I've tested these cookies with regular eggs versus organic – there is definitely a taste difference! If you ever compare the yolk and whites of a regular egg to an organic egg there is a very clear difference between the colors and textures. Regardless of what type of egg you use make sure it is a large one! Next are the extracts. If you read that these cookies have a couple of "secret ingredients" these extracts are one of those ingredients. It is amazing what adding extracts can do for these cookies! At first I just used regular vanilla. Changing to Mexican vanilla was immense for the flavor. The next one is almond extract – it , along with the pure orange extract add an incredible freshness to the dough and the final cookie. You will notice a huge difference by adding these two extracts. I used Nielsen-Massey extracts for these cookies. Adding the orange extract was on a whim one day and I won't ever make these cookies without it 🙂 It adds some delicious fruity notes as well as freshness to these cookies.
The last "secret ingredient" I add to these cookies is cornstarch. Just a little bit goes a long way – the cornstarch helps to soften these cookies and keep them soft. The last two ingredients are pretty simple — baking powder and flour. For the baking powder, make sure it is fresh and not old. And for the flour, a good all-purpose flour will work great. 🙂
For these cookies it's pretty crucial you have a stand mixer. They work out the very best when done in a stand mixer and will be a bit more of a challenge without one. That said, hand mixers will work, you just need to be a bit more patient. You may also have to chill the dough for a little bit if the butter gets too soft from working with it.
The method isn't anything too revolutional, but I have learned a few ways to make these better over the years. First, cubing the butter is really important. I unwrap the butter and cube it on the paper. I dump the butter into the stand mixer without even touching the butter. Avoid touching it to keep it as cold as possible. Next, I beat the butter and sugar until completely creamy. You want the butter and sugar very well incorporated before adding any other ingredients.
After that, I beat again with the egg and extracts added. Finally, I add in the cornstarch and baking powder with 1 cup of flour. I beat that all together. Once all those ingredients are added, I add in another cup of flour. Here's where it starts to look like crumbles. DON'T WORRY! The batter comes together, you just need to be patient and keep beating. Once it starts to look like dough again, add in the last bit of flour. I start with 3/4 a cup and usually end up adding another 1/4 cup to make 3 cups total. I say keep mixing when the dough is crumbly, but only mix until a dough that you can cut out cookies is formed. Over-mixing the dough will lead to tough cookies as the gluten from the flour starts to develop.
The exact flour amount depends a lot on how you measure it. Some people press their cups into the flour packing in way more than is needed. Others loosely measure and don't fill up the cup all the way. I spoon and level the flour – a looser measurement and right to the top leveling off anything that goes over the cup. Add the last cup slowly to ensure you don't add too much flour. And you know you haven't added enough when it is too wet to work with.
With hand mixers, you are going to need to really work this dough. It gets really crumbly, but that's normal. If you continue to beat it (and even knead it a bit with your hands) it will come together.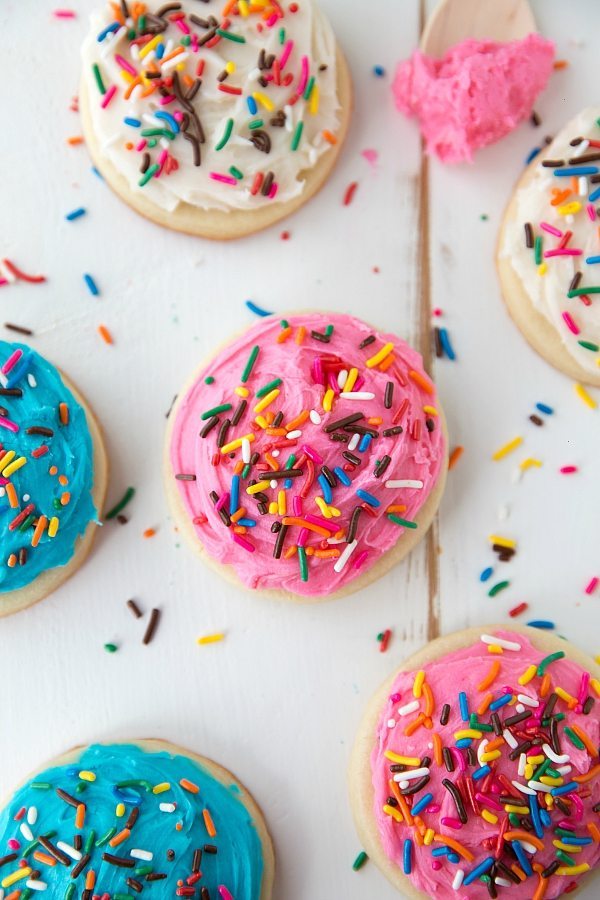 On to BAKING:
Okay so baking these cookies. I like to have the oven preheated about 20 minutes before I even put in a batch. This ensures the oven is really at the right temperature and an even temperature throughout the whole oven.
When I go to roll out these cookies, I actually do it in between 2 sheets of nonstick plastic wrap. I never touch the dough which I think helps to keep it chilled. I dump the dough straight from the stand mixer bowl onto one sheet of plastic wrap and knead it into a ball using the plastic wrap to press it together. Once it's in a ball, I put one more sheet of plastic wrap on top and then roll out a thick dough. I like the dough to be quite thick for thicker and puffier cookies. I aim for 1/2 inch thickness. Press a cookie cutter into the cookie dough and use the plastic wrap to push up the cookie and transfer it to a baking sheet lined with a nonstick liner.
I bake the cookies for 12 minutes almost to a tee. However, baking time will vary greatly depending on your oven, the thickness of your cookies, and the size of your cookies. You do not want to over-bake these!! I would start by setting a timer at 10 minutes and checking every 1-2 minutes after that. You know they are done when the very edges are barely browned on the bottom – the top should not be brown at all.
Once the cookies have been removed from the oven, I immediately transfer them to a cooling rack for about 2 minutes. Right after the 2 minutes, I put the cookies (single layered or separated with wax paper otherwise they stick) in a large re-sealable plastic bag. I seal the bag to keep in the moisture and keep the cookies ultra soft.
I've been determined to have a delicious frosting that is not sickly sweet and doesn't call for loads of shortening in the recipe. My favorite frostings I've ever had always call for cream cheese, so I started there. Using just cream cheese wasn't the results I was looking for so after adding some butter, it got to the creaminess level I was looking for. There are still loads of powdered sugar, but it's not a sickly sweet frosting in my opinion.
The Mexican vanilla and orange extract really heighten the flavor of the frosting and give it a different fresher taste than most frostings. I absolutely love the frosting with these two additions and highly recommend them.
The cream cheese MUST be at room temperature and the butter softened (not at all melted) for the frosting to be ultra creamy. Beat those two ingredients until super creamy and well incorporated before adding in the extracts and powdered sugar. Coloring your frosting is up to you. To get the intense colors shown in these pictures I use Wilton gel food coloring. Then sprinkles always make sugar cookies super fun 🙂
More cookie recipes: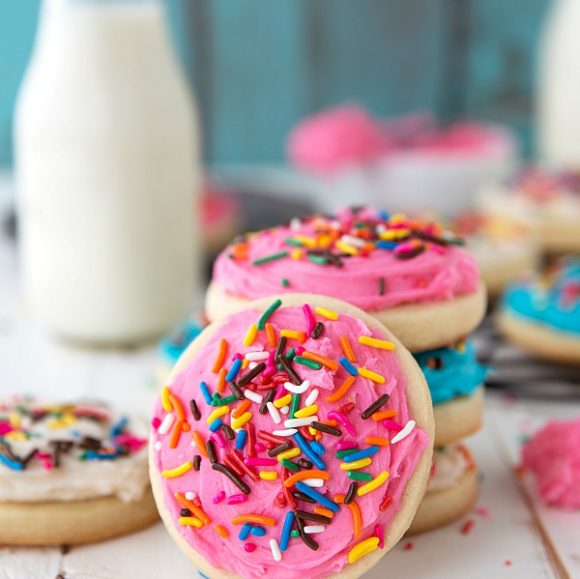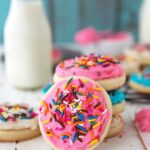 Cut Out Sugar Cookie Recipe
2 secret ingredients make up some of the best ever sugar (circle OR cut-out) cookies. This Cut Out Sugar Cookie Recipe holds the shape of a cutter extremely well! Plus a delicious and creamy frosting recipe!
Keyword:
Cut Out Sugar Cookie Recipe
Ingredients
Cookies
1

cup

salted butter

(2 sticks)

1

cup + 2 tablespoons

white sugar

1

large

egg

1 and 1/2

teaspoons

Mexican vanilla extract

1/2

teaspoon

almond extract,

optional

1/2

teaspoon

orange extract,

optiona

1

teaspoon

cornstarch

2

teaspoons

baking powder

2 and 3/4

cups

white flour
Frosting
1

package (8 ounces)

full-fat cream cheese

at room temperature

1/2

cup

salted butter

soft but not melted, 1 stick

2

teaspoons

Mexican vanilla extract

1/2

teaspoon

orange extract,

optional

5-7

cups

powdered sugar

depending on desired thickness

1-3

tablespoons

heavy cream

Optional: sprinkles
Instructions
Cookies
Preheat the oven to 350 degrees F.

Cut the VERY cold (right out of fridge) butter with a knife into 1-inch cubes. Place in the stand mixer with the sugar. Beat until completely creamy and light.

Add in the egg, Mexican vanilla extract, almond extract, and orange extract. Beat until completely combined.

Add in the cornstarch, baking powder, and 1 cup of flour. Beat until completely combined scraping the edges as needed. Add in the next cup and beat until a dough forms. Add in the final 3/4 cup adding an additional 1/4 cup as needed for a dough that is firm enough to be cut out into shapes (or a circle).

If the dough looks crumbly, keep beating until a dough does form (it will form even though it looks like straight crumbles!!) and if needed knead it with your hands. Just be careful to not overwork the dough as that leads to tough cookies.

In between two sheets of plastic wrap or parchment paper, roll out the dough to about 1/2" thickness. Cut out the cookies and place on a parchment or silicone lined tray. Chill for 30 minutes.

Bake for 12-14 minutes watching carefully for when they slightly brown at the edges/bottom. Be careful to not overbake - the center should still look soft and not be brown at all. Under-baking slightly is huge for the flavor and texture of these cookies.

Allow to cool on a cooling rack for about 2 minutes. Then place the cookies in a single layer (or separated with wax paper) in a large re-sealable bag. Seal the bag to keep the moisture in and the cookies ultra soft. Remove when cooled and ready to frost.
Frosting
In a stand mixer fitted with a whisk attachment, beat the room temperature cream cheese and softened (NOT melted) butter until completely combined and creamy. Add in the extracts.

Beat in the powdered sugar a cup at a time until well combined. I usually use around 6 cups, but it varies. Add until the frosting is to your desired thickness.

Thin the frosting as desired by slowly adding in heavy cream.

Frost the cookies (this recipe allows for a very generous amount of frosting) and top with sprinkles.

Store in an airtight container.
Experimenting with this cookie recipe began using this recipe and greatly evolved to the recipe I'm sharing today. 🙂