A tutorial with plenty of tips and tricks on how to make the best homemade from-scratch vanilla marshmallows. Plus a cute way to decorate them up for Halloween!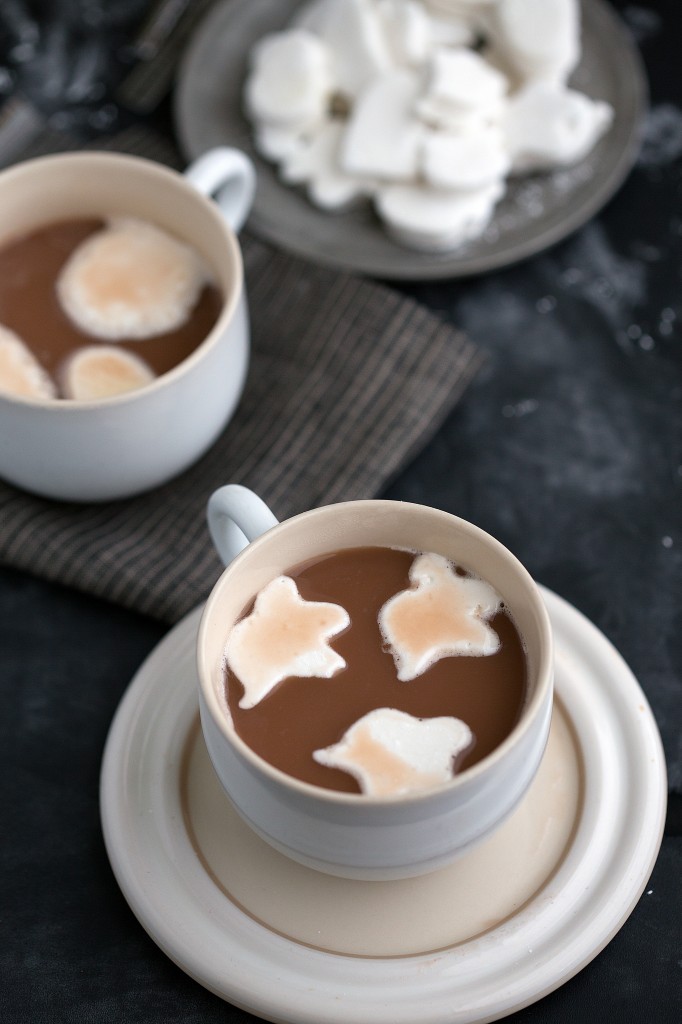 Growing up, my family drank a lot of hot chocolate. I think pretty much everyone loved it and when it was cold outside – we could each down a few mugs of it. I was the only one who never liked hot chocolate plain.
I either had to load it up with tons of marshmallows, wait til they melted, stir em in really well, and then drink it OR eat it with toasted bread. If that bread had jam, even better. Is that weird – to dip strawberry covered toast into steaming hot chocolate? It was my favorite breakfast of choice on an especially cold morning.
I don't think I ever had homemade marshmallows in my hot cocoa growing up, but now I'm not sure I'd like hot chocolate as much without them. Homemade vanilla-flavored marshmallows do absolute wonders to a mug of hot cocoa. It's pretty much mind blowing! And while homemade marshmallows do have a few steps and take a little bit of time, they are well worth the effort and not too hard to make!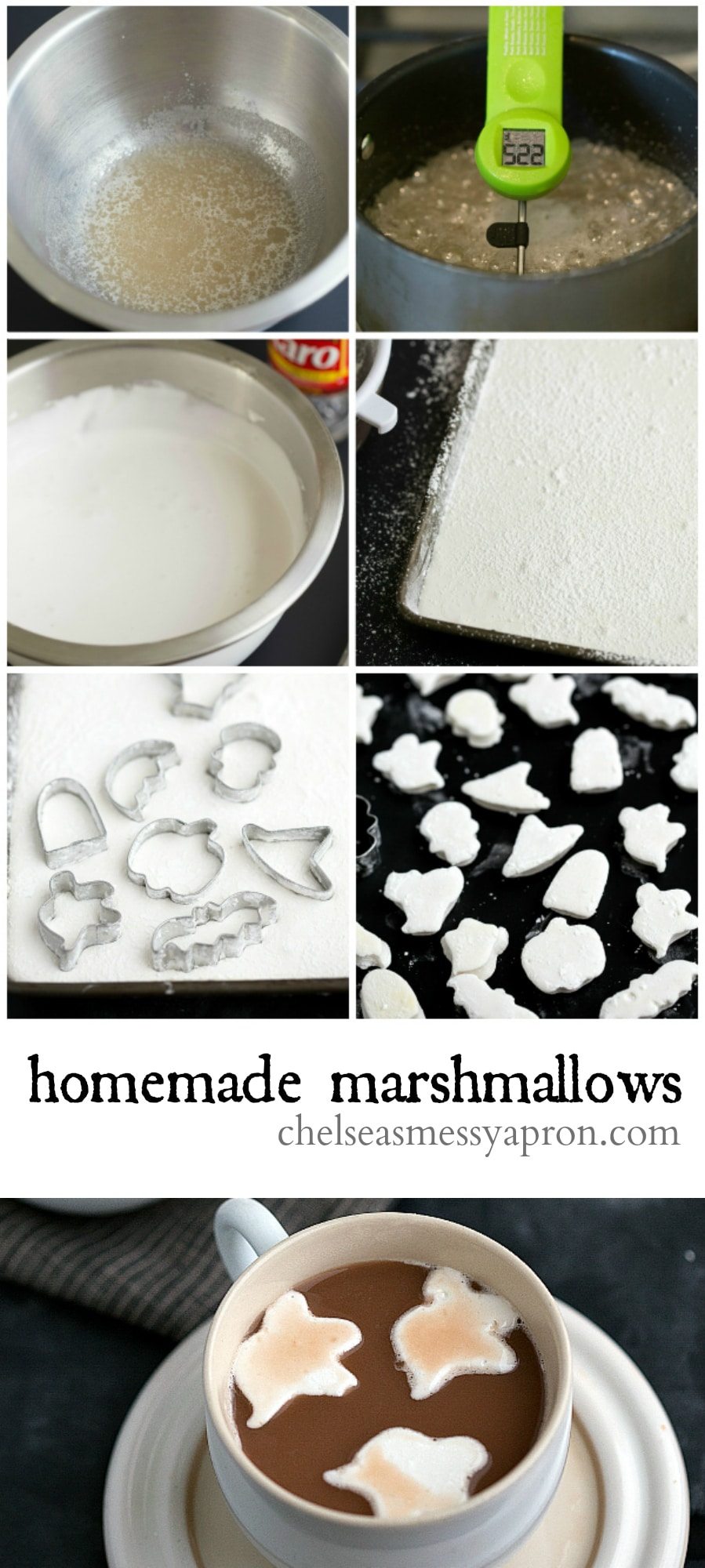 So let's talk through the steps of homemade marshmallow making and then you can be well on your way to the best hot chocolate you've ever tasted. Or just the best marshmallows, because we all ate plenty of them plain! The first picture in the collage above is the gelatin + salt + very cold water mixture. It sets up very first in the bowl of your stand mixer.
The second picture is corn syrup + sugar + remaining water. The mixture gets combined and stirred until it reaches a boil. Once the mixture is boiling, you'll cover the pot with a lid for exactly two minutes (use a timer). It may sound a little intense, but it's important to be very exact when making these marshmallows to ensure they work out and taste delicious!
Now comes in that handy-dandy candy thermometer which is a must for this recipe. (Candy thermometers are relatively inexpensive; you can find them online or at most grocery stores; I have one from Target and I got another one from Sur La Table.) You'll put the thermometer in the mixture and make sure it's not touching the bottom of the pot or you'll get an incorrect reading. Then you wait (no stirring needed) until the thermometer reads 240 degrees F. This is also known as soft ball stage. This is the stage of candy making where a sugar syrup if dropped in cold water would form into a small and soft ball. If you removed that ball from the water, it flattens in just a few minutes. Hence the name – soft ball 🙂
Immediately you will remove the mixture from the stovetop and slowly add it into the gelatin mixture we made at the first. Set your stand mixer on slow as you add in the hot syrup mixture. Once both mixtures are combined, turn the stand mixer to high and let it beat for about 12-14 minutes.
Add in the vanilla and beat the mixture for another minute. I like to add lots of vanilla because I like a strong vanilla flavor. If you like that flavor, add as much or even more than the recipe calls for. And if not, feel free to reduce the amount of vanilla to just one teaspoon.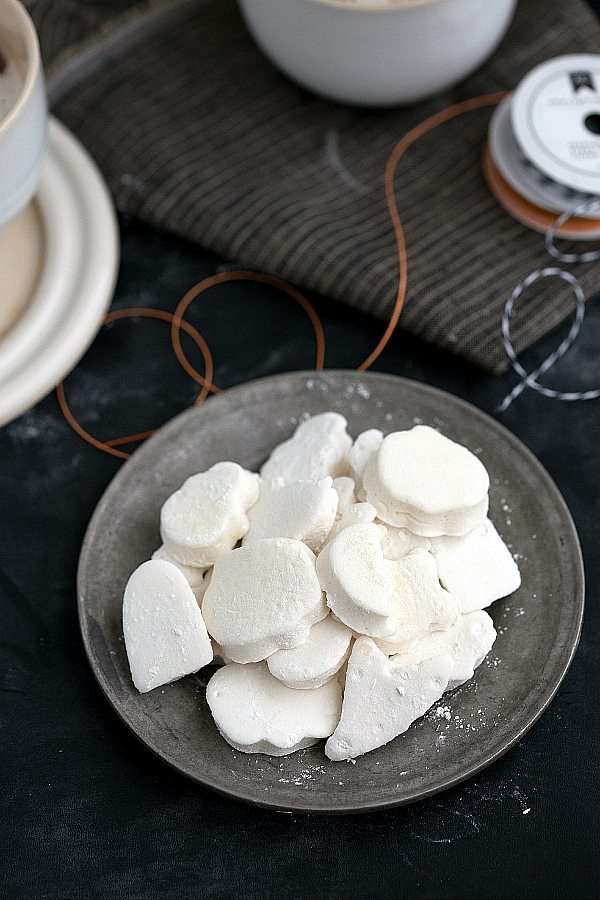 Then you are pretty much finished – not bad, right?! Spray a pan (I used a 9 x 13 pan with sides, but if you want thicker marshmallows use a casserole dish) with some nonstick spray. Then you will sprinkle a cornstarch + powdered sugar mixture all over the bottom and sides of the pan – this keeps it from sticking.
Pour the mixture into the pan. I like to lightly grease a spatula to help get all of the mixture out and evenly dispersed on the pan. Then I like to use a sifter and sprinkle more cornstarch + powdered sugar over the marshmallows.
The only hard part is waiting to eat your delicious homemade marshmallows! You'll need to wait at least four hours and preferably overnight. (Told you – it's a hard step!) 🙂 Once the marshmallow mixture is all set up, you can go crazy with fun Halloween cookie cutters (I got mine in a pack at JoAnns),or just cut them up with sharp kitchen scissors. The important thing is that you leave some for those mugs of hot cocoa you are going to want every single morning from here on out until it's summer time again!
For a fun Halloween treat, you can place the cut-out Halloween shaped marshmallows into a small cellophane bag and tie it up with some festive string/ribbon.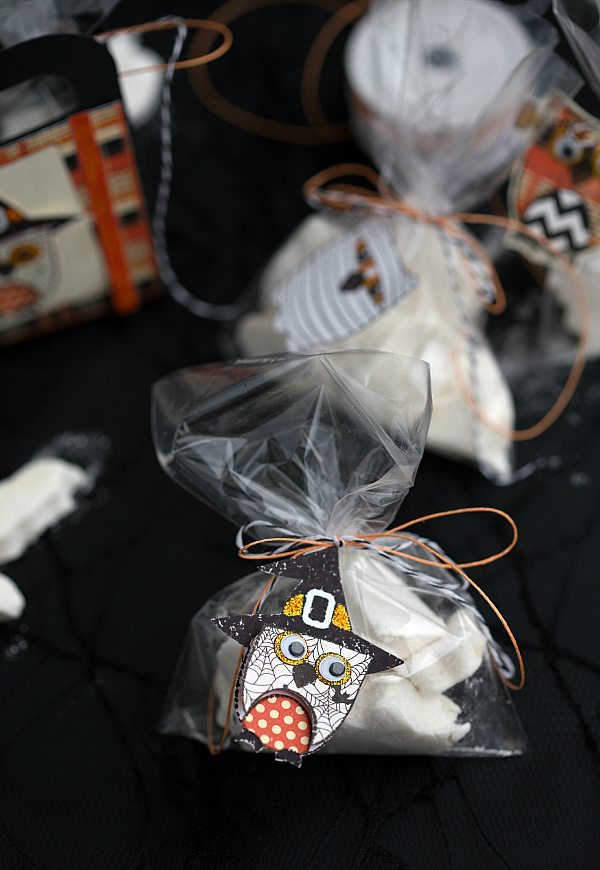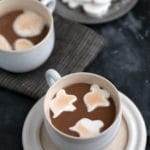 Homemade Halloween Marshmallows
Servings
:
3
dozen large marshmallows
Ingredients
1

cup

very cold water

separated

rounded 1/8

teaspoon

salt

3

envelopes unflavored gelatin

1 and 1/2

cups

white sugar

1

cup

Light Corn Syrup

2

teaspoons

Pure Vanilla Extract

1/3

cup

powdered sugar

1/3

cup

Corn Starch

Nonstick cooking spray
Instructions
In the bowl of a stand mixer, combine 1/2 cup very cold water with the salt and the unflavored gelatin. Stir and allow to sit while you work on the next part.

Combine the remaining water with the white sugar and the corn syrup in a medium saucepan over medium heat. Bring the mixture to a boil stirring frequently. Cover with a lid for exactly 2 minutes. (This gets all the sticking sugar from the sides.)

Stick a thermometer in the pan and without stirring, bring the mixture to 240 degrees F or softball stage. Remove from the stovetop immediately.

Slowly pour the hot syrup over the gelatin mixture while the mixer is on low speed. Once all of the hot syrup has been poured in, turn the mixer to high speed and beat for 12-14 minutes.

Add in the vanilla extract and beat for one more minute.

The bowl will get very full and the mixture will be thick, white, and shiny.

Meanwhile, spray a 9 x 13 cooking sheet with sides with nonstick cooking spray (For thicker marshmallows, you can use a casserole dish). Combine the powdered sugar and cornstarch. Lightly coat the sides and bottom of the pan with the powdered sugar and cornstarch mixture.

Using a lightly greased spatula, spread the mixture evenly on the pan. Lightly coat the top of the marshmallows with the cornstarch and powdered sugar mixture reserving the rest for later.

Allow the marshmallows to cool and set up for at least 4 hours and preferably overnight.

Then using small cookie cutters or sharp kitchen scissors, cut the marshmallows into small pieces and drop the pieces in the remaining cornstarch + powdered sugar mixture. Shake off all of the excess and store in an airtight container in a cool place.

These are best used within one month.
Recipe Notes
Adapted from Karo
Here are some more festive treats: