This hearty, thick, and filling butternut squash soup is loaded with flavor. This recipe is adapted from a restaurant that is known for their butternut squash soup!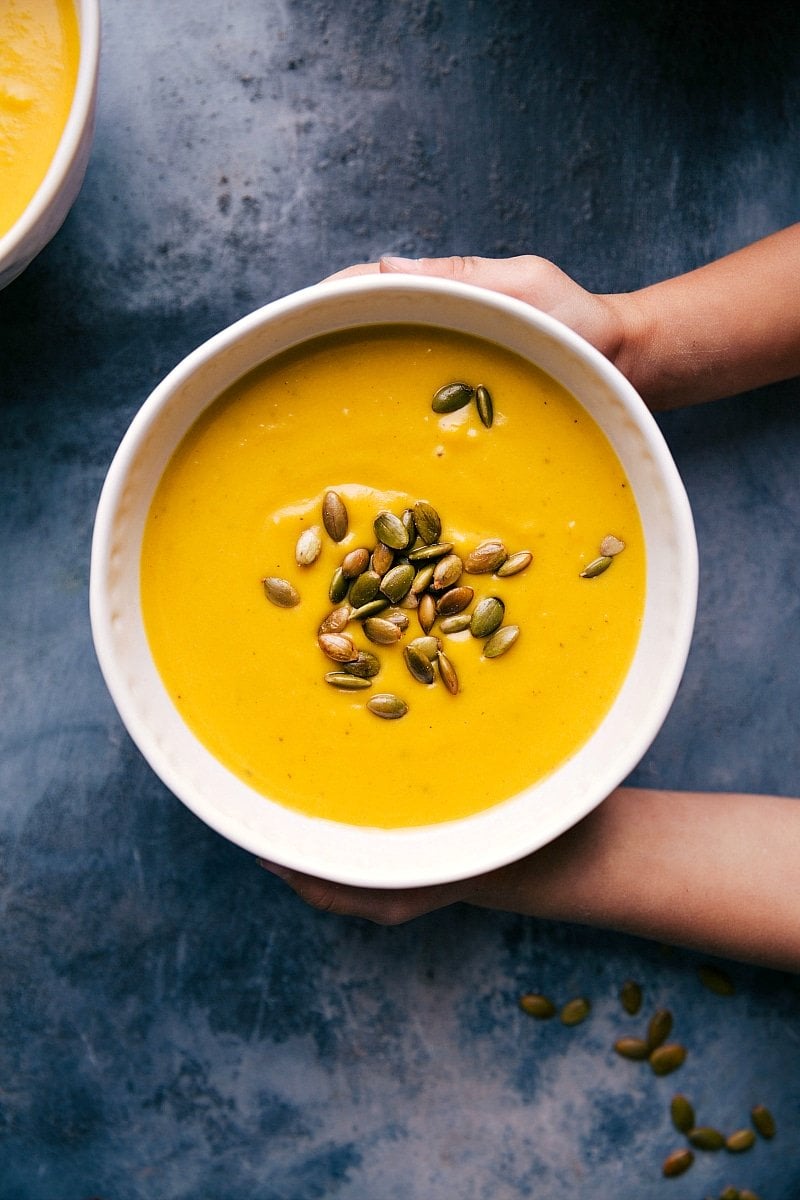 I worked at a restaurant throughout college that was famous for its honey whole wheat bread and butternut squash soup. The soup was only sold seasonally in the fall and winter and reservations during that time would increase dramatically, due in large part to the soup being back on the menu. Using that soup recipe as my inspiration, I'm excited to release this butternut squash soup recipe today.
It's a very thick and hearty soup with a robust flavor, truly the best butternut squash soup recipe I've ever had!
How to make butternut squash soup
Below is a quick photo overview of the process for making this roasted butternut squash soup recipe.
Add butternut squash, onions, and garlic to a large sheet pan. Drizzle with olive oil and season with salt and pepper
Roast for 15 minutes
Flip and roast for another 10-15 minutes
Melt butter in a large pot and toast the spices
Add the roasted squash and onions to the pot and mix with the seasonings
Add chicken stock and cook for 5 minutes
(Pictures lower down in post) Transfer to a blender and blend until smooth
Add cream and maple syrup and it's ready to eat!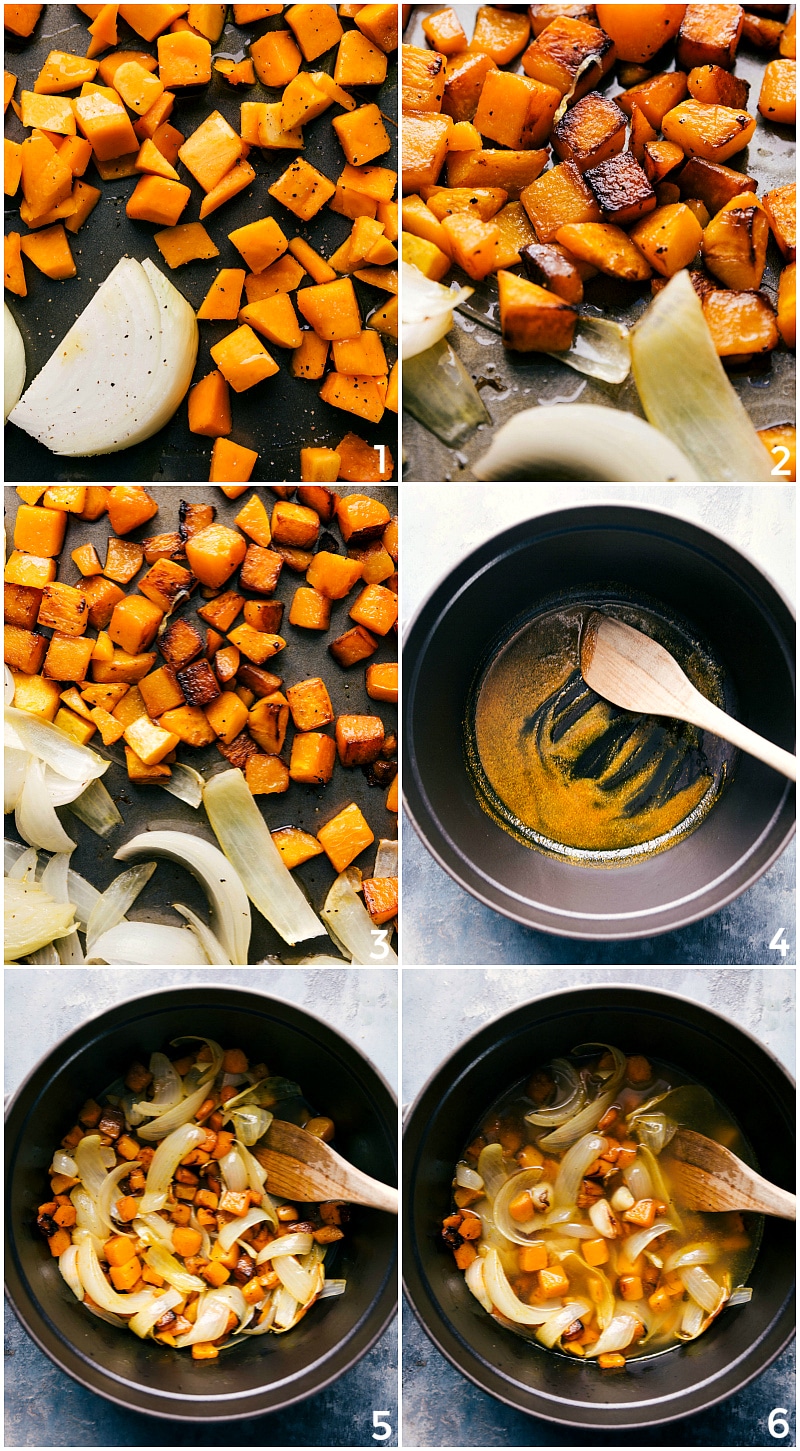 What goes well with butternut squash soup?
What is a good garnish for butternut squash soup?
Roasted and crunchy pepita (pumpkin) seeds make for the best garnish for this soup. Not only do they look pretty, they taste amazing in this soup! You can make your own roasted pepitas OR buy some at the store. If you opt to buying them, make sure they're roasted and salted (not raw). You can generally find them in the bulk section of a grocery store, or with other salad toppings like candied nuts, craisins, etc.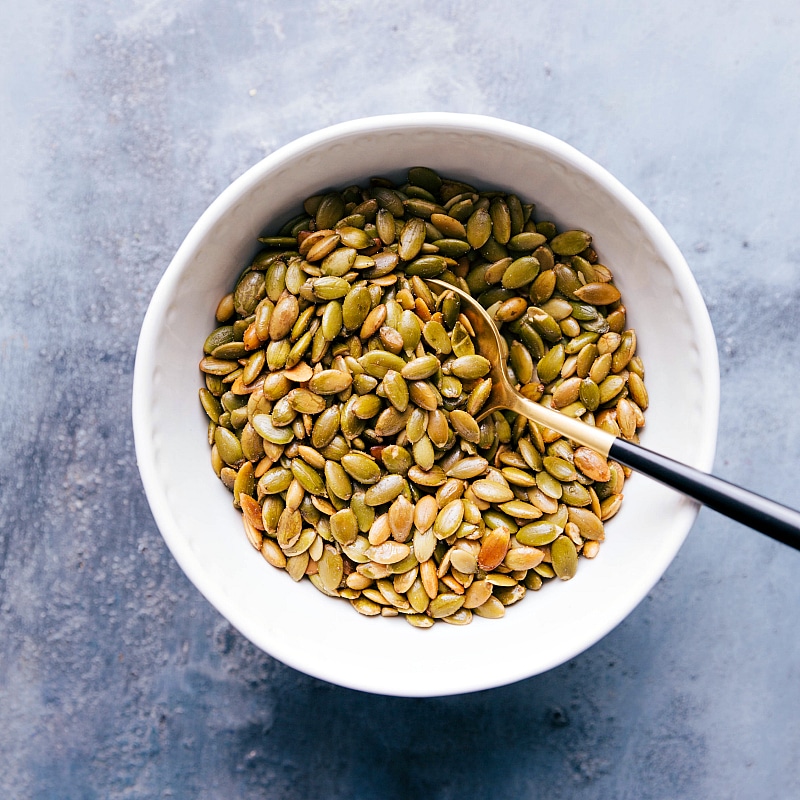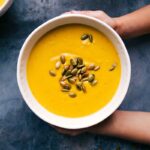 Butternut Squash Soup
This hearty, thick, and filling butternut squash soup is loaded with flavor. This recipe is adapted from a restaurant known for their butternut squash soup!
Keyword:
Butternut Squash Soup
Ingredients
Heaping 5

cups

butternut squash,

cut into 1-inch pieces Note 1

1

large

yellow onion,

halved and each half cut into 4 parts Note 2

1

head

garlic

1/4

cup

olive oil,

separated

1

tablespoon

unsalted butter

1/16

teaspoon (just a small pinch)

ground nutmeg

1/16

teaspoon (just a small pinch)

ground cloves

1

teaspoon

yellow curry powder

3

cups

chicken stock

(or chicken broth)

3

tablespoons

pure maple syrup

1/2

cup

heavy cream

Salt and pepper

Serve with: toasted & salted pepita seeds (pumpkin seeds)
Instructions
VEGGIES: Preheat the oven to 425 degrees F. On a very large sheet pan, add the cubed butternut squash and onion chunks. Peel and discard the outer layers of the entire garlic bulb making sure to leave the skins of the individual cloves intact (and keep the bulb together as much as possible) Using a sharp knife, cut 1/4th an inch from the top of the cloves. Wrap the entire bulb tightly with tin foil, adding 1 teaspoon olive oil before sealing it completely. Place the wrapped garlic on the sheet pan along with the squash and onions. Drizzle the remaining 3 tablespoons + 2 teaspoons oil over everything else (yes it's a lot of oil!). Season with salt and pepper to taste (I add 1/2 teaspoon salt and 1/4 teaspoon pepper). Toss and bake for 15 minutes. Remove, toss, and bake for another 10-15 minutes. Set aside the garlic in the foil pack.

STOCKPOT: Meanwhile, add butter to pot and melt over medium heat. Add in ground nutmeg, cloves, and curry powder. Stir for 1 minute or until fragrant. Transfer the squash, onions, and all the oil leftover on the tray into the pot. Stir to coat the squash in seasonings and butter. Add chicken stock. Cook for 5 minutes over medium high heat. Carefully transfer everything to a large high powered blender (do in batches if needed). Add 2-3 cloves of the cooked garlic (more if you love garlic and less if you don't; I add 3). Secure the lid on the blender and carefully blend (if you have Blendtec, blend on soup setting). Avoid too much power or pulsing as it could explode out of the blender. Once very smooth, transfer back into pot and set at medium heat.

FINISHING TOUCHES: Add in maple syrup and heavy cream. Stir to combine and warm through. Season to taste with salt & pepper again; I add another 1/4 teaspoon salt and 1/8 teaspoon pepper, but add to preference. Ladle into bowls and garnish with toasted and salted pepita seeds. Enjoy!
Recipe Notes
Note 1: If you buy the pre-cut squash that comes in 16 ounce bags, you'll need 1 and 1/2 bags.
Note 2: get an onion (or you may need 2) around 14 ounces in size
How healthy is butternut squash soup?
This soup contains a good helping of butternut squash, onions, chicken stock, and garlic all which provide your body with essential vitamins and minerals. Olive oil is one of the best oils you can use and is filled with healthy fats.
Heavy cream and maple syrup aren't the healthiest additions to soup, but I believe they are fine ingredients to have in moderation. The term "healthy" is very dependent on personal beliefs, preferences, and goals.
To make this soup healthier, you can replace the heavy cream with half and half (it won't be as thick/rich). You can also reduce the maple syrup to personal preference.