Delicious green chile chicken enchiladas in a creamy soup form. Dump it and forget about it slow cooker meal!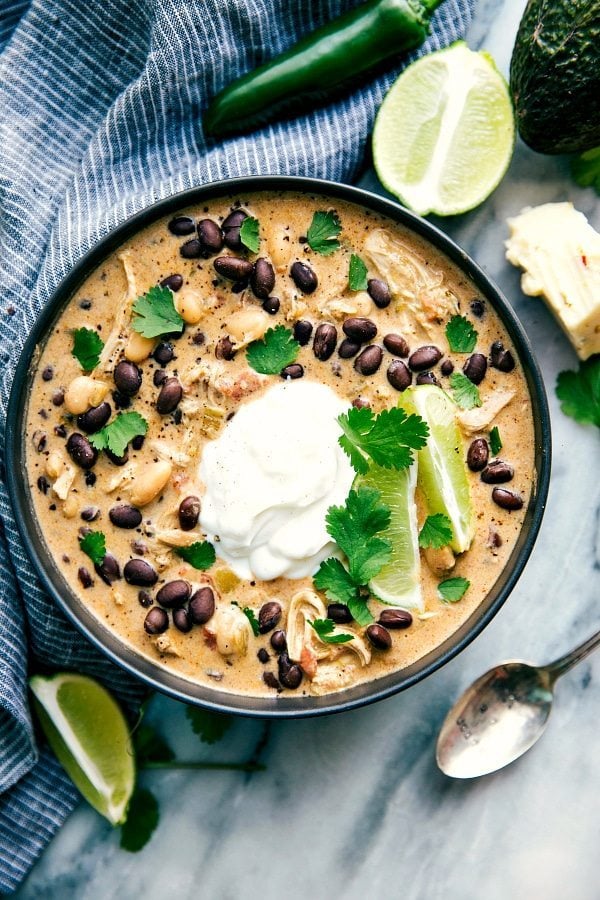 Welp. I think this is the last soup I'll be sharing for a bit. Which makes me both excited and a little bit sad. Excited because HELLO SPRING and warmer, longer days. But sad because, well soup is definitely a favorite that will be missed for the next several months.
But to be honest, we'll still probably be eating it year round, just far less frequently on warm (probably never on HOT) days. I mean, we did grill chicken on one of the coldest days this past winter, so that tells you we probably aren't the most normal. ? And I might add, that was some of the yummiest grilled chicken ever. Marinade recipe will definitely be appearing sometime in the next coming months!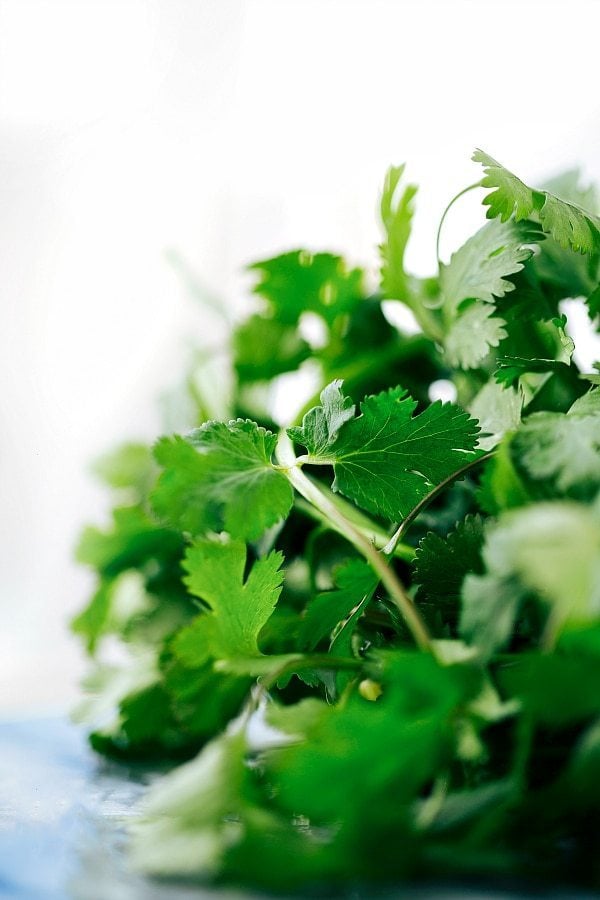 This soup is heavily adapted from my creamy crockpot enchilada chili. That was such a huge hit with my family and with so many readers (?? Hi!! thanks for your comments and sharing your photos! They make my day!) that I had the idea to make a green chile chicken enchilada version. Green chile chicken enchiladas are one of my family's favorite meals, so why not make it into soup form?!
And this soup has been equally loved. If you like green chile enchiladas then you are in for a mega treat with this soup. And just a heads up, I keep calling it a "soup" because it sounded a little redundant to title it "green chicken chile enchilada chili." However, this is more of a chili type of soup and ends up being pretty thick after the cream cheese is added in.
And finally, just like the other enchilada chili, the toppings are key for the best ever soup. Our favorite cheese with this soup is pepper-jack — it is delicious! And other MUST haves: a fresh squeeze of lime, sour cream (we use low fat and love it just as much), and some fresh cilantro.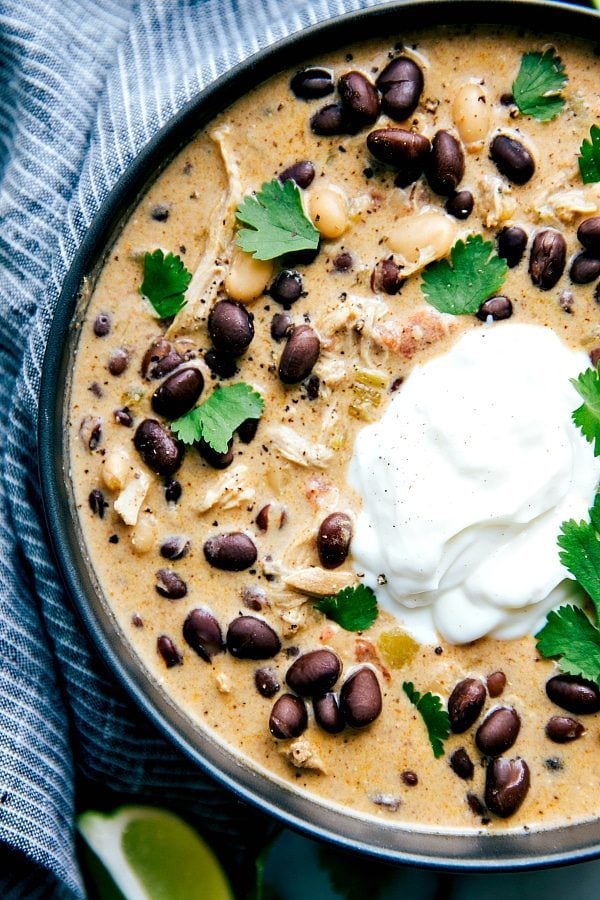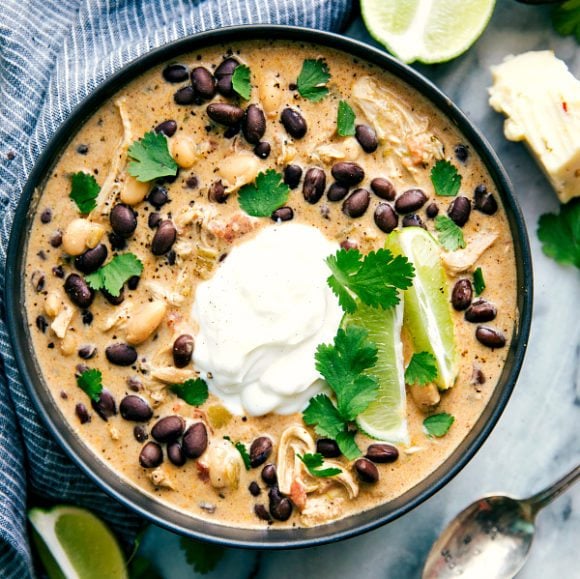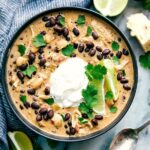 Crockpot Green Chile Chicken Enchilada Soup
Delicious green chile chicken enchiladas in a creamy soup form. Dump it and forget about it slow cooker meal!

Keyword:
Green Chile Chicken Enchilada Soup
Ingredients
1 can

(10 ounces)

green enchilada sauce

1 can

white beans

2 cans

black beans

1

pound

boneless skinless chicken thighs

or breasts

2 cans

(4 ounces EACH)

diced fire-roasted green chiles

1 can

(10.5 ounces)

diced tomatoes

optional

4

teaspoons

ground chili powder

1

tablespoon

ground cumin

3/4

teaspoon

paprika

1

teaspoon

salt

1/4

teaspoon

pepper

2-3

tablespoons

fresh cilantro

optional

2

cups

chicken broth or stock

1 package

(8 ounces)

cream cheese

softened

Pick your favorite add-ins: pepper-jack cheese, sour cream, fresh lime, additional cilantro
Instructions
In a large crockpot (I use a 6-quart crockpot) pour in the green enchilada sauce, drained and rinsed white beans, drained and rinsed black beans, and fat-trimmed boneless skinless chicken thighs or breasts.

Add the undrained diced fire-roasted green chiles, diced tomatoes (if desired, it's great with or without them), chili powder, cumin, paprika, about 1 teaspoon salt (I prefer seasoned salt), about 1/4 teaspoon pepper, coarsely chopped fresh cilantro, and chicken broth or stock.

Cover and cook on low for 5-7 hours or high for 3-5 hours or until the chicken easily shreds.

Remove the chicken from the crockpot and place in another bowl. Add softened cream cheese (cube into smaller pieces and melt in the microwave) into the crockpot.

Cover and cook on high for another 30 minutes or until the cream cheese melts completely and is easily stirred into the soup. Briskly whisk to get the cheese completely incorporated.

Shred the chicken with 2 forks and then add back into the soup.

Serve with desired toppings. I love a big handful of pepper-jack cheese, fat-free sour cream, a wedge of lime, and some cilantro!
More delicious crockpot soups to enjoy:
Crockpot Creamy Chicken Enchilada Chili
Easy Slow Cooker Mexican Tortilla Quinoa Soup
Easy Crockpot Italian Chicken and Quinoa Soup
Crockpot healthy chicken, butternut squash, and quinoa soup