A super simple (dump it and forget about it) hearty, and healthy sweet potato and beef stew
This is not really your typical stew. Which you probably gathered by the pictures and that the focus is on sweet potatoes instead of meat. However, there is still meat in this stew! But instead of being the focus of the stew it really is the perfect complement of the super tender and flavorful sweet potatoes!
My dad is a huge stew guy. He made it all the time for us growing up. He's super intense about his stews though: like, make it in the Lodge dutch oven (he won't use any other brands haha!) and cook it over actual coals in our backyard. Although these days he'll usually cook it in his Lodge dutch oven in the oven. The coals and special outdoor cookware don't come out as much as they used it.
And although we all (especially me) went crazy for his stew (Growing up, I requested it for my birthday dinners which happened to be in the middle of May), my philosophy with stew cooking is, er, less fancy. I'm happy with 10 minutes prep time and letting it slow cook alll day while I don't have to keep poking coals and smell like a boy scout after a week long camping trip.

And guys, this stew is really, really great. The kind of meal where you are freaking out excited to have leftovers the next day? Yes, this stew is just that. I never thought I'd say it, but I actually like sweet potatoes over red potatoes in stew. And by like, I mean, I don't think I'll ever go back. This is THE stew. ❤
It's ultra hearty and such a fun twist on a typical red potato stew. It's amazing how much the sweet potatoes change the overall flavor.
The prep time is quite nice too — you don't even need to cook the meat first. It's literally a dump it and forget it kind of deal. Especially because there isn't a whole lot of veggie chopping — just sweet potatoes, a celery stalk, and an onion.

Crockpot Sweet Potato Stew
A super simple (dump it and forget about it) hearty, and healthy sweet potato and beef stew.
Ingredients
3

cups (~2 potatoes)

medium-sized sweet potatoes

chopped

1/4

cup

chopped celery

1

small yellow onion

8

ounce bag

mini carrots

1 can

(15 ounces)

corn,

I use fire-roasted (or use frozen sweet corn or cut it off the cob!)

1 can

(14.5 ounces)

diced tomatoes,

I use fire-roasted

1

pound

beef chuck roast,

cut into cut into 1/2-inch chunks (can use pre-cut stew meat for super quick prep)

2

tablespoons

flour

1/2

teaspoon

each seasoned salt and pepper

1

bay leaf

1

teaspoon

minced garlic

1/2

teaspoon

paprika

1

teaspoon

Worcestershire sauce

2

tablespoons

fresh parsley

2

beef boullion cubes

1

cup

water

Optional: fresh flat leaf parsley
Instructions
Grease a slow cooker with non-stick spray. I use a 6-quart crockpot.

Peel and chop the sweet potatoes into large chunks. Measure to get a heaping 3 cups and place in the prepared slow cooker.

Add in the chopped celery, chopped onion, the bag of carrots, drained can of corn (I buy corn that is fire-roasted and it adds so much flavor! It's right by regular canned corn in the grocery store) and undrained can of diced tomatoes.

Toss together the flour, seasoned salt, and pepper. Toss the cut meat (cut in 1 inch cubes if not pre-cut) in the flour mixture until well coated.

Place the coated meat in the slow cooker on top of all the vegetables. You do not need to pre-cook the meat at all.

Add in the bay leaf, minced garlic, paprika, Worcestershire sauce, and fresh parsley. (I coarsely chop parsley and pack it in a tablespoon measuring spoon to get that measurement.)

Add in the boullion cubes and the water.

Stir everything together and try to submerge the meat to below the veggies to keep it as tender as possible. Cover and cook on low for 7-9 hours or high for 5-7 hours or until the sweet potatoes and vegetables are tender and the meat is cooked through and tender. All slow cookers cook at different temperatures. Mine takes about 8 hours on low and I don't typically cook stews on high because I find them to be more flavorful (meat more tender) after slow cooking all day!

When ready to serve, remove the bay leaf.

If you are home, occasionally stir the stew throughout the day.

Stir the ingredients together and slightly mash the tender sweet potatoes in the crockpot. This gives it a chunkier and thicker stew consistency and it's delicious!

If desired top with some fresh parsley.
Here are some more delicious crockpot soup recipes: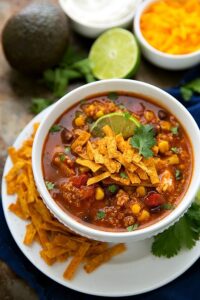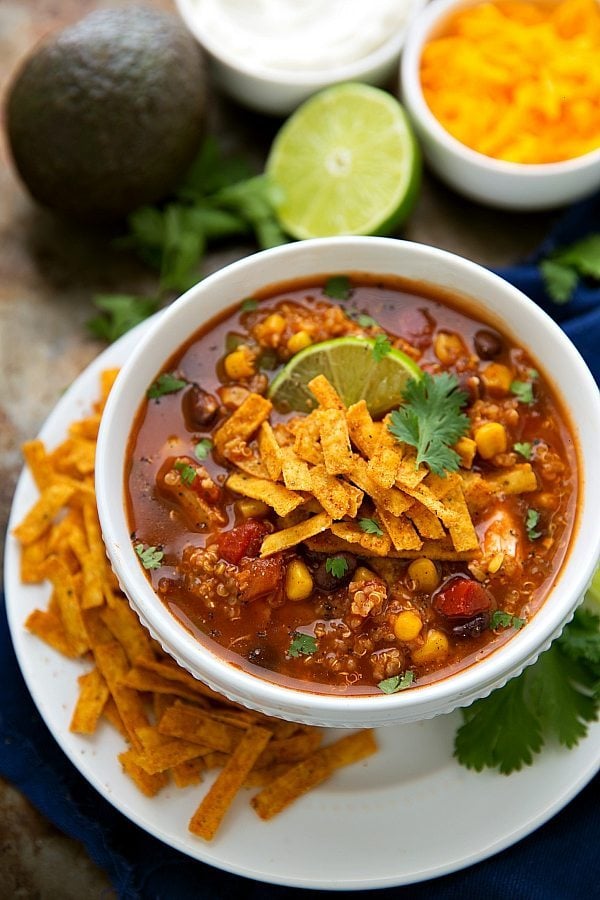 Easy Slow Cooker Mexican Tortilla Quinoa Soup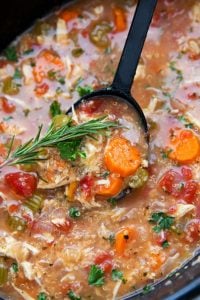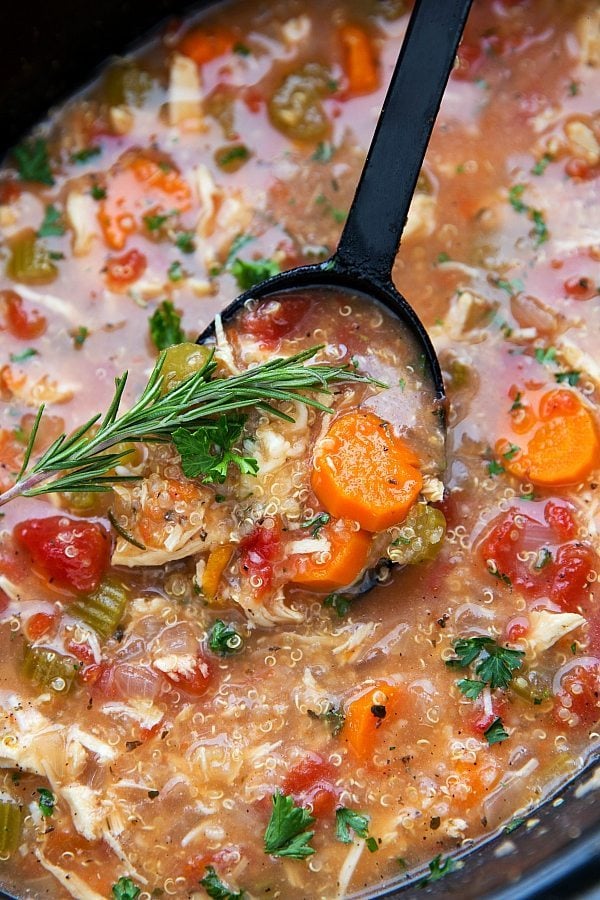 Easy Crockpot Italian Chicken and Quinoa Soup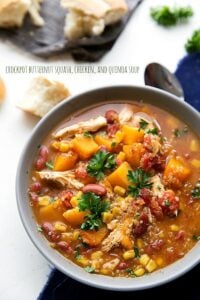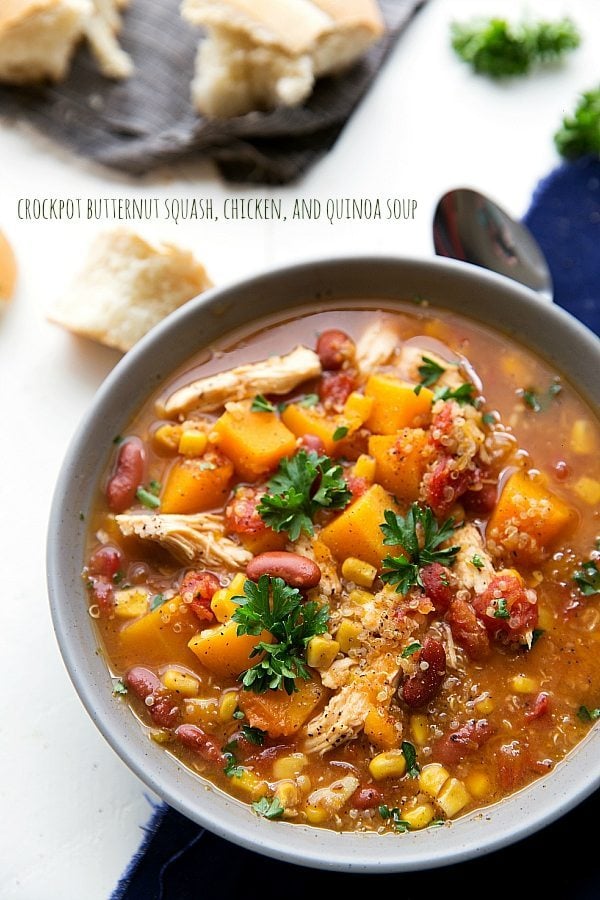 Crockpot healthy chicken, butternut squash, and quinoa soup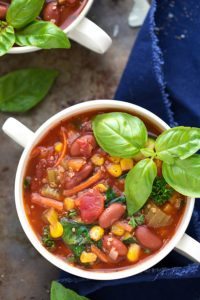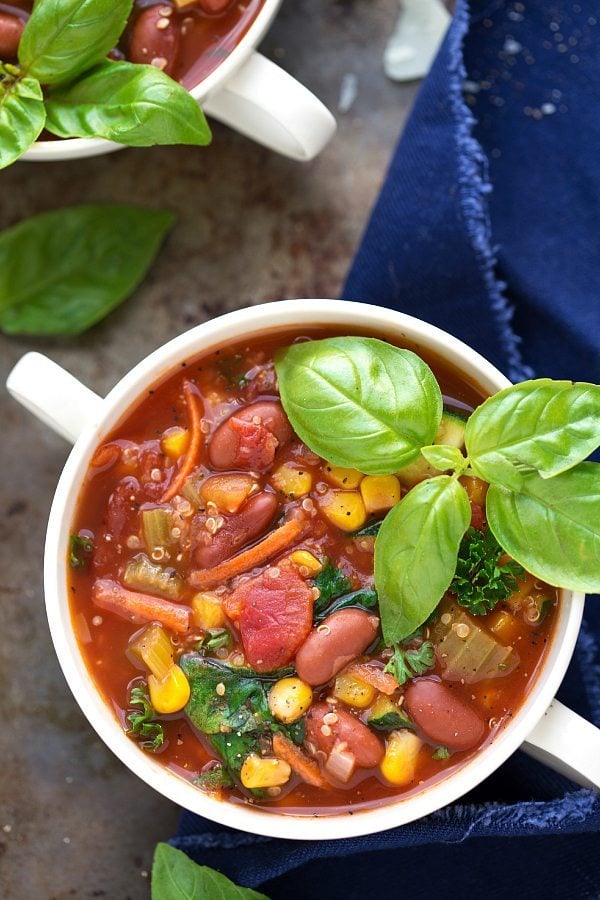 Crockpot healthy quinoa minestrone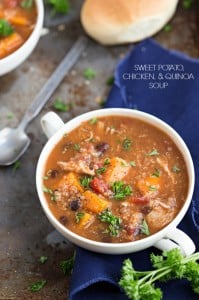 Slow Cooker Sweet Potato, Quinoa, and Chicken Soup
Crockpot Kale, White Bean, and Quinoa Soup