Quinoa chili made in one pot on the stovetop in 30 minutes or less! This easy dinner recipe is packed with good-for-you ingredients and delicious seasonings. You won't miss the meat in this vegetarian dinner.
Pair this delicious quinoa chili with roasted brussel sprouts, an easy Italian salad, or this simple fruit salad recipe.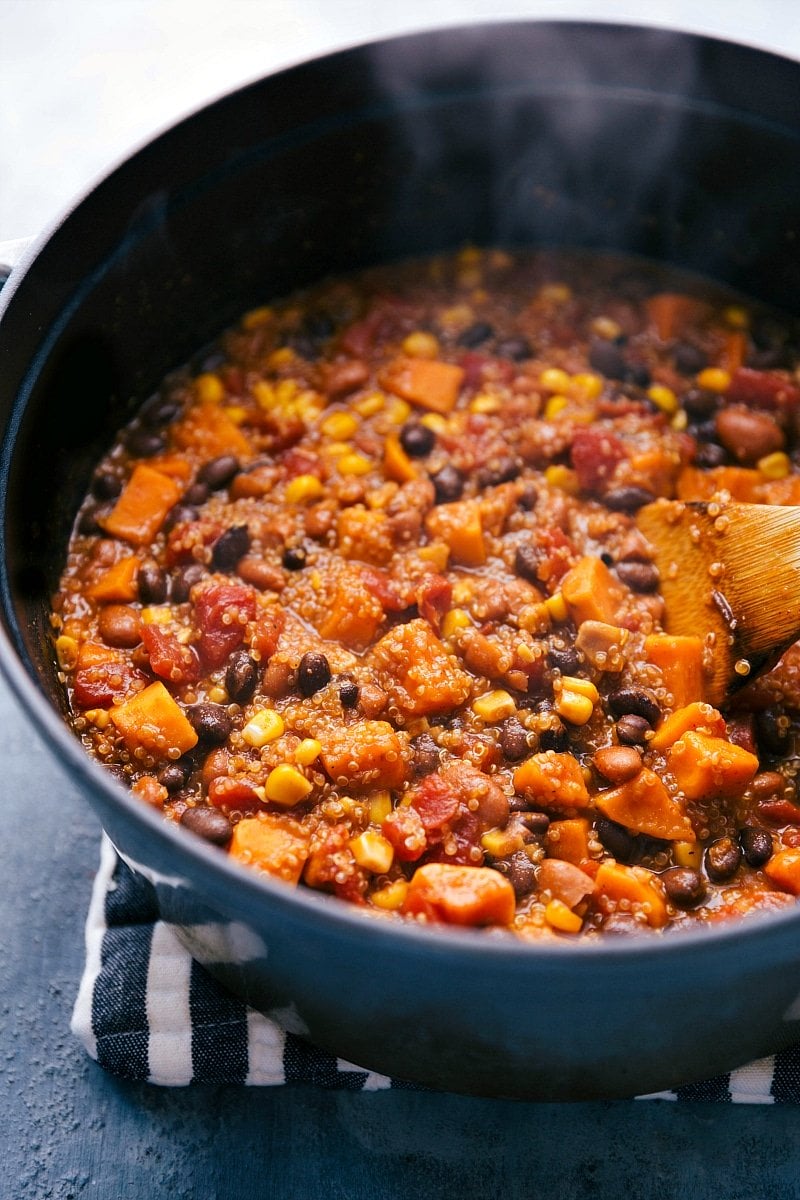 We LOVE chili at our home and it's on the menu frequently as the weather cools down. This crockpot chili is our go-to recipe and one of the most popular recipes on my site.
But when when we're feeling like amping up the veggies we turn to this vegetarian chili or this very quinoa chili recipe — both are incredibly filling and delicious. Thanks to the quinoa in this chili, it's still packed with protein and sure to leave you feeling full and satiated.
With sweet potatoes, beans, and the perfect seasoning blend, this quinoa chili is the best!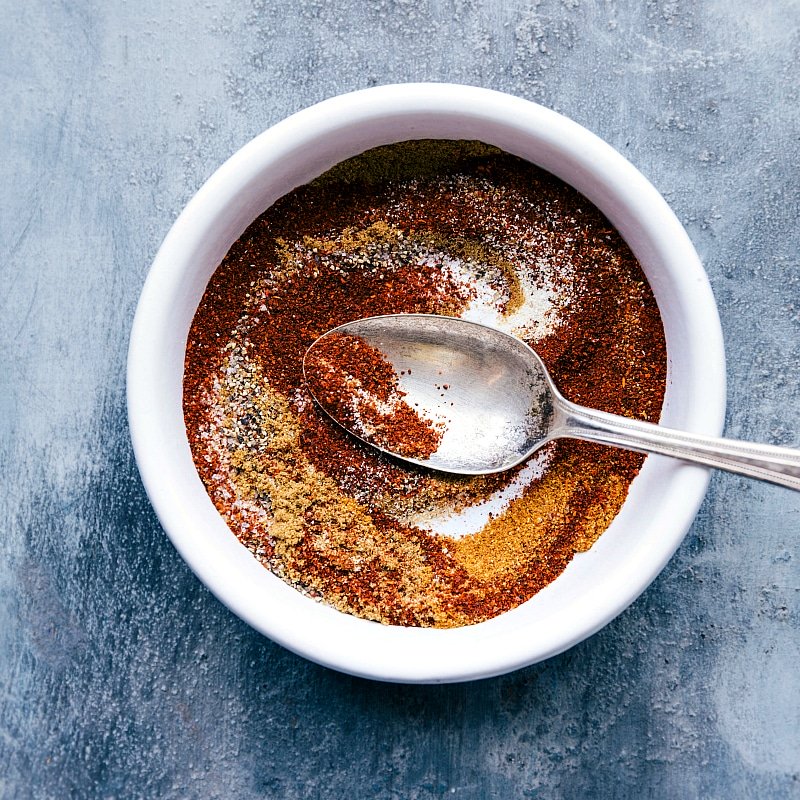 Ingredients in quinoa chili
Sweet potatoes: one of my all time favorite veggies makes an appearance in this chili; it adds a nice sweetness, a good texture, and the perfect thickness
Seasoning blend: this quinoa has the best blend of spices; we've got chili powder, cumin, cayenne pepper, onion powder, garlic powder, and of course salt and pepper
Quinoa: this forms the "base" of the chili and thickens and absorbs flavors from all the different ingredients
Chicken stock: I love the flavor of chicken stock with all the other ingredients, but use vegetarian broth or stock to keep this quinoa chili vegetarian/vegan
Chili beans: we like the chili beans in mild sauce, but grab whatever heat you prefer. Unsure what chili beans are? Here's a great explanation.
Black beans: or use another can of chili beans
Frozen corn: or fresh if you have access (cut right off the cob)
Petite diced tomatoes: grab fire-roasted for extra flavor! Depending on the acidity of the canned tomatoes, you may want to add a pinch of sugar. (We love San Marzano tomatoes best in this chili.)
Toppings: see below!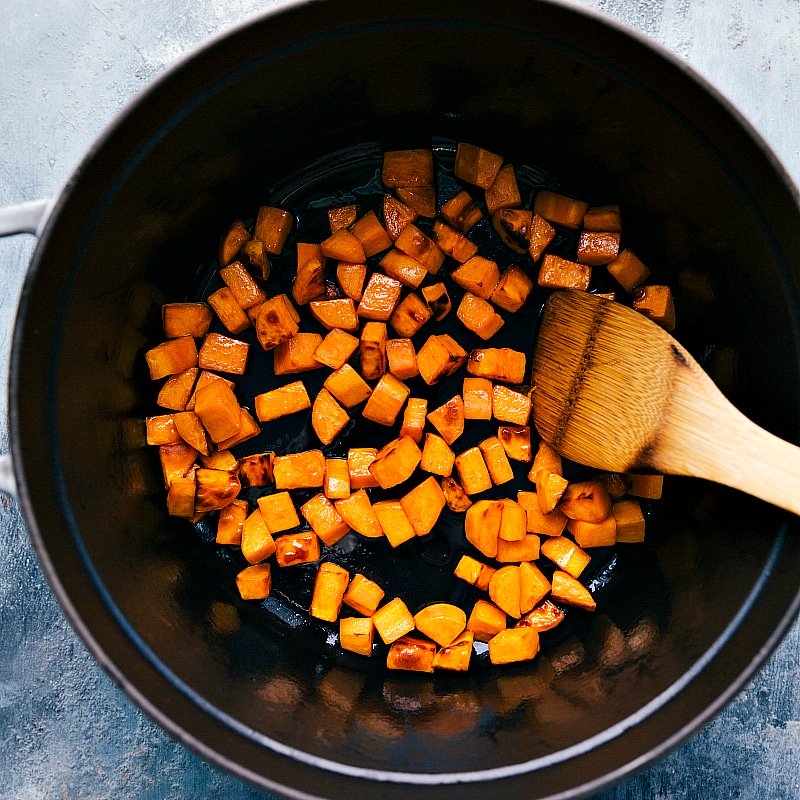 Quinoa chili toppings
Fresh lime juice
Freshly grated sharp cheddar cheese
Sour cream (fat free, reduced fat, or full fat)
Crushed corn chips (like Fritos), crushed tortilla chips, saltine crackers
Fresh chives or cilantro (chopped)
Fresh avocado/guacamole and/or fresh chopped tomatoes
Our favorites: extra sharp cheddar cheese, sour cream, fresh lime, and cilantro!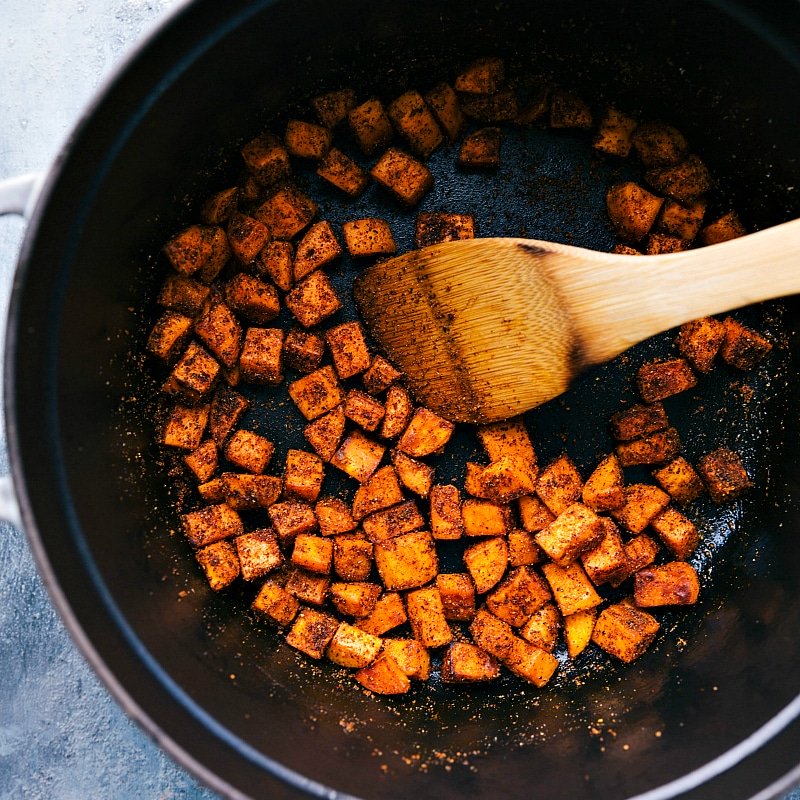 Variations
To make this chili vegetarian swap the chicken stock for vegetarian stock (or broth)
This recipe also makes for the best vegan quinoa chili! Use vegetarian stock or broth in place of chicken stock and use vegan alternatives for topping the chili
For more of a southwest quinoa chili, add a teaspoon of Mexican oregano, a diced green or poblano pepper, and a diced red or yellow pepper. Saute the peppers right before adding in the quinoa for 3-4 minutes.
To make a turkey quinoa chili, add in some browned ground turkey. If adding in ground turkey, you'll likely want to amp up the spices as well. Don't forget to season the ground turkey with salt and pepper.
Add fresh onion and/or garlic. If I have a little more time on hand, I'll add in half of a diced yellow onion and a few teaspoons of minced garlic. Saute for 3-4 minutes before adding in the sweet potato.
Using leftover quinoa chili
Baked Potatoes: add a few spoonfuls of this quinoa chili plus some cheese, green onions, sour cream, etc. to a baked potato
Navajo Tacos: make or buy some fry bread, top with a few spoonfuls of this quinoa chili and add some cheese and sour cream. (More about navajo tacos here).
Shepherd's Pie: (kind of!) Use leftover quinoa chili as a base and top it with mashed potatoes. (Use the ratios and mashed potatoes from this shepherd's pie recipe.)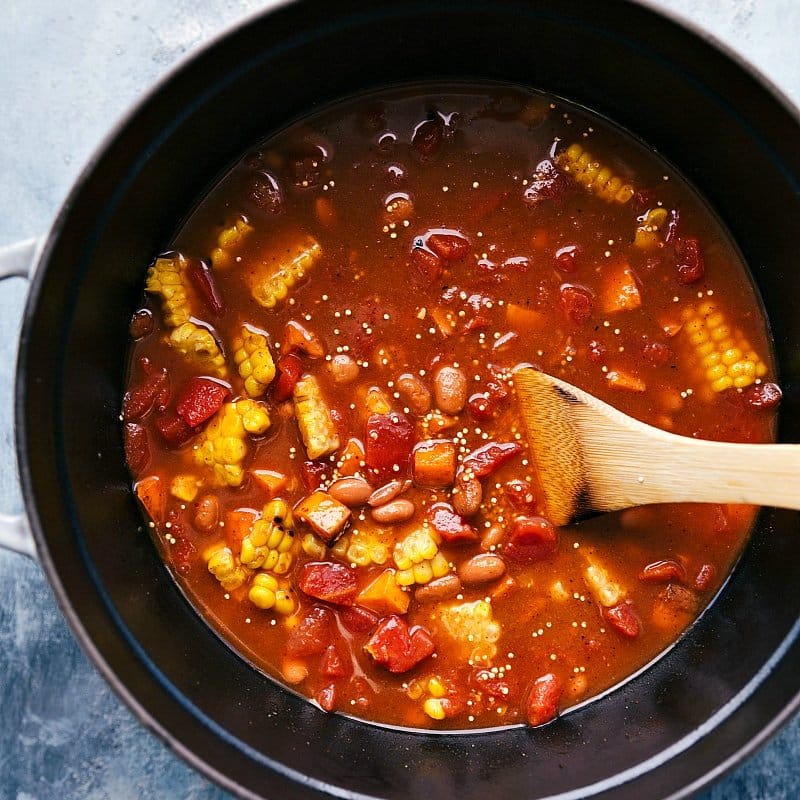 Quick notes
Freezing: while you CAN freeze this quinoa, it doesn't thaw/reheat as nicely as making it fresh. The quinoa continues to absorb liquid and becomes a little "soggy."
Reheating: warm leftovers in the microwave or gently on the stovetop. Add additional chicken/veggie stock as needed to thin out the chili a bit.
Quinoa continues to absorb liquid as it sits. This quinoa chili will continue to get thicker and thicker, so keep that in mind for when you pull the chili off the stovetop.
Chop the sweet potatoes into small bite sized pieces; this ensures they'll cook in the time everything else is done.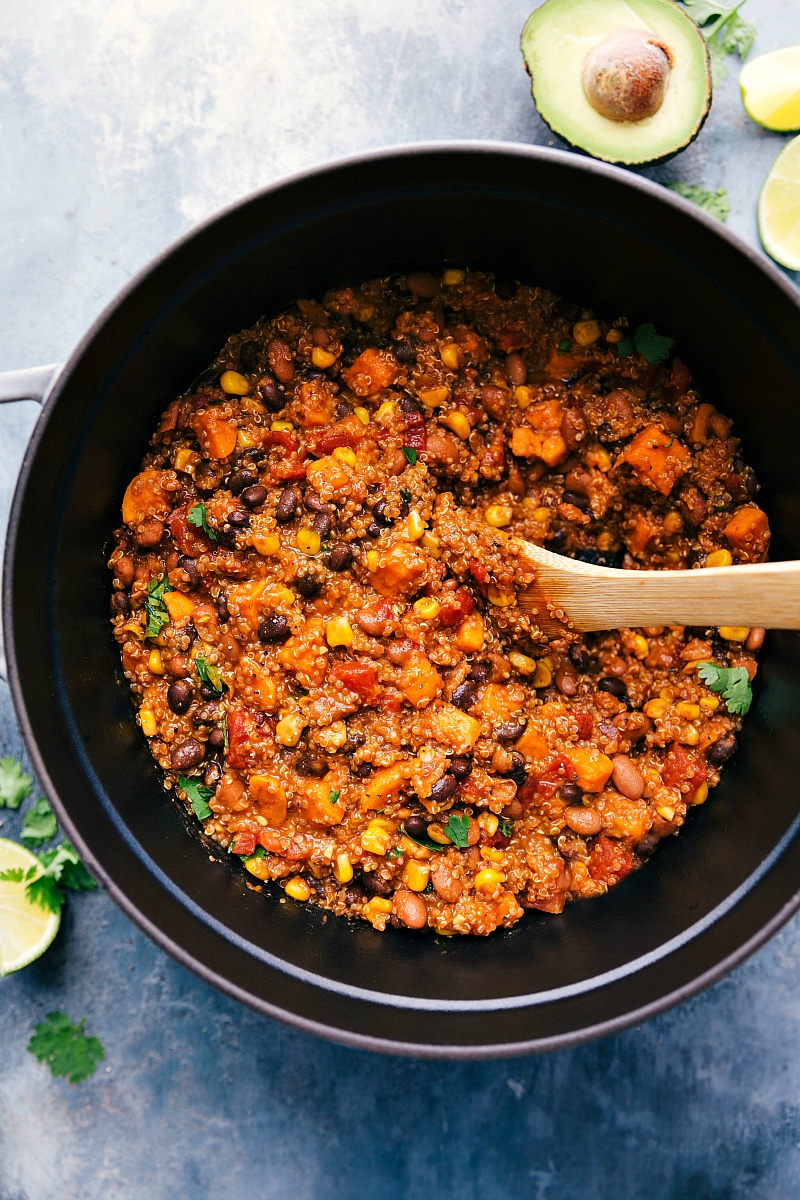 More quinoa recipes: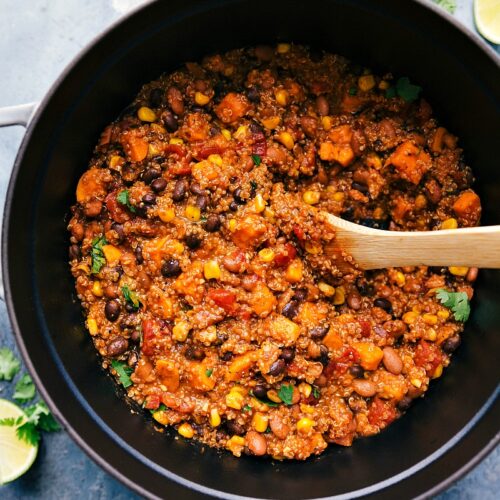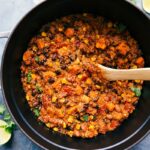 Quinoa Chili
Quinoa chili made in one pot on the stovetop in 30 minutes or less! This easy dinner recipe is packed with good-for-you ingredients and delicious seasonings. You won't miss the meat in this vegetarian dinner.
Ingredients
1 and 1/2

tablespoons

olive oil

2

cups

peeled and chopped sweet potatoes

1

tablespoon

chili powder

1

teaspoon

ground cumin

1/4

teaspoon

cayenne pepper

1/2

teaspoon

onion powder

1/4

teaspoon

garlic powder

3/4

teaspoon

fine sea salt

1/4

teaspoon

freshly cracked pepper

1

cup

white quinoa

2

cups

chicken stock (can use broth)

(use vegetarian stock/broth to keep this vegetarian)

1

cup

frozen corn

1

can (15.5 ounces)

chili beans in mild sauce

1

can (15 ounces)

black beans,

drained and rinsed

1

can (14.5 ounces)

petite diced tomatoes

Optional toppings: fresh lime juice, chopped cilantro, sour cream, cheddar cheese
Instructions
In a large cast iron pot over medium high heat add in olive oil. Once shimmering, add in the (peeled and chopped) sweet potatoes.

Stir until quite tender, around 7-9 minutes. Stir in the chili powder, ground cumin, cayenne pepper, onion powder, garlic powder, salt, and pepper. Stir for 1 minute or until fragrant.

Thoroughly rinse the quinoa. Remove the skillet from the heat and add the quinoa to the hot skillet stirring constantly for 30 seconds.

Return to the heat and add in the stock/broth, the frozen corn, undrained chili beans, black beans, and undrained petite diced tomatoes.

Stir everything well and bring to a boil. Once it is boiling, reduce the heat to medium low and cover the pot.

Allow to simmer for 20-25 minutes or until most of the liquid is absorbed. This time will vary depending on the heat of your stove-top. For best results, check it every 3-5 minutes and give it a good stir at each check to avoid burning or sticking to the bottom.

Once the liquid is mostly absorbed, remove from the heat. Season to taste with any additional salt/pepper as needed. I like to add a few tablespoons of lime juice here.

Top individual bowls with favorite toppings. We top ours with a good handful of freshly grated sharp cheddar cheese, another squeeze of lime, a good spoonful of sour cream, and some chopped cilantro. Don't forget the toppings; they add a lot!
Quinoa chili calories