A healthier pumpkin chocolate cake. This gluten-free dessert is packed with flavor and uses healthier ingredients, plus only 1 bowl needed and no hand mixers required! (Gluten Free Recipe)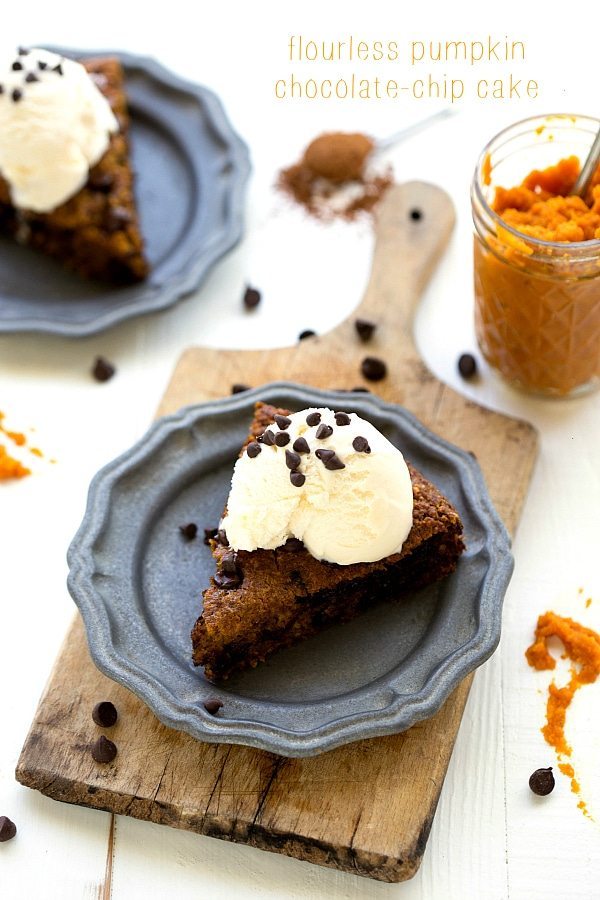 If you've enjoyed these flourless pumpkin muffins (so many of you have and I'm so excited about that!) I posted last year, or gotten around to trying this healthy pumpkin bread, I know you are going to LOVE this cake.
It's a dense, flavor-packed, delicious treat! That really isn't too bad for you either! Some healthy desserts are just not worth it — give me all the calories instead, right?! (Black bean brownies. Gross. Ahem.) This one, however, I would absolutely prefer over a regular cake because it is so tasty and much healthier! (And then I can "save" those extra calories for a full-calorie real brownie ;)) It's also super easy to whip up — you only need one bowl, pretty standard ingredients, no hand mixers, and one baking pan. I tested this cake in both an 8 x 8 square pan and a circular cake pan — both will do the job just great!
Although, I have to admit, I think the round cake pan does make it prettier 🙂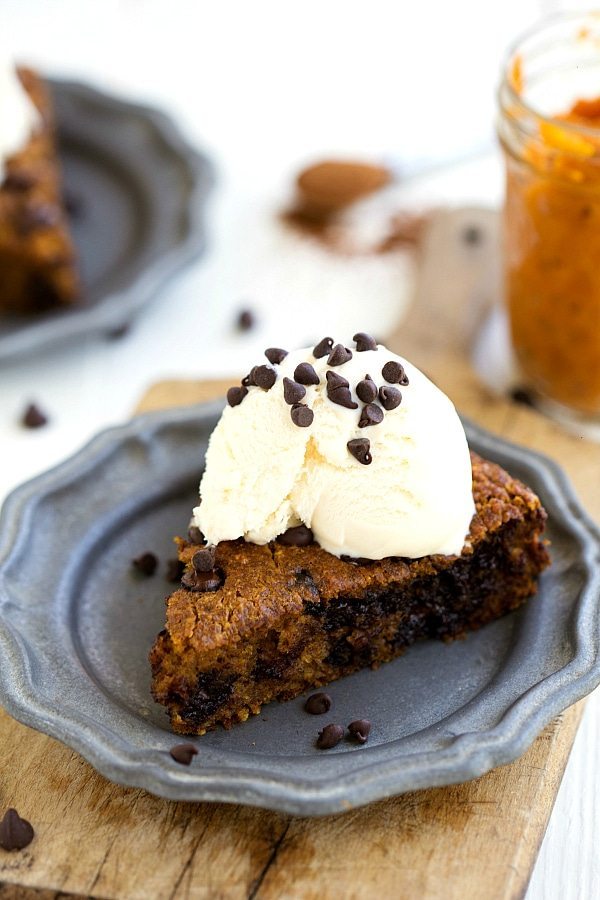 You may have wondered why I have so many gluten-free options on the blog. I'm not gluten-intolerant and neither is the husband or the babe. However, I do have two sisters that are gluten-intolerant.
Growing up when one of my sisters was put on a gluten-free diet we changed a lot. I remember it being such a tricky transition and there wasn't tons of information or great recipes or products like there is nowadays. (And it's only getting better!)
Anyways, I made this cake specifically for one of my sisters. She LOVES pumpkin and cake and chocolate so it was a perfect treat for her to enjoy! She absolutely loved it! And those that aren't gluten-intolerant? They couldn't believe it was so much healthier! Because this cake is SO much healthier than your traditional cake it is also a lot denser and has a moister texture. Both of which go really well with the pumpkin/fall spices and flavors.
Speaking of the flavors, if you are able to save some of this cake for the next day, it is even better! The flavors have developed more and really heightened. I'll admit I've even warmed up a few pieces for breakfast… And the babe has enjoyed some with me… 🙂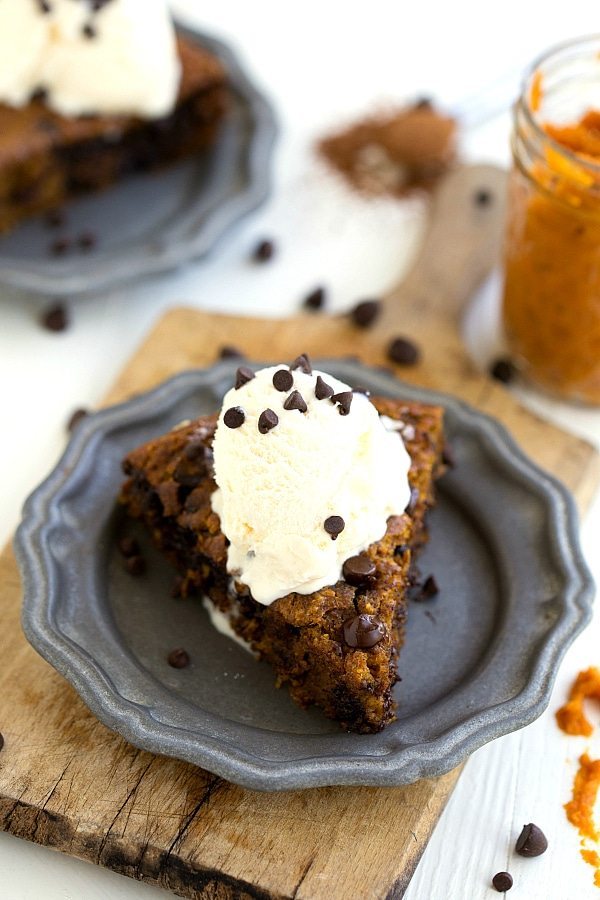 The nutritional value does go way down if you serve it with a ginormous scoop (or two) of vanilla bean ice cream and mini chocolate chips to top it off. But since you are "saving" all those calories anyways…. 😉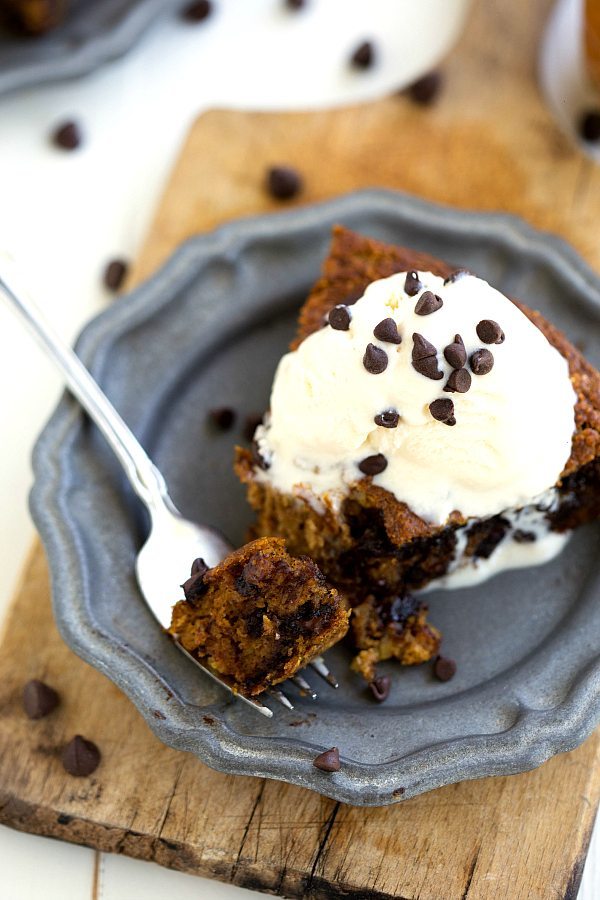 More delicious pumpkin recipes: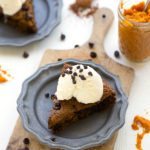 Flourless Pumpkin Chocolate-Chip Cake
Servings
:
1
round 9-inch cake or 1 8 x 8 baking pan
Ingredients
1

cup

canned pumpkin

not pumpkin pie filling and not an entire can!

1/4

cup

applesauce

1/2

cup

unsweetened almond milk

I used vanilla flavored

1/4

cup

melted coconut oil

1

large

egg

1/2

teaspoon

vanilla extract

1/3 - 1/2

cup

white sugar

depending on desired sweetness

1

cup

oat flour

regular oats that have been blended in a blender

1 and 1/2

teaspoons

ground cinnamon

1

teaspoon

allspice

1/4

teaspoon

nutmeg

1

teaspoon

baking soda

1

teaspoon

baking powder

1/4

teaspoon

salt

3/4

cup

dark chocolate chips
Instructions
Preheat the oven to 350 degrees F. Grease and flour (with oat flour or regular flour if not gluten intolerant) a round cake pan or 8 x 8 baking pan. Make sure to be generous and flour it well as it can be tricky to get out! Alternatively line the pan with parchment paper or foil and lightly spray.

In a large mixing bowl add the pumpkin (drab with a paper towel if it is excessively wet), applesauce, almond milk, melted coconut oil (measure when melted), large egg, vanilla extract, and sugar. If you are used to healthier desserts 1/3 cup should be plenty, if not (or you just want something a little sweeter) go for 1/2 cup. I usually use 1/3 cup + 1 tablespoon.

Whisk until well combined. Add in the oat flour, cinnamon, allspice, nutmeg, baking soda, baking powder, and salt. Mix until just combined and then stir in the chocolate chips.

Pour the batter into the prepared baking pan and bake for 40-50 minutes (8 x 8 baking pan took 40 minutes for me and the round baking pan took about 48-50 minutes) or until a toothpick when inserted comes out clean. Be careful to not over-bake the cake as that will take away a lot of the moistness/softness of it.

Cool the cake for about 10 minutes before transferring out of the cake pan into a wire rack to allow it to further cool.
Recipe Notes
If gluten-intolerant make sure to use gluten-free oats.