These healthy pumpkin cookies have no butter, oil, or white flour. These cookies are filled with pumpkin flavor and Fall spices making for one tasty, guilt-free treat.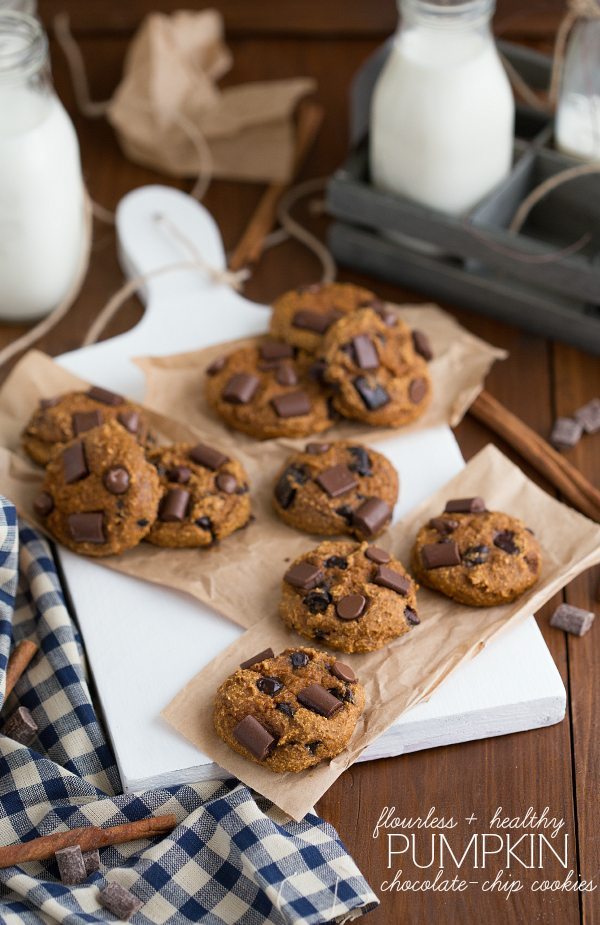 After making about ten bazillion batches of these healthy pumpkin muffins, I was ready to try something a little different. Still on the same track – healthy and pumpkin and all. But more…well…cookies.
Those muffins were pretty much the only thing I could get my little guy to eat for a week straight while he was sick so when I'm saying ten bazillion batches, the exaggerating is not as dramatic as you think. Okay, nevermind, it's way dramatic. But I did make a lot of batches!
So what are you getting with these cookies? Intense pumpkin flavor with a hint of cinnamon, a chewy cake-like texture, creamy melted chocolate, and above all – a healthy treat that feels indulgent, but isn't! Well, maybe the amount of chocolate packed in these is a little indulgent, but moderation in all things right?! 🙂
I started these cookies trying to make them with some peanut butter, but didn't love the combination – it kind of overtook the pumpkin. So peanut butter haters, rejoice – these have no nut butters in them! And yet, they still hold together extremely well – they aren't crumbly at all!
I also tried these with some whole wheat flour and definitely preferred the texture and taste with the oat flour. Oat flour is one of my favorite things to put into baked goods – especially when I am trying to make them healthier. And if you haven't tried anything with oat flour, don't be scared of trying to find it in a grocery store – it's just regular oats (I used old fashioned or quick) that have been blended until they reach a flour consistency. It takes me about 30 seconds to make oat flour.
That does not include clean up of the blender unfortunately. One day I'll figure out a magical way to make oat flour and clean my blender in 30 seconds. I'll definitely let you know when I've got that figured out. But until then, the oat flour is not hard to make so don't be intimidated by it!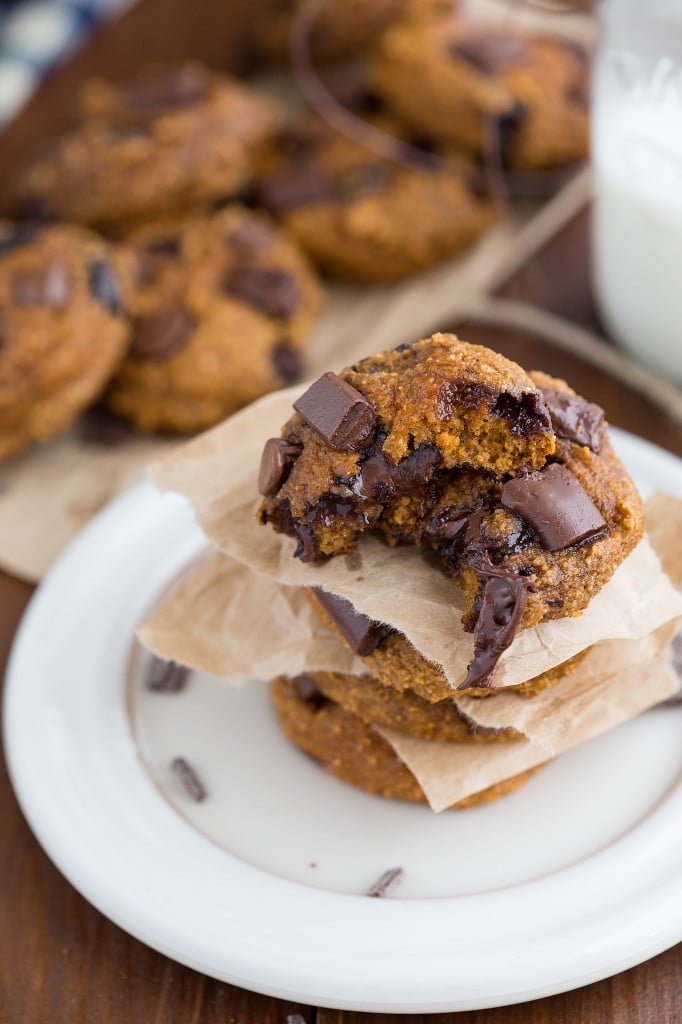 These cookies are light, not dense, but they are chewy in a cakey kind of way. I like to underbake them just a bit because it's pure chocolate + pumpkin melty nirvana right there.
I also like to pack these full with chocolate chips – if you can get two different kinds of chocolate chips that is the best! This recipe calls for regular dark chocolate chips and then milk chocolate chunks which give these cookies a great texture and add more flavor with the two kinds of chocolate. You can stick to one if you want, but I highly recommend the two different types.
In my experience, you can never go wrong with chocolate. And especially not when dark chocolate + milk chocolate are involved. <3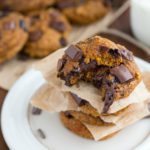 Pumpkin Chocolate-Chip Cookies
These healthy pumpkin cookies have no butter, oil, or white flour. These cookies are filled with pumpkin flavor and Fall spices making for one tasty, guilt-free treat.
Ingredients
1/2

cup

canned pumpkin

not pumpkin pie filling

2

tablespoons

honey

1

large

egg

1/2

teaspoon

vanilla extract

2

tablespoons

brown sugar

1/2

teaspoon

cinnamon

1/2

teaspoon

pumpkin pie spice

1

teaspoon

baking soda

Pinch of salt

1

cup

oat flour

oats that have been blended

1/2

cup

dark chocolate chips

or milk chocolate, semi-sweet, or nuts

1/4

cup

chocolate chunks

optional
Instructions
In a bowl, beat together the pumpkin, honey, egg, and vanilla extract. Beat in the brown sugar.

In another bowl, stir together the cinnamon, pumpkin pie spice, baking soda, salt, and oat flour.

Oat flour is just old-fashioned or quick oats that have been blended in a blender or food processor until they are at a flour consistency. **Make sure to measure the oat flour AFTER blending the oats and not before **

Combine the wet and dry and mix until just combined. Do not overstir.

Stir in the chocolate chips.

Chill the dough for 30 minutes and then preheat the oven to 350 degrees F.

Using a cookie scoop, scoop out the dough onto a cookie sheet.

Press the chocolate chunks (and extra chocolate chips if desired) into the tops of these cookies and bake for 6-8 minutes.

These cookies taste best (in my opinion) a little under-baked - they are soft, chewy, and chocolatey!
Recipe Notes
If gluten-intolerant, make sure to use certified gluten-free oats.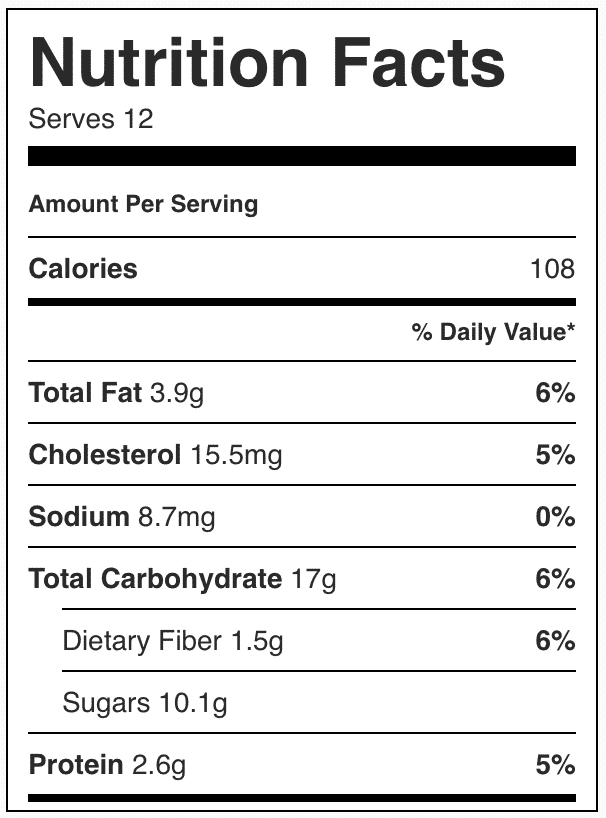 More healthy pumpkin treats (or ways to use leftover pumpkin):
Healthy pumpkin chocolate-chip muffins