These healthy pumpkin cookies are flourless, free of refined sugars, and don't use any oils or butter. These cookies are also very simple to make — whip them up in one bowl and in less than 30 minutes.
Use leftover canned pumpkin in these healthy pumpkin muffins, this pumpkin protein shake, or this healthy pumpkin bread.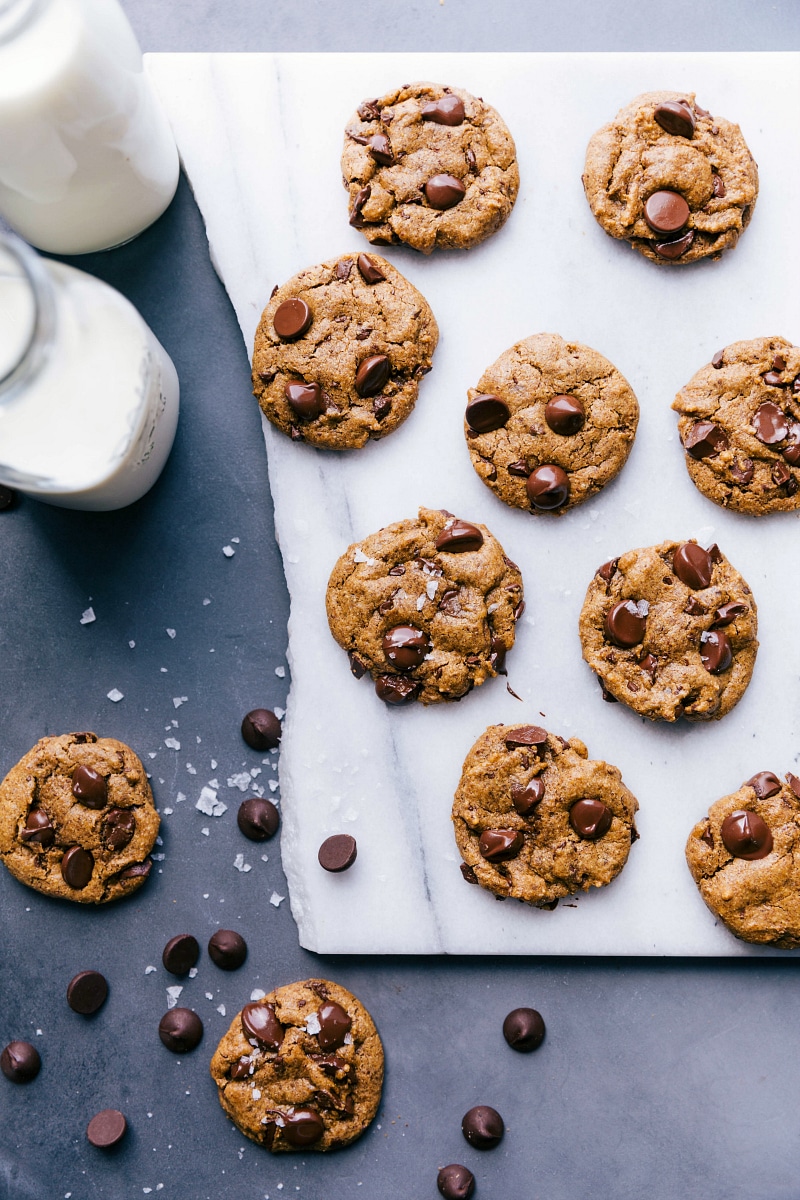 Healthier pumpkin cookie alternative
Pumpkin chocolate chip cookies are one of my all time favorite desserts — in fact, we make them all year round. While I definitely bake more with pumpkin in the Fall, I'm still baking with it in Spring, Summer, and Winter. So, naturally I needed a healthier alternative to make since I have just about no self control when around cookies. And now when I eat the whole half the batch of these healthy pumpkin cookies, it feels a little better than eating half the batch of sugar-butter-flour filled cookies. Although, let's be honest, that still happens too 🙂
These cookies don't have butter, oil, or flour in them. They're made healthier with ground up old fashioned oats, pumpkin puree, almond butter, and naturally sweetened with pure maple syrup. While we're talking ingredients, below I've got a breakdown of each of the ingredients in these healthy pumpkin cookies.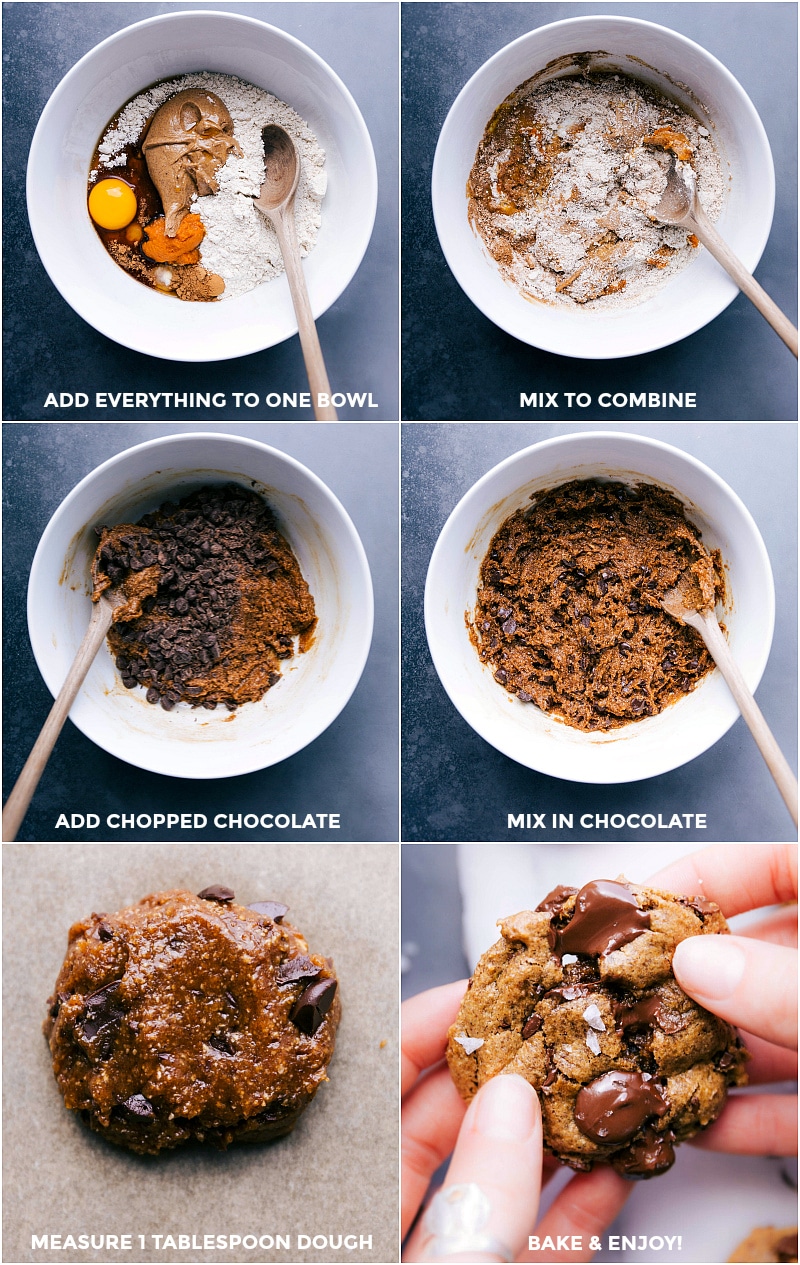 Healthy Pumpkin Cookies ingredients
Canned pumpkin: I recommend Libby's® canned pumpkin (not sponsored). If the canned pumpkin you're using is overly wet, dab off excess water with a paper towel or napkin. (If the pumpkin is watery, the cookies won't taste as good and the texture will be off.)
Almond butter: the almond butter provides structure and stability while being a very subtle flavor. I don't recommend using peanut butter in place of the almond butter since peanut butter tends to over-take the flavor of these cookies. Use a good quality almond butter — one that you like the taste of plain. I don't recommend a natural, no stir, or overly oily almond butter as it will likely make the cookies too wet. (Here is the exact almond butter I use in this recipe).
Pure maple syrup: These cookies are sweetened naturally with pure maple syrup — a natural sugar alternative. Maple syrup supplies important vitamins and nutrients among many other health benefits.
Egg yolk: The egg provides stability to the batter and adds flavor and protein to these cookies.
Vanilla extract: Vanilla contributes to a nice subtle flavor.
Pumpkin pie spice: This spice blend is a mix of a few different spices like cinnamon, nutmeg, ginger, cloves, and/or allspice. You can easily make your own pumpkin pie spice.
Ground cinnamon: Cinnamon further enhances the pumpkin flavor of these cookies.
Baking soda: This keeps the cookies from being too dense.
Salt: Salt helps balance and intensify all the flavors. Depending on how salty your almond butter is, you may want to adjust the salt adding either more or less.
Old fashioned oats/Oat flour: No need to buy specialty flour; oat flour can be made with quick or old fashioned oats. (Read more on this below.)
Dark chocolate chips: dark chocolate has healthy fats and plenty of antioxidants. If you care to keep these cookies completely refined-sugar free, make sure to grab Lily's dark chocolate chips.
How to make oat flour
These healthy pumpkin cookies require old fashioned or quick oats to be blended into a powder (oat flour) before being added to the cookies. Here's how to do that:
Place the oats (either old fashioned or quick oats) into the bowl of a food processor or small blender jar.
Pulse the oats until ground into a powder-like consistency that resembles flour.
Stir the oats around to be sure all the oats are finely ground.
Measure the powdered oats after they've been blended and not in the original whole oat form.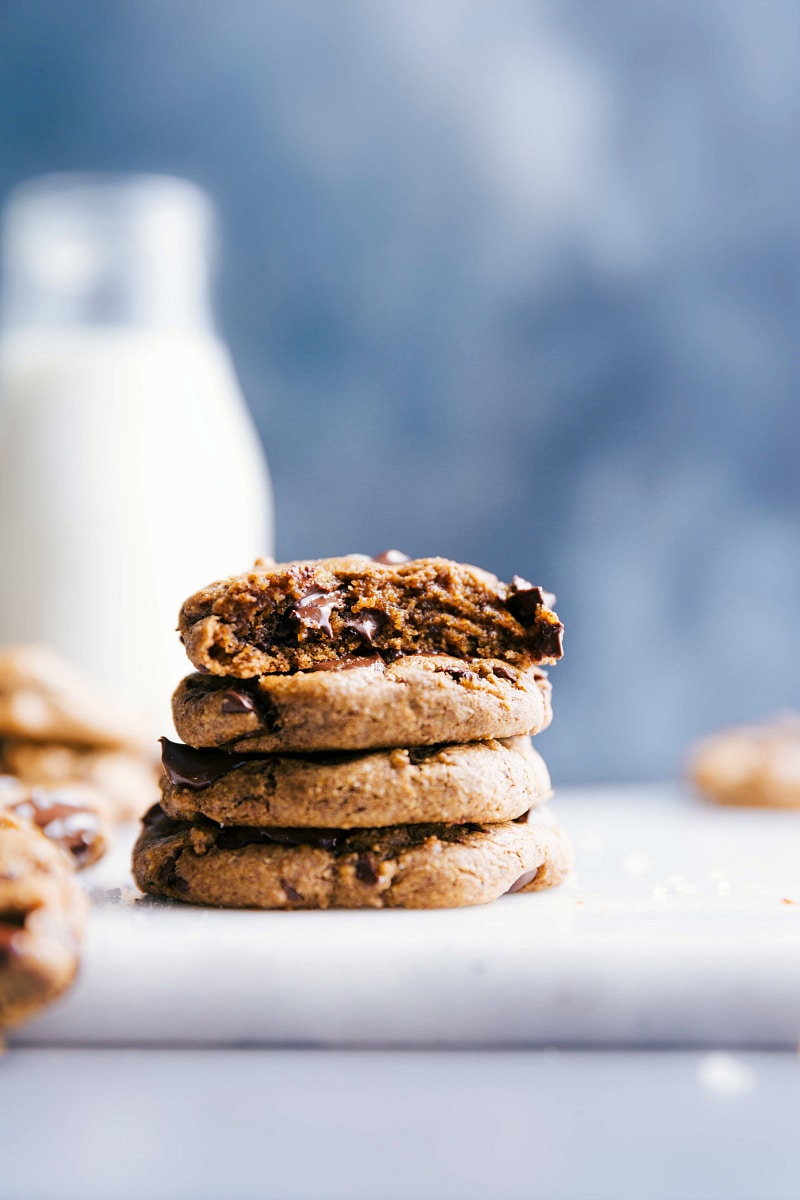 Healthy Pumpkin Cookie tips
Make them pretty. Press some chocolate chips onto the tops of the cookies as soon as you take them out of the oven; this ensures even dispersion of chocolate and they also look more appetizing.
To add chocolate chips or not. You can absolutely remove the chocolate chips and still make delicious healthy pumpkin cookies. If you opt to not have the chocolate I would recommend adding coarsely chopped nuts — pecans or walnuts. Another great alternative would be dried cranberries.
Let the cookies cool completely. These cookies are extremely fragile and crumbly while hot. Let them throughly cool before eating; they'll firm up substantially as they cool.
Don't over bake. These healthy pumpkin cookies go from perfectly cooked to burnt in minutes so it's important to watch the bake time on them carefully. As soon as the tops are no longer wet looking, they're finished baking. This is about 6-7 minutes at 350 degrees F.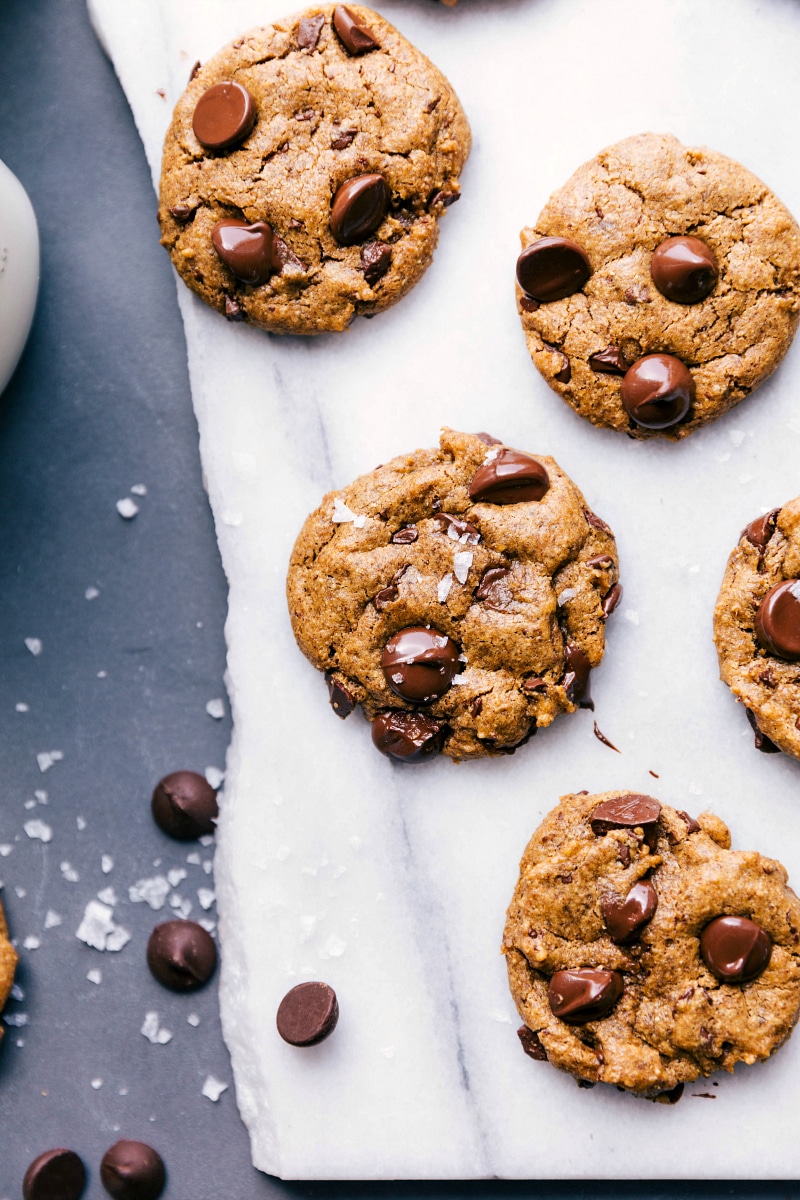 More fall desserts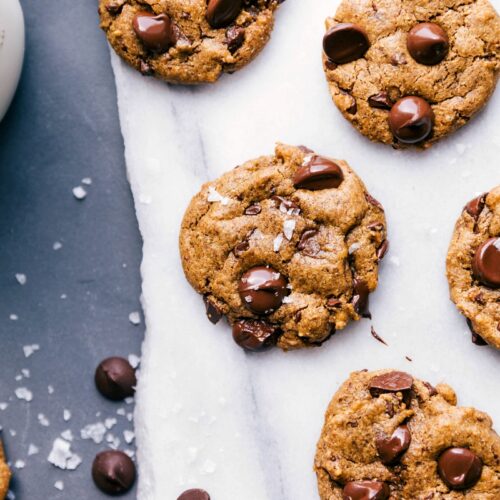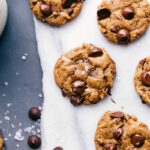 Healthy Pumpkin Cookies
These healthy pumpkin cookies are free of refined sugars, flourless, and simple to make. Whip these cookies up in one bowl and in less than 30 minutes.
Keyword:
healthy pumpkin cookies
Ingredients
2

tablespoons

canned pumpkin puree

(I recommend Libby's)

1

large

egg yolk

(discard the egg whites or use in a different recipe)

1/2

cup (118g)

roasted and salted almond butter

1/4

cup (72g)

pure maple syrup

1/2

teaspoon

pure vanilla extract

1/2

teaspoon

baking soda

1/4

teaspoon

fine sea salt

1 and 1/2

teaspoons

pumpkin pie spice

1/4

teaspoon

ground cinnamon

1/2

cup (58g)

blended old fashioned oats OR quick oats, (See Note 1)

1/2

cup (92g)

dark chocolate chips,

coarsely chopped

Optional: flaky sea salt
Instructions
PREP: Preheat the oven to 350 degrees F. Line 2 large sheet pans with parchment paper or a nonstick liner and set aside.

COOKIE DOUGH: In a large bowl, add the pumpkin, egg yolk, almond butter (do not warm up in the microwave), maple syrup, vanilla extract, baking soda, salt, pumpkin pie spice, and ground cinnamon.

BLEND OATS: grind up oats in a blender or food processor until the oats are the texture and size of regular flour. Make sure to measure the 1/2 cup after grinding the oats so you have a leveled 1/2 cup measurement of blended oats. Add to the cookie dough. Mix dough with a wooden spoon or hand mixers until the dough is smooth and well combined. Coarsely chop up the chocolate chips and stir into the batter. Cover dough and refrigerate for 10 minutes.

BAKE: use a 1 tablespoon measuring spoon to measure out balls of the cookie dough. It is sticky, use a finger or another spoon to coax the dough from the 1 tablespoon measuring spoon on to the prepared trays. Smooth and flatten the tops of the cookie dough balls (see photo in post for shape of unbaked cookie dough). Space them about 2 inches apart to fit 8 per tray. Bake, 1 tray at a time, for 6-7 minutes. Cookies should still look very soft, watch carefully to not over bake. As soon as the top is no longer wet/glossy, they are done baking.

LET COOL: remove the trays from the oven and let the cookies stand on the cookie sheet for 10 minutes without touching. If desired, press a few more chocolate chips into the tops of the cookies and (optional) a sprinkle of sea salt flakes if you like salty sweet :). Then use a metal spatula to transfer the cookies to a cooling rack. These cookies are very fragile and will fall apart right out of the oven/while still hot. They set up and solidify as they cool.
Recipe Notes
Note 1: be sure to measure the oats after being blended not before. You should have a leveled 1/2 cup of blended oats.
Ensure all the products you are using are indeed gluten free. While all the ingredients listed are naturally gluten free, they are sometimes made in facilities with gluten. To be safe, always check the labels of what you're using.
This recipe has been modified slightly to completely remove the refined sugars (brown sugar) and improve the texture a bit. Here's the recipe from 2014 if desired.