This is the best-ever, tested-to-perfection, made-from-scratch, moist pumpkin bread. Plus: directions for adding chocolate or nuts to the pumpkin bread AND instructions for converting this bread into miniature or full sized loaves.
Once you've become obsessed with this recipe, be sure to try out my famous zucchini bread or raved-about banana bread. For a healthier option, check out this healthy pumpkin bread.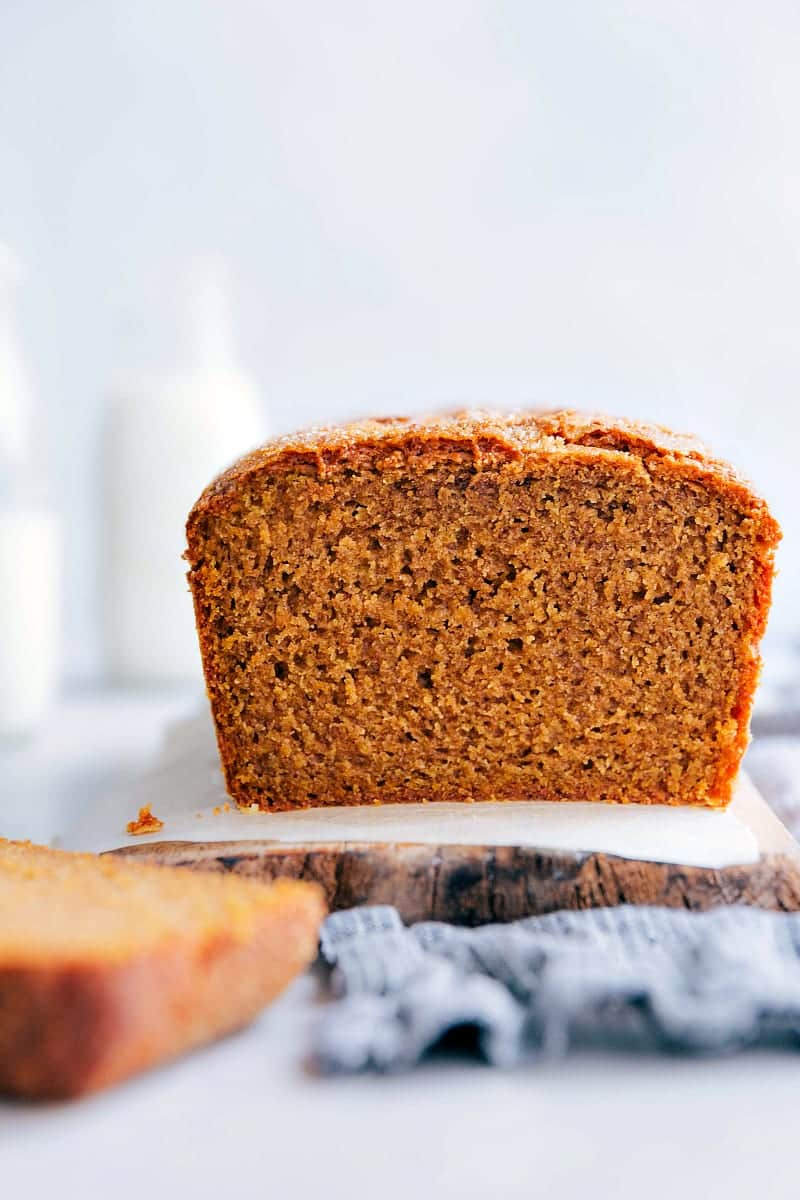 Perfecting Pumpkin Bread
This pumpkin bread recipe has been a long time in coming and I'm so excited to share it with you. It took the push of hosting (and therefore "catering") my sister's bridal shower to finally finish perfecting and sharing it! I've mentioned my sister is not into very tradition desserts (doesn't like brownies, cakes, cupcakes, ice cream, etc.), but one of her favorite desserts is pumpkin bread. So with a fall-themed shower, the best pumpkin bread is a must have.
Pumpkin bread is always on my list to perfect every Fall time, and this recipe has gotten closer and closer each year to being ready to share. And finally, over this last week, I made several batches of pumpkin bread slowly tweaking the base recipe I've been working with every year to bring you this very recipe. Moist, delicious, from scratch pumpkin bread. The "secret" to this pumpkin bread? Good quality pumpkin, the perfect amount of spice, and a crunchy brown sugar topping. Just adding 2 tablespoons of brown sugar to the top of this bread before baking it makes for the most insanely tasty "crust"!

Not only is this bread amazing, it's also super simple to make. You'll need only ONE bowl, some hand mixers/beaters, a spatula, and a bread tin (or mini tins) Following along with the 10 photos above; I've written out a process description of each photo below:
How to make easy pumpkin bread:
Add canned pumpkin to a large bowl (notice the consistency — thick and not watery!)
Press down on pumpkin with a paper towel to get a bit of extra moisture out
Add the remaining wet ingredients to the pumpkin except for eggs
Mix: you don't even need hand mixers! Just a whisk will do 🙂
Add eggs: you want to make sure the eggs are at room temperature. Read more about getting eggs to room temperature quickly here.
Mix until smooth
Sift together all the dry ingredients except the salt. Stir, add salt, stir.
Add dry ingredients right on top of wet
Mix wet and dry until JUST combined. Over-mixing results in a denser bread.
Add the batter to a greased and floured bread pan and bake!
How to convert this recipe to mini loaves:
This pumpkin bread recipe makes a batter that will fill ONE full sized loaf pan or THREE miniature loaf pans.
The miniature loaf pans tested this recipe in are 5.75-inch by 3.25-inch by 2.25-inch. I love Chicago Metallic's loaf mini loaf pans best! In the miniature pans this pumpkin bread batter bakes for 45-55 minutes.
The full size loaf pan I use and tested this recipe in is 8.5 x 4.5 x 2.75 inches. This recipe has also been tested in a 9 x 5 inch loaf pan (I recommend/prefer the 9 x 5 inch). In the full sized loaf pan, this pumpkin bread batter bakes for 65-80 minutes.
There will always be variance in the baking time based on the exact sized pan you use, the humidity, and your oven. Check on the loaves occasionally (look through the glass in the oven; avoid opening the oven as that lets out a lot of heat) and then test the bread by inserting a toothpick into the center of the bread. If it comes out clean or with moist crumbs, it's done and if not give it some more time. (Or more scientifically you can use a food thermometer and you're looking for bread at approximately 190 degrees F.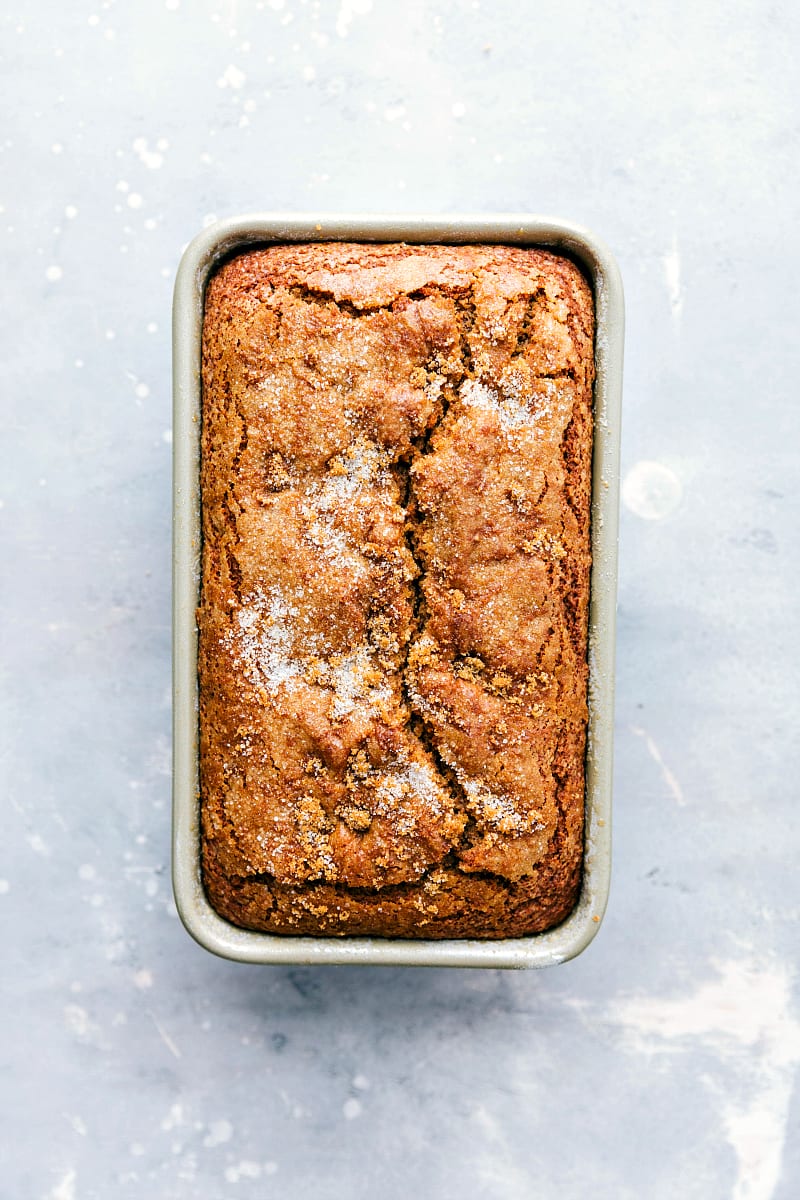 Pumpkin Bread FAQS
Can this pumpkin bread batter be made into muffins?
I recommend this recipe for pumpkin muffins (they've got a really nice height and dome to them), but this batter will work for muffins. To make regular-sized muffins, grease and flour the muffin tin (this dough tends to stick to liners) and bake at 350 degrees F for 25-30 minutes.
Can you make this pumpkin bread recipe healthier?
Of course you can make this pumpkin bread however you'd like 🙂 BUT if you are looking for some healthier swaps, I would recommend on using this healthy pumpkin bread recipe. It's crazy popular and simple to make!
Can you add chocolate chips or nuts?
Absolutely. If you want to add chocolate chips or nuts add up to 1 cup total to the dry ingredients (1 cup chocolate, 1 cup nuts, or a combo of 1/2 cup chocolate and 1/2 cup nuts) You don't want the nuts to be too large as it will affect the texture of this bread (makes it crumbly). Toss the nuts and/or chocolate in the dry ingredients to coat in flour so they don't all sink to the bottom of your pumpkin bread.
What spices are in pumpkin bread?
Typically you'll find cinnamon, nutmeg, cloves, ginger, and/or allspice in pumpkin bread. To simplify things a bit this recipe only requires ground cinnamon, ground nutmeg, and pumpkin pie spice. Pumpkin pie spice can be bought readily at grocery stores (among spices) OR you can make your own pumpkin pie spice here.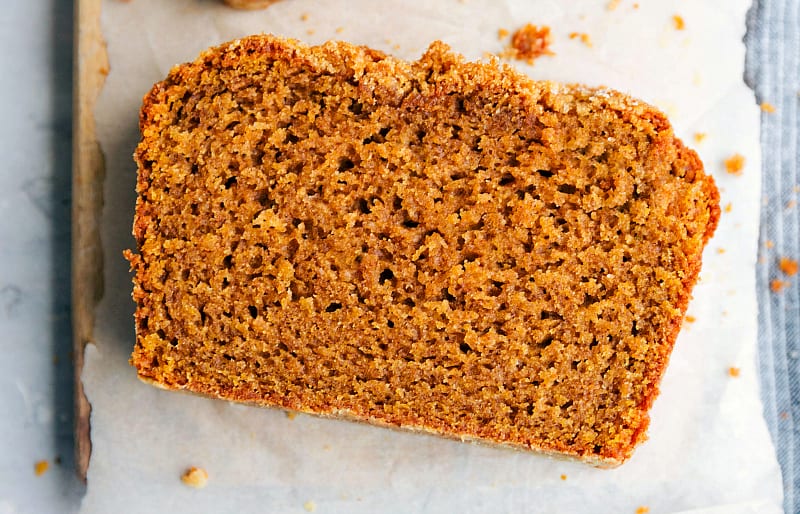 More Amazing Pumpkin Treats: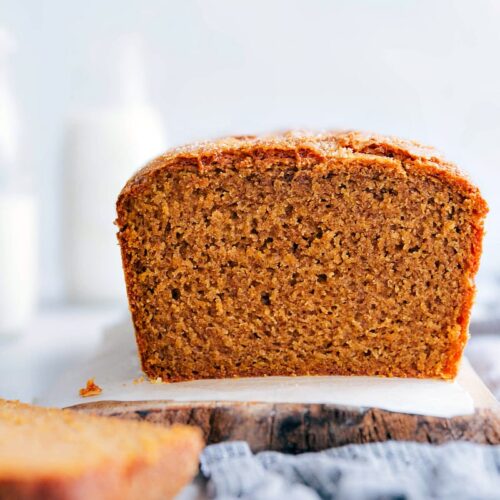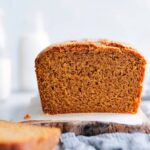 Pumpkin Bread
This is the best-ever, tested-to-perfection, made-from-scratch, moist pumpkin bread. Plus: directions for adding chocolate or nuts to the pumpkin bread AND instructions for converting this bread into miniature or full sized loaves.
Servings
:
1
large loaf or 3 miniature loaves
Ingredients
1

cup

canned high-quality pumpkin puree (not pumpkin pie filling)

(I recommend Libby's)

1

cup

vegetable oil

1/3

cup + 2 tablespoons

lightly packed LIGHT brown sugar,

separated (in testing with dark brown sugar, bread was too moist)

1

cup

white granulated sugar

1/2

tablespoon

vanilla extract

3

large

eggs

1 and 2/3

cups

white all-purpose flour,

measured by spooning and leveling into measuring cup

1/2

teaspoon

baking soda

1 and 1/2

teaspoons

baking powder

1

tablespoon

ground cinnamon

1

tablespoon

pumpkin pie spice

1/4

teaspoon

ground nutmeg

3/4

teaspoon

fine sea salt

Optional: 1 tablespoon cane/raw sugar
Instructions
Preheat the oven to 325 degrees F. Generously grease either one 9 x 5-inch baking pan (smaller won't work) or 3 miniature baking pans and then generously coat with flour. It's very important to really grease and flour your pans because this bread has a tendency to stick if you don't!

Make sure your pumpkin is not overly watery. Dab with paper towels (do not skip this or the bread will be too overly moist). I like to press a few paper towels on the pumpkin before adding more ingredients.

In a large bowl, whisk together the pumpkin, vegetable oil, 1/3 cup brown sugar, white sugar, and vanilla extract. Whisk until smooth. Add in the eggs. Whisk until smooth.

In another bowl, place a fine mesh sieve/strainer on top of your bowl and add in the flour, baking soda, baking powder, ground cinnamon, pumpkin pie spice, and nutmeg. Gently tap the strainer until all of the mixture in the bowl. Add the salt into the bowl and whisk to combine.

Using a spatula, gently fold the dry into the wet and mix until JUST combined being careful to not overmix. (Overmixing will result in a denser bread).


Pour the batter all into one large pan or divide it evenly into the three miniature pans. Smooth the tops with the back of a spoon. Sprinkle the loaf of loaves with the remaining 2 tablespoons brown sugar and if desired the 1 tablespoon cane sugar (makes for a delicious crunchy crust!)

Bake for 65-80 minutes (mine always takes 75 mins) for 1 large loaf and 45-55 minutes for the small loaves (mine always takes 50 mins) OR until a toothpick when inserted into the center of the loaves comes out clean.

Allow to cool for 10 minutes and then invert the loaf out of the pans onto a cooling rack. Allow to fully cool before slicing in and enjoying.

Bread is best enjoyed within 3-4 days. Store in a dry place in an airtight container.
Bread highly adapted from Taste of Home