A mixture of steel cut oatmeal and quinoa that can be cooked overnight in your slow cooker. This breakfast can be topped with fresh berries and a splash of milk for a delicious and healthy breakfast the whole family will love.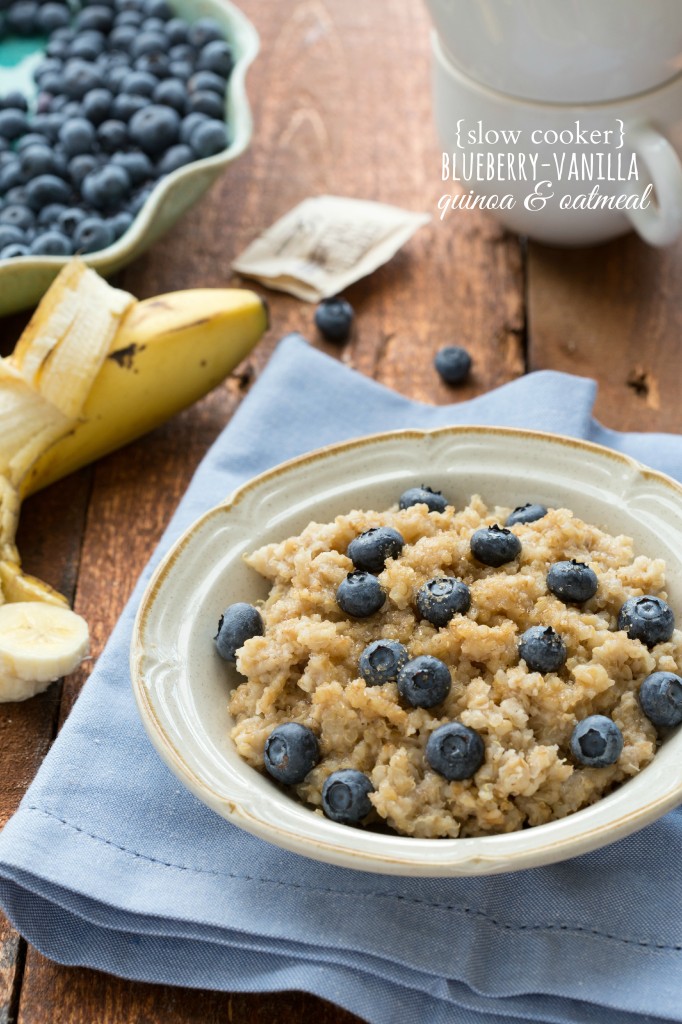 Breakfast tends to get a little repetitive at my house.
Actually a lot.
We are pretty much cereal people through and through. The husband will eat different kinds of cereals, but me? I stick with one that I really like and eat it until I'm sick of it. For the past few months it was honey-nut cheerios and now it's shredded wheat.
Every morning with some almond milk. And the babe's got his oatmeal and applesauce.
Every.single.morning.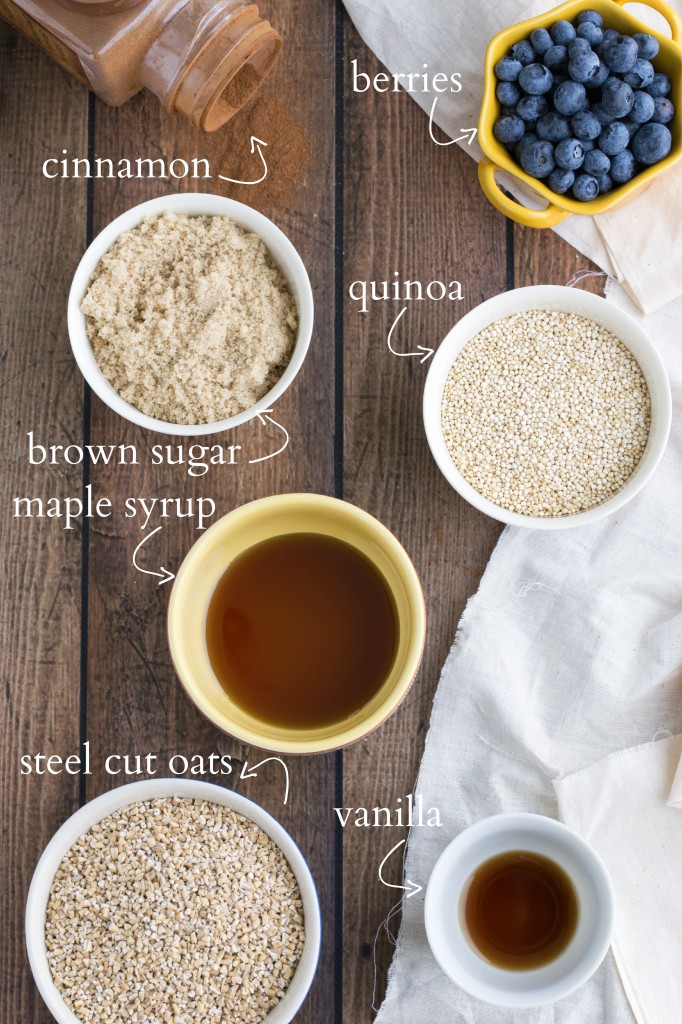 And occasionally, a Saturday comes around and we make a 30-minute cinnamon roll skillet for breakfast, or some waffles, or cheesecake-stuffed pancakes.
Side-note: Am I the only one that gets waffles and pancakes mixed up? I'm constantly calling them the wrong name, and the husband is constantly teasing me about it.
I also do really like overnight oats, which I've had a few on the blog. Side-note two: overnight oats were my jam in college. I ate them every single morning and have so many different flavors and recipes I need to share. Mental note. I'm on it.
Anyways. I have always wanted to try quinoa in an overnight version like oats. Except I kinda wanted a no-work quinoa. So, naturally the slow cooker came to mind.
I tried just quinoa in the slow cooker overnight and that was a huge major fail. Don't do it. Never do it.
But with a mixture of steel cut oats (not old fashioned and not quick – neither work), the quinoa is perfectly fluffy and delicious come morning time. I practically squeeled with excitement when I had a combo that finally worked and didn't have to wake up to a black sticky disaster in my slow cooker. Side-note three – someone needs to invent a machine that cleans your slow cooker for you. For some reason, that is my least favorite thing to clean. #firstworldproblems
With seriously five minutes prep time, a delicious hot and healthy breakfast to wake up to, what more could you want? You've got to try this!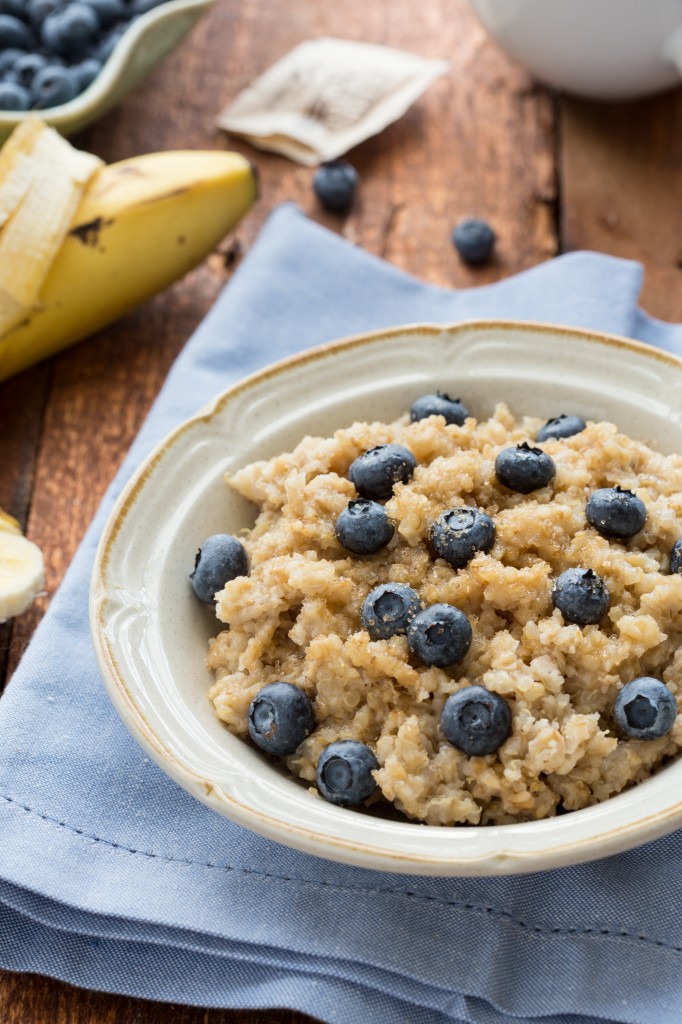 Slow Cooker Overnight Quinoa and Oats
Ingredients
1 and 1/2

cups

steel cut oats

no substitutes

1/2

cup

quinoa

4 and 1/2

cups

water

or almond milk

4

tablespoons

brown sugar

2

tablespoons

real maple syrup

1/4

teaspoon

salt

1 and 1/2

teaspoons

vanilla extract

Optional: 1/4 teaspoon ground cinnamon, fresh berries, splash of milk, additional sugar for topping
Instructions
Spray your slow cooker with non-stick spray. (Do not forget this step!)

In a mesh strainer, rinse out the quinoa really well.

Combine the steel cut outs, rinsed quinoa, water or almond milk, brown sugar, maple syrup, salt, vanilla extract, and cinnamon (if desired) into the slow cooker.

Stir really well and then set your slow cooker to low or, if you have a programmable slow cooker, set it to when you will wake up.

This meal is ideal at 6-7 hours (best at 6 hours if you have a fast crockpot) and after that it becomes mushy and not so great.

If you sleep 6-7 hours then turn it on low right before going to sleep or set the program to start preferably 6 hours before waking up.

Once you wake up, immediately turn it off the heat and transfer to another dish or to breakfast bowls.

Serve with a splash of milk, fresh berries, and additional brown sugar if desired.
Recipe Notes
If you leave the mixture in the slow cooker for longer than indicated after being cooked, have an excessively fast cooking slow cooker (haha!), or cook it for longer than indicated your results will be most likely mushy and perhaps even burn along the edges.
Here are some more delicious breakfast ideas: