Homemade Muesli — a mix of toasted oats, nuts, and coconut, is tossed with dried fruits and enjoyed for breakfast or a snack. Serve Muesli over yogurt, as a cereal replacement with milk, or in overnight oats.

I'd never heard of muesli until we moved to Australia about five years ago for my husband's work. When we first arrived, we stayed in a hotel for a couple weeks while waiting for our apartment to be ready. The hotel served breakfast every morning and one of the most popular options was Muesli. To be honest, the first time I tried it, I wasn't a huge fan. I think I was expecting granola, or something a bit crunchier and sweeter.
However, I kept trying it and the more I ate it (and learned to add a little sweetener – ha!), I became hooked. Since returning to the US, I've bought or made it fairly often. And now, at last I'm sharing my recipe.
Store-bought muesli can sometimes be difficult to find in the states, but it's so simple to make, so why not make it yourself? Homemade is always best, but with a recipe like this one, where you can customize and switch up the add ins, homemade is definitely the way to go. We like lots of dried fruits in ours, and I'll share plenty of other options below.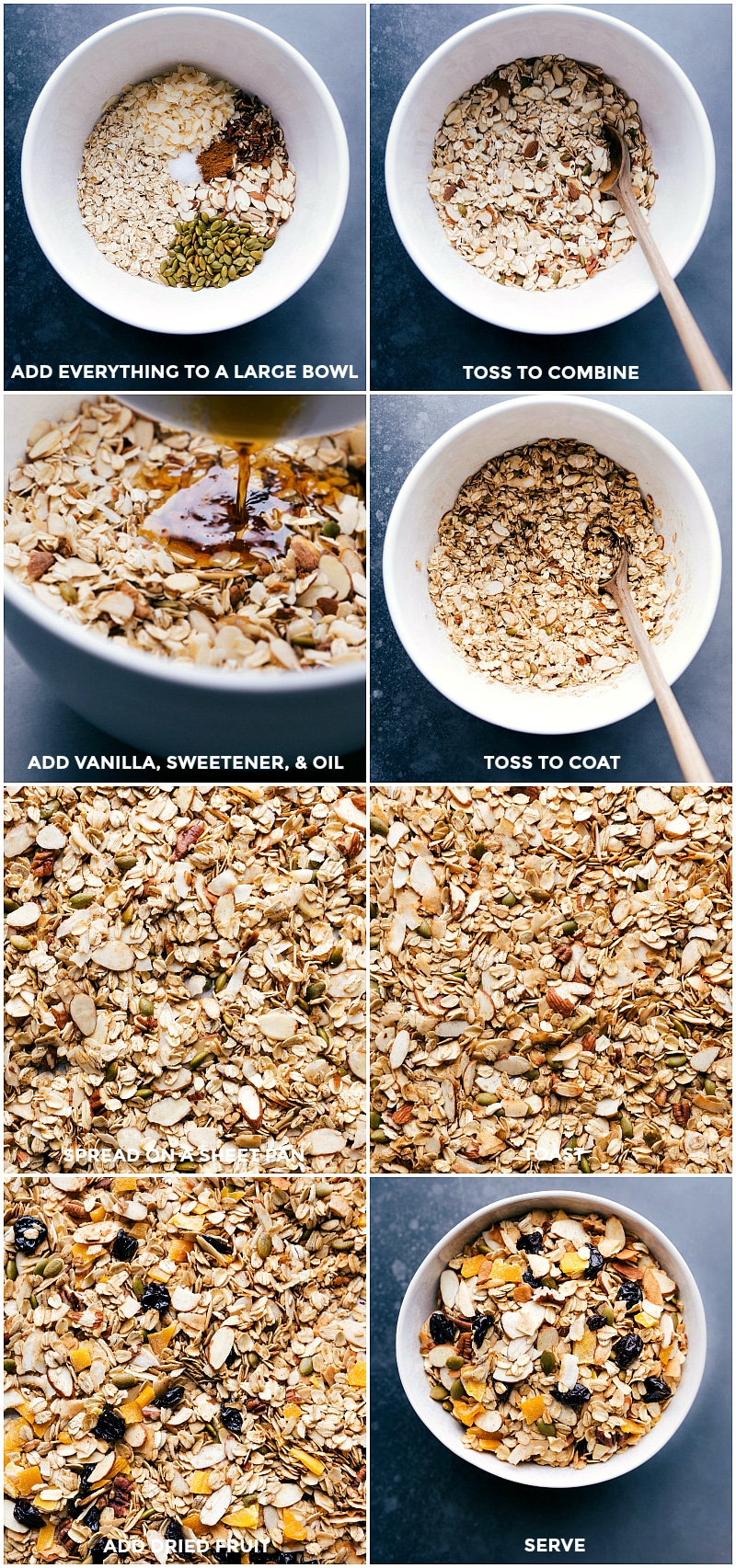 What is Muesli?
Muesli is a mixture of rolled oats and nuts with other additions like spices, seeds, cereal grains, wheat germ, dried fruit, and chocolate chips.
Traditionally there isn't much sugar (if any) added to the mix, but my recipe does include a bit of pure maple syrup. I add just enough to sweeten it without making it sticky or crispy (which would make it granola!). Speaking of granola…
What is the difference between Muesli and granola?
While both are made up of grains, nuts, seeds, and dried fruits, there are a few main differences between
granola
and muesli.
Texture: Granola is baked longer and then dries out to create a crispy texture. Muesli can be served completely raw (unbaked) or baked for a shorter time period. Muesli baking aims to toast the nuts, coconut, and oats which adds loads of flavor. I recommend baking Muesli, as the heat brings out all the best flavors in the coconut, nuts, and rolled oats. Muesli is served as a cold cereal, and is not crispy or crunchy; it's meant to be soft.
Sweetness: Muesli is not particularly sweet; in fact, most recipes don't add any sweetener or oil. This recipe does have a little bit of both but it has a fraction of the amount found in granola. The small amount of oil and sweetener goes a long way, flavor-wise. Granola typically has a lot more sweetener and oil added.
Why is Muesli called Muesli?
Muesli was created by Dr. Maximilian Bircher-Benner, a physician. He believed in food as medicine, and so he created a mixture of oats and fruit to help his patients eat more whole foods. He'd then prescribe this mixture to his patients as a natural medicine. Muesli offers plenty of health benefits, and his patients soon started seeing improvements. Before long, Muesli became popular around the country as a new health food.
Commercially sold muesli originated in Switzerland with a company called Somalon. The company was struggling in the competitive market until manufacturing a product called Birchermüesli. Read more on the history here.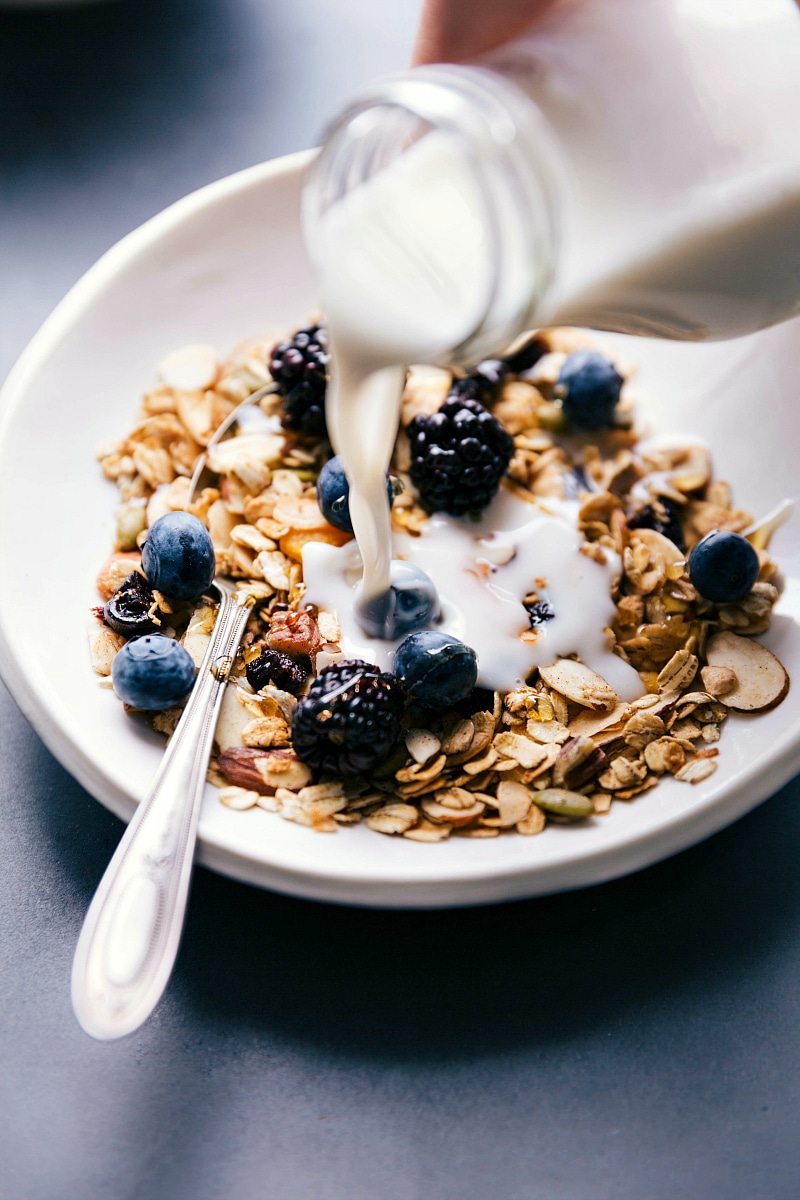 How do you eat Muesli?
My favorite way is to eat Muesli like cereal: with milk poured over it. Another favorite way is over yogurt. Usually Muesli sits in the milk (or yogurt), which allows time and moisture for oats to soften up.
The original way (also known as the Bircher-Benner way) is to soak Muesli in milk overnight in the fridge (just like overnight oats). Soaking the mixture breaks down the oats and plumps up the dried fruits. When soaked overnight, Muesli has a consistency similar to porridge.
It can be eaten hot or cold; feel free to soak it overnight and them warm it through in the morning OR preparing it just like oatmeal and cooking it with warm milk or water.
Variations
Swap out the nuts. Try coarsely chopped walnuts, pistachios, cashews, Brazil nuts, or macadamia nuts
Swap out the pepitas. Whole pumpkin seeds, sunflower seeds, and pine nuts make good substitutes for pepitas.
Add wheat germ. Replace 1/2 cup of the rolled oats with 1/2 cup wheat germ.
Use a different dried fruit. Try dried apricots, raisins, golden raisins, or dried blueberries instead.
Swap out the spices. We love ground cinnamon in Muesli, but we'll occasionally use pumpkin pie spice or apple pie spice for a more seasonal blend.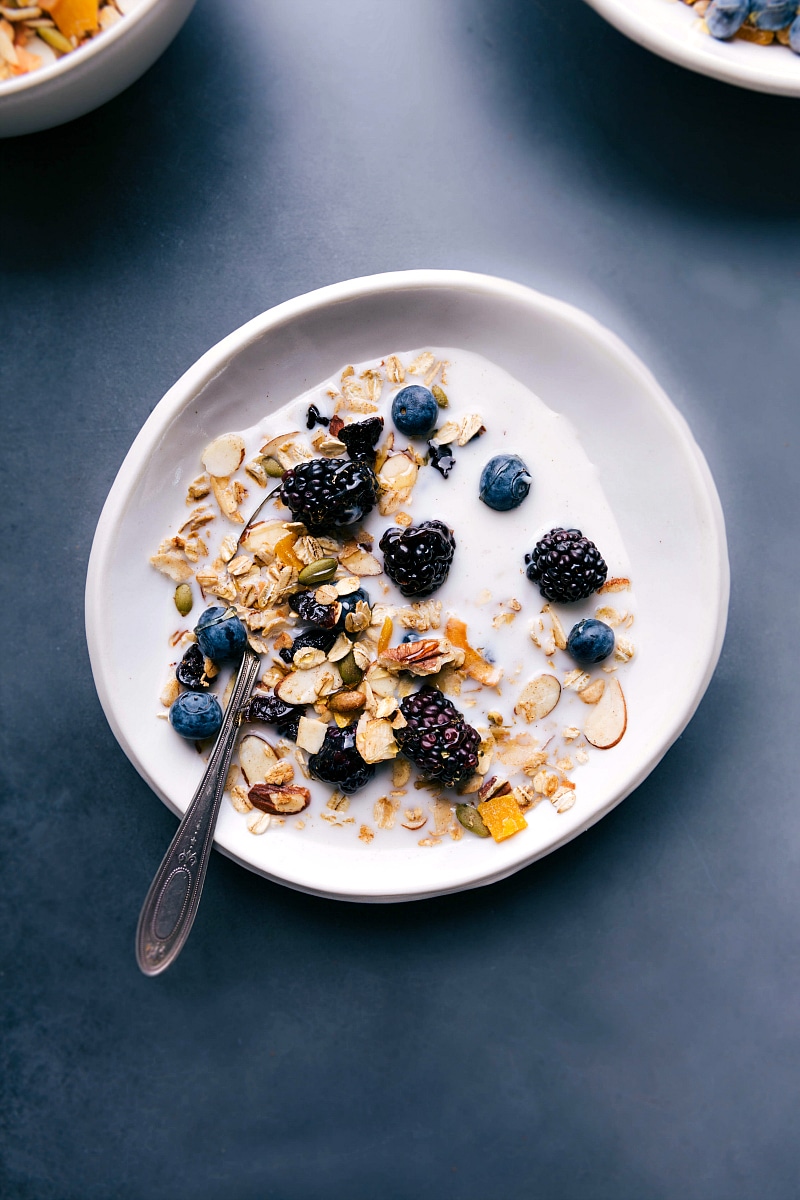 More breakfast recipes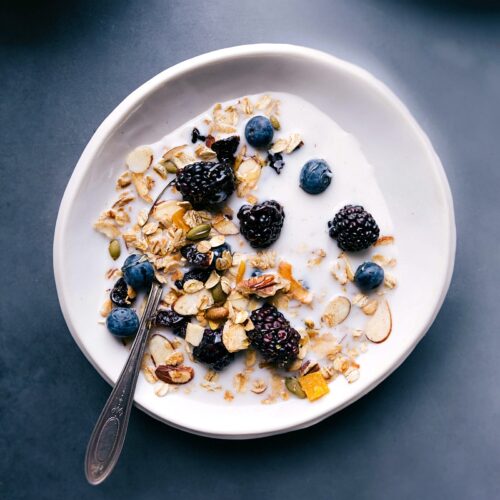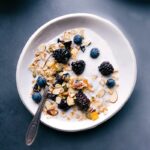 Muesli
Homemade Muesli -- a mix of toasted oats, nuts, and coconut is tossed with dried fruits and enjoyed for breakfast or a snack. Serve Muesli over yogurt, as a cereal replacement with milk, or in overnight oats.
Course:
Breakfast, Snack, Vegetarian
Ingredients
4

cups (357g)

old fashioned oats

1

cup (103g)

sliced almonds

1/4

cup (26g)

coarsely chopped pecans

1/4

cup (34g)

pepitas

(Note 1)

1/2

cup (30g)

unsweetened coconut flakes

1/2

teaspoon

fine sea salt

3/4

teaspoon

ground cinnamon

1/4

cup (70g)

pure maple syrup

2

tablespoons

melted coconut oil

1 and 1/2

teaspoons

pure vanilla extract

1/3

cup (50g)

coarsely chopped dried tart cherries

(or dried cranberries)

1/3

cup (42g)

coarsely chopped dried mango

(or dried apricots)

Optional: serve with milk of choice or yogurt of choice and, if desired, fresh berries
Instructions
PREP: Preheat the oven to 350 degrees F. Line a large (15x21 inch) sheet pan (or 2 smaller pans) with parchment paper. Set aside.

MIX INGREDIENTS: In a very large bowl, combine all the ingredients except for the dried cherries and dried mango. Toss until well combined.

BAKE: Spread the mixture into an even layer on the prepared pan(s). Bake for 12-14 minutes, stirring ingredients after 7 minutes. Everything should be lightly golden and fragrant.

COOL: Remove Muesli and let it cool completely. Coarsely chop the tart cherries and dried mango. Once the Muesli is cooled, stir in the dried fruit.

SERVE: Serve muesli over yogurt or with milk of choice (we love almond milk!). If adding milk, let it stand with the muesli for a few minutes to soften up the oats. We also love adding fresh berries and a drizzle of honey.

STORAGE: Let Muesli cool completely and then transfer to an airtight bag or container. Store in a dry, cool area or freeze it. No need to defrost; you can use it straight from the freezer, which helps keep it from getting stale.
Recipe Notes
Note 1: Pepitas are shelled pumpkin seeds. They are available roasted or raw, where you find nuts.
Recipe adapted from the Kitchn