A healthy and simple on-the-go breakfast idea – peach overnight oats.
So this past weekend, I HELD a Koala). It was one of the coolest things I've ever done! We've gotten to see koalas several times super up-close and pet them, but to hold one. Oh my gosh – just surreal. They have incredibly soft fur and are super cuddly. The koalas pressed their faces up to our several times while holding them which was so sweet.
The ones we held have been hand-raised and love to be held. When we first walked in, one of the koalas was walking towards the door of the enclosure. The worker told us that she (the koala) was coming to be cuddled and walked to the door to be held very often. Awww.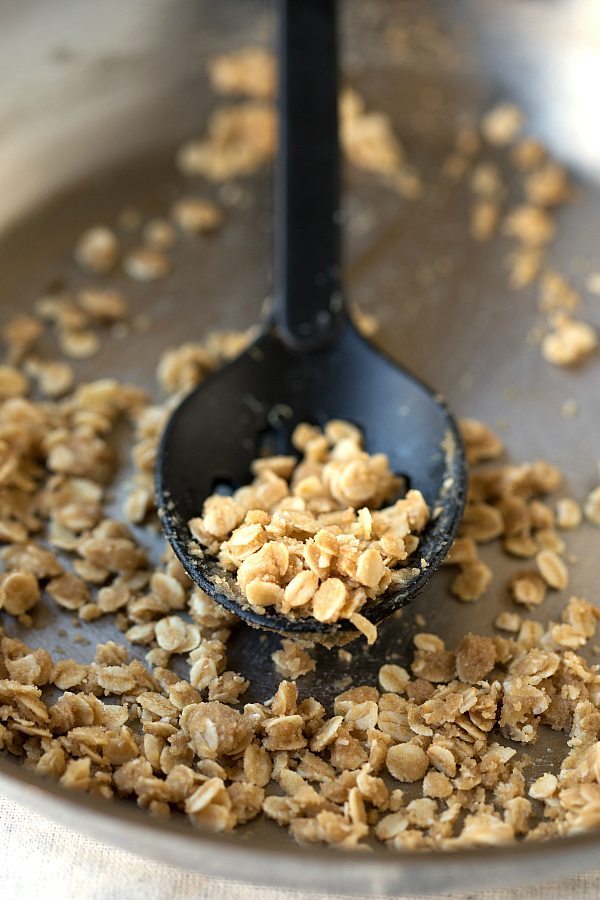 The babe was too young to hold the koalas, but both the husband and I took a turn. We got to feed the koalas eucalyptus leaves and they can chow those down and quickly!! The leaves are their main diet and it takes them a super long time to digest them.
Since the leaves yield so little energy, the koalas are incredibly calm and they sleep for most of the day – about 20 hours a day.
Funny enough the little guy didn't care when I was holding the koala, but when the husband did he got super upset. He did not like his dad holding and cuddling up to anyone else but him. As soon as I took over holding the koala, the little guy was in the husband's arms and didn't leave them until we left!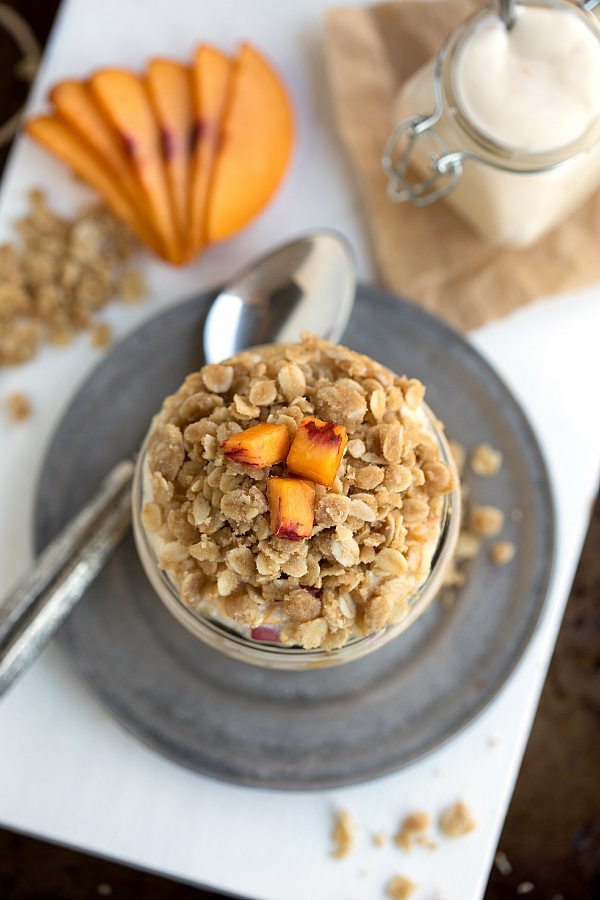 It was definitely a highlight of the weekend! Another highlight? THESE overnight oats! They are like a peach pie, but in breakfast form. So, basically super yum.
These take a teeny bit more work than most of my overnight oats, but it is well worth it and about a total of about 8 extra minutes in the morning. The peach gets sautéed until tender and then the streusel topping gets cooked in the skillet just til nice and crisp.
The base are simple overnight oat ingredients. The peach yogurt adds a lot of heightened peach flavor and I of course recommend using the peach flavor, but a plain or vanilla yogurt will work great as well. All mixed together it's absolutely delicious! Like dessert but healthy enough for breakfast!
More Overnight Oats: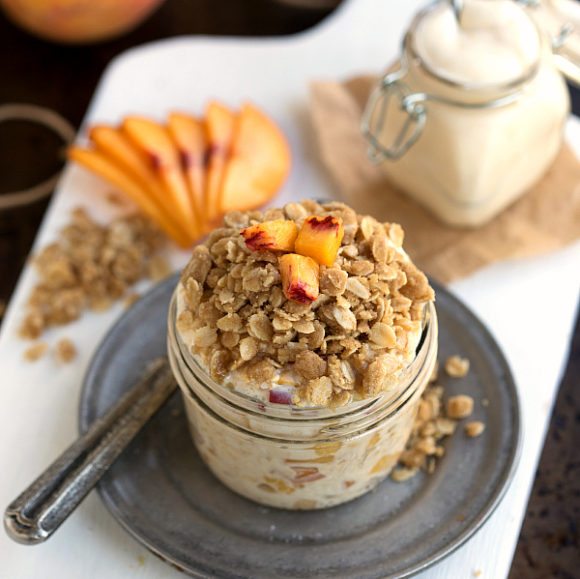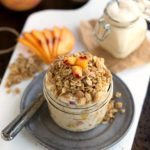 Peach Overnight Oats
 A healthy and simple on-the-go breakfast idea - peach overnight oats.
Keyword:
Peach Overnight Oats
Ingredients
1/2

cup

old fashioned oats

1/3

cup

almond milk

or sub another milk

1/4

cup

peach yogurt

1/2

teaspoon

truvia

or sub an equivalent of another sweetener

1

teaspoon

and 1/2 vanilla extract

separated

Pinch of cinnamon

1/2

tablespoon

coconut oil

1

peach
Streusel
1/2

tablespoon

coconut oil

1

tablespoon

old fashioned oats

1/2

tablespoon

white whole wheat flour

or regular flour

tablespoon

Scant 1/2 brown sugar

Pinch of cinnamon
Instructions
In a small bowl, stir together the oats, milk, yogurt, sweetener (I like truvia, but if you don't have it use another sweetener and make sure to scale it to taste), 1/2 teaspoon vanilla extract, and cinnamon. Stir together and place in an airtight container. Put in the fridge overnight.

In the morning, remove the pit from the peach and finely chop into small pieces. Combine the chopped peach with the 1/2 tablespoon coconut oil and the remaining 1 teaspoon vanilla extract in a skillet over medium low heat. Stir until the peach is tender and fragrant. Remove and allow to cool.

For the streusel: Melt the coconut oil in the same skillet used for the peach. Add the remaining streusel ingredients and stir well. Stir over medium low heat until the oats are lightly crisp and fragrant.

Stir the cooled peach into the oats and then top with the warm streusel. Enjoy immediately