A simple, slow cooker meal – cheesy enchilada quinoa. This dish has minimal prep time, tastes incredible, and is very healthy for you.
This is now my third quinoa slow cooker dish featured here on the blog.
And, I have to say, it takes the favorite place. Although I love the quinoa fajitas and tex mex quinoa, this cheesy enchilada quinoa is where it's at!
I am obsessed with slow cooker meals + quinoa. Like, healthy, quick, easy. And it's pretty much my lunch for the rest of the week. All of my favorite things.
I'm kind of surprised I don't have a quinoa slow cooker meal featured everyday with the amount of times I make and eat these dishes!
Plus this one has plen-tty of protein. Black beans + ground turkey + quinoa. This dish will keep you full for hours!
I used some ground turkey for this dish which adds a lot of protein but fewer calories than chicken and less fat than pork. PLUS more protein than beef with over 50% less fat (!!!) This ground turkey is SO easy to prepare – hello five minutes! It took almost no time at all to brown it on the stove top on a skillet. Once the ground turkey is browned it get's put into the slow cooker with the rest of the ingredients.
After the ground turkey is browned and put into the slow cooker, you can just throw in the rest of the ingredients. The only things that needs to be cut are the sweet pepper and onion. Both of which, you can leave out if desired.
Also, don't forget to rinse the quinoa. By rinsing the quinoa it removes the saponin that has an earthy bitter taste to it. I place the dry quinoa in a fine mesh sieve and wash it well under hot water. I massage the quinoa under the water to really scrub it out. Then just pop it into the crockpot.
And everything gets covered with lots of enchilada sauce + a little bit of water: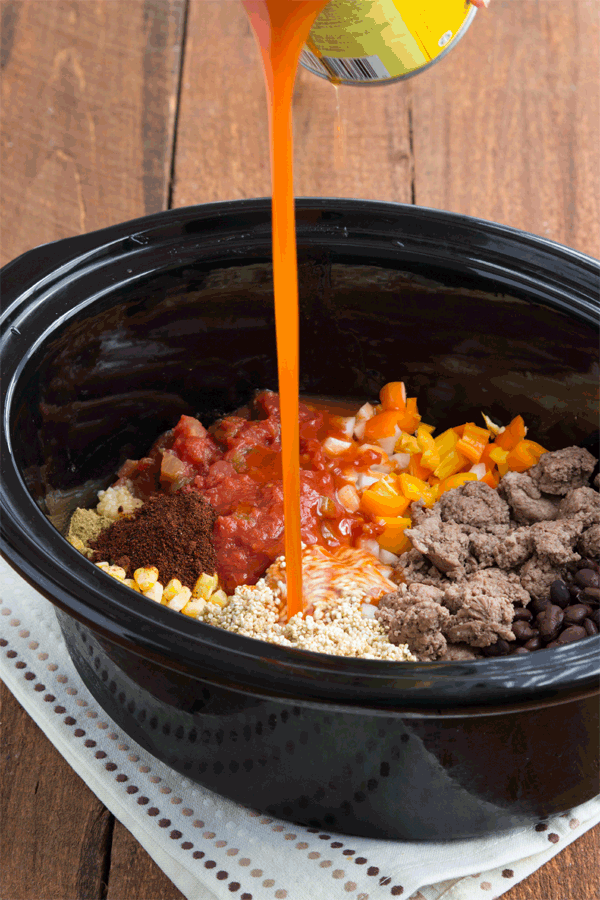 Then give it a good stir…
Place it on high and allow it to cook for 3 to 3 and 1/2 hours. Or until all the liquid is absorbed into the quinoa.
If you must cook it on low you can, but I've found that quinoa tends to be a bit more mushy when it's cooked for longer periods of time. I've found 3 to 3 and 1/2 hours to be the perfect time for the quinoa (and other ingredients) to cook in the slow cooker. The quinoa is fluffy and light, plus the flavors are all just right!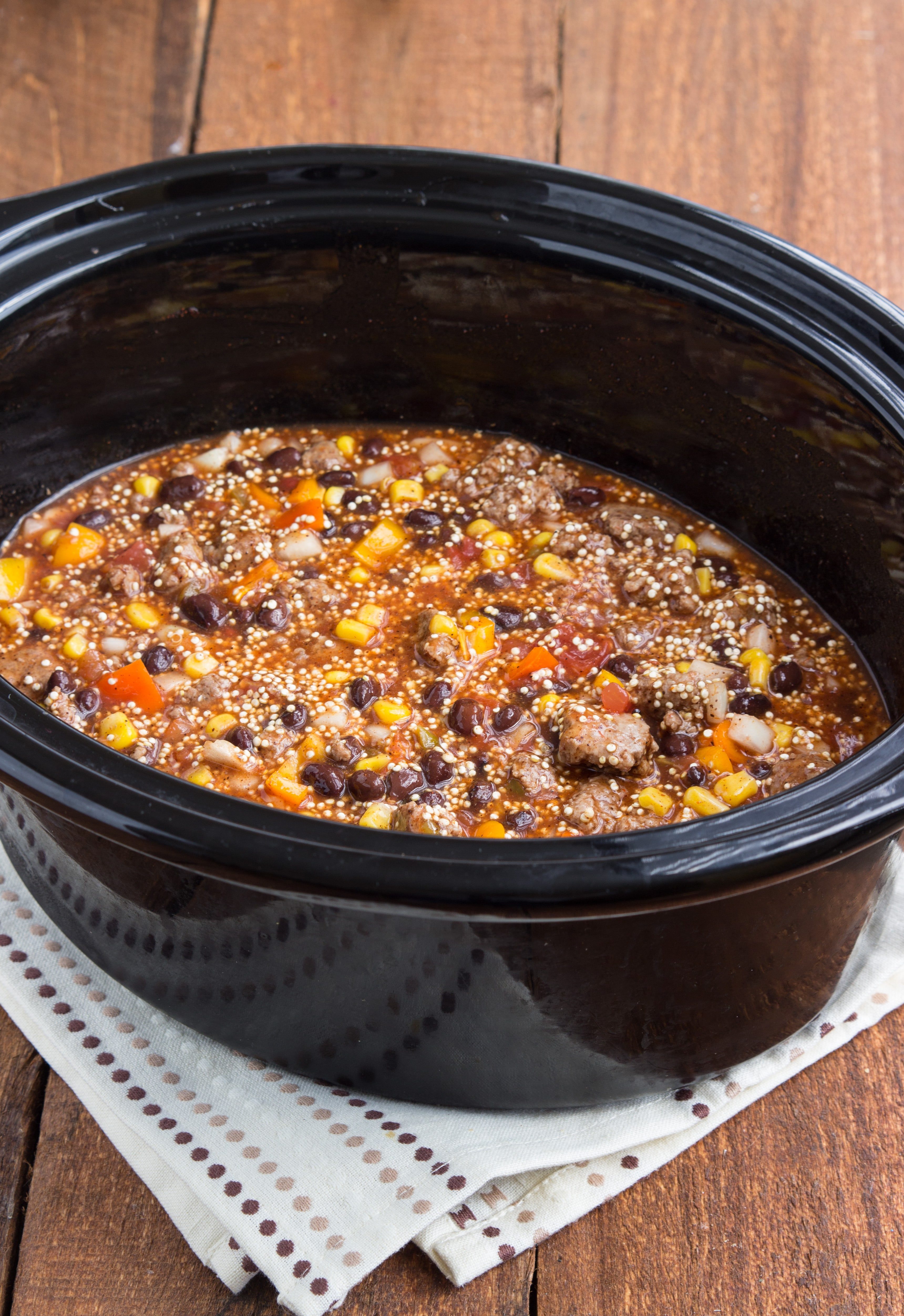 Plus your house will be smelling ahhhhmazying!
Now here's the fun part. And a little bit of a twist….. Okay it's not that exciting. But pretty much you can do two things with this mix. Or at least two things that I'm sharing here, because I'm sure there are lot of creative ways to use this mix. One way is to cover it with cheese, garnish it with some cilantro, toss on some green onions, scoop on some sour cream, and DEVOUR.
Another way is to use the filling like traditional enchiladas. Warm up some tortillas, place some cheese in the middle, add a large scoop of the mixture, top with more cheese, and roll it up. Place some salsa or enchilada sauce on top with a dollup of sour cream and some cilantro if desired. DEVOUR round two.
Don't have a slow cooker? No problem; try this Quinoa Enchilada Bake!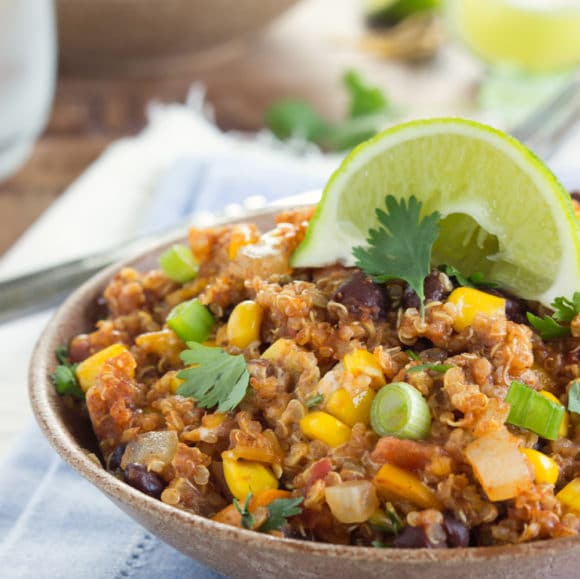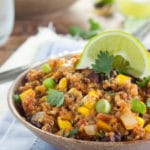 Slow Cooker Cheesy Enchilada Quinoa
Ingredients
1

pound

ground turkey

1 and 1/2

cups

uncooked quinoa

1

can (15 ounces)

black beans

1

cup

frozen corn

1

can (10 ounces)

diced tomatoes and green chilies

1/2

cup

salsa

1

teaspoon

minced garlic

1/2

cup

onion

1/2

cup

sweet bell peppers

I used orange

1

cup

water

1

can (19 ounces)

red enchilada sauce*

1

tablespoon

chili powder

1

teaspoon

cumin

2

cups

cheddar or Mexican cheese

1/3

cup

fresh cilantro

chopped

Optional: 2 tablespoons fresh lime juice, sour cream, green onions, 1 small jalapeno
Instructions
In a large skillet, cook the ground turkey until browned through. Drain out any grease and place in the slow cooker.

Add in the uncooked quinoa (make sure to rinse first), the black beans (drained and rinsed), the frozen corn, the diced tomatoes and green chilies (do not drain), the salsa (I used medium), and minced garlic.

Chop up the onion and sweet bell pepper into small pieces. Add to the slow cooker. If desired chop up a jalapeno and add it too.

Add in the water, enchilada sauce (I used mild, but use whatever you like best), chili powder, and cumin.

Stir everything together really well. Cover the slow cooker and cook on high for 3 to 3 and 1/2 hours or until the liquid is all absorbed into the mixture.

Once it is done cooking, remove the lid and stir everything again. Stir in the cheese and fresh cilantro (stems removed and chopped).

If desired add in the fresh lime juice.

Add a dollup of sour cream and some chopped green onions if desired.

**If you want to make these into more of traditional enchiladas: warm up the tortillas, spread some cheese on one side, a large spoonful of the mixture on top of the cheese, and more cheese on top of the mixture. Roll it up and top with more salsa or enchilada sauce. Add sour cream, green onions, and cilantro if desired.
Recipe Notes
*For the enchilada sauce either use one large can (19 ounces) or two smaller cans (10 ounces each). When cooking the ground turkey, make sure it reaches an internal temperature of 165 degrees F.
Here are some more slow cooker QUINOA meals: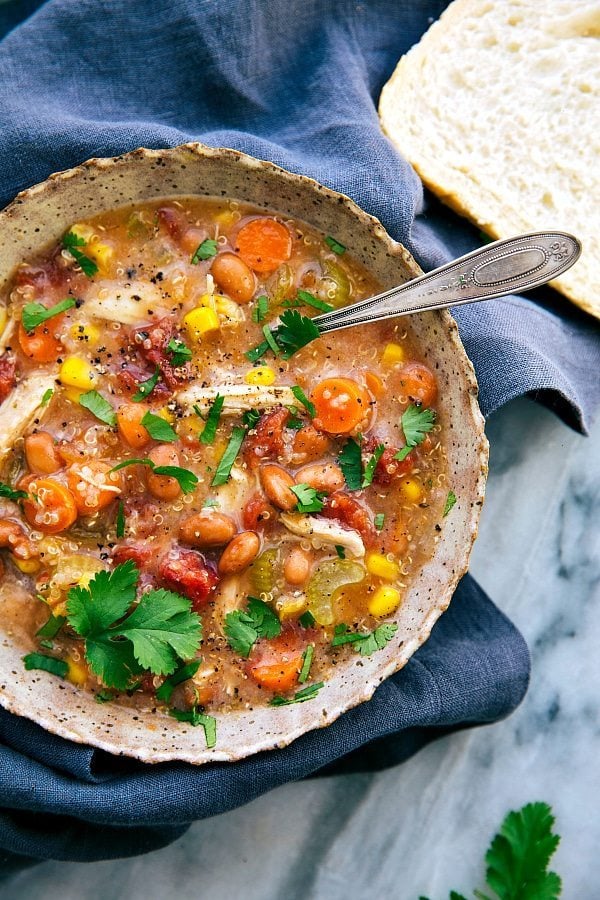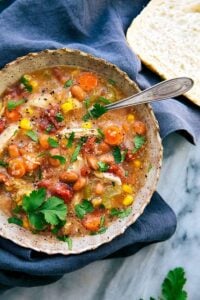 Crockpot chicken, quinoa, and vegetable soup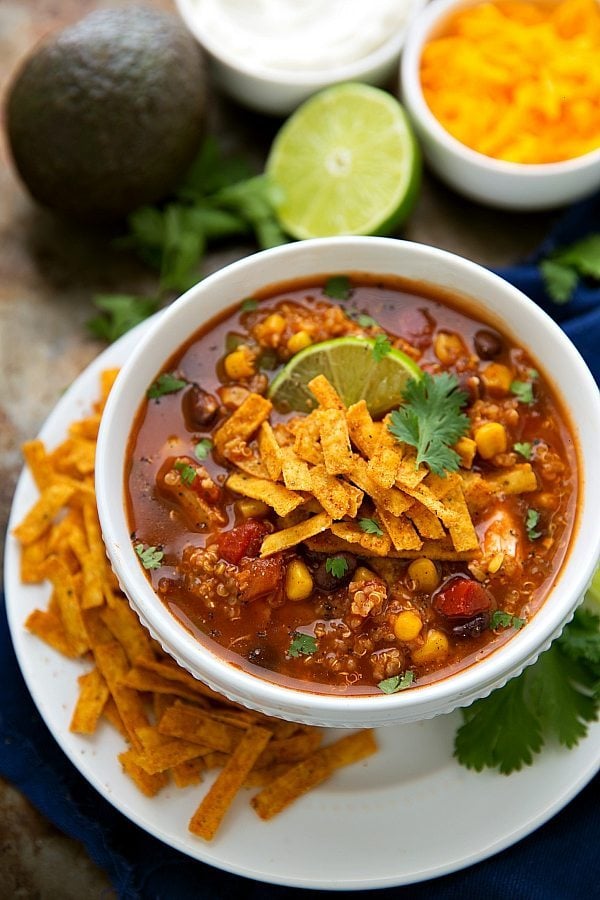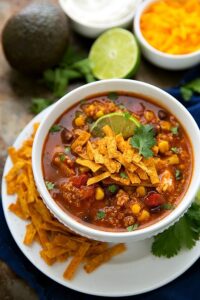 Easy Slow Cooker Mexican Tortilla Quinoa Soup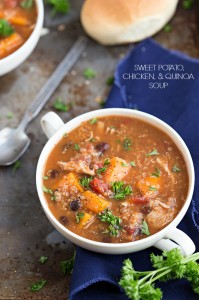 Slow Cooker Sweet Potato, Chicken, and Quinoa Soup
Crockpot Quinoa, Chicken Teriyaki, and Veggies